EIWA Dual Of The Week 2021-22
Pitt and Lehigh Ready To Renew Rivalry
Pitt and Lehigh Ready To Renew Rivalry
Pittsburgh takes aim at its third straight victory against Lehigh when the two teams do battle Sunday afternoon.
Nov 18, 2021
by Brendan Scannell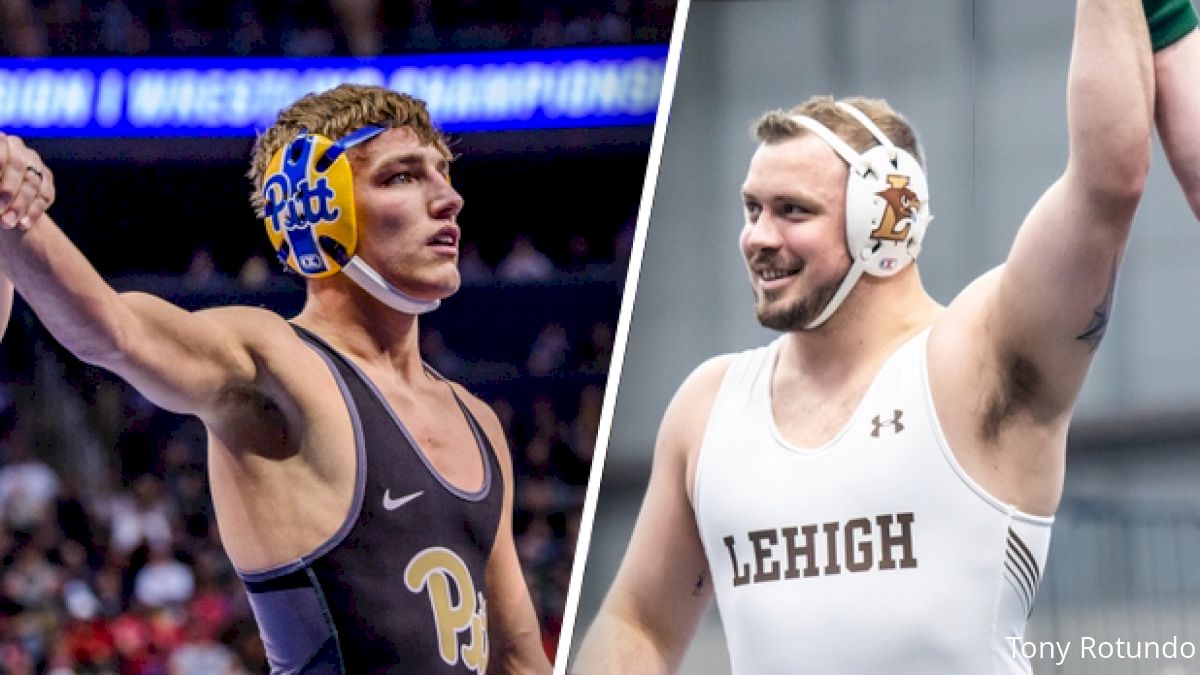 After an opening weekend that included a disappointing loss to Campbell followed by a nice bounce-back win over Oregon State, Lehigh now welcomes Pitt to town for an annual showdown with its cross-state rival, and our EIWA Dual of the Week.
Pitt's been victorious over Lehigh two years in a row and enters this year's matchup with goals of a top-10 NCAA finish on its mind. When the two teams met last year, it was somewhat of a blowout. But two years ago, Pitt needed criteria for the victory. Expect another tight one this weekend.
It's a classic clash of Eastern vs Western Pennsylvania and you can watch it here on FloWrestling at 2 p.m. ET on Sunday.
Fun Fact
The head coaches of both teams, Keith Gavin (Pitt) and Pat Santoro (Lehigh) are the last two NCAA Champions for the University of Pittsburgh in 2008 and 1989, respectively.
Ranked Wrestlers to Watch
Pittsburgh: #2 Jake Wentzel (165), #4 Nino Bonaccorsi (197) and #8 Micky Phillippi (133)
Lehigh: #9 Jordan Wood (285), #13 Josh Humphreys (149) and #18 Malyke Hines (133)
Pitt's Power
Pitt comes into this dual meet as the favorite after an 11th-place finish in March at the NCAA Championships, where it put two in the finals for the first time in over 60 years. It's a pretty good sign that Keith Gavin has things trending up in Pittsburgh as he enters his fifth season as head coach.
We should see both returning NCAA finalists this weekend with Bonaccorsi expected back in the lineup after missing the first two weeks while away in Serbia competing at U23 Worlds. Be on the lookout for him to return with a bang in his matchup against JT Davis. Jake Wentzel, meanwhile, is 2-0 on the year and also enters as a favorite over Brian Meyer.
Phillippi has the toughest test of the three on Sunday when he'll take on #18 Malyke Hines in the only ranked matchup of the dual. The two met last year in the dual when Phillippi won 10-5.
In dual meets, bonus points are always at a premium. None of these three are necessarily known as big-time bonus point-getters, but if Lehigh can find its way to a 5-5 match split, Pitt will really be counting on bonus from these guys.
But, how does Lehigh get to a 5-5 split?
Lehigh's Path to Victory
As all weathered wrestling fans know, dual meets come down to matchups. Despite the rankings entering this weekend and its seemingly slow start, Lehigh has to like the way it matches up with Pitt, eyeing a few favorable toss-ups.
The stretch from 141 to 157 will be big for the home team in this one. Lehigh will likely need to win all three bouts to have a chance to win the dual. Depending on which weight they start, this stretch could be a good opportunity for Lehigh to get its home crowd going.
First, there's the 141-pound matchup between Dan Moran and Ryan Michaels. Both are first-year starters and winless in duals on the year, so this one has toss-up written all over it. Moran gets to wrestle in his home gym and has the upperclassmen advantage, so a Vegas oddsmaker might give him the slight edge, but as we know, wrestling matches aren't wrestled on paper.
Lehigh seemingly has the advantage at 149, but after a difficult start to the season, more questions exist at this weight class than answers. Jimmy Hoffman has been the starter for the last two seasons, but after an 0-4 start to the season including losses to teammate Manzona Bryant in wrestle-offs and at the Journeymen Fall Classic, Bryant could get the nod here. In a must-win match where the Mountain Hawks will be favored.
At 157, the second marquee matchup of the dual, Lehigh will likely use #13 Josh Humphreys against recent Ohio State transfer Elijah Cleary. Remember, Humphreys missed all of last season to an injury and bowed out of the Journeymen Fall Classic last weekend after losing a big lead to Doug Zapf in a 9-8 loss. Cleary is a seasoned vet and no stranger to big matches or loud atmospheres so Humphreys' Lehigh team will be counting on him to take care of business against the former Buckeye.
Forget rankings, bonus points, and rough starts to the season, if Lehigh wants to win this dual, the Mountain Hawks need to win these three matches.