Pac-12
Sun Devils Shine In First Outing Of Season
Sun Devils Shine In First Outing Of Season
The trip to the Mountaineer Open left Arizona State with a couple handfuls of hardware and a pair of lingering lineup questions.
Nov 16, 2021
by Nick Zeller-Singh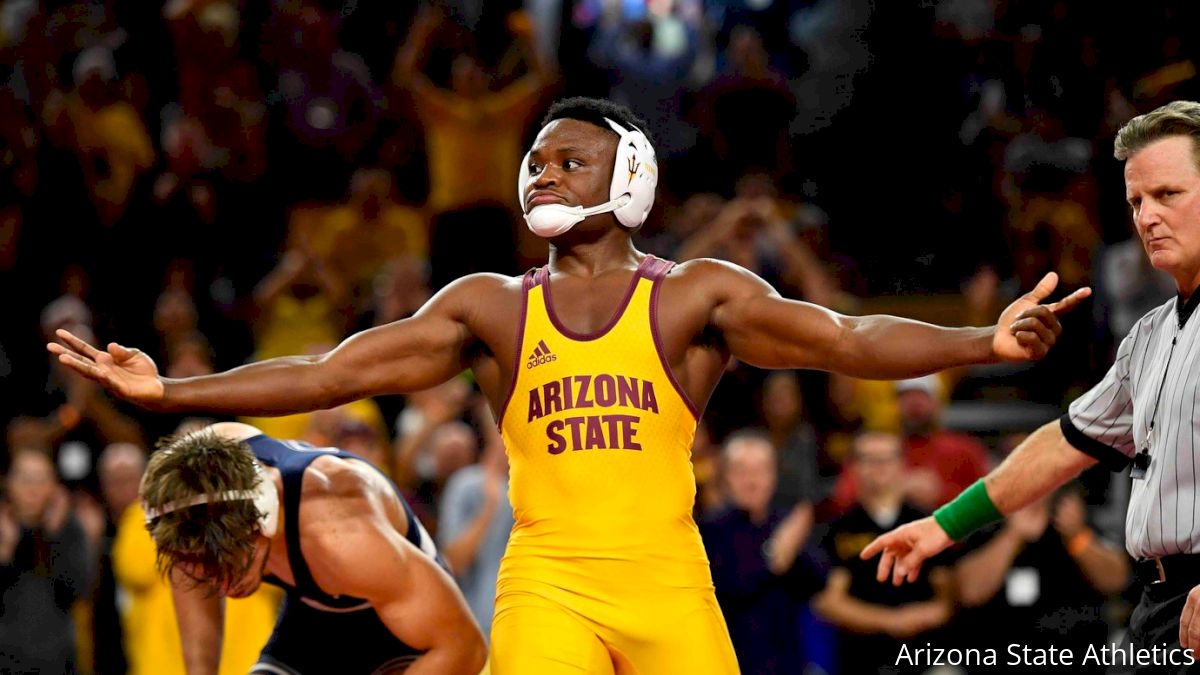 Unlock this article, live events, and more with a subscription!
Get Started
Already a subscriber? Log In
The trip to the Mountaineer Open left Arizona State with a couple handfuls of hardware and a pair of lingering lineup questions entering its first dual of the season.
The Sun Devils went eight-for-eight in the finals of the invitational tournament and grabbed three more golds in the open tournament and posted some victories against high-caliber competition.
"Our strength and conditioning are good," Arizona State coach Zeke Jones said. "Our technique is pretty good but still needs some work. But we got to wrestle somebody else to really see where we are at, and it was good."
Arizona State's performance at the middleweights ranked near the top of the list of positives for the Sun Devils.
Transfer Kyle Parco's Arizona State turned in a dazzling debut for the Sun Devils, capturing the 149-pound title with a fall in the finals against All-American Jonathan Millner of Appalachian State.
"Kyle Parco looks good in the maroon and gold," Jones said. "He was (one of the stars) after beating an All-American pretty dominantly.
"We asked the champions to speak after the tournament and Parco got up and said, 'It is great to be on a great team.' He showered the team with praise and enjoyed being on a team with guys having the same goal as him."
Parco's pin in the finals came in the middle of a six-weight sweep for the Sun Devils.
NCAA finalist Brandon Courtney held off Appalachian State's Caleb Smith to win a 6-5 decision in the 125-pound title bout. All-American Michael McGee captured the championship at 133.
Freshman Jesse Vasquez registered two falls and a major decision during his march to the title at 141.
"He beat a couple of really good kids and won his first tournament as a freshman," Jones said. "We will see a lot of great things from him."
Jacori Teemer piled up 58 points in four matches on his way to the title at 157 pounds. Anthony Valencia notched a pin, a technical fall and a major decision en route to the title at 165.
Kordell Norfleet racked up 58 points in four victories on his way to the title at 197 and Cohlton Schultz didn't allow a point at heavyweight.
On the other hand, Arizona State still has questions to answer at 174 and 184. Freshman Cael Valencia won the open division title at 174, but the Sun Devils aren't rushing to a decision about whether to insert him into the lineup yet.
"Cael is still young and has things to learn, but he looked pretty good," Jones said. "I don't think we are going to see Cael yet. He still has to grow and develop."
Thus, it remains to be seen which direction the Sun Devils will go at 174 and 184 for Friday night's home dual against Oklahoma. Jones said the Arizona State staff will continue to evaluate the contenders at the two weights until a favorite emerges.
It'll be a good test for the Sun Devils against a Sooner squad with eight ranked wrestlers. Oklahoma knocked off Arizona State 20-12 last season in Norman.
"We are being humble," Jones said. "This Oklahoma team is targeting this match after they fought us tooth and nail last year. We've got to be on our A-game Friday night."