Big Ten
Hawkeyes Hire Clarissa Chun To Lead New Women's Program
Hawkeyes Hire Clarissa Chun To Lead New Women's Program
Iowa's historic women's wrestling program now has a face of the franchise.
Nov 18, 2021
by Andy Hamilton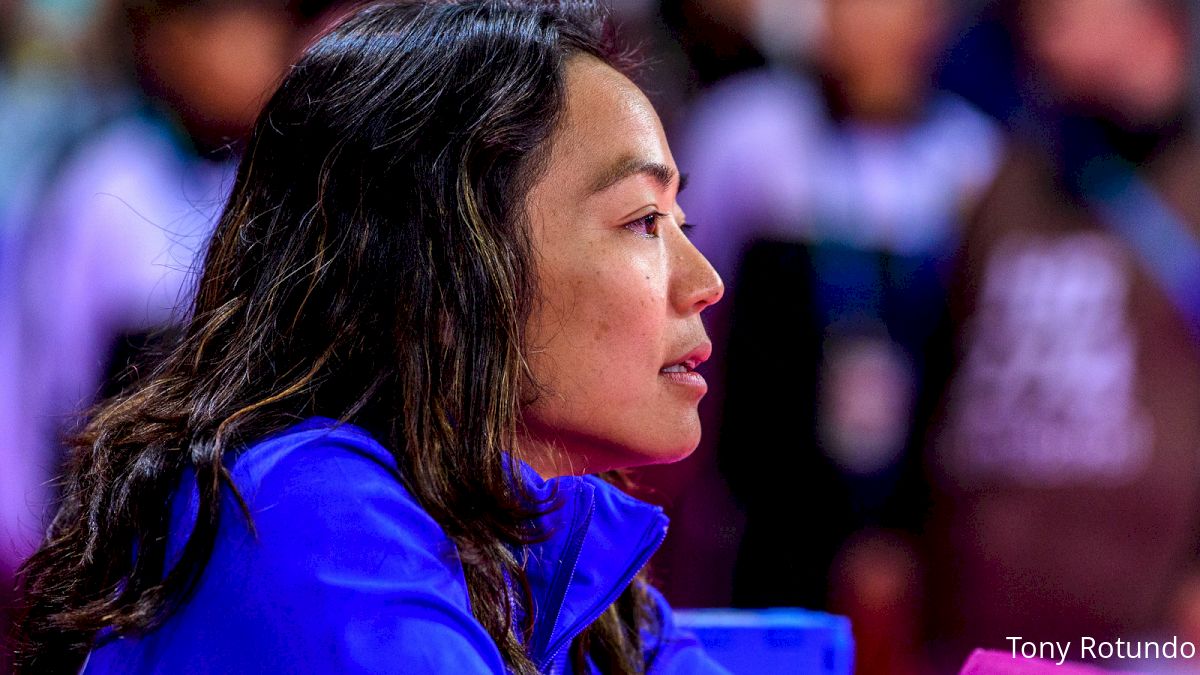 Iowa's historic women's wrestling program now has a face of the franchise.
The Hawkeyes have hired 2008 World champion and Olympic bronze medalist Clarissa Chun to lead the first Power Five Conference women's program. Chun spent the past four years as the USA Wrestling assistant women's National Team coach, helping guide the American program to new heights in its quest to knock Japan off the international pedestal.
Now the Hawaii native will handle the controls of a program aiming to take over as college women's wrestling's dominant group.
"Clarissa's a great talent," USA Wrestling women's freestyle National Team coach Terry Steiner said. "She's one of a kind. She knows the sport inside and out. But I think the thing about Clarissa is she's a great friend of wrestling and she has relationships worldwide and she's going to bring the best to the table. There's no doubt in my mind she's going to be able to attract the best young talent to Iowa and she's going to do it in her own way.
"Iowa has a reputation of success and fanfare in the sport of wrestling and those same wrestling fans are going to fall in love with the sport of women's wrestling at the University of Iowa. I can't say enough good about Clarissa. She's a great friend of mine and it's very hard to lose her, but I know she's going to a place where she can make a huge difference, not only for the University of Iowa but for Team USA and we'll just be working together in a different capacity. But there's no doubt she'll be a part of the women's national program forever."
Iowa announced on Sept. 23 that it was launching a women's program, sparking immediate interest in the head coaching position. Athletic director Gary Barta and men's coach Tom Brands said the Hawkeyes would search across the country for the most qualified candidate.
"We will hire a coach (who) will be the best coach in America," Brands said. "The stakes are high for the new coach. We're going to wrestle the best collegiate competition in the United States. We're going to recruit unbelievable young talent that is already winning age-group international championships and medals at the Cadet and Junior level. That's going to be our recruiting pool. Being the first is huge. Being the first is impactful."
Chun's name surfaced as a top candidate after the Iowa job immediately after the Hawkeyes announced their plans to start a women's program. She not only has a decorated resume from her career as a competitor, she's highly respected for her coaching work with some of the nation's top athletes.
"She's very relatable and she's very humble," Steiner said. "But at the same time, she's not overwhelmed by the stage that is set in Iowa City. She understands wrestling at the highest level and she has great expectations herself for what that program should be. People will love Clarissa Chun.
"She'll be great. I'm happy for her. I'm happy for the University of Iowa. They couldn't have found a better person to lead that program."
Chun started wrestling as a junior at Roosevelt High School in Honolulu. In 1998, Hawaii became the first state to hold a sanctioned girls' state wrestling tournament. Chun won a state title that year.
She won four U.S. Open titles, five Pan Am golds, a World title in 2008 and an Olympic bronze four years later in London.
Prior to taking the coaching role at USA Wrestling, Chun worked on Sammie Henson's staff at West Virginia, where she served as the program's operations assistant.
"I learned a lot from coach (Sammie) Henson," Chun said in a 2017 story published on themat.com. "It was such a great opportunity for me to train under him. I have learned a lot in the college programs. I saw the background coaching, the administrative duties. Sometimes, people think coaching is just on the mat, helping with relationships with athletes. There is a lot behind the scenes that people don't realize (goes) into success, how to put things together for us to execute our plan. I was excited to be a part of those programs and super grateful that I've had those opportunities to help me grow as an athlete, a coach and a person."
From Iowa Sports Information:
Clarissa Chun has been named head coach of the University of Iowa women's wrestling team. The announcement was made Thursday by Gary Barta, Henry B. and Patricia B. Tippie Director of Athletics Chair.
"Clarissa is the perfect fit to lead us in our journey to build a championship women's wrestling program," said Barta. "Her credentials speak for themselves, and her approach and philosophy match well with our Win. Graduate. Do it Right. values."
Chun is the first head coach in the history of the program. Iowa announced on Sept. 23, 2021, that it was adding women's wrestling as an intercollegiate program, becoming the first NCAA Division I, Power Five conference institution to offer the sport.
"It is an honor to be involved in a historic and exciting opportunity for young women across the country to compete as Hawkeyes in women's wrestling," said Chun. "I want to thank Gary Barta, Barbara Burke and Tom Brands for their initiative and leadership, which is going to make a positive and lasting impact on the wrestling world. This didn't happen overnight; it took a lot of hard work and investment from community members and the University of Iowa's administration, and I send a sincere thank-you to all who have worked to make this happen.
"It is a privilege to be a part of the Hawkeye brand. With that comes great responsibility and high expectations. I am ready to meet those challenges and I am excited to build a winning program in Iowa City, Wrestling Town USA."
"Gary Barta and Barbara Burke said from the beginning that they would target the best person for the job and that's exactly what they did," said Iowa men's wrestling head coach Tom Brands. "Clarissa Chun has charisma. She has credentials. She has championships. She commands respect and the wrestlers that come to school here are going to love her. This is a big deal for the University of Iowa."
Chun joins the Iowa women's wrestling program from USA Wrestling, where she was an assistant coach on the women's national team from 2017-21. Working on staff with former Hawkeye national champion and women's national team head coach Terry Steiner, Chun helped lead the United States to 17 World medals, including seven gold, four silver and six bronzes, as well as an Olympic gold, Olympic silver and two Olympic bronzes.
"I am grateful for Coach Terry Steiner's leadership and mentorship and look forward to continuing our partnership and developing future national, world and Olympic champions for the United States of America. I cannot thank USA Wrestling enough for helping me grow as a person and coach," said Chun.
In the United States' most recent showing at the 2021 World Championships in Oslo, Norway, the women's team won two gold, two silver and three bronze medals, a historic seven-medal performance that led Team USA to a second-place finish.
Prior to being hired at USA Wrestling, Chun was among the most accomplished athletes in international wrestling.
A two-time Olympian, she took fifth at the 2008 Beijing Games before earning a bronze medal at the 2012 London Games, competing at 48 kg. Chun wrestled at five Senior World Championships, which included a gold-medal performance at the 2008 Worlds in Tokyo. She also competed at the 2000, 2009, 2011 and 2012 World Championships.
During her career, Chun won five U.S. Open titles. She was a 2011 Pan American Games silver medalist and won four gold medals at the Pan American Championships. She was a runner-up at four U.S. World Team Trials and three U.S. Opens, in a career which spanned 18 years competing at the Senior level.
Chun competed for Missouri Valley College, where she was a star on one of the pioneer women's college wrestling team programs. She made the Senior Women's National Team while still a student at Missouri Valley.
After leaving college, Chun became a U.S. Olympic Training Center resident athlete for many years, but has also trained at Regional Training Centers on college campuses.
Chun has coaching experience at both the international and college levels. She was a member of the men's wrestling staff at West Virginia University, serving as the program's Operations Assistant while also training at the Regional Training Center.
Chun will be inducted in the National Wrestling Hall of Fame as a Distinguished Member in June, 2022. She is one of only four females bestowed Distinguished Member honors. In 2018, Chun was inducted into the Missouri Valley College Hall of Fame, Hawaii Sports Hall of Fame, and Roosevelt High School Hall of Fame.