2021 Journeymen Collegiate Classic
Journeymen Collegiate Classic Pools Are Set
Journeymen Collegiate Classic Pools Are Set
The pools for this year's Journeymen Collegiate Classic have been set. Check out the action set to go down on Sunday in Spooky Nook.
Nov 12, 2021
by David Bray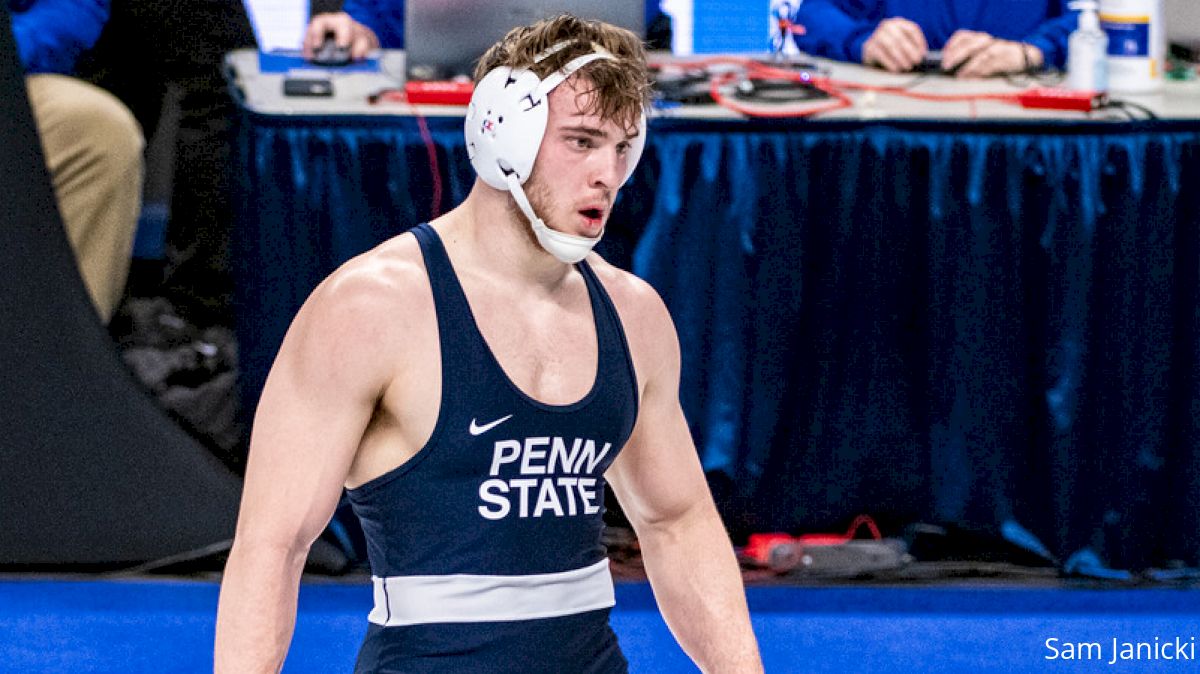 The Journeymen Collegiate Classic is a staple of the first month of the NCAA season. This year's field includes several ranked wrestlers and some exciting potential matchups.
We'll get a look at two potential Penn State starters this weekend as Mason Manville will wrestle his first matches at 165 lbs since 2019 and All-American Michael Beard will be in action at 197 lbs. Manville and true freshman Alex Facundo appear to be the two most likely to start at 165 lbs while Beard is in a roster battle with NCAA finalist Max Dean.
At 133 lbs, #9 Michael Colaiocco will be the favorite to come out of the top half of the pool, and he's likely to see the winner of #18 Malyke Hines or #19 Devan Turner in the finals. Hines majored Turner at NCAAs in March, so he's the on-paper favorite although he just lost to Turner's teammate Jason Shaner who's in the top half of this pool.
Pool A at 141 lbs has both #7 Dresden Simon and #12 Grant Willits which could be a fun final between unfamiliar opponents. At 157 lbs, #9 Josh Humphreys is the top half favorite and could see #12 Hunter Willits or #20 Markus Hartman in the finals. Humphreys pinned Willits last week and is 2-1 against Hartman.
The top pool at heavyweight only has three wrestlers, but all three are excellent. All-Americans Matt Stencel and Jordan Wood and NCAA qualifier Gary Traub make up that group of three, so every match will be must-watch.
Pools of 6 or more wrestlers are split into two groups of three. Everyone in each group of three will wrestle each other to determine who is first, second, or third in their half of the pool. Then, they'll cross over to wrestle the person from the other half of the pool who finished in the same position. Groups of five or fewer will wrestle a round-robin.
125 lbs Pool A
125 - Sheldon Seymour, Lehigh
125 - Luke Werner, Lock Haven
125 - HM Brandon Kaylor, Oregon State
125 - HM Jaret Lane, Lehigh
125 - Brock Bergelin, CMU
125 - Ryan Miller, U PENN
125 lbs Pool B
125 - Carter Bailey, Lehigh-unattached
125 - Diego Sotelo, Harvard
125 - Tristan Daugherty, Buffalo
125 - Sean Faraon, Sacred Heart
125 - Shawn Orem, Bloomsburg
125 - Ryan Chauvin, Army
125 lbs Pool C
125 - Beau Bayless, Harvard
125 - Sean Spidle, CMU
125 - Jake Staud, Army
125 - Jacob Dunlop, Gannon
125 lbs Pool D
125 - Dylan Acevedo, Hofstra
125 - Kaelan Fracois, Long Island University
125 - Benny Herrera, Sacred Heart
125 - Sam Congleton, VMI
125 - Matt Siszka, PITT JOHNSTOWN
125 - Jacob Venezia, Sacred Heart
125 lbs Pool E
125 - Nick Denora, TCNJ
125 - Jake Ice, Sacred Heart
125 - Robbie Sagaris, Long Island University
125 - Bryce Beatty, Millersville
125 - Bronson Garber, Bloomsburg
125 - Vinny Milazzo, Sacred Heart
133 lbs Pool A
133 - #9 Michael Colaiocco, U PENN
133 - Jason Shaner, Oregon State
133 - Derek Spann, Buffalo
133 - #18 Malyke Hines, Lehigh
133 - #19 Devan Turner, Oregon State
133 - Mark Montgomery, Army
133 lbs Pool B
133 - Vince Perez, CMU
133 - Richard Treanor, Army
133 - Tommy Maddox, Buffalo
133 - Domnic Carone, Army
133 - Bryce Cockrell, Long Island University
133 - Kelly Dunnigan, U PENN
133 lbs Pool C
133 - Lukas Richie, U PENN
133 - Satoshi Abe, Lehigh
133 - Dillon Murphy, Harvard
133 - Gable Strickland, Lock Haven
133 - Matt Morris, Millersville
133 - Ja'Kerrion Merritt, CMU
133 lbs Pool D
133 - Jake Giordano, TCNJ
133 - Tyler Morris, Army
133 - MIKE TANDURELLA, VMI
133 - Danny Capozzoli, Millersville
133 - John Lafferty, Sacred Heart
133 - Mason Myers, PITT JOHNSTOWN
133 lbs Pool E
133 - Byron Daubert, PITT JOHNSTOWN
133 - Jake Carlucci, Sacred Heart
133 - Daniel Uhorchuk, Army
133 - Jake Gardner, Gannon
133 - Ryan Dal Pizzol, Sacred Heart
133 - Michael Rapuano, George Mason - Unattached
133 lbs Pool F
133 - Dajauhn Hertzog, PITT JOHNSTOWN
133 - Jett Pattison, Davis & Elkins
133 - Nick DeMarco, Sacred Heart
133 - Tommy Huxtable, Long Island University
133 - Nick DeMarco, Sacred Heart
133 - Aseel Amudhala, Gannon
141 lbs Pool A
141 - #7 Dresden Simon, CMU
141 - Nick Stonecheck, Lock Haven
141 - Julian Sanchez, Army
141 - #12 Grant Willits, Oregon State
141 - Corey Shie, Army
141 - Carmen Ferrante, U PENN
141 lbs Pool B
141 - Dan Moran, Lehigh
141 - Michael Jaffe, Harvard
141 - Josh Mason, Bloomsburg
141 - Thomas Deck, Army
141 - Drew Marten, CMU
141 - Chris Gomez, Long Island University
141 lbs Pool C
141 - Zach Keal, Army
141 - Devin Matthews, Long Island University
141 - Austin Hertel, Gannon
141 - Drew Munch, Lehigh
141 - Kenny Herrmann, Harvard
141 - Finnegan McFadden, Davis & Elkins
141 lbs Pool D
141 - Ben Freeman, Buffalo
141 - Aaron Coleman, Bloomsburg
141 - Anthony Pizzirusso, Sacred Heart
141 - Justin Hoyle, Hofstra
141 - Luke Sherry, Sacred Heart
141 - Freddy Junko, VMI
141 lbs Pool E
141 - Nicolas Botello, Army
141 - Nate Higley, George Mason - Unattached
141 - Alex Bendinelli, Millersville
141 - Caleb Morris, PITT JOHNSTOWN
141 - Joel Mylin, Hofstra
141 - David Tufankjian, Sacred Heart
141 lbs Pool F
141 - Jacob Zuller, Long Island University - Unattached
141 - Josh Tuckey, Millersville
141 - Dakota Asuncion, Sacred Heart - Unattached
141 - Mike Conklin, TCNJ
141 lbs Pool G
141 - Parker Loera, Gannon
141 - Tal Reese Flemming, Bloomsburg
141 - Dom Difrancescantonio, TCNJ
141 - Tyler Cymmerman, Hofstra
141 - Tim Uhler, Millersville
141 - Will Bianchi, Sacred Heart
149 lbs Pool A
149 - #15 P.J Ogunsanya, Army
149 - Lane Stigall, Oregon State
149 - Jimmy Hoffman, Lehigh
149 - #22 Cory Crooks, Oregon State
149 - HM Manzona Bryant, Lehigh
149 - Corbyn Munson, CMU
149 lbs Pool B
149 - Cade Balestrini, Bloomsburg
149 - Dashawn Farber, Lock Haven
149 - Matthew Williams, Army
149 - Steven Storm, Lehigh
149 - Drew Witham, Long Island University
149 - Trenton Harder, Bloomsburg
149 lbs Pool C
149 - Kaya Sement, U PENN
149 - Matt Laurie, Sacred Heart
149 - Mason Breece, CMU
149 - Craig Cook, Davis & Elkins
149 - Johnny Arceri, Buffalo
149 - Joey Blumer, Penn State
149 lbs Pool D
149 - Jacob Ealy, PITT JOHNSTOWN
149 - Dom Means, Gannon
149 - Robert Groves, Harvard
149 - Eddie Scheck, Millersville
149 - Mark Metz, Army
149 - Billy Griffin, Sacred Heart
149 - Luca Pirozzolo, Sacred Heart
149 lbs Pool E
149 - Connor Eck, Lock Haven
149 - Paul Feite, Penn State
149 - Jack Molloy, Sacred Heart
149 - Mike Leandrou, Hofstra
149 - Joey Cyr, Sacred Heart
149 - Marco Macrino, Bloomsburg
149 lbs Pool F
149 - Luke Hart, VMI
149 - Haydon Butterfield, Gannon
149 - Calum Price, Sacred Heart
149 - Peter Haverick, Davis & Elkins
149 - Vin Miceli, Bloomsburg
149 - Tommy Eboli, Sacred Heart
149 lbs Pool G
149 - Sam Anglim, Long Island University
149 - Nico Bogardus, Sacred Heart - Unattached
149 - Eric Shindel, Hofstra
149 - Joel Huck, Gannon
157 lbs Pool A
157 - #9 Josh Humphreys, Lehigh
157 - HM Johnny Lovett, CMU
157 - Doug Zapf, U PENN
157 - #12 Hunter Willits, Oregon State
157 - #20 Markus Hartman, Army
157 - Alex Carida, Bloomsburg
157 lbs Pool B
157 - Mike Petite, Buffalo
157 - AJ Jaffe, Harvard
157 - Dilon Sheehy, Army
157 - Blake Showers, VMI
157 - Ty Raines, Buffalo
157 - Cole McGill, Sacred Heart
157 lbs Pool C
157 - Nick Young, Gannon
157 - Nate Lukez, Army
157 - Trevor Tarsi, Harvard
157 - Noah Tarr, Davis & Elkins
157 - Luca Frinzi, Lehigh
157 - Preston Maucere, Army
157 lbs Pool D
157 - Jonathan Parrilla, Millersville
157 - Ben Richardson, Sacred Heart
157 - JAKE WALDRON, VMI
157 - Nate Smith, PITT JOHNSTOWN
157 - Jeremy Ridge, U PENN
157 - Kenneth Kiser, Army
157 lbs Pool E
157 - Tyler Stanton, Millersville
157 - Niko KATSUYOSHI, Harvard
157 - TK Megonigal, Lock Haven
157 - Jeremy Espinal, Sacred Heart
157 - Jackson Dean, U PENN
157 - Joe McGinty, Hofstra
157 lbs Pool F
157 - Nick Coreno, Gannon
157 - Kenny Cooper, Long Island University
157 - Brandon Teresa, Sacred Heart
157 - Cael Berg, Harvard
157 - Corbin Saul, Davis & Elkins
157 - Matt Sacco, TCNJ
157 - Tommy Eboli, Sacred Heart
165 lbs Pool A
165 - HM Brian Meyer, Lehigh
165 - Holden Heller, Hofstra
165 - HM Matthew Olguin, Oregon State
165 - Ricky Stamm, Hofstra
165 - Lucas Revano, U PENN
165 - Connor Herceg, Lehigh
165 lbs Pool B
165 - Christian Hunt, Army
165 - Jay Nivison, Buffalo
165 - Brit Simington, Lock Haven
165 - Clay Fielden, Army
165 - Noah Grover, Buffalo
165 - Mason Manville, Penn State
165 lbs Pool C
165 - Dalton Harkins, Army
165 - Alex Whitworth, Harvard
165 - Job Chishko, VMI
165 - Tracy Hubbard, CMU
165 - Cam Connor, U PENN
165 - Joe Metz, Army
165 lbs Pool D
165 - Ethan Barr, Davis & Elkins
165 - Ryan Bolletino, Sacred Heart
165 - Kyle Matthews, Long Island University
165 - Ashton Eyler, Lock Haven
165 - Alex Jacobs, CMU
165 - Alex Farenchak, Gannon
165 lbs Pool E
165 - Tommy LaScala, Long Island University
165 - Mike Kistler, U PENN
165 - Aladeen Hussein, Sacred Heart
165 - Guy DeLeonardis, Millersville
165 - Dillon Keane, PITT JOHNSTOWN
165 - Matt Surich, TCNJ
165 - Roy Scherer, Sacred Heart
165 lbs Pool F
165 - Doak Dean, Harvard
165 - Gavin Hale, Bloomsburg
165 - Blake Bahna, Long Island University
165 - James Romaine, TCNJ
165 - Brandon Connor, Millersville
165 - Matt Benedetti, Bloomsburg
165 - Nicky Eboli, Sacred Heart
174 lbs Pool A
174 - #14 Ben Pasiuk, Army
174 - Ryan Ferro, Long Island University
174 - Reece Heller, Hofstra
174 - HM Jake Logan, Lehigh
174 - Tyler Stoltzfus, Lock Haven
174 - Josh Kim, Harvard
174 lbs Pool B
174 - #11 Mateo Olmos, Oregon State
174 - Tanner Culver, Bloomsburg
174 - Bret Fedewa, CMU
174 - Nick Incontrera, U PENN
174 - Michael Doggett, Harvard
174 - Mason Reiniche, Oregon State
174 lbs Pool C
174 - Brock Biddle, PITT JOHNSTOWN
174 - Giuseppe Hoose, Buffalo
174 - Jon Hoover, VMI
174 - Luigi Yates, Gannon
174 - Paul Pierce, George Mason - Unattached
174 - Tommy DiGennaro, Long Island University
174 lbs Pool D
174 - Malachi DuVall, George Mason - Unattached
174 - Sebastian Ford, Sacred Heart
174 - Reid Colella, TCNJ
174 - JOEL DIAZ, VMI
174 - Dominic Falcone, Army
174 - Brad Galassi, Davis & Elkins
174 lbs Pool E
174 - Alex Weber, PITT JOHNSTOWN
174 - Nick Golden, TCNJ
174 - Joey Petrella, Gannon
174 - Michael Parrish, Long Island University
174 - Jake Lanning, Buffalo
174 - Logan Michael, Sacred Heart
184 lbs Pool A
184 - #24 Charles Small, Hofstra
184 - Neil Antrassian, U PENN
184 - Sahm Abdulrazzaq, Army
184 - Aj Burkhart, Lehigh
184 - Brad Laughlin, Army
184 - Zach Brown, VMI
184 lbs Pool B
184 - James Langan, Long Island University
184 - Connor Strong, U PENN
184 - Jackson McKinney, Oregon State
184 - Jake Hendricks, U PENN
184 - Danny Lawrence, Army
184 - Donovan Ball, Penn State
184 lbs Pool C
184 - Jack Wilt, Lehigh-unattached
184 - Max Hale, U PENN
184 - Leo Tarantino, Harvard
184 - Anthony TJ Franden, Long Island University
184 - Domonic Mata, Harvard
184 - Tommy Dressler, Lock Haven
184 lbs Pool D
184 - Michael Schneider, Davis & Elkins
184 - Dan Surich, TCNJ
184 - Michael Molina, Sacred Heart
184 - James Watterson, Hofstra
184 - Justin Hart, VMI
184 - Fabio Preka, Buffalo
184 lbs Pool E
184 - Pete Acciardi, Buffalo
184 - Luke Rada, Harvard
184 - Grant Horn, Sacred Heart
184 - Joe Lopresti, Long Island University
184 - Bruno Stolfi, Bloomsburg
184 - Gage Arnold, PITT JOHNSTOWN
184 lbs Pool F
184 - Isaiah Reinert, Lock Haven
184 - Owen Ayotte, Sacred Heart - Unattached
184 - MAX GOURLEY, VMI
184 - Caden Wright, Lehigh
197 lbs Pool A
197 - Michael Beard, Penn State
197 - Parker McClellan, Lock Haven
197 - JT Davis, Lehigh
197 - #22 JT Brown, Army
197 - Cole Urbas, U PENN
197 - Nunzio Crowley, Long Island University
197 lbs Pool B
197 - Sam Mitchell, Buffalo
197 - Kyle Swartz, Army
197 - HM JJ Dixon, Oregon State
197 - Evan Callahan, Harvard
197 - David Tuttle, Bloomsburg
197 lbs Pool C
197 - Quinn Haddad, TCNJ
197 - Dakoda Rodgers, PITT JOHNSTOWN
197 - Joel Leise, Gannon
197 - Cade Dallwitz, CMU
197 - Nicholas Marcenelle, Harvard
197 - Bruce Vaughan, Millersville
197 lbs Pool D
197 - Nik Miller, Hofstra
197 - Karl "OZ" Bouyer, Long Island University
197 - Garrett Eddy, Davis & Elkins
197 - Will Small, PITT JOHNSTOWN
197 lbs Pool E
197 - Alex Kostantas, TCNJ
197 - Thomas Godbee, Army
197 - Danny Pereira, Millersville
197 - Connor Rossi, Sacred Heart
285 lbs Pool A
285 - #10 Matt Stencel, CMU
285 - #13 Jordan Wood, Lehigh
285 - #21 Gary Traub, Oregon State
285 lbs Pool B
285 - #23 Zach Knighton Ward, Hofstra
285 - Brandon Phillips, Army
285 - Tim Nagosky, Long Island University
285 - Ben Goldin, U PENN
285 - Nathan Taylor, Lehigh-unattached
285 - Paul Robinson, Army
285 lbs Pool C
285 - Austin Hoopes, Penn State
285 - Eric Keosseian, Army
285 - Kaleb Snodgrass, Lock Haven
285 - Nick Copley, Sacred Heart
285 - Solomon Harris, VMI
285 - Jordan Espinosa, Millersville
285 lbs Pool D
285 - Shane Noonan, Bloomsburg
285 - Kade Carlson, Army
285 - Tom Marretta, TCNJ
285 - Jeff Crooks, Harvard
285 - Nate Hoaglund, U PENN
285 - Freddie Nixon, Gannon
285 lbs Pool E
285 - Mark Blokh, Sacred Heart
285 - Ben Somerville, Hofstra
285 - Isaiah Vance, PITT JOHNSTOWN
285 - ISAAC DOLPH, VMI
285 - Toby Cahill, Buffalo
285 - Victor Lacombe, Lehigh
285 lbs Pool F
285 - Aeden Begue, Long Island University
285 - Peter Wersinger, TCNJ
285 - Matt Walker, Sacred Heart - Unattached
285 - Noah Bila, Hofstra
285 - Oggie Atwood, PITT JOHNSTOWN
285 lbs Pool G
285 - Bishop McCoy, Millersville
285 - Josh Evans, VMI
285 - Jeff Miller, Sacred Heart - Unattached
285 - Charles Morrison, Davis & Elkins