Women's Weekly
Women's Weekly: Midlands Adds Women's Tournament, McKendree Loaded
Women's Weekly: Midlands Adds Women's Tournament, McKendree Loaded
Get the latest on all the happenings in women's wrestling.
Nov 11, 2021
by Kyle Klingman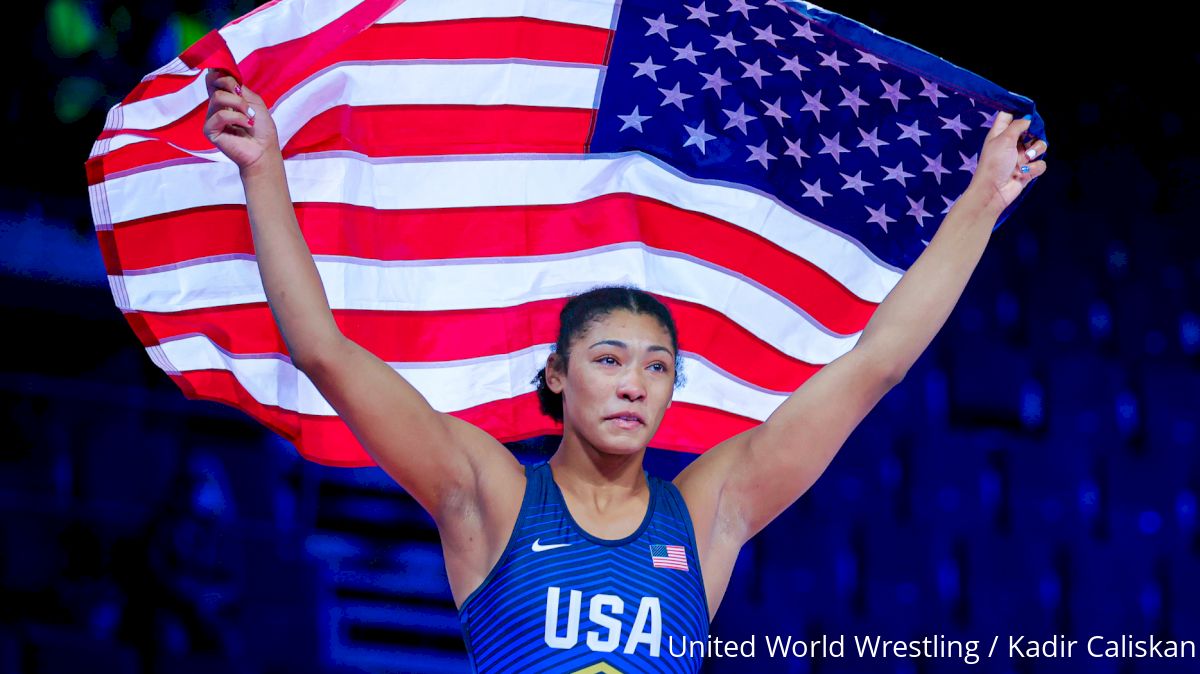 The college season is in full swing after a historic international season for women's wrestling. This was an unusual year with the Olympic Games and the Senior World Championships taking place weeks apart.
U.S women won team titles at the Cadet and Junior Worlds for the first time and they placed second at Senior Worlds and third at the U23 Worlds.
Although the Olympic wrestling competition wasn't scored, the overall medal count for the American women was the highest for one year. Tamyra Mensah-Stock (68 kg) won gold, Adeline Gray (76 kg) took silver while Sarah Hildebrandt (50 kg) and Helen Maroulis (57 kg) earned bronze. Maroulis became the first American woman to win medals in multiple Olympics after becoming the first U.S. woman to win an Olympic gold medal.
A New Chapter Begins
The increase of women's college wrestling programs means that the Women's Collegiate Wrestling Association (WCWA) and its end-of-the-year championships will likely disband. The WCWA Championships were an important part of women's wrestling history as it provided an opportunity to win a collegiate national championship — for individuals and for teams.
Many of the top programs opted not to compete at the 2020 WCWA Championships when an NAIA Championship and a National Collegiate Women's Championship (NCAA programs) were formed.
The WCWA Championships was the foundation for many of our best female wrestlers, including Olympic gold medalists Helen Maroulis and Tamyra Mensah-Stock. The good news is that women's wrestling is advancing and moving toward multiple sanctioned collegiate wrestling championships.
Midlands Makes Women's Wrestling History
You may have noticed that the Midlands Championships are listed on a few women's collegiate wrestling schedules. This tradition-rich tournament is considered one of the premier wrestling events in the country, and for the first time in the tournament's history, it will offer a women's division.
Now that the WCWA Championships have disbanded, Midlands could fill a gap for all divisions (NAIA, NCAA, and JUCO) to compete in one place at the same time. This is exciting news for the tournament and for women's wrestling.
Life University — the top-ranked women's team in NAIA led by Ashley Sword — is among the teams scheduled to compete.
"In the wrestling world the Midlands is a synonym for the best of the best," Sword said. "For the best of women's collegiate wrestling — regardless of division — to be showcased alongside the Division I men bring an unprecedented number of eyes to the sport and to what these athletes are capable of.
"This is a chance for women's wrestling to make new fans. For the athletes at Life, it's a chance to show who we are: a highly physical and entertaining team that can stand toe-to-toe with anyone in the nation."
The men's tournament takes place on December 29-30 while the women's tournament will take place only on December 30.
Numbers Game
On September 23, the University of Iowa announced that it was adding women's wrestling for the 2024 season. The Hawkeyes join Presbyterian and Sacred Heart as Division I programs to offer wrestling, but Iowa is the first Power Five program to add the sport.
Below are the numbers of women's wrestling collegiate wrestling programs in each division.
NAIA: 43 programs
NCAA: 53 programs
NJCAA: 13 programs
There are also 32 states that sanction girls' high school wrestling.
Sam Schmitz Playing Coy
McKendree won the first two National Collegiate Women's Wrestling Championships (NCWWC) and they are favored to win a third in 2022. However, Bearcat coach Sam Schmitz wasn't forthcoming with information about his line-up for this season. And for good reason.
McKendree's line-up is so deep and so talented that he can make shifts and decisions based on need. He did say that returning 116-pound national champion Felicity Taylor might redshirt and there might be a surprise wrestler or two this season. Schmitz also left open the possibility that a few of his wrestlers might play musical chairs.
Kayla Marano transferred from Emmanuel after reaching the 155-pound collegiate championship finals earlier this year. It just so happens that the wrestler she lost to was her new teammate, Alara Boyd. That might mean Boyd or Marano could bump up to 170, but returning finalist Joye Levundusky is there to contend. Schmitz left open the possibility that returning 101-pound national champion Paulina Granados could move up to 109 pounds.
Not to worry. Each team can qualify a maximum of 15 wrestlers for the national tournament so McKendree should be just fine.
Double Duty
Brienna Delgado is making history by coaching both the men's and women's teams at Central Methodist University — an NAIA program located in Fayette, Missouri. Delgado will take over the men's program as the interim head coach after the previous coach was let go on Wednesday. She was a four-time WCWA All-American for Oklahoma City University (2012-15).
"It's an amazing feeling to coach a men's collegiate team," Delgado said. "I'm doing it because I didn't want our men's team to miss out on certain competitions. I didn't want them to miss out on anything."
Sharpening The Blades
The Blades sisters — Kennedy and Korina — had quite a year.
Korina made Cadet and Junior World teams, bringing home a bronze medal in the latter.
Kennedy made Junior and U23 World teams after reaching the 68-kg final of the Olympic Trials at 17 years old.
Both faced a series of injuries that put their competition schedule on hold for the remainder of the year. Kennedy reached the finals of the Senior World Team Trials but dropped her first match to 17-year-old Kylie Welker before medically forfeiting during the second. Kennedy opted out of the U23 World Championships and Korina did not participate in FloWrestling Who's #1.
Their club coach, Izzy Martinez of Izzy Style Wrestling, provided insight on the health of the Blades sisters while he was at USA Wrestling's Preseason Nationals in Des Moines on October 29.
"They're doing great," Martinez said. "Big news coming November 15. Huge, mega news for the Blades sisters. Kennedy and Korina are awesome. They've been training really hard since they were young girls.
"They had a lot of stuff going on so they needed a break. Sometimes you don't know you need a break until you get injured or you get a concussion or certain things like that. Once Kennedy got a concussion at World Team Trials we just pulled it off of her. We pulled it off both Kennedy and Korina. We're going to take some time. We're going to relax.
"We're going to figure out our college. We're going to figure out our college entry forms and our applications. We're going to heal up every little thing on our body because the 2024 Olympic Games are around the corner and we're trying to put both Blades sisters on that team and get gold."