28 Upsets In Week 1!
28 Upsets In Week 1!
All of the upsets from the first week of Division 1 collegiate wrestling.
Nov 8, 2021
by Jon Kozak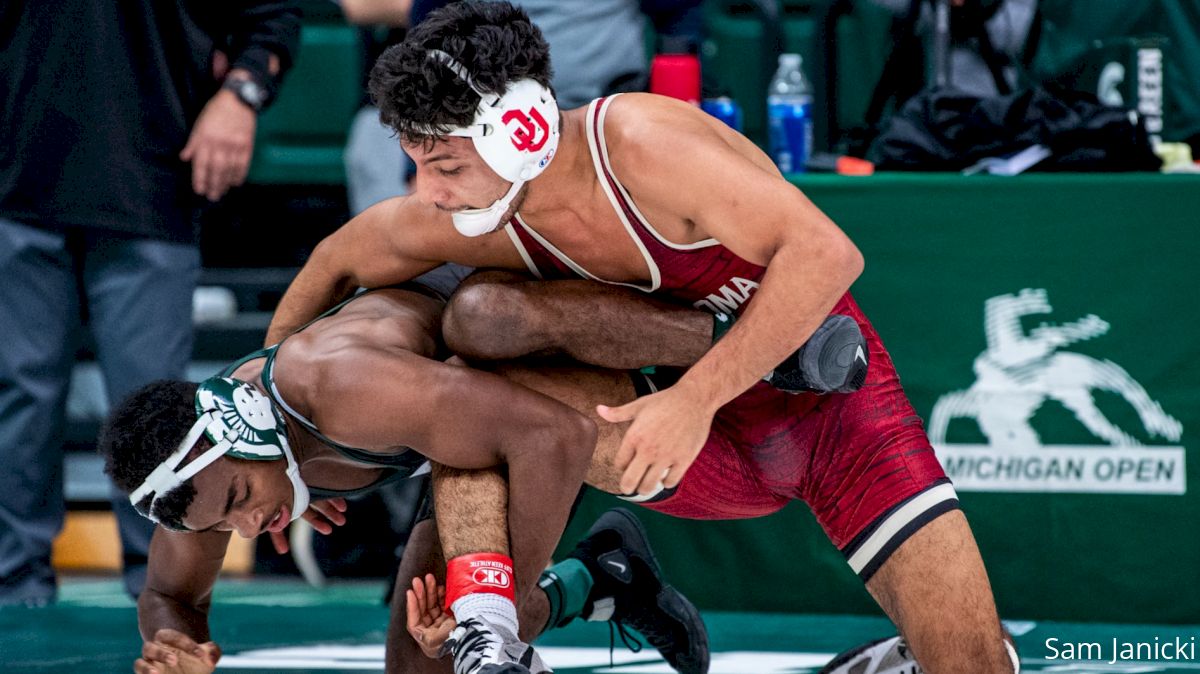 The first weekend of collegiate action saw 28 upsets, 3 of which were over wrestlers ranked in the top 10. Below are some of the biggest upset stories of the week along with every upset we could find. If you saw an upset we missed, email jonathan.kozak@flosports.tv so we can be sure to include it.
Madrigal's The Man
#23 Tony Madrigal knocked off two All-Americans on his way to a title at the MSU Open. Madrigal started his upset run in the quarters with a 4-3 win over #18 Dylan Ragusin and followed that up with an overtime victory in in the semi-finals over Illinois' #5 Lucas Byrd who placed 5th at the NCAA Tournament last year. Then, in the finals, Madrigal took out 2019 All-American #14 Rayvon Foley in a tight, 4-3 match. Considering Madrigal went 0-2 at last year's NCAA Tournament, this is a huge step in the right direction for Madrigal and the Sooners.
Madrigal's finals win over Rayvon Foley: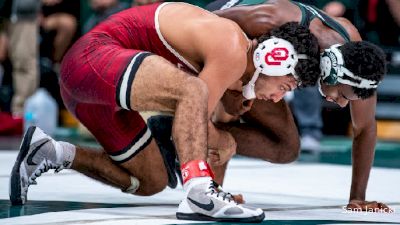 Unlock this video, live events, and more with a subscription!
Get Started
Already a subscriber? Log In
Kropman's Highs And Lows
#24 Parker Kropman was on both the winning and losing ends of upsets last weekend. He started off his weekend with a bang after taking out #8 Kendall Coleman, 6-1 in Drexel's dual against Purdue. After fighting off a takedown (for about a minute) in the first period, Kropman went on to control every part of the match. However, Kropman wasn't able to ride that momentum into the East Stroudsburg Open. He went 2-1 there and dropped a match to Army's unranked Nate Lukez, 10-9. What do those two results mean for Kropman? It's too early to tell but if he can duplicate the success he had against Coleman, Kropman will be a dangerous match-up for many this year at 157.
Kropman vs Coleman: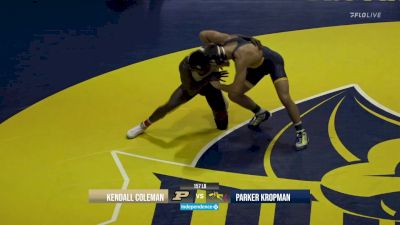 Unlock this video, live events, and more with a subscription!
Get Started
Already a subscriber? Log In
Joe Manchio Stuns Sam Latona
Columbia's Joe Manchio took out 2021 All-American #7 Sam Latona in the finals of the Southeast Open in a thrilling, 10-8 match. Latona was leading 6-5 with less than 40 seconds left in the match before Manchio secured a takedown and 2 (questionable) near-fall points. That scoring sequence was ultimately the difference in the end giving Manchio an incredible start to his season. Manchio has been solid in the past but this win is the best of his collegiate career and could be a sign he's ready to challenge for an All-American spot this year at 125.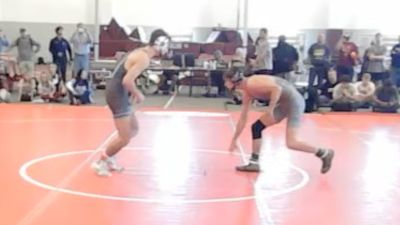 Unlock this video, live events, and more with a subscription!
Get Started
Already a subscriber? Log In
Sobotker's Highlight-Reel Headlock
In the most dynamic upset of the week, Binghamton's Anthony Sobotker pinned #15 Sammy Alvarez (Rutgers) with a ferocious first-period headlock. Sobotker, a junior, failed to qualify for the NCAA Tournament last year and only wrestled 7 matches in the 2021 season. Prior to that, he wrestled at Nassau Community College for two years and was a junior college All-American there. While the headlock might be hard to duplicate for Sobotker moving forward, he has shown he's a fun one to watch any time he takes the mat.
SOBOTKER PINS NO. 11 ALVAREZ🚨👑#EmbraceTheGreen pic.twitter.com/0gQVNPghJF

— Binghamton Wrestling (@BearcatsWrestle) November 7, 2021
---
All Upsets
125
125 - HM Joe Manchio, Columbia D;10-8 #7 Sam Latona, Virginia Tech
125 - HM Joey Prata, Oklahoma D;3-2 #22 Justin Cardani, Illinois
125 - Carter Bailey, Lehigh D;3-1 #22 Jacob Allen, Navy
125 - Braxton Brown, Maryland D;2-0 #22 Jacob Allen, Navy
133
133 - #23 Anthony Madrigal, Oklahoma D;3-1 #5 Lucas Byrd, Illinois
133 - Sidney Flores, Air Force D;6-4 #11 Jarrett Trombley, NC State
133 - Jason Shaner, Oregon State D;10-8 #14 Malyke Hines, Lehigh
133 - #23 Anthony Madrigal, Oklahoma D;4-3 #14 RayVon Foley, Michigan State
133 - Anthony Sobotker, Binghamton F;2:05 #15 Sammy Alvarez, Rutgers
133 - Domenick Zaccone, Campbell D;5-4 #16 Devan Turner, Oregon State
133 - #23 Anthony Madrigal, Oklahoma D;4-3 #18 Dylan Ragusin, Michigan
133 - Drew Mattin, Michigan D;8-4 #24 Kyle Burwick, Wisconsin
141
141 - HM Cayden Rooks, Indiana D;3-2 #18 Saul Ervin, SIU Edwardsville
141 - #23 Kizhan Clarke, North Carolina D;3-1 #19 Jordan Decatur, Ohio State
141 - We Rachal, Illinois F;1:17 #24 Gabe Willochell, Edinboro
141 - Patrick Nolan, Michigan D;10-8 #24 Gabe Willochell, Edinboro
157
157 - #24 Parker Kropman, Drexel D;6-1 #8 Kendall Coleman, Purdue
157 - Munktulga Zuunbayan, Northern Illinois D;4-3 #18 Johnny Lovett, Central Michigan
157 - Drew Scharenbrock, Wisconsin D;7-1 #18 Johnny Lovett, Central Michigan
157 - Nathan Lukez, Army West Point D;10-9 #24 Parker Kropman, Drexel
174
174 - Aaron Olmos, Oregon State D;6-4 #12 Austin Murphy, Campbell
174 - Adam Kemp, Cal Poly D;3-1 #23 Mason Kauffman, Northern Illinois
174 - Troy Fisher, Northwestern D;3-1 #23 Mason Kauffman, Northern Illinois
174 - Troy Fisher, Northwestern M;16-7 #24 Anthony Mantanona, Oklahoma
184
184 - James Lledo, Pittsburgh D;9-7 #17 David Key, Navy
184 - Anthony Carman, West Virginia D;10-5 #17 David Key, Navy
184 - HM Darrien Roberts, Oklahoma M;11-3 #23 Layne Malczewski, Michigan State
197
197 - HM Matt Wroblewski, Illinois D;3-2 #12 Cameron Caffey, Michigan State