2021 U23 World Championship
Seven Top Women's Takeaways From The U23 World Championships
Seven Top Women's Takeaways From The U23 World Championships
A look back at the top women's stars and storylines from last week's U23 World Championships in Belgrade.
Nov 8, 2021
by Olivia Lichti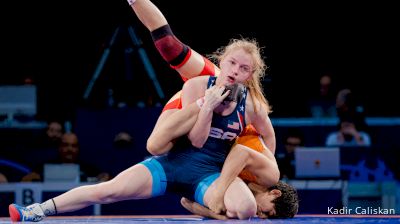 Unlock this video, live events, and more with a subscription!
Get Started
Already a subscriber? Log In
1. Ukraine is really, really good — and it's only going to get better.
Ukraine won its first World team title in Belgrade and did so in spectacular fashion. Of its nine athletes, seven picked up medals, five reached the finals and three earned gold. The team was led by Olympic Team member Alina Akobiia, who unfortunately had to miss the Games after damaging ligaments in her elbow. She proved here that she's a tier above everyone on the U23 level, pinning each of her opponents prior to the finals (where she controlled Russia's Kristina Mikhneva). Other highlights included Solomiia Vynnyk defeating talented Olympian Anastasia Nichita of Moldova in a contentious 4-4 criteria bout and Anastasiia Lavrenchuk and Anastasiya Alpyeyeva commandingly taking titles at 65 kg and 72 kg respectively. This bodes well for Ukraine's Senior-level future. None of the five women that represented Ukraine at the Olympics — where it picked up two bronze medals and a fifth-place finisher — were in attendance in Serbia, showing the serious depth and wide range of stars that are entering their Senior-level lineups. Ukraine will, without a doubt, be entering the upper echelon of international women's wrestling over the next quad as its young stars compete for World Team spots with its talented veterans.
2. The USA women's upperweight dynasty isn't ending anytime soon
We've watched the USA women's upperweights dominate at every international event this year. From Adeline Gray's World title and Tamyra Mensah-Stock's Olympic performance to the sweep of Junior World titles at 68, 72 and 76 kilos, it's clear that American women are the greatest force to be reckoned with at the upperweight classes.
And the trend continued in Belgrade: Kylie Welker took a bronze medal in an incredibly deep 76-kilo bracket, where she was undersized (she wrestled 72 kilos less than a month ago). Her only loss was to Tokyo 2020 Olympian Aiperi Medet Kyzy, who pushed Gray to the brink in the Olympic semifinals and also secured bronze at the Senior Worlds in Oslo. Welker had a spectacular win over multiple-time World medalist Evgeniia Zakharchenko of Russia, proving just how skilled she is for a high school student.
At 68 and 72 kilos, Alyvia Fiske and Kayla Marano took fifth place. Neither had easy paths. Fiske lost to two-time Senior World medalist Koumba Larroque in the quarterfinals and U23 Euro champ Oksana Chudyk for bronze in a criteria bout. Marano also fell to a Ukrainian in the semifinals before losing to multiple-time Senior Asian Champ Divya Kakran of India. With losses only coming to women seasoned on the Senior level — and some of America's best talent in Kennedy Blades and Amit Elor being left at home — it's clear that there's lots more success in store for American upperweights.
3. Koumba Larroque is back on track after a couple tough years
France's Koumba Larroque has been a prodigy over the past couple quads. With four age-level World titles and two Senior medals to her name by the time she was 20, Larroque seemed poised to take over the top spot on the Senior level coming into the Olympics. She even posted a win over Olympic and World champ Tamyra Mensah-Stock. However, her path between 2018 and the 2021 Games was laden with adversity — a severe knee injury sustained in the 2018 World finals left her not looking to regain her top form in 2019, when she failed to place at the World Championships.
The chaos continued this year when France suddenly changed its women's wrestling coaching staff just after the Games. Larroque has also dealt with some weight-class issues. She stated in a UWW interview that she sometimes sits as low as 64 kilos, which is quite light compared to many of her competitors. But despite a rough go at her last two major tournaments — the Olympic Games and Senior Worlds — Larroque looked much more like herself in Belgrade. She'll be focusing ahead to Paris 2024, where she'll look to earn Olympic gold in her home country. With recent wins over this year's Olympic medalists Blessing Oborodudu of Nigeria and Meerim Zhumanazarova of Kyrgyzstan, Larroque certainly has the credentials to solidify herself as one of the top women on the Senior level.
4. Non-traditional wrestling countries turned in impressive performances
The absence of Japan and China at these World championships opened spots on the podium and many countries without strong traditions took advantage. Standing out from the deep 76-kilo weight class was Colombia's Tatiana Renteria, who is newer to the international scene but impressed with a controlling performance all the way to the finals. She lost only to the talented Aiperi Medet Kyzy, who earned her country's first U23 World title, but kept the match to a close 3-1 score. She'll definitely be a name to watch in the future on the Senior level.
Other countries with solid performances include Ecuador, which had its first female World champ in Lucia Yepez Guzman (more on her below) as well as a fifth-place finisher in Genesis Reasco Valdez at heavyweight.
Italy picked up a pair of bronze medals at 72 and 76 kilos. Eleni Pjollaj and Enrica Rinaldi both had fantastic performances en route to their first World medals, which could be an excellent sign of growing domestic depth at the upperweights. Aurora Campagna also had a commendable performance at 62 kg, placing fifth in a deep bracket and notching a win over Emma Bruntil. It'll be interesting to see if they can further this age-level success in the coming years.
5. Lucia Yepez Guzman is SCARY good
Ecuador's Lucia Yepez Guzman made history for her country in Belgrade by becoming the first female wrestler to win a World title. The 20-year old had a remarkable year, qualifying for the Olympic Games at 50 kilos by way of the Last Chance qualifier. At the Games, she drew 2019 World Bronze medalist Valentina Islamova Brik of Kazakhstan and shockingly upset her in a back-and-forth 9-6 bout. Unfortunately, Yepez ran into Yui Susaki in her next match and tore ligaments in her knee, forcing her to forfeit out of the repechage.
Lucia meant BUSINESS in Belgrade. She went up a weight class to 53 kilos and still dominated all of her competitors, with the exception of an exciting 9-6 bout against Mariia Vynnyk in the semifinals. In the gold medal match, she pinned talented Russian Ekaterina Verbina in a little over a minute. The joy and elation between her and her coaches was beautiful to witness and she'll certainly be one to watch make more noise on the senior level in the coming years.
6. The weights to watch of the future: 57-62 kilos
While most of the weight classes contested this weekend had remarkable depth, the quality of talent was especially prominent in the weight classes ranging from 57 to 62 kilos. The number of amazing prospects that proved themselves amongst their competitors was spectacular, and the big names left off the podium were even more surprising. The fact that Olympian and multiple-time age-level World medalist Anastasia Nichita didn't even make it out the first round showcases the depth of 59 kilos. The absence of talented young American Emma Bruntil from the 62-kilo podium — especially considering she owns a win over Senior world medalist Mallory Velte — is an example of the insanity of these weight classes.
The champions of these weight classes — Alina Akobiia of Ukraine, Anhelina Lysak of Poland, and Ana Godinez of Canada — have all already had strong Senior-level results. Akobiia qualified Ukraine for the Olympics and has a Senior Euros finals appearance, as does Lysak. Godinez finished second in a loaded Poland Open bracket earlier this year. Lots of women came out of the woodwork as well — prospects like Othelie Hoeie of Norway, Kristina Mikhneva of Russia and Esther Kolawole of Nigeria made huge statements by wrestling competitive matches with many of the best women in these weight ranges. There's lots to look forward to in these weight classes over the next couple quads.
7. Junior-eligible athletes proved they were more than ready for the older competition
Often, the transition from the Cadet levels to Juniors and U23s can be challenging; the differences in physical maturity, tactical skills and mental preparation can pose problems for even the most successful Cadets. However, the juniors in Ufa proved that the transition to U23s was natural for them. Of the 10 Champions, three of them were still Junior-eligible (Emily Shilson at 50 kg, Lucia Yepez at 53 kg, and Anastasiya Alpyeyeva at 72 kg). Also, nearly 25 percent of the medallists were under 20. The young Americans especially impressed, with 18-year-old Welker taking bronze and 20-year-old Shilson taking gold in tough brackets. The new generation of women's wrestlers that are coming up are already proving to be exceptionally skilled; the future of women's wrestling internationally seems brighter than ever.