Big Ten
Preview: Michigan State eager to build on last season
Preview: Michigan State eager to build on last season
Michigan State returns seven NCAA qualifiers, five of whom are currently ranked, and intends to continue trending upward this season
Nov 6, 2021
by Mark Spezia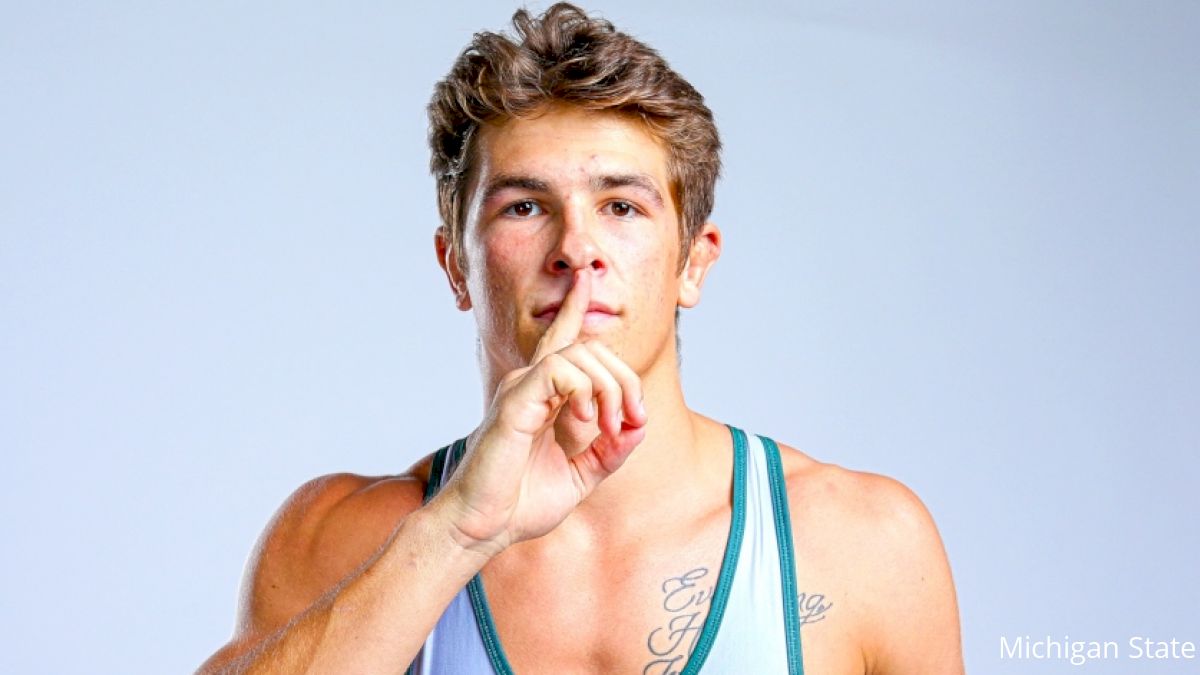 There is no mistaking Layne Malczewski's eagerness to begin Michigan State's wrestling season.
He can't await.
The two-time NCAA qualifier has been excitedly counting down to the Spartans' opener in a series of social media posts.
They started with a Sept. 28 Instagram photo of Malczewski, in uniform, playfully squaring off against Sparty, the school's mascot, with the caption "Sparty and I are ready to take on year 4!!", a nod to how long Malczewski has been with the program.
"Sparty wins via fall," responded teammate and fellow NCAA qualifier Chase Saldate.
On Oct. 6, a picture of Malczewski with a finger to his lips appeared on his Facebook page with the caption "Almost that time!!"
Then came a shot of Malczewski on Instagram sporting a Michigan State polo accompanied by the words "Unfinished business" on Oct. 21.
On Tuesday, Malczewski was shown on Instagram adjusting his headgear in practice along with the words, "Almost that time!!".
Indeed it was.
Michigan State is coming off a season in which it sent the most qualifiers to the NCAA Championships (eight) since 2000 and enjoyed its best Big Ten Tournament showing in 11 years (eighth place).
Wrestling only Big Ten matches during the COVID-shortened season, MSU went 2-5, but all of its losses were to Top 20 teams.
With all but one starter returning, the Spartans intend to continue trending upward when they open the season by hosting Saturday's Michigan State Open.
Michigan State's lineup will feature seven NCAA qualifiers, including an All-American and five who are ranked nationally.
Here is a closer look:
Tristan Lujan (125 pounds): The freshman should be the one filling the vacancy created by Rayvon Foley moving up to 133 pounds.
The two-time California State champion competed in four matches last season, winning two, including a 5-3 decision over Ohio State's Brady Koontz, a former U23 and Junior World Greco-Roman team member.
In May, Lujan knocked off Nebraska's Jeremiah Reno, a four-time Missouri state champion, at UWW Junior Nationals.
Rayvon Foley (133 pounds): The three-time NCAA qualifier moves up a weight class and can become the Spartans' first two-time All-American since three-timer Franklin Gomez (2008-10).
Foley, currently ranked 14th at 125 pounds, was seventh in the 2019 NCAA Tournament before reaching the round of 16 last season. He finished third in the Big Ten Tournament and with a 10-6 record, including two technical falls and two major decisions.
Along the way, Foley knocked off 12th-ranked Micheal DeAugustino (Northwestern), No. 13 Devin Schroder (Purdue) and No. 15 Malik Heinselman (Ohio State).
He has also beaten All-Americans Ronnie Bresser Oregon State), Sean Russell (Minnesota) and Mike McGee (Arizona State). McGee is currently ranked seventh at 133 pounds.
Foley was given the program's Perseverance Award last season and was named Co-Outstanding Wrestler.
He takes a 74-23 record into this season.
Also available at this weight is freshman Jordan Hamdan, who was 7-8 last season, but was an NCAA qualifier and finished seventh at the Big Ten Tournament. He has beaten All-American Lucas Byrd (Illinois).
Matt Santos (141 pounds): The senior hopes to finally climb above .500 this season after going 3-5 a year ago, including a pin. His biggest win of last season was a 3-2 decision over Ohio State's Dylan D'Emilio, who later reached the round of the 16 at the NCAA Championships.
Santos has a career mark of 28-38, but also owns wins over NCAA qualifiers Drew Marten (Central Michigan), Chase Zollman (Wyoming), Doug Zapf (Penn) and Marcus Robinson (Cleveland State).
He finished seventh at the 2020 U23 Greco-Roman championships at 60 kilograms.
Peyton Omania (149 pounds): The freshman enters the season with loads of momentum after representing Team USA in the 67-kilogram, Greco-Roman division at the World Championships in September.
Omania lost his only match there, but pulled off a pair of stunning upsets to win the World Team Trials. Omania beat 2016 Olympian Jess Thielke via technical fall in the semifinals before sweeping 2020 Olympian Alejandro Sancho in the best-of-three finals.
Making the world team came just four months after Omania went just 1-2 at the Olympic Trials that Sancho won.
Omania, however, is no stranger to international Greco-Roman competition. His resume includes a Junior World Championships bronze medal in 2019 and pair of U23 national titles.
As for the college season, Omania is seeking more consistent results after qualifying for the NCAA Championships and finishing 4-8 last season with a major decision.
The highlight of Omania's college career thus far is upsetting Michigan's Kanen Storr, who is currently ranked No. 24 and has reached the NCAA Championships round of 16 twice.
The win came roughly a week after Mark Halvorson, Omania's coach Concord De La Salle High School in California, died unexpectedly and made Omania the recipient of MSU's Special Moment Award.
He also opened the Big Ten Tournament with a win over two-time NCAA qualifier Mike Van Brill (Rutgers).
Chase Saldate (157 pounds): An NCAA qualifier as a true freshman, Saldate finished 8-7 with two pins and two major decisions. He is 20th in the current rankings.
Saldate's biggest win came against two-time NCAA qualifier Kendall Coleman (Purdue), who is ranked eighth.
He was an easy choice for the program's Freshman of the Year award.
Jake Tucker (165 pounds): The senior, a two-time NCAA qualifier, is currently ranked 18th.
He hopes to get back above .500 after finishing 6-9 last season with one pin, one technical fall and a major decision. Tucker had gone 48-22 the two previous seasons.
Still, he finished sixth in the Big Ten for the second straight year and knocked off three currently-ranked wrestlers -- Minnesota's Andrew Sparks (No. 19), Northwestern's David Ferrante (No. 22) and Illinois' Danny Braunagel (No. 23).
In his first collegiate competition -- the 2017 Michigan State Open -- Tucker beat future two-time All-American Ryan Deakin (Northwestern) twice. Deakin is currently ranked No. 3 at 157.
Tucker has also knocked off Nebraska's Peyton Robb and Southern Illinois-Edwardsville's Justin Ruffin. They are ranked No. 14 and No. 15 at 157.
Tucker takes a 74-49 record into this season.
Nate Jimenez (174 pounds): The sophomore will attempt to fill the major void in the lineup created by the graduation of four-time NCAA qualifier Drew Hughes.
The 2017 Fargo All-American has gone 8-10 the past two seasons.
Layne Malczewski (184 pounds): The junior and two-time NCAA qualifier is No. 23 in the current rankings.
Malczewski was 9-5 last season with a pair of pins. His biggest win came against 16th-ranked Max Lyon (Purdue), a three-time NCAA qualifier who reached the round of 16 last season. Malczewski finished sixth in the Big Ten.
He owns a 34-18 career record.
Malczewski also placed fourth in the 86-kilogram division of the 2020 UWW Junior championships.
Cameron Caffey (197 pounds): Currently 12th, the senior is the Spartans' highest-ranked wrestler.
Caffey has won outright or shared the program's Outstanding Wrestler Award the past two seasons. He is a three-time NCAA qualifier, who made the round of 16 last year and the round of 12 in 2019.
Caffey finished 11-6 last season with a pair of pins. He was fourth in the Big Ten after taking second in 2020.
Along the way, Caffey racked up wins over 14th-ranked Lucas Davison (Northwestern), No. 15 Thomas Penold (Purdue), No. 16 Owen Pentz (North Dakota State) and No. 22 Ben Smith (Cleveland State). He also knocked off All-American Michael Beard (Penn State).
In previous seasons, Caffey has beaten All-Americans Ethan Smith (Ohio State) and Taylor Venz (Nebraska). Smith is currently ranked sixth at 174 while Venz is 11th at 184.
Caffey, a first-team NWCA All-American in 2020, takes an 81-22 record into this season.
He is also a 2019 Junior Greco-Roman world team member. The next year, Caffey won the Greco 87-kilogram title and placed third in freestyle at the U23 National Championships.
Also providing great depth at this weight is transfer Ryan Vasbinder, a Division 2 national champion last season while wrestling at McKendree University.
Christian Rebottaro (285 pounds): The senior hopes to conclude his college career on a high note after winning just one of seven matches last season. He had posted a 32-26 record the previous two seasons.
Rebottaro's career record stands at 42-46. The biggest win of his career thus far was a decision over NCAA qualifier Colton McKiernan.