MAC
MAC Wrestlers to Watch in 2021-22
MAC Wrestlers to Watch in 2021-22
Who are best remaining Mid-American Conference wrestlers after the departure of Missouri and others deciding whether to use their extra year of eligibility?
Oct 31, 2021
by Mark Spezia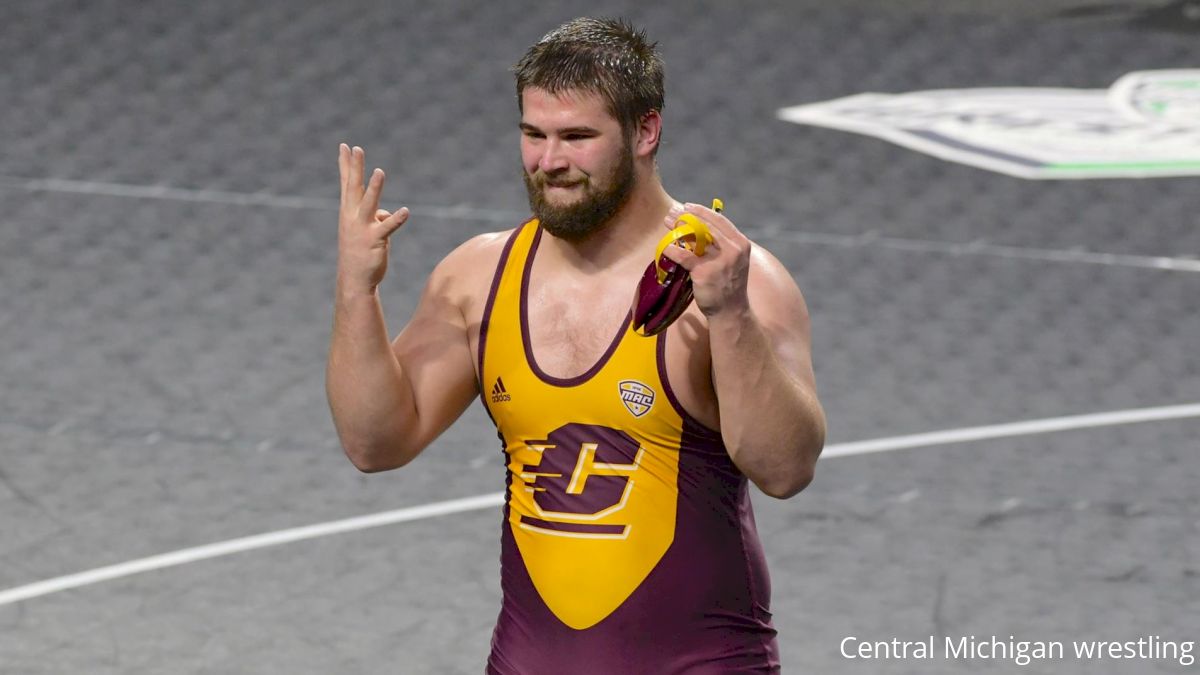 Unlock this article, live events, and more with a subscription!
Get Started
Already a subscriber? Log In
The Mid-American Conference underwent a major shakeup during the offseason when its top program, Missouri, announced a return to the Big 12 after nine dominant seasons.
The Tigers, who won the MAC every year they were a part of the league, finished seventh at the NCAA Championships last season and fifth in the final National Wrestling Coaches Association poll. All 10 Missouri starters finished the season ranked among the top 22 in the nation in their weight classes, a feat matched only by Iowa.
Still, significant talent remains in the MAC, including 23 returning NCAA qualifiers. Among them are a pair of All-Americans and 10 others were appear in the first 2021-22 NCAA rankings.
Here are five MAC wrestlers especially worth watching this season:
MATT STENCEL, CENTRAL MICHIGAN
This season will be about chasing history and seeking redemption for the senior, who announced he was using his extra season by eligibility by posting "One more go" on Twitter May 21.
The four-time NCAA qualifier entered last season's NCAA Championships with a 10-0 record, seeded third and hoping to become a three-time All-American after finishing seventh as a sophomore and being named to the National Wrestling Coaches Association All-America first team in 2020.
It was not meant to be, however, as Stencel went just 1-2.
While the ending of last season was forgettable, what transpired not long before then was quite unforgettable for Stencel as he became just the ninth four-time MAC champion in the conference's 60-year history.
Stencel decisioned three-time NCAA qualifier Ethan Laird (Rider) in the final and and has not lost to a MAC foe since Feb. 11, 2018. He finished the season 11-2 with three pins and a major decision, including a 6-2 mark against 2021 NCAA qualifiers.
Now, of course, Stencel is strongly-favored to become the MAC's first five-time champion and enters the season ranked 10th. No other MAC heavyweight appears in the current rankings.
Stencel has beaten four wrestlers ranked ahead of him -- Michigan's Mason Parris (No. 2), Iowa's Tony Cassioppi (No. 3), Wisconsin's Trent Hillger (No. 6) and Wyoming's Brian Andrews (No. 8). Parris is also 15th in the season's first pound-for-pound rankings.
Stencel has also knocked off 15th-ranked Yaraslau Slavikouski (Harvard), No. 18 Carter Isley (Northern Iowa) as well as No. 23 Brandon Metz (North Dakota State).
Stencel boasts a 100-29 career record and is third on CMU's career pins list with 52. He is 15 pins away from breaking Kevin Vogel career school record. Stencel needs 28 more victories to move into the program's all-time top five.
BRIT WILSON, NORTHERN ILLINOIS
With a sixth-place showing at the NCAA Championships, the junior became Northern Illinois' first All-American since Ben Heizer 2004.
Now, Wilson is poised to be the program's fourth two-time Division 1 All-American, joining Heizer (2003-04), Scott Owen (2002-03) and Jeremy Goeden (1997-98).
Wilson, ninth in the first 184-pound rankings, is also a solid favorite to capture a third straight MAC championship. No other MAC wrestler is currently ranked. Last year, Wilson pinned now-13th-ranked Jeremiah Kent of Missouri in the MAC title match and became the first Husky since 2008 to be named Most Outstanding Wrestler of the MAC Championships
Wilson has not lost to a conference opponent since Jan. 25, 2020 and was recognized for his achievements during the Huskies' football game against Bowling Green Oct. 16.
Wilson finished last season with a 17-4 record, including five pins, five major decisions and two technical falls. He has a 64-14 career mark and was second in the MAC in 2019.
Naturally, Wilson was named the team's MVP following the 2020-21 season.
"The Bruce Swierzckiewski MVP award goes to the athlete who courageously persists through the thrill of victory and agony of defeat; embodies team leadership and sets the standard for work ethic on the mat," a post on the program's Twitter page read.
DRESDEN SIMON, CENTRAL MICHIGAN
The senior is the MAC's highest-ranked wrestler (No. 5, 141 pounds) and appears in fine position to cap his career by becoming an All-American on the mat for the first time.
Simon, a two-time NCAA qualifier, was named a second-team NWCA All-American in 2020 before reaching the round of 12 last season.
A third MAC championship is also likely in Simon's future. He decisioned Rider's McKenzie Bell, 12-5, in last year's MAC title match. Bell (No. 19) is the next-highest ranked MAC wrestler while SIU Edwardsville's Saul Ervin, whom Simon beat to reach last year's MAC final, is ranked 20th.
While he has yet to achieve All-America status, Simon has beaten four All-Americans, including Nebraska's Chad Red and South Dakota State's Clay Carlson, who are No. 6 and No. 8 in the current rankings. The other All-Americans he has knocked off are Zach Sherman (North Carolina) and Kyle Sharp (Lock Haven).
Simon finished last season with an 11-3 record, including two pins, two technical falls and three major decisions.
It's difficult to fathom now, but Simon posted just a 26-32 record as a freshman and sophomore. He has gone 40-11 since.
"The key is not the will to win… everybody has that," Simon wrote on Instagram earlier this year. "It is the will to prepare to win that is important."
IZZAK OLEJNIK, NORTHERN ILLINOIS
After placing second the past two seasons, the sophomore appears ready to capture his first MAC title.
Olejnik, a two-time NCAA qualifier, is the lone MAC wrestler in the current 165-pound rankings at No. 17. He dropped a 6-2 decision to Missouri's Keegan O'Toole in last year's MAC final. O'Toole later took third at the NCAA Championships.
Olejnik finished 16-4 last season with five major decision and three pins. His losses were to All-Americans O'Toole (twice), Travis Wittlake (Oklahoma State) and Anthony Valencia (Arizona State) by a combined 14 points.
Last season, Olejnik defeated No. 22 Dan Braunagel (Illinois) and No. 24 Austin Yant (Northern Iowa) during the NCAA Championships on his way to reaching the Round of 16.
He was presented the Huskies' Most Dedicated award following the season.
"This athlete embodies the values of the program and always works hard to better himself, on and off the mat," an announcement on the program's Twitter page read. "The Most Dedicated award goes to Izzak Olejnik!"
Olejnik has a 35-16 career mark.
JACOB OLIVER, EDINBORO
The junior, a three-time NCAA qualifier, has been busily preparing to take the next step this season. Oliver's goals are winning a MAC title and becoming an All-American.
Ranked No. 23 at 174 pounds, Oliver was third in the MAC last season after placing 7th in 2020 and second in the Eastern Wrestling League in 2019.
He went 12-6, including 1-2 at the NCAA Championships, with two major decisions and a pin. Among those Oliver beat was chief MAC rival and 24th-ranked Mason Kauffman (Northern Illinois).
Easily the biggest victory of Oliver's career, in retrospect, was a 12-4 decision over future All-American Ethan Smith (Ohio State), early in the 2019-20 season. Smith is a three-time NCAA qualifier who is currently ranked No. 6 at 174.
Oliver has also bested two-time NCAA qualifier Layne Malczewski (Michigan State), who is ranked 24th at 184 pounds.
Oliver owns wins over three-time NCAA qualifiers Dean Sherry (Rider) and Neal Richmond (VMI) as well.
His career record stands at 65-19.
"Jacob is now a seasoned veteran in the MAC Conference (and) we are definitely excited for him this season to contend for MAC title and for a shot at placement at the NCAA Tournament in Detroit this March,"coach Matt Hill stated in a recent story on Edinboro's athletic website. "Jacob was very focused this summer and anxious to compete this season."