2021 U23 World Championship
Can USA Solve U23 Greco Challenge?
Can USA Solve U23 Greco Challenge?
The U23 level has presented problems for the USA Greco program in the past. Is this the year that changes?
Oct 31, 2021
by Timmy Hands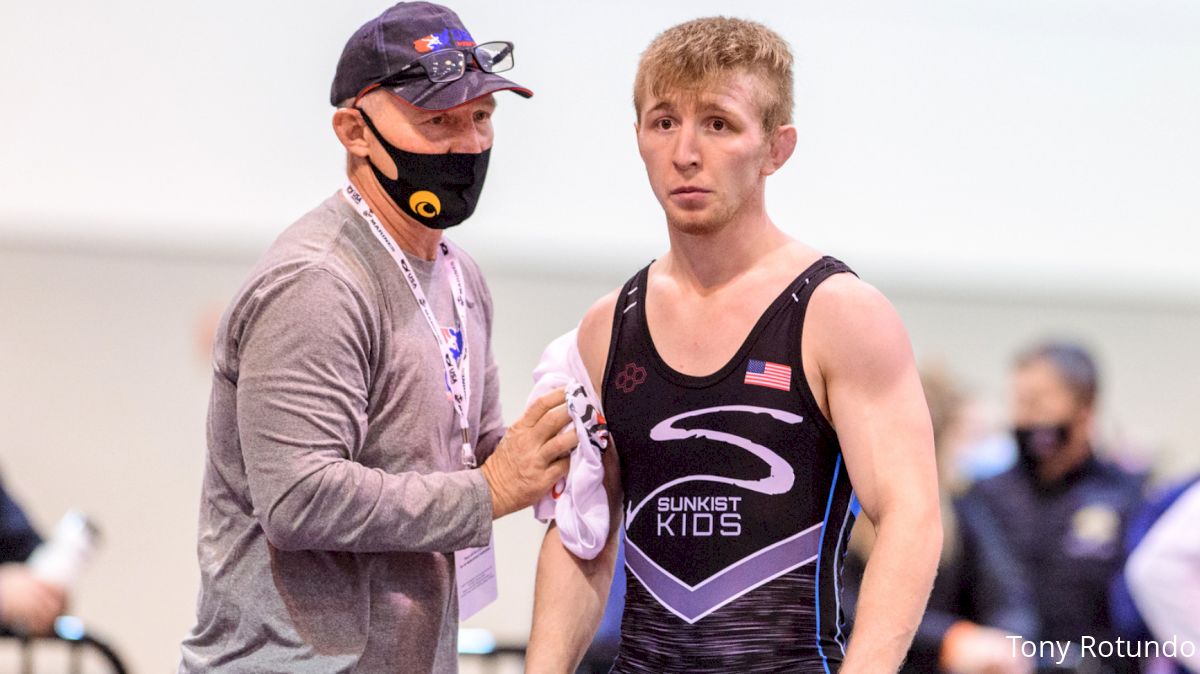 Is momentum a real thing in wrestling? And if so, do athletes in different age groups carry it over into their own endeavors?
That is one of several key questions those who follow Greco-Roman wrestling in the United States are hoping to have answered this coming week.
On the heels of G'Angelo Hancock's impressive run to bronze at the Senior level in October, the U.S. is gearing up for 10 more cracks at hardware, this time on the under-23 circuit — an age division in which the country has struggled to make a dent thus far. U23 is a tough scene in Greco. A fair number of the World entrants each year tend to be experienced and established Senior competitors; moreover, just as many foreign Juniors are beholden to refined skill-sets and their own glossy credentials.
Meanwhile, there is Team USA, chug-chug-chugging along, doing all they can to play a high-stakes game of developmental catch-up with the rest of the globe. In its first three runs, the U23 World Championships has, perhaps even more than Senior, highlighted this concept.
But the difference this year? The batch of youthful Americans in Belgrade watched with discerning eyes as one of their contemporaries slayed the dragon last month. Behind the proverbial scenes, Hancock earning Senior World bronze has delivered more inspiration than most on the outside of the Greco bubble likely realize. They all saw one of their own draw blood and grab hardware. Now they want to do it, too — and understand that it is indeed within their reach.
Another difference, and one that matters as much if not more than the presumed Hancock effect, is "time on target". Up and down the roster, with only two exceptions, the 2021 USA U23 Greco-Roman World Team is comprised of athletes who are either a) full-time Greco athletes, or b) legitimately experienced on the top level. Like in the way Taylor LaMont is. LaMont has been a premier Senior for four-plus years and also claims a Junior bronze from '16. Or Alston Nutter, whose Junior World bronze was earned in '19, and is now threatening at Senior. Nick Boykin, '19 Junior World Team and two-time Senior Open champ… David Stepanyan took second at both the Open and Senior Trials this year… Britton Holmes has won overseas before, Dylan Gregerson's career is beginning to blossom…Tommy Brackett, Spencer Woods... On and on it goes.
The first three United States U23 World Teams were similarly stocked with talent. But an intangible piece or two might have been missing. It does not feel that way in '21. Outside of a hard-nosed Nate Moore, who is replacing injured Benji Peak, and the very promising heavyweight Brandon Metz, the rest of the group is sufficiently wise to foreign methodologies. What's more, five of them first began their full-time treks in the same room at Northern Michigan.
There is a lot to keep in mind when watching this year's U23 Greco World Team. Chemistry might be part of the equation. So too is their interpersonal dynamics. Mash 'em all together and, perhaps if momentum really does exist, a special performance may very well reside within their collective grasp.
55 kg: Taylor LaMont (Sunkist/UVRTC, 5PM #2)
Down from 60 kilos to 55, LaMont has been locked in on training and dieting for this event for over a third of the year. U23 will mark his seventh appearance at a World-level event. Nothing about this process feels new to him.
60 kg: Dylan Gregerson (UVRTC, 5PM #4 at 63 kg)
Already a factor at Senior 63 but chose 60 for this age group. A very strong wrestler whose skills are starting to catch up with a clear sense of urgency. A trip overseas last winter delivered a nice dose of confidence.
63 kg: David Stepanyan (NYAC/NTS, 5PM #2)
Different sort of competitor. Notoriously hard on himself following defeats and harnesses that energy towards rectifying deficiencies. First made a splash in Austria, and then quickly began challenging Seniors. Ever since then, his progression keeps hitting warped speed.
67 kg: Alston Nutter (Sunkist/NTS, 5PM #5)
One of the US program's most skilled, talented, and authentic Greco combatants. Has logged an incredible amount of international experience. He also knows how to use it to tweak parts of his game. A vicious scorer when opportunities are availed.
72 kg: Nate Moore (UNCO)
Was placed on the Team late due to Benji Peak's injury, but is a hungry, tough wrestler in the trenches. Inexperience against foreigners is usually a knock. Might not be here. His high pace and willingness to create motion are critical assets.
77 kg: Britton Holmes (Army/WCAP, 5PM #8)
Beats himself more than others actually beat him. A well-deserved reputation for toughness. Is not shy when it comes to asserting his presence in tie-ups others take for granted. Wants to inflict damage as much as score. Popular because of it.
82 kg: Tommy Brackett (Gator, 5PM #5)
Will be able to stand toe-to-toe in a positional context with the majority of potential adversaries. Has a natural feel for where his hips and feet need to be, and can create off-balances as well as multi-point scoring chances. Superbly conditioned for the weight class.
87 kg: Spencer Woods (Army/WCAP, 5PM #2)
Very active on the feet. Will club, prod, and snap as if there is a personal score to settle. Intertwined with the aggression is a healthy amount of athleticism. That can be an advantage against par terre-dependent plodders in the second period.
97 kg: Nick Boykin (Sunkist/Ohio RTC, 5PM #3)
Has begun to come into his own. Moves quicker and with more conviction than the lumbering types he might encounter. Also knows when to amp up the ties for potential attempts, which is vital. Par terre solid in both phases.
130 kg: Brandon Metz (Bison, 5PM #56)
A pouncer. As soon as a window opens, he's there. Can push foreign heavies around because his legs aren't lazy. Because he can scramble and move extremely well, second-chance scores and scrambles could play a role.