2021 U23 World Championship
70kg Is LOADED At U23 Worlds
70kg Is LOADED At U23 Worlds
A preview of the 70kg-the toughest weight at the 2021 U23 World Championships.
Oct 28, 2021
by Jon Kozak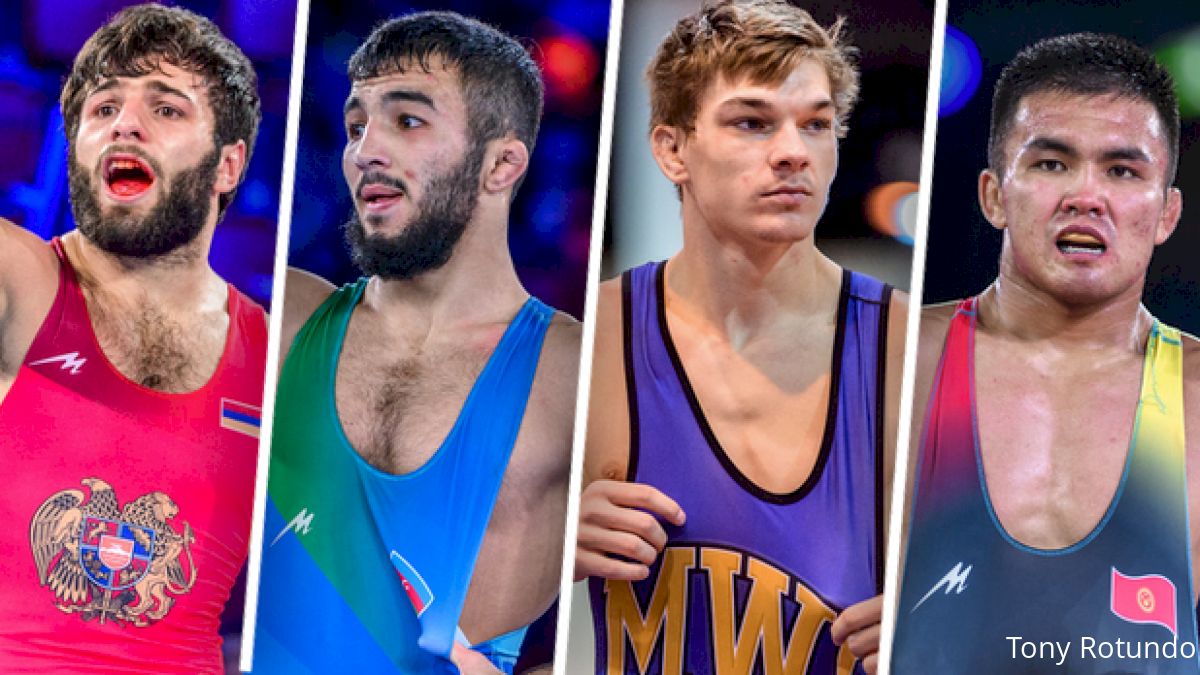 The U23 World Championships will take place in Belgrade, Serbia from November 1-7. While many weights will be loaded with senior-level talent, 70kg takes the top spot with a world medalist, 3 Olympians, and 4 wrestlers ranked in the top 11 in our international rankings. Take a look below to see a preview of the best guys at 70kg.
The Top Wrestlers at 70kg
#2 Ernazar Akmataliev (KGZ) - 2021 World Silver, 2020 Olympian
#7 Turan Bayramov (AZE) - 2021 Junior World Bronze, 2020 Olympian
#7 (at 65kg) Vazgen Tevanyan (ARM) - 2020 Individual World Cup Gold, 2020 Olympian
#11 Rezuan Kazharov (RUS) - 2021 Yarygin Bronze, 2021 Ali Aliyev Gold
Akmataliev Is Electric
Ernazar Akmataliev (KGZ) is coming off a silver medal at the 2021 Senior World Championships. The world silver medal was the culmination of an incredible year for Akmataliev. In April, Akmataliev put the world on notice when he pinned Ilyas Bekbulatov to qualify for the Olympics. Though Akmataliev lost at 3-3 match at the Olympics to Bajrang, his performance in Oslo proved he is one of the most exciting wrestlers in the world regardless of weight. In his quarter-final match, Akmataliev scored a four-point throw early in the match and held on to win at the end of a wild, 8-7 bout over Iran's Erfan Elahi. Then in the semis, Akmataliev hit a headlock just 45 seconds into the match against Evgenii Zherbaev and went on to win that match 9-5. Not only is Ernazar Akmataliev the favorite to win this bracket, he is the most dynamic wrestler at 70kg in the world.
Akmataliev's win over Evgenii Zherbaev to make the 2021 World Finals: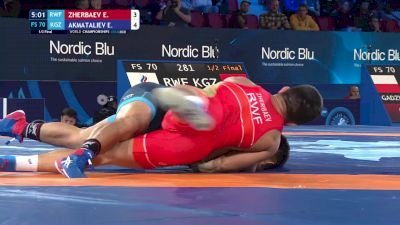 Unlock this video, live events, and more with a subscription!
Get Started
Already a subscriber? Log In
The American Dream Killers
Yianni Diakomihalis and James Green might have won a medal at this year's worlds if not for Vazgen Tevanyan (ARM) and Turan Bayramov (AZE). Tevanyan defeated Yianni in the round of 16 in a largely uneventful match where Tevanyan played defense for six minutes and came out on top, 5-1. Despite his lack of offense at worlds, Tevanyan has proven he's capable of defeating the world's top wrestlers. Tevanyan won the Individual World Cup in December of 2020 where he took out World bronze medalist Ismail Musukaev in the finals (9-1). Then at the European Olympic Games Qualifier in March 2021, he defeated world champion Magomedmurad Gadzhiev and 3-time world champion and Olympic silver medalist Haji Aliyev to qualify for the Olympics. Up at 70kg at U23 Worlds, Vazgen Tevanyan should still be considered one of the biggest threats in the bracket and is capable of winning Gold in Belgrade.
Most American fans know Turan Bayramov from his recent win over James Green at the World Championships but the young Azeri has been wrestling EVERYWHERE in 2021. He competed at both junior (gold) and senior Euros (silver), the Olympics (8th), junior worlds (bronze), and senior worlds (5th). Azerbaijan is investing in Bayramov with the belief that he is their future at 70kg. Bayramov was the U23 world champion in 2019 at 65kg and has the potential to win gold again in Belgrade.
Tevanyan's win over Yianni at the 2021 World Championships: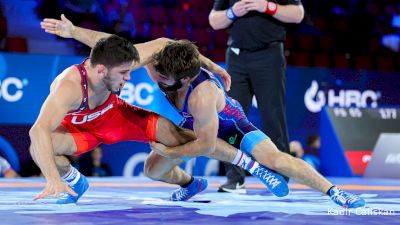 Unlock this video, live events, and more with a subscription!
Get Started
Already a subscriber? Log In
Kazharov = The Sleeping Giant
Whoever Russia sends to a world championships is usually a worthy contender, but Rezuan Kazharov has been on an impressive run in recent months. While Kazharov is an unknown to most American fans, he burst onto the senior level in May when he took bronze at the Yarygin. He followed that up by winning the Ali Aliyev tournament at the end of June over world 5th - Azamat Nurikau (BLR), and then won Russia's U23 World Team Trials. Also at the Aliyev, Kazharov took out Iran's Amir Magsoudi (junior world champ) and Kazakhstan's Syrbaz Talgat (junior world bronze). U23 Worlds will help show if Kazharov is ready to move into the top 5 in the world at 70kg or if he'll remain in the lower half of the top 20.
Brock Mauller Ready To Battle The Best
Brock Mauller is looking to make the most of his opportunity to wrestle at U23 Worlds. He took second to Jacori Teemer at the U23 World Team Trials but Teemer declined the world team spot giving Mauller the opportunity in Serbia. This will be Mauller's first world championship at any age-level and first international tournament of his career. Though he's inexperienced on the world scene, Mauller is already a 3X All-American and is looking to become the third Missouri Tiger to win an age-level world title this year after Keegan O'Toole and Rocky Elam won junior world titles in August. This field at U23 Worlds will give Mauller the opportunity to test himself against some of the best wrestlers in the world.
Mauller's win over Yahya Thomas to make the U23 World Team Trials Finals: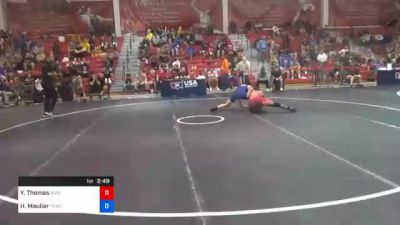 Unlock this video, live events, and more with a subscription!
Get Started
Already a subscriber? Log In