Big 12
Cowboys Ready To Ride With Stars, Seniors Returning
Cowboys Ready To Ride With Stars, Seniors Returning
Dakota Geer and Wyatt Sheets opted for another year at Oklahoma State, joining forces with NCAA champ A.J. Ferrari and World silver medalist Daton Fix.
Oct 31, 2021
by Roger Moore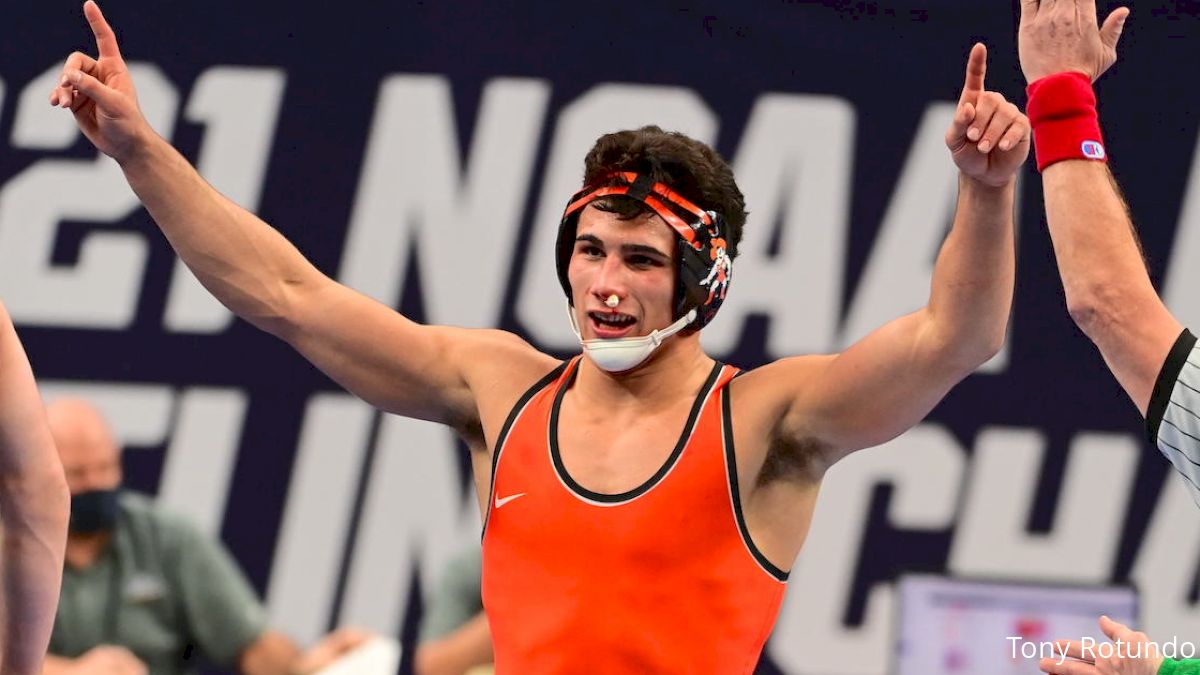 Unlock this article, live events, and more with a subscription!
Get Started
Already a subscriber? Log In
Not that serious conversations did not take place between coaches and their student-athletes in the past, but a few new elements have been included since March of 2020. When the NCAA Championships were canceled, all-of-a-sudden questions of eligibility and what was next for college athletics in the wake of a pandemic brought plenty of chaos. A limited 2020-21 campaign was anything but normal, but an NCAA meet was held and All-America honors awarded.
Then the big question: are you taking that extra year of eligibility?
For Dakota Geer, a two-time All-American for Oklahoma State, a transition away from wrestling was in order.
"I was real close to being done," said Geer, a fifth-place finisher in St. Louis last March. "I actually called up coach (John) Smith and told him I wasn't coming back, that I'd coach but not wrestle. I got my real estate license, so I was going to do that, maybe be a graduate assistant and get my Master's. I was done with cutting weight, getting to 184. I was tired of it.
"But (Coach Smith) talked to me and talked about the opportunity that was there; it might not be the easy route but he made it worth it."
Among those in the conversation was associate head coach Zack Esposito.
"Some teams really benefitted from getting that extra year," said the former NCAA champion. "We got Dakota (Geer) back and Boo Lewallen had the opportunity, but his body just didn't cooperate. It probably took a lot of convincing for some of guys to come back. As soon as last season ended there was probably a lot of 'I'm coming back,' but that might die off around June and July; guys start thinking about their life and career and starting a family, making money, taking a job. For some of them, it gives them one more opportunity to chase that goal of being a national champion."
"We didn't get Geer back really until the first of August," said Smith, OSU's wrestling boss for three decades. "He didn't have much intention of coming back, but we sold him on it, talked about the opportunity to advance his career. With him, I've seen a level of motivation so far that excites me. He's excited about being back, about wrestling again instead of that dread of 'I've got to do this again.'"
Injuries and the grind have taken a toll on Wyatt Sheets as well. A last-minute addition to the 2021 NCAAs, Sheets took advantage and battled to a top-eight finish. But there was never a question that he'd be suiting up this season.
"You don't get to do this forever, to wrestle in college, so I wanted to make sure I took advantage of the opportunity," said Sheets, a 157-pounder. "You get four or five years if you are lucky and I don't want to let that pass by. I've had injuries and then COVID really messed things up so I'm hoping for a normal season because once something is taken away you really do realize how much you like it even though sometimes it really is tough."
"Last year was weird," Geer said. "I think part of the reason I came back was to be able to finish with a regular wrestling season. Last year was like having a practice instead of a dual sometimes. One of things about last year, too, was how hard it was to get motivated sometimes knowing there was no crowd; that makes a big difference."
What the added year also means is that the competition level will rise. Older, wiser, and, stronger might be the mantra for 2021-22.
"Having those guys getting that extra year, it's going to be hard to judge a lot of things this year," Smith said. "Guys are a year older, going to be stronger, getting closer to the peak of their wrestling career. The peak of your wrestling is not at 23, it's about 26-27 for most, so what is that going to look like over the next five years? The quality of wrestling is going to be better without question. It's thrown some things out of whack but we, like everybody else, will adjust to it and put our best team out there."
After a year of minimal crowds, all involved hope things return to some sort of normalcy this season. One event which will certainly draw fans will be the February "Bout at the Ballpark" in Arlington, Texas, that pits old friends OSU and Iowa on the Rangers' baseball diamond. Smith and company hope to replicate the 2015 "Grapple on the Gridiron" at Iowa's Kinnick Stadium that drew 42,287 fans.
"It's going to be really cool," Geer said. "Matches like that, when you hear about the possibility of something in the making, it makes you want to be a part of it. From no fans to like 40,000 … it won't be hard to get motivated for that one."
Bell Cows
In chasing down 2021 NCAA kings Iowa and powerhouse Penn State, the Cowboys have plenty to work with. In particular, 2021 NCAA champ A.J. Ferrari and two-time NCAA finalist Daton Fix, give Smith and company two superstars. If ever there were two varied personalities it is Ferrari, forever famous for his "665-pound deadlift" and social media activities, and Fix, who rebounded from a suspension and a difficult loss to Roman Bravo-Young in the 133-pound NCAA final last March with a run to the finals of the 2021 World Championships in freestyle. In two collegiate seasons, Fix has compiled a 47-3 standard.
"Daton had a great year," John Smith said. "When you miss a year it's going to take some time, but he hit full go at the Trials and even at the World Championships. He lost to one of the best wrestlers in the world and the way he wrestled in that tournament he was one of the best in the world. Really proud of him and how he's bounced back. He's really clawed his way back and sets a good example with his work ethic all the time."
After winning his national title, Ferrari competed at U.S. Olympic Trials. An injury kept him off the mat over the summer, but most in the Ferrari camp know he'll be ready to go come November. The always-energetic 197-pounder was 20-1 last season and became just the third true freshman at OSU to win a national title, joining Richard Hutton in '47 and Pat Smith in '90.
"I don't care what you do, if you are a garbage man or whatever, just be the best you can be, give it everything you have," Ferrari said. "If you do that the possibilities are endless. I know there are a lot of guys out there who want to beat me, that are training to beat me every day. I can't let up. I have to attack every day, do what I can to keep getting better."
A third heavy-hitter, Oregon product Travis Wittlake, has turned in two All-America seasons and taken just five losses in 55 career matches at 165 pounds. When this season's schedule was released an immediate 'oh boy' reverberated throughout the country with 2021 NCAA champ Shane Griffith waiting for Wittlake in Palo Alto.
Questions To Answer
National qualifier Trevor Mastrogiovanni went 15-6 and won a pair of matches in St. Louis. The Blair Academy product is expected to hold down 125 pounds again. Another rookie a year ago, Dustin Plott, qualified for the NCAAs and won 15 of 21 bouts at 174 pounds.
"Dustin battled through some injury last year and having that year under his belt is going to benefit him. He's healthy again," said Smith of the product of Oklahoma powerhouse Tuttle.
At 141, 149, and 285 questions remain heading into November.
● Kaden Gfeller, now a senior, showed his potential when he pinned Penn State's Nick Lee in the Southern Scuffle final in 2018; he was the No. 7 seed at 149 pounds at the 2019 NCAAs but did not place.
"He hasn't been consistent enough for us and he needs to find something if he is going to contribute this year," John Smith says of the 141- or 149-pounder.
● Graduate student Dusty Hone won 21 matches at 141 pounds during the COVID-ending 2019-20 campaign and worked through an injury-filled season a year ago.
● A pair of wild-cards are rookies Carter Young and Victor Voinovich. Young, a Stillwater (Okla.) High product, gained national attention with his performance at the World Team Trials over the summer, beating former NCAA champion Seth Gross for bronze. He could factor into the 141-pound decision, while Voinovich, a two-time Ohio state champion who competed for the Serbian national freestyle team at the 2021 Junior European and World Championships may push at 149 pounds.
● OSU has had some success with 197-pounders bulking up to 285 the last decade. Alan Gelogaev and Derek White highlight that list. A year ago, Austin Harris, a former 174-pounder, won a pair of matches at the NCAAs and went 12-8 after a 5-12 record in 2019-20. Harris will battle rookie Luke Surber, a three-time Oklahoma state champion, and possibly Konner Doucet, a four-time Oklahoma state champ.
Welcome Back
Missouri left the Big 12 in 2012 and moved to the Southeastern Conference, becoming the only institution in the league with a wrestling program. Brian Smith's Tigers opted to compete in the Mid-American Conference and dominated.
Now back in the Big 12 as a wrestling affiliate, Smith knows that MU brings more firepower to a fluid league.
"We need to continue to build our conference," Smith said. "Getting Missouri back is a big thing and we will see what Oklahoma does when they go to the Southeastern Conference. Hopefully they remain in the Big 12 for wrestling because we don't want to make the same mistake in 2011 by not working harder to keep Missouri. Some selfish decisions were made and we really can't do that again."
Missouri won the 2012 Big 12 Tournament title. Since, OSU has won or tied every meet including last season's draw with rival Oklahoma.