2021 Super 32
Girls Super 32 Recap: Hattendorf Back on Top, Young Stars Repeat
Girls Super 32 Recap: Hattendorf Back on Top, Young Stars Repeat
Skylar Hattendorf and several more of the nation's top girls high school stars shined Sunday in Greensboro at the Super 32.
Oct 27, 2021
by Derek Levendusky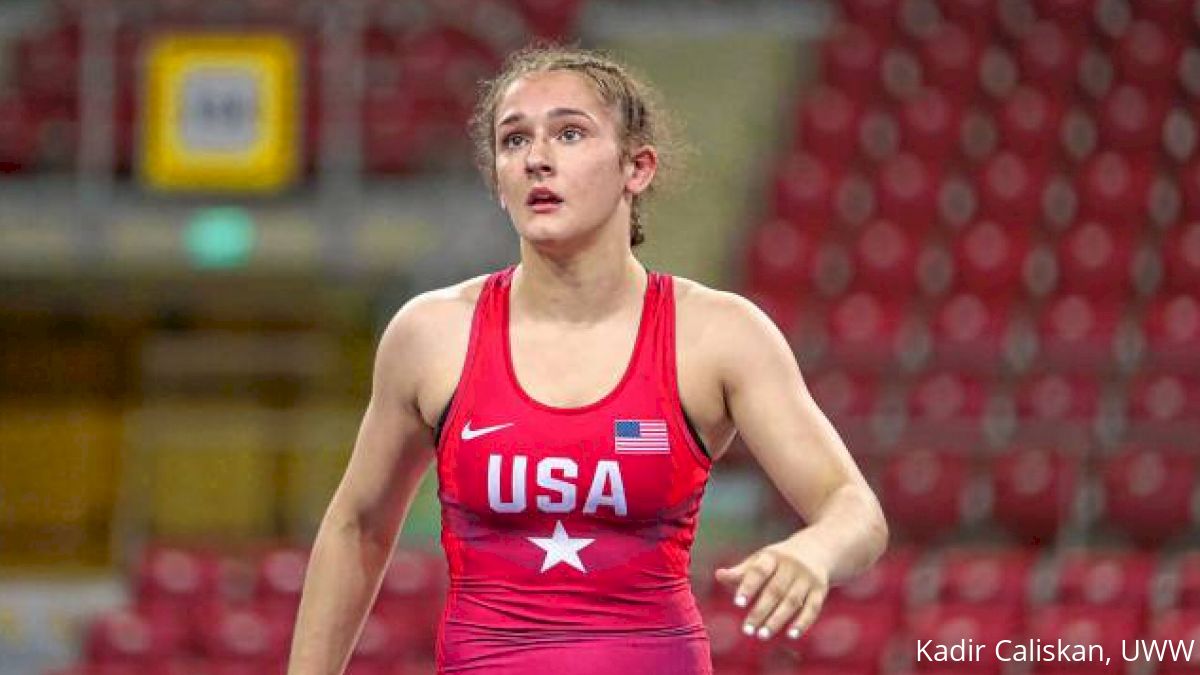 Some of the best female high school wrestlers in the country converged on Greensboro, North Carolina, over the weekend to compete at Super 32, a tournament widely known as one of the most prestigious events on the high school wrestling calendar. In the end, the girls' division had 222 entries and crowned 11 champions, including some familiar names that earned back-to-back titles.
Headlines
After a year off from national competitions due to injury, 2019 Cadet World silver medalist Skylar Hattendorf returned to the mat to win her first Super 32 title, scoring three pins and a tech fall, including a pin in finals over 2021 Cadet World teamer Grace Stem. Hattendorf took second at Super 32 in 2019.

This year's event featured multiple repeat champions, including 115-pound Jaclyn Dehney of New Hampshire and 123-pound Katie Gomez of California. Gomez, a 2021 Cadet World champ scored five straight tech falls to win her third Super 32 title. 130-pound SaVannah Cosme also went back-to-back, coming off her first appearance at Cadet Worlds. Cosme outscored her opponents 37-7 en route to her title, getting a fall in the finals over Florida's Kailey Rees.

California's 108-pound Nyla Valencia didn't go back-to-back, though she did win her second Super 32 title, getting her first in 2019 and then taking third at last year's event. Pennsylvania's 148-pound Reese Larramendy also won her second title, having won it in 2019, although she did not compete last year. Larramendy cruised to the semis, but had to get through two tough Tennesseans to win the title, earning a 17-7 victory in the semis over fifth-seeded All-American Maggie Graham and then sneaking by "Cinderella" Piper Fowler 4-3 in the finals, an unseeded opponent who upset second-seeded Maddie Kubicki in the semis.


Breakout performances
After being dominated by Maryland's two-time Super 32 champ Alex Szkotnicki in the finals last year, Missouri's Ava Ward broke through to win the rematch against Szkotnicki in this year's finals, flipping the script and earning a 10-0 win by technical superiority. For Ward, only a freshman, it's her first Super 32 title.

At 97 pounds, Illinois' unranked Gabriella Gomez won it all, taking out the #1 seed and Cadet World champ Erica Pastoriza, in the semis 10-6, then getting a late takedown in the finals for the dramatic win over Minnesota's GiGi Bragg by 6-6 criteria. Gomez is the younger sister of her well-known older siblings, accomplished wrestlers Austin and Alexis Gomez.

At 108, after failing to make the podium last year, Faith Cole put together a solid day to make the finals this year. Seventh-seeded Kailey Rees had a day at 130, making the finals after taking out Canada's second-seeded Bronwyn MacGregor, the 2021 Junior Pan Am bronze winner, and the sixth-seeded Marissa Jimenez of Idaho, before she fell in the finals to Cosme. Seventh-seeded Anaya Falcon of California also made the final at 115 while the aforementioned unseeded Piper Fowler of Tennessee made the final at 148.

At 160, West Virginia's Kaylie Hall won her first title after taking fourth in 2020, while Minnesota's Ella Pagel won her first after taking third in 2020. Her opponent Millie Azlin of Oklahoma made the finals as an unseeded entry, pulling an upset over the #1 seed Ella Nichols in the semis by a 10-6 score. At 195, Alivia White defeated 2019 Super 32 champ and 2020 finalist Dasia Yearby of South Carolina, a convincing 10-4 win for the title.

In the team race, Pennsylvania took first with 37 points, California took second with 25 points, while Missouri landed in third with 18 points.

Replays of all matches can be viewed on FloWrestling.

All Super 32 finishers:

97 pounds
1. Gabriella Gomez (IL)
2. Gigi Bragg (MN)
3. Valarie Solorio (PA)
4. Mary Manis (FL)
5. Erica Pastoriza (PA)
6. Kealonie Vega (FL)

103 pounds
1. Ava Ward (MO)
2. Alex Szkotnicki (MD)
3. Ana Malovich (PA)
4. Kaelani Shufeldt (CA)
5. Reanah Utterback (IA)
6. Molly Allen (IA)

108
1. Nyla Valencia (CA)
2. Faith Cole (MO)
3. Karlee Brooks (AZ)
4. Cecilia Williams (MI)
5. Sterling Dias (NV)
6. Virginia Foard (PA)

115
1. Jaclyn Dehney (NH)
2. Anaya Falcon (CA)
3. Taina Fernandez (MD)
4. Juliana Diaz (FL)
5. Jenavi Alejandro (NV)
6. Bella Hoffman (SC)

123
1. Katie Gomez (CA)
2. Jennifer Soto (CA)
3. Alexis Janiak (IL)
4. Daniella Nugent (MA)
5. Savannah Witt (PA)
6. Anna Krejsa (IN)

130
1. SaVannah Cosme (CO)
2. Kailey Rees (FL)
3. Julianna Morris (CT)
4. Marissa Jimenez (ID)
5. Lilly Luft (IA)
6. May Prado (GA)

139
1. Skylar Hattendorf (NH)
2. Grace Stem (PA)
3. Jada Llamido (FL)
4. Paige Wehrmeister (MO)
5. Kendall Bostelman (PA)
6. Clarissa Agostini (ON)

148
1. Reese Larramendy (PA)
2. Piper Fowler (TN)
3. Maddie Kubicki (MO)
4. Amarisa Manuel (MI)
5. Maggie Graham (TN)
6. Nebi Tsarni (MD)

160
1. Kaylie Hall (WV)
2. Millie Azlin (OK)
3. Kalee Holder (AL)
4. Caitlyn Flaherty (TX)
5. Alexis Ritchie (IL)
6. Ella Nichols (CT)

172
1. Ella Pagel (MN)
2. Lily El-Masri (PA)
3. Bella Porcelli (IA)
4. Kaitlyn Pegarella (PA)
5. Eryn Hubble (VA)
6. Katelyn Lewis (WI)

195
1. Alivia White (WA)
2. Dasia Yearby (SC)
3. Ella Murphey (TN)
4. Trinity Monaghan (PA)
5. Kiara Ganey (IL)
6. Amariah Marenco (GA)