2021 Senior World Championships
How Every Olympic Medalist Performed At Worlds And What It Means
How Every Olympic Medalist Performed At Worlds And What It Means
Find out which Olympic medalists performed better or worse at the World Championships, and decide for yourself how tough the brackets were in Oslo.
Oct 13, 2021
by JD Rader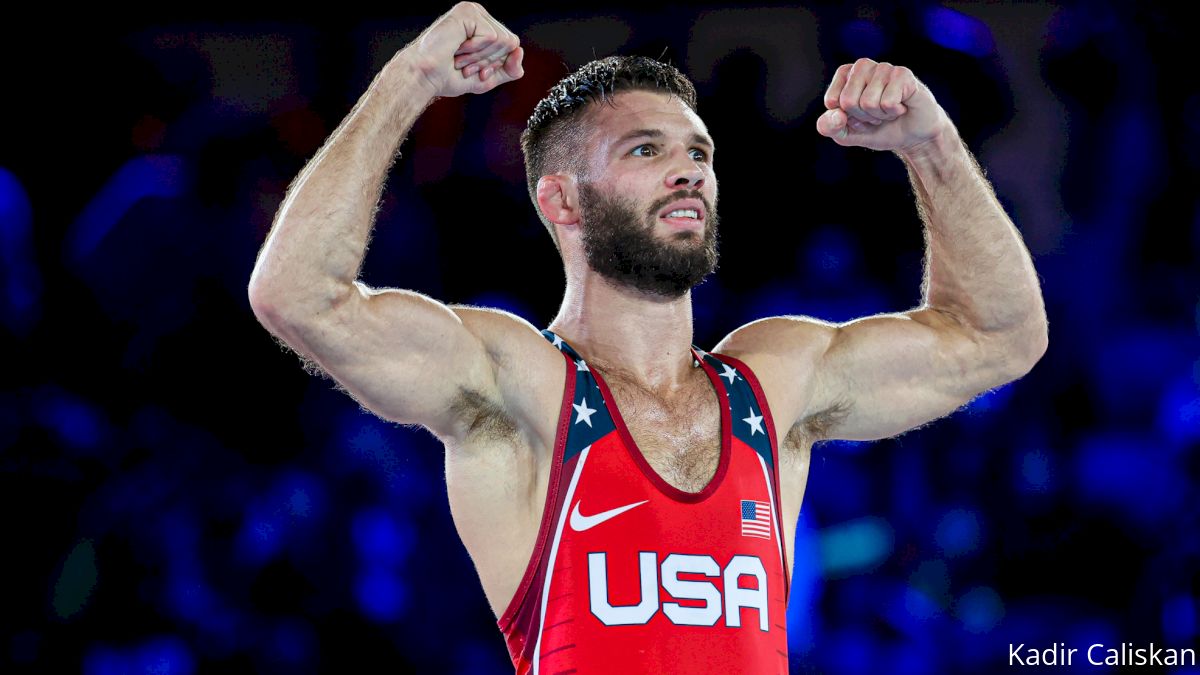 With the 2021 World Championships occurring 8 weeks after the Tokyo Olympics, not every Olympic medalist was going to compete in Oslo. Some people went as far as to say there should be an asterisk next to this year's World medals with the lack of top competition. I wouldn't go that far, but some of the numbers may surprise you.
Of the 72 Olympic medalists just 24 competed at Worlds: 10 in MFS, 9 in WFS, and 5 in Greco. Of the 24 that competed, 21 also medaled at Worlds. Of the 21 that won medals at both, 12 finished higher, 6 stayed the same, and 3 finished worse. Although I counted bronze to silver as better, keep in mind that the difference between those two can just be what side of the bracket you end up on. The only two Olympic gold medalists that didn't double up were David Taylor and Tamyra Mensah Stock. Also of note, the 3 wrestlers to not repeat as medalists were all in women's freestyle.
Interestingly enough, 50% of the medalists at the Olympic weights in Oslo in all three styles (both individually and combined as a whole) did not compete at the Olympics either due to not making their own team or not qualifying the weight. One of those in men's freestyle might earn an asterisk as it was Aryan Tsiutryn who was a late transfer to Belarus from Russia.
Below are all of the 2021 Olympic medalists and how they finished at Worlds broken down by style and weight.
Men's Freestyle
57 kg
GOLD: Zaur Uguev → DNC
SILVER: Ravi Kumar → DNC
BRONZE: Nurislam Sanayev → DNC
BRONZE: Thomas Gilman → GOLD
65 kg
GOLD: Takuto Otoguro → DNC
SILVER: Haji Aliyev → DNC
BRONZE: Gadzhimurad Rashidov → DNC
BRONZE: Bajrang Punia → DNC
74 kg
GOLD: Zaurbek Sidakov → DNC
SILVER: Magomedhabib Kadimagomedov → DNC
BRONZE: Kyle Dake → GOLD
BRONZE: Bekzod Abdurakhmonov → DNC
86 kg
GOLD: David Taylor → SILVER
SILVER: Hassan Yazdani → GOLD
BRONZE: Artur Naifnov → BRONZE
BRONZE: Myles Amine → DNC
97 kg
GOLD: Abdulrashid Sadulaev → GOLD
SILVER: Kyle Snyder → SILVER
BRONZE: Reineris Salas → DNC
BRONZE: Abraham Conyedo → DNC
125 kg
GOLD: Gable Steveson → DNC
SILVER: Geno Petriashvili → SILVER
BRONZE: Amir Zare → GOLD
BRONZE: Taha Akgul → BRONZE
Women's Freestyle
50 kg
GOLD: Yui Susaki → DNC
SILVER: Sun Yanan → DNC
BRONZE: Mariya Stadnik → DNC
BRONZE: Sarah Hildebrandt → SILVER
53 kg
GOLD: Mayu Mukaida → DNC
SILVER: Pang Qianyu → DNC
BRONZE: Vanesa Kaladzinskaya → DNC
BRONZE: Bat-Ochiryn Bolortuyaa → DNC
57 kg
GOLD: Risako Kawai → DNC
SILVER: Iryna Kurachkina → DNC
BRONZE: Helen Maroulis → GOLD
BRONZE: Evelina Nikolova → 8th
62 kg
GOLD: Yukako Kawai → DNC
SILVER: Aisuluu Tynybekova → GOLD
BRONZE: Iryna Koliadenko → DNC
BRONZE: Evelina Nikolova → 8th
68 kg
GOLD: Tamyra Mensah-Stock → BRONZE
SILVER: Blessing Oborududu → 8th
BRONZE: Ala Cherkasova → DNC
BRONZE: Meerim Zhumanazarova → GOLD
76 kg
GOLD: Aline Rotter-Focken → DNC
SILVER: Adeline Gray → GOLD
BRONZE: Yasemin Adar → DNC
BRONZE: Zhou Qian → DNC
Greco-Roman
60 kg
GOLD: Luis Orta → DNC
SILVER: Kenichiro Fumita → DNC
BRONZE: Walihan Sailike → DNC
BRONZE: Sergey Emelin → DNC
67 kg
GOLD: Mohammad Reza Geraei → GOLD
SILVER: Parviz Nasibov → DNC
BRONZE: Frank Stabler → DNC
BRONZE: Mohamed Ibrahim El-Sayed → DNC
77 kg
GOLD: Tamas Lorincz → DNC
SILVER: Akzhol Makhmudov → DNC
BRONZE: Shohei Yabiku → DNC
BRONZE: Rafig Huseynov → GOLD
87 kg
GOLD: Zhan Beleniuk → DNC
SILVER: Viktor Lorincz → DNC
BRONZE: Denis Kudla → DNC
BRONZE: Zurab Datunashvili → GOLD
97 kg
GOLD: Musa Evloev → DNC
SILVER: Artur Aleksanyan → DNC
BRONZE: Tadeusz Michalik → DNC
BRONZE: Mohammad Hadi Saravi → GOLD
130 kg
GOLD: Mijan Lopez → DNC
SILVER: Iakob Kajaia → BRONZE
BRONZE: Riza Kayaalp → DNC
BRONZE: Sergey Semenov → DNC