The Pulse With Andy Hamilton
The Pulse: 20 Interesting Facts And Figures Coming Out Of Oslo
The Pulse: 20 Interesting Facts And Figures Coming Out Of Oslo
This week's edition of The Pulse looks back at some of the interesting facts and figures you might have missed from the World Championships in Oslo.
Oct 11, 2021
by Andy Hamilton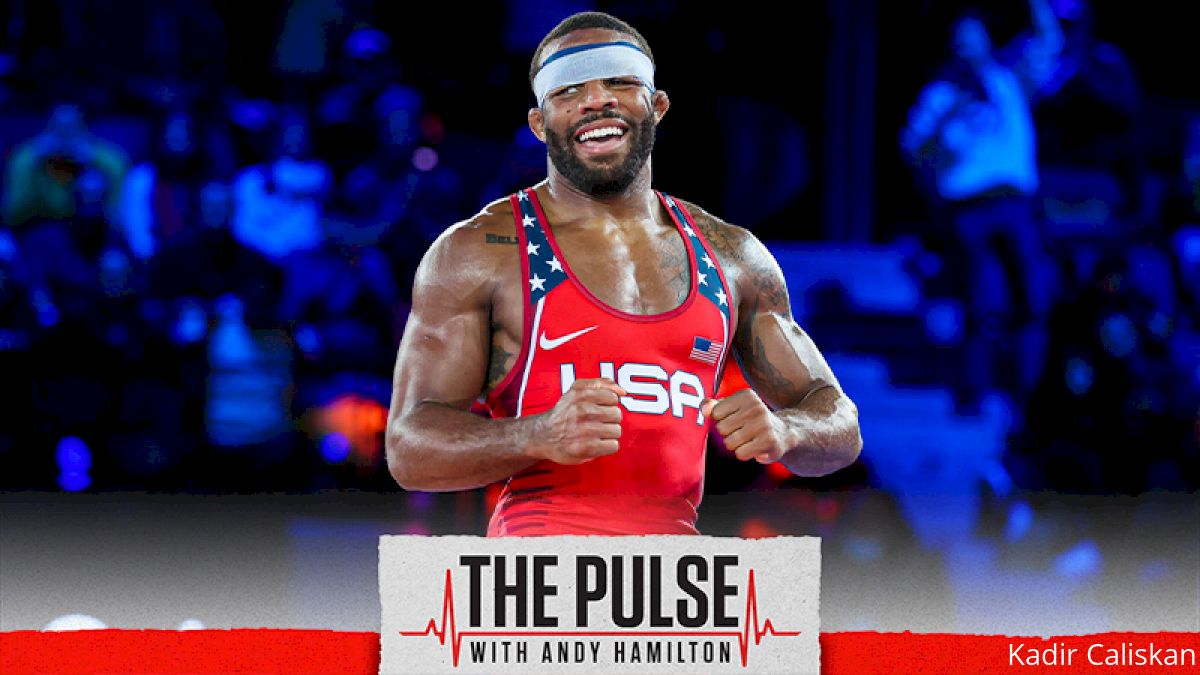 Unlock this article, live events, and more with a subscription!
Get Started
Already a subscriber? Log In
The Pulse with Andy Hamilton is a look at the hot topics and interesting angles in wrestling. This week's edition looks back at some of the interesting facts and figures coming out of the World Championships in Oslo.
Jordan Burroughs was maybe only half kidding last week when he explained why there was no chance he was losing to 20-year-old Iranian Mohammad Ashghar Nokhodilarimi with a historic sixth World-level title at stake.
"He was a Junior World champion. That's all they had to tell me," Burroughs said. "He was a Junior World champion — in 2021. I'm like, 'Nope, can't lose to this guy.' I've got kids older than this guy."
The final part of that statement is an exaggeration, of course. Nokhodilarimi is young, but he's not that young. He was 10, after all, when Burroughs won his first World gold back in 2011.
But there was another reason Nokhodilarimi essentially had no chance in the title bout — Burroughs doesn't lose World and Olympic medal matches. He's 9-0 in such bouts during his career.
That's one of the interesting facts and figures coming out of the World Championships. Here are 20 more:
1. Burroughs had yet to bring his first World gold back into American airspace 10 years ago when the buzz began about his pursuit of five more. That 2011 trip to Istanbul catapulted the 23-year-old Senior-level rookie to instant international stardom and put him on a relentless chase to track down John Smith atop the USA Wrestling mountain. Now he's there with six World-level titles. The sixth gold vaulted Burroughs into the top 10 all-time. He's currently in a seven-way tie for eighth.
2. Abdulrashid Sadulaev remained one title ahead of Burroughs after grabbing his seventh gold. The Russian legend upped his Senior-level record to 134-2 with his 6-0 win against Kyle Snyder in the 97-kilogram title bout. Sadulaev is now tied for sixth all-time with seven golds — three behind men's freestyle record-holder Aleksandr Medved.
3. Sadulaev has now won 59 consecutive bouts since losing to Snyder in the 2017 World finals.
4. Speaking of Snyder, his silver in Oslo raises his World and Olympic medal count to seven, which ties Dave Schultz for third on the American men's freestyle list. Bruce Baumgartner holds the American record with 13, but Snyder is closing fast. In fact, the 25-year-old is three ahead of Baumgartner's pace. Bruce won four World-level medals before he turned 26.
5. Baumgartner became the oldest American to win a freestyle World title when he captured his fifth gold in 1995 at the age of 34 years, nine months and 11 days. Burroughs is now the third-oldest American to win freestyle gold at 33 years, two months and 27 days. Bill Zadick is second (33 years, five months, 25 days).
6. Kyle Dake was 27 when he made his first World Team, but World titles in 2018, 2019 and now 2021 have elevated him into a class with seven other Americans who have won three or more men's freestyle World titles.
7. The United States had six men's freestyle finalists — champions Thomas Gilman, Dake and Burroughs and silver medalists Daton Fix, David Taylor and Snyder — which is the most for the Americans since 1991. That team also captured three golds and three silvers and finished second to the Soviet Union.
8. Throw in J'den Cox's bronze and the Americans left with seven men's freestyle medals, matching their 2018 total. Prior to that, the USA men's freestyle squad hadn't won that many at the World Championships or Olympics since 1987.
9. Cox is now 5-0 in World and Olympic medal matches. The five medals put him sixth on the American men's freestyle chart.
10. Gilman's gold moves him into a group of four Americans who captured a World freestyle title without winning an NCAA championship. He joins Lloyd Keaser, Zeke Jones and Kevin Jackson.
11. Adeline Gray's sixth gold pushes her into a three-way tie for the fourth-most women's freestyle World-level titles behind Japanese legends Saori Yoshida (16 titles), Kaori Icho (14) and Hitomi Obara (nine).
12. Gray now owns nine World-level medals, which ties Kristie Davis for tops on the American women's freestyle list.
13. Helen Maroulis is third on the American women's freestyle medal chart with seven after winning her fourth gold.
14. The USA women's freestyle program has now won 23 World and Olympic golds. Gray and Helen Maroulis have captured 10 of them.
15. Sarah Hildebrandt became the 15th multi-time World-level finalist in American women's freestyle history.
16. The women's squad claimed seven medals in Oslo, which matches an American record set in 2003.
17. Japan claimed its 29th women's freestyle team title. The rest of the world has combined for seven.
18. G'Angelo Hancock punched through to the podium in his fourth trip to the World Championships. His bronze increased the USA Greco World and Olympic medal count to 48. He's the 31st American to win a World-level Greco medal.
19. Moldova began sending wrestlers to the World Championships in 1993 and prior to last week, the country had won just one gold — Lukman Dshabrailov's freestyle title in 1994. The little country with 2.6 million citizens tripled its title count in Oslo, where Irina Ringaci became Moldova's first women's freestyle World champ and Victor Ciobanu grabbed the first Greco gold.
20. Only two Tokyo Olympic champs doubled up in Oslo — Sadulaev and Iran's Mohammad Reza Gerai, who grabbed the Greco gold at 67 kilograms.