2021 Senior World Championships
Eclectic American Greco Group Ready To Hit Mat In Oslo
Eclectic American Greco Group Ready To Hit Mat In Oslo
A mixed-bag USA Greco squad takes the mat this week at the World Championships in Oslo.
Oct 6, 2021
by Timmy Hands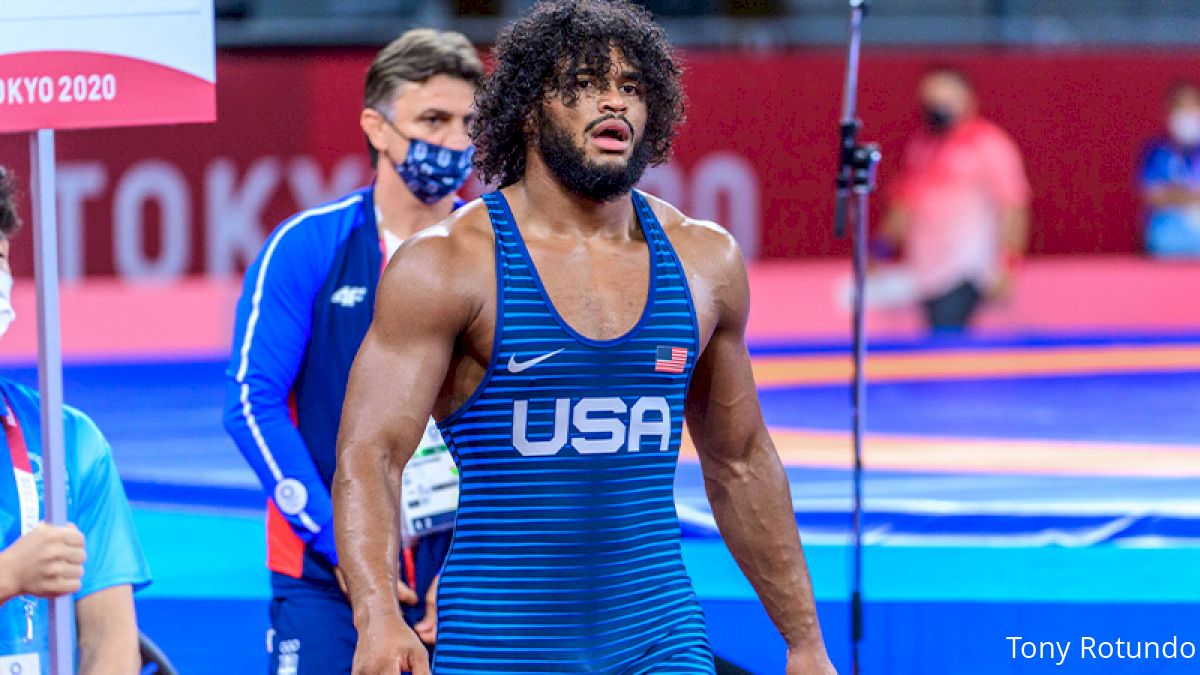 The draws for the 2021 Greco-Roman World Championships will be released sometime on Wednesday. Those who pay attention to bracket placement and early-round match-ups will ponder the possibilities. They will imagine perceived routes to medal chances, talk 'em over, and then wait in great anticipation for the tournament to actually begin.
It makes international wrestling even more fun to follow, doesn't it? The draws, and what they might mean?
It is also grasping at straws. World tournaments, by and large, are a crapshoot. The draws — even with recognizing United World Wrestling's incestuous "Ranking Series" points and seeding accompaniment -- do not guarantee much other than what the qualifying rounds have to offer. Especially in Greco, and especially, this year, for Team USA.
Ten athletes, five of whom have not before competed in a Senior World event. Three of the first-timers do know what it's like to walk on a World-level mat on the age-group level. The heavyweight, in particular, is highly-decorated in that regard. But Senior is different. It is the ultimate testing ground, and so the fact five are about to make their respective grand debuts automatically renders them as wildcards. For the other five who have danced this dance prior in their careers, Oslo represents another opportunity to reshape a narrative or skyrocket their trajectories.
It's a mixed bag for the Americans. But in a good way. And because Oslo '21 is occurring during what is and has been a tumultuous time in wrestling history, a very strong red-white-and-blue performance from the country's misfits feels as though it makes sense right about now.
Weight-by-Weight
55 kg: Max Nowry (Army/WCAP)
Fifth in the World two years ago, Nowry is automatically seen as a serious medal contender. He is stronger these days after having shot up to 60 for the Olympic Year. The little guy retained some of that muscle, and it hasn't slowed down his darting drags off of two-on-ones or his other more potent scoring chances from the feet. Par-terre-wise, he's a killer. What's more, his defense has improved, too. All of 55's heavy hitters were listed by UWW on the entry list, so it's not exactly a "down year" in the sport's lightest weight. Nowry proved once before that he deserves mention among the best. For him to step onto the medal stand, it will be about timely scores, not necessarily an overall points yield. The opportunities appear and disappear in flashes at 55, so forcing the issue early could offer a huge benefit opposite those who wait for par terre.
Additional fact: Nowry owns three Pan-Am Championship golds, three U.S. National titles, and was a University World Champion in '12.
60 kg: Dalton Roberts (Army/WCAP)
Roberts, who was also on the '18 Team, is cut from a successful American mold. He is always in unbelievable condition, brings hardcore pressure, and can re-attack for scores from a variety of would-be precarious positions. But his technical skills are the story. Roberts' tools are sharper now; and he is, indeed, physically more viable in areas where that means something. He has always had the know-how, but more horsepower, along with more seasoning, make him incredibly dangerous.
Additional fact: Roberts has made at least two World Teams in three age divisions: Junior, U23, and now Senior. There is also a "Dalton Roberts Fan Club" message thread among Army athletes where they share photos and insights regarding his exploits.
63 kg: Sammy Jones (NYAC)
"The Wildman" in a World Championships. What will they think of him? Jones does not wrestle like most Americans. He is not big on pummeling and grinding. Instead, he wants to reach the body and hurl. That's his game. A risk-taker of the highest order and, believe it or not, that can catch foreigners off-guard. They want conventional mechanics, not a guy who is going to make strings of attempts from the feet, most of which are bodylocks. Thing is, Jones is undercover one of the more effective par terre athletes the US has, as well. And par terre is what wins medals. Most of the time.
Additional fact: Jones was a University World bronze in '14, the same year Patrick Smith earned silver. He is also one of five wrestlers on the '21 Greco World Team with ties to Northern Michigan (along with Nowry, Roberts, Porter, and Provisor -- whose time in Marquette was short).
67 kg: Peyton Omania (NYAC/CYC)
If it were just his explosiveness, that would be fine. If it were just his timing, or his long-running experience in the sport dating back to his wearing short pants, Omania would still attract interest this week. But it is all of the above. The Senior Trials brought to light everything the '19 Junior World bronze has demonstrated previously, just on a larger scale. Omania only looks like he is throwing the proverbial kitchen sink. What he is really doing is chaining together old-school Greco attacks and using hard-to-measure movement off of tie-ups that creates one opportunity to score after another. Not many Europeans enjoy that type of style.
Additional fact: Omania is mentored by Luke Sheridan, who is mentored by Robby Smith, who was mentored in part by Stevie Gee. All of the above were coached, influenced, and mentored by Mark Halvorson.
72 kg: Patrick Smith (Minnesota Storm)
The first two meant something to Smith. His initial Worlds appearance in '17 ended a three-year streak of near-misses domestically, and his run in '19 at the Olympic weight showed why there is some unusual stuff inside his DNA. But neither of those performances ended with a medal. Vexing to most, it seems, for Smith is certainly a medal-capable competitor. He just is. No one in his bracket or perhaps the sport as a whole can do what he does, which is floor it for six minutes. Translating that pace into multi-point scores is challenging, but he has done that enough to bring forth a pattern. Defense wins, of course. And for Smith to reach the podium, that is what it will take. No one wants to wrestle a second period against him with the match hanging in the balance.
Additional fact: Smith -- who as mentioned earned University silver in '14 and was the Pan-Am Games gold in '19 -- has appeared in six U.S. Trials finals series, winning three ('17, '19, and '21).
77 kg: Jesse Porter (NYAC)
Porter's entry into the World Olympic Qualifier this past May introduced to him the top level at Senior. He also had three U23 World showings, none of which bearing fruit. His style, tactics, and general approach are unorthodox — which stymies international opposition. That's what you want to see. Porter can generate offense off of exchanges that by-the-book athletes wouldn't dare even consider. Because he is still young, by international standards, there is also not a lot of familiarity working against him. Cinching his lock would go a long way in this tournament. So too would bottoming out in par terre defense. But, Porter is "Porter" because he sticks to his own customized approach, you just hope that he stays active enough on the feet to ward off phantom passives. All he needs is a chance or two to pile on serious points.
Additional fact: Porter downed Fritz Schierl (TMWC/Ohio RTC) to clinch the '21 World Team spot. Porter also previously defeated Schierl in two U23 Trials finals ('18 and '19).
82 kg: Ben Provisor (NYAC)
There is little room for debate — 82 kilograms is, likely, the best weight for "Big Ben". Fits him like a glove. It is also the perfect time in his career. Provisor may very well remain in the hunt for '24, but that is a lot different than what he attempted to do in '20/'21. What the people want to know is if, at 31, Provisor is a legitimate medal candidate. "Yes", and for three good reasons: 1) he is elite in turning and defending; 2) He can "game" on-the-feet concerns as well as anyone; and 3) He can drum up clutch scores on the strength of his off-balances, which is more important than most might realize. The 82-kilo class is not shallow, as there are plenty of top-tier Seniors set to be in the mix. Should Provisor advance in the argument, each match will present a grueling struggle. But that kind of thing is his speciality, hence why confidence in his chances should be high.
Additional fact: Provisor is currently enrolled at Grand View University in Iowa, an NAIA school — as a freshman. Provisor's plan is to graduate with a degree and eventually move onto coaching.
87 kg: Alan Vera (NYAC)
Curiosity abounds when it comes to Vera's Senior World debut. He never got a shot while in Cuba, and was defeated in the U.S. Olympic Trials where he was pegged by most as the favorite. Why was Vera the perceived favorite, despite the presence of Joe Rau, John Stefanowicz, and Patrick Martinez? Because he is the best 87 in the U.S. from a technical perspective, with some distance. The cleanest lift mechanics, oft-superb par terre defense, pummels with a purpose… Vera, as a total package, is mightily impressive. Does not hurt that he is a physical specimen, either. In Oslo, it will be less about his skill-set and more about the conclusive three minutes. He is on even ground, or above, when compared to the glossy names in the bracket. But he has to have the reserves necessary for that to matter. If he does, it could be a special tournament.
Additional fact: Before defecting to the U.S., Vera won three Granma Cup titles and a Pan-Am Championships gold. In '20, he also placed third at the International Ukrainian Tournament, becoming the first American to medal at that event.
97 kg: G'Angelo Hancock (Sunkist)
Hancock needn't let Tokyo rent space in his head any longer, though that was not the deal throughout most of August. He was seen as having been on the path to an Olympic medal until a quizzical bout with eventual bronze Tadeusz Michalik. It took Hancock a minute to get correct with what had happened. Once the ship righted heading into Lincoln, it was full-speed ahead. Hancock performed as expected at the Trials, though Nick Boykin hung in quite well during the clinching match of their series. Again, domestic concerns are different. Hancock overwhelmingly measures himself based on overseas training and competition. It brings something else out of him. Motivation, important for all involved, presents itself to Hancock most prominently whenever he is across the Atlantic.
Additional fact: Hancock has wins over two recent World medalists who are also in the 97 kg Oslo bracket: Kiril Milov (BUL, '19 silver) and Mikhail Kajaia (SRB, two-time bronze). Hancock decisioned Kajaia in the round of 16 at the Tokyo Olympics.
130 kg: Cohlton Schultz
In the U.S., they talk about Schultz owning a Cadet World title and two Junior medals. Appropriate fodder. But what comes to mind for the hardcore lot is a loss Schultz took to Alin Alexuc-Ciurarriu (ROU) at Thor Masters '20, and another to World/Olympic bronze Johan Euren the year prior in an exhibition. Two excellent, decorated monsters, and the wunderkind acquitted himself tremendously despite being an age-grouper. Schultz, much like Hancock, cannot be understood going by domestic results or age-group wins. At least not anymore. Schultz is an authentic Greco-Roman athlete. You can put a headgear on him, does not change who he is as a wrestler. He controls ties as well as the footwork of opponents simply through the execution of nuanced motions and tactics. The only wrinkle is that he can scramble, the preeminent callback to his folkstyle prowess.
Additional fact: Schultz All-American'ed at the '21 NCAA Championships, along with Taylor LaMont (55 kg, Sunkist/UVRTC), with whom he had been on several age-group World Teams as well as the U.S. National Team in '19.