2021 Senior World Championships
The Official 2021 World Championship Betting Odds
The Official 2021 World Championship Betting Odds
Point spreads, money lines, prop bets, team race, and more. Here are your 2021 World Championship betting odds.
Sep 30, 2021
by JD Rader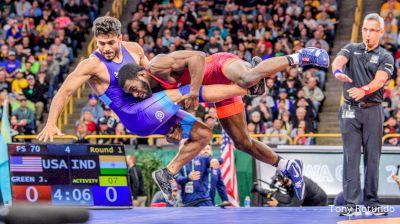 It was incredibly fun to put down real money on wrestling at the Tokyo Olympics through several online sportsbooks. However, I have yet to see a sportsbook post World Championship betting lines. So, I am officially declaring these the official 2021 World Championship betting odds. You won't be able to find these on the Barstool Sportsbook or Bet DSI, but take them to your local bookie and they have to accept recognize them and take your money. Those are the rules.
I've broken things down by weight class and team race bets at the end. Take a good look at each weight as there are some fun spreads and prop bets sprinkled throughout as well.
57 kg
Thomas Gilman to win -135

Thomas Gilman to medal -500

Suleyman Atli to win -145

Abubakar Mutaliev to win -110

Alireza Sarlak to win +115

Toshiya Abe to win +160

Bekhbayar Erdenebat to win +170
61 kg
Daton Fix to win +265

Daton Fix to medal -195

Stevan Micic to win +375

Stevan Micic to medal +122

Abasgadzhi Magomedov to win -233

Beka Lomtadze to win +190

Arsen Harutyunyan to win +300

Toshihiro Hasegawa to win +400
65 kg
Yianni Diakomihalis to win +225

Yianni Diakomihalis to medal -195

Zagir Shakhiev to win -186

Vazgen Tevanyan to win -105

Ali Rahimzade to win +122

Tulga Tumur-Ochir to win +567

Amir Yazdani to win +600

Alejandro Valdes to win +800
70 kg
James Green to win +233

James Green to medal -140

Evgeni Zherbaev to win -163

Magomedmurad Gadzhiev to win -105

Zurabi Iakobishvili to win +140

Turan Bayramov to win +456

Erfan Elahi to win +733
74 kg
Kyle Dake to win -325

Over-under how many points Kyle Dake gives up - 4.5 O -110 U -115

The field (not Kyle Dake) to win -100

Timur Bizhoev to win +375

Tajmuraz Salkazanov +426

Avtandil Kentchadze to win +666
79 kg
Jordan Burroughs to win -250

The field (not Jordan Burroughs) to win -113

Radik Valiev to win +257

Nika Kentchadze to win +400

Akhsarbek Gulaev to win +750

Ali-Pasha Umarpashaev to win +750
86 kg
David Taylor to win -200

Hassan Yazdani to win +150

David Taylor vs Hassan Yazdani spread: David Taylor -2.5, Taylor -120 Yazdani -110

Over-under total points in David Taylor vs Hassan Yazdani: 8.5 O -150 U -135

Does David Taylor finish every opponent early prior to the finals? Yes +122 No -186

David Taylor over-under number of pins 0.5 O -115 U -100

The field (not David Taylor or Hassan Yazdani) to win +400

Artur Naifonov to win +614
92 kg
J'den Cox to win -233

J'den Cox to make the finals -350

Kamran Ghasempour to win +150

Magomed Kurbanov to win +175

Zbigniew Baranowski to win +950
97 kg
Kyle Snyder to win +150

Abdulrashid Sadulaev to win -233

Kyle Snyder vs Abdulrashid Sadulaev spread: Sadulaev -2.5, Sadulaev -110 Snyder -115

Over-under total points in Kyle Snyder vs Abdulrashid Sadulaev: 9.5, O -110 U -115

Over-under number of points Sadulaev gives up before the finals: 3.5 O -115 U -125

The field (not Kyle Snyder or Abdulrashid Sadulaev) to win +450
125 kg
Nick Gwiazdowski to win +488

Nick Gwiazdowski to medal -110

Taha Akgul to win -155

Geno Petriashvili to win -100

Amir Zare to win +194

Lkhagvagerel Munkhtur to win +456
Team
Team USA to win -120

Team Russia to win -150

Team USA over-under total medals: 7.5, O -110 U -150

Team USA over-under total gold medals: 3.5 O -150 U -105