2021 Senior World Championships
Why You Can't Miss Taylor - Yazdani Round IV
Why You Can't Miss Taylor - Yazdani Round IV
Taylor is 3-0 against fellow Olympic champion Hassan Yazdani, but there's a whole bunch of questions heading into round four.
Sep 27, 2021
by JD Rader
Yesterday I wrote about why Kyle Snyder vs Abdulrashid Sadulaev is the greatest wrestling rivalry of all time. I stand by that take. Just shy, but with the potential to catch them, is David Taylor and Hassan Yazdani.
Many people say it's not a rivalry because Taylor is 3-0 against the Iranian. However, I'm here to tell you that it very much is a rivalry and why you can't miss round four next week.
We Saw A Different Match In Tokyo
The first two matches between the Magic Man and The Greatest went fairly similarly. Yazdani got out to a four-point lead before succumbing to the pressure and pace of Taylor. However, in Tokyo, it was very different. Yazdani was able to control the pace of the match much better and it took a beautiful double leg in the last 20 seconds for Taylor to pull out the victory.
Watch David Taylor and Hassan Yazdani's nail-biting Olympic final HERE.
Now There Are Some Questions Going Into Round IV
Because round III was so close, it adds so many questions as we head to Oslo. Is the fourth time the charm for Yazdani? After all, it is hard to beat a wrestler that good four times in a row. Does David just have Yazdani's number? What adjustments will each wrestler make? Will Yazdani attempt to execute the same gameplan, but just be in better shape and stop the late attacks? Can Yazdani even keep it that close again?
Watch David Taylor's 2017 epic comeback on Yazdani below.
David Taylor Isn't Just Wrestling For Himself
Iran is bringing a decent team, but the real race in Norway will be between USA and Russia, and it's probably going to be close. Every match will matter for both teams. The Olympic team score was settled by five points. That's exactly the difference between a gold medal and a silver medal for a country. A David Taylor win on day two could really get momentum on Team USA's
This Is Wrestling History Before Our Eyes
I mentioned it as well with Sadulaev and Snyder, but these matches are historic. The stuff fans will talk about for a long, long time. I know Taylor is 3-0 against Yazdani, but Yazdani is still an Olympic champion and 2X World champion. No matter the record, these two are both some of the greatest wrestlers their respective countries have ever produced. It's wrestling at the highest level and truly a work of art that should be appreciated by all. Plus if Yazdani can make the adjustments and pull off the upset, this rivalry takes a whole different turn.
Sign me up.
Watch DT & Yazdani's 2018 World Championship match below.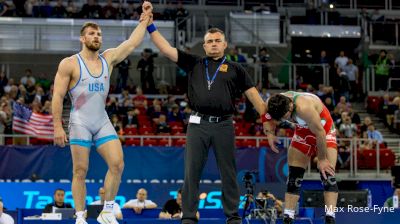 Unlock this video, live events, and more with a subscription!
Get Started
Already a subscriber? Log In