Big Ten
On The Brink Of History: Burroughs Stares Down Smith's All-Time Record
On The Brink Of History: Burroughs Stares Down Smith's All-Time Record
Jordan Burroughs can tie John Smith's record for World and Olympic gold medals this year. Will he get there in Oslo at the World Championships?
Sep 23, 2021
by Kyle Klingman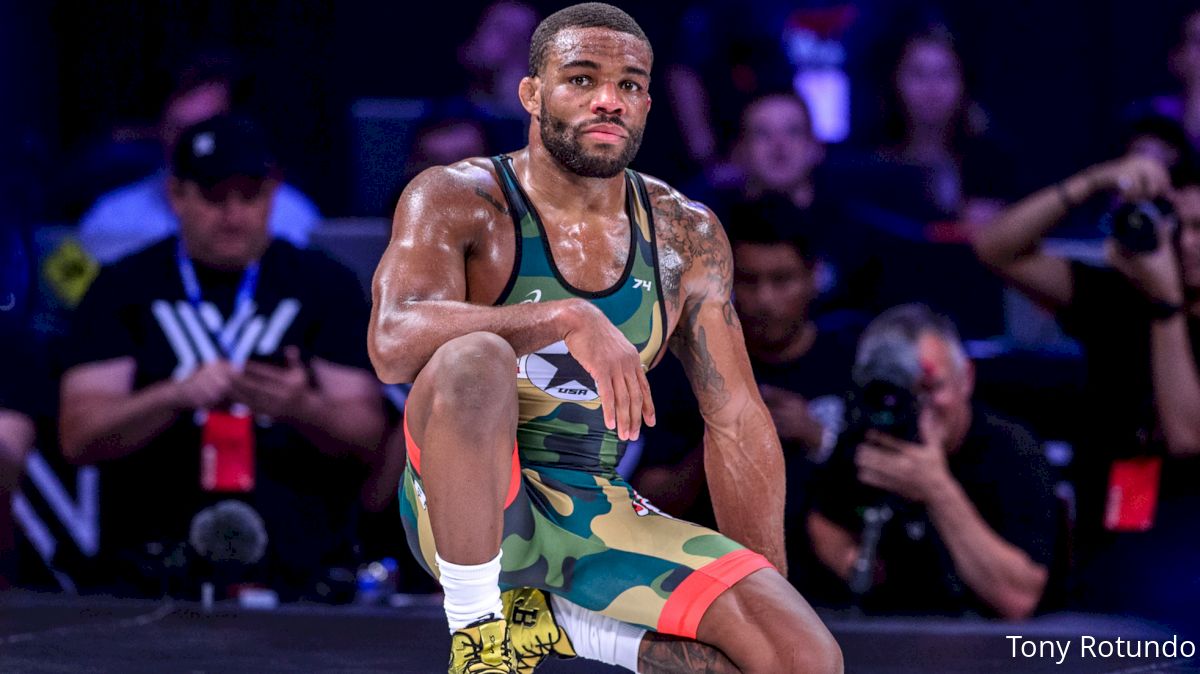 From the beginning, Jordan Burroughs boldly claimed he was chasing down John Smith's domestic record of six World and Olympic gold medals. His @alliseeisgold Twitter handle — created in January of 2011 — reinforced his belief that he would get there.
Smith won six consecutive World and Olympic titles at 62 kilograms from 1987 through 1992. Up to that point, no other American had won more than two titles in a row. His gold medal match at the 1992 Barcelona Olympics was two days prior to his 27th birthday. Then Smith was gone. He took the head job at Oklahoma State and his athletic career was over.
Breaking Smith's unfathomable record may have seemed like a foregone conclusion for Burroughs at one point. His explosive doubles and superior neutral wrestling were tailor-made for freestyle. He won the 2011 World Championships at the age of 23 as an international wrestling neophyte immediately following his second NCAA title at Nebraska.
Then he won the 2012 London Olympics at 24.
Then he won the 2013 World Championships at 25 after breaking his ankle a month before the tournament.
Was there anything this guy couldn't do?
Burroughs didn't lose a match during his first three seasons of international wrestling and he was halfway to tying Smith's record. His 67-match winning streak was unlike anything we had seen in American wrestling history.
Then he suffered a loss to Russia's Dennis Tsargush — the same opponent he had defeated at the 2011 Worlds and 2012 Olympics — at the 2014 World Championships. He rebounded for a bronze medal despite a sprained MCL he suffered early in the tournament.
Six in a row may have been out of reach but breaking Smith's overall total was still on the table. Burroughs won his fourth title at the 2015 World Championships in Las Vegas with the 2016 Rio Olympics on the horizon.
Then, disaster struck. The once unbeatable Burroughs went 1-2 at the Olympics, including an 11-1 technical superiority loss to Uzbekistan's Bekzod Abdurakhmanov in consolations after a 3-2 loss to Russia's Aniuar Geduev in the quarterfinals.
Some thought this was the end for Burroughs. May he lost a step. Maybe the drive wasn't there. Maybe his time had passed.
Kyle Dake was gaining on the 74-kg spot that Burroughs had occupied for the past five years — and Smith's record looked more elusive after a subpar Olympic performance.
At the age of 29, Burroughs only added to his growing legacy. He made the 2017 team and won his fifth title despite being behind in every match. He was also part of the first men's freestyle team title since 1995.
Look out John, Burroughs is knocking on your door. One to tie and two for the record. Burroughs was in the middle of an Olympic cycle and the only thing that could stop him was the clock.
And, as it turns out, that's what did stop him.
At the 2018 Worlds, Burroughs, 30, was leading Russia's Zaurbek Sidakov 5-4 in the quarterfinals before giving up a step out in the closing second (singular) to lose 6-5 after a lost challenge. He came back for bronze.
"I thought this was the weekend that I would be able to tie John for the all-time record at six," said Burroughs after his bronze medal match. "The shot is still in line. It never moves. The six are always there and the five remain. I can't lose. I can't retract. I can't regress. But, it's going to take me a little longer."
At the 2019 Worlds, it was the exact same scenario against the exact same opponent. Burroughs, 31, led his semifinal match against Sidakov only to see his 3-2 lead evaporate in the final second for a 4-3 loss following another lost challenge. He collected his third bronze medal to close out the tournament.
"Man, number six has been really elusive for me," said Burroughs afterward. "It's been freaking hard to come by, man. It's been really frustrating. I want it. I don't know when it's going to come but I'm going to keep trying. I think I should be a seven-time World champ right now."

Winning a bronze medal earned Burroughs a spot in the 2020 Olympic Trials finals. A global pandemic pushed the tournament back a year so he would have to wait until 2021. He lost straight matches to Dake at 74 kg but moved up to 79 kg for this year's World Team Trials and made the team — facing four new opponents along the way.
At 33, Burroughs continues to redefine what is possible and occupy a space that is uniquely his. Reaching the record may have taken more twists and turns than he would have liked, but six is in full view.
And there is no one that wants Burroughs to get the record more than Smith.

"Records are meant to be broken," Smith said. "You want to see people move and pass them. What a great thing for our sport if Jordan hits six and maybe someday passes it.
"It's time for someone to do it. It's good. Don't ever count him out. You never count that guy out. I'm so impressed to watch him at 33 years old. We think that's old but it's not that old — not when you stay in shape like he has and the discipline he's had. I'd love to see him get it."
LEGENDARY INSIGHT
Below are thoughts from Dan Gable, Lee Kemp, Bruce Baumgartner, and Smith about Burroughs closing in on history.
Dan Gable: 1971 World champion, 1972 Olympic gold medalist
I think the opportunity to (break records) is always narrow, by that I mean people that can dominate that much — especially at the highest level. It's pretty unusual in our wrestling history, except for maybe Baumgartner, Schultz, and those guys.
Jordan must really work at staying motivated. You get knocked down and don't make the Olympics but he's right back making the World team. He's making the World team at a weight class higher. That's some good focus and concentration. I give him a lot of credit for that. I think he really likes the sport. He likes what he gets out of it and I have to give him a lot of credit for that because this is a tough-ass sport.
Even through college, he wasn't right there and he had to develop. Then he got good as soon as he realized he could be good. He was always good but I should say great. Good to great. I think he's pretty disciplined. If he wasn't disciplined in all of his life he wouldn't be able to make a US team or win a World Championship. I don't think he's going into this World Championship to do anything but win it.
Lee Kemp: 1978, 1979, and 1982 World champion
This goes back to when he first started and when he boldly claimed "All I See Is Gold" and that had mixed reviews, probably — but I think most people accepted it because they wanted to see a champion. Before him, I haven't seen an athlete do that publicly — put that pressure on himself.
He clearly was a guy who wasn't wrestling to just win a national title or to win a World or Olympic title — because he did all that. While he was doing that, he made it clear he was wanting to win six from the very beginning. After he won his first World Championship he made it clear — not saying it every time — but it was clear to most people. He did it in a very respectful way and a confident way but it was clear that he wasn't just out there just to win a World title or just to win an Olympic title — he was out there to win six or seven.
As time went on, the beautiful thing about Jordan is that he's human. We're all human, but he showed disappointment. It was shown publicly, which shows his vulnerability, which makes me love the guy. Not many people would be that transparent. They're always trying to put a facade on. When he did that it was like, 'Wow, this guy is for real.' There are not many real people out there. He's definitely real. He came back from the disappointment.


Bruce Baumgartner: 1984 and 1992 Olympic gold medalist; 1986, 1993, and 1995 World champion
I think Jordan is a great wrestler, obviously. He's going for his sixth gold. He's one of our best ever freestyle wrestlers ever and I wish him all the best. Quite frankly, it takes a lot of hard work and dedication, and skill. I've always said that sometimes you have to have the luck of the draw and the placement. I think if anybody can do it he can. I'll be over there cheering him on to do it.
You have to continue to train properly and do the right things on and off the mat. You have to take care of your mind and your body. Quite frankly, you have to be lucky. You have to be lucky that you don't get hurt at the wrong time because it could mess up your training and it could mess up your competition if you're hurt. It's not easy to make as many teams as he did or win as many medals as he has.


John Smith: 1988 and 1992 Olympic gold medalist; 1987, 1989, 1990, and 1991 World champion
I thought (saying he was going to break my record) was maybe the wrong thing to say at the time. This is a hard journey. Don't focus on something you're not real close to. Focus on your next one. In my experience, if I had a chance to talk to him about it before he said that, I would say don't say that. Keep that in the back of your mind and keep that to yourself because it's going to get a lot harder — I promise you.
There's no fault for doing that. Don't get me wrong, if he would have asked what I thought about him breaking my record I would have told him that the journey will get tougher and it requires you to get tougher. Don't worry about six until you win two.
I think his approach to things is different from mine. I think that proves to a lot of people that there are different approaches to being successful. We definitely do things a little differently but the similarities between the two of us are that we were really disciplined in our careers from the standpoint of taking care of our bodies and our minds and staying mentally healthy.

The differences are how we view things. How he viewed losses, I think. For me, a loss drove me to sometimes a darker place that allowed me to bring out the best in me. The dark place wasn't the best place for me to be sometimes but I wouldn't hit that for long. I would bounce out of that with a level of motivation that allowed me to get better and get stronger and to get mentally balanced.
We viewed our wrestling a little bit differently, too. He's exceptional on his feet, but I wanted to be exceptional on the mat. My strength on the mat is what really helped me become real dominant and helped me stay on top from years two through five.
He was still relying on takedowns and still relies on takedowns. We haven't seen a whole lot of turns from him. I felt like at 136.5 pounds that I was going to hit some guys who could push me evenly on my feet — so I attacked the top position with some real enthusiasm. Finding my leg lace and going through the process of finding skills to routinely turn the best guys in the world — that was a great experience for me. To work on something and execute it in competition is motivating.
Jordan has some really good stuff on his feet. Some of the best.
American men's freestyle wrestlers who broke or tied the record for the most World/Olympic gold medals with multiple titles
2 — George Mehnert (1904 and 1908 Olympics), Wayne Wells (1970 Worlds and 1972 Olympics), and Dan Gable (1971 Worlds and 1972 Olympics)
3 — Lee Kemp (1978 Worlds, 1979 Worlds, and 1982 Worlds), Mark Schultz (1984 Olympics, 1985 Worlds, and 1987 Worlds)
6 — John Smith (1987 Worlds, 1988 Olympics, 1989 Worlds, 1990 Worlds, 1991 Worlds, 1992 Olympics)
Jordan Burroughs's full record at the World Championships and Olympic Games
2011 World Championships, GOLD at 74 kg (5-0)
WIN Dmytro Rochniak (UKR), 3-1, 4-2
WIN Denis Tsargush (RUS), 1-3, 1-0, 2-1
WIN Ricardo Moreno (VEN), 2-1, 1-0
WIN Ashraf Aliyev (AZE), 0-1, 5-4, 3-0
WIN Sadegh Goudarzi (IRI), 3-2, 4-1
2012 Olympic Games, GOLD at 74 kg (4-0)
WIN Francisco Soler (PRI), 4-0, 6-0
WIN Matt Gentry (CAN), 2-1, 1-1
WIN Denis Tsargush (RUS), 3-1, 0-2, 2-1
WIN Sadegh Goudarzi (IRI), 1-0, 1-0
2013 World Championships, GOLD at 74 kg (5-0)
WIN Gamid Dzhalilov (TJK), tech., 9-2 (3:44)
WIN Narsingh Yadav (IND), tech., 7-0 (3:41)
WIN Jabrayil Hasanov (AZE), tech. 7-0 (5:06)
WIN Ali Shabanau (BLR), disqualification (5:19)
WIN Ezzatollah Akbarizarinkolaei (IRI), 4-0
2014 World Championships, BRONZE at 74 kg (4-1)
WIN Augusto Midana (GNB), 4-3
WIN Yunseok Lee (PRK), tech. 13-2
WIN Rashid Kurbanov (UZB), 5-0
LOSS Denis Tsargush (RUS), 9-2
WIN Rustam Dudaev (UKR), fall 2:48
2015 World Championships, GOLD at 74kg (6-0)
WIN Krystian Brzozowski (POL), 5-2
WIN Oleg Zakharevych (UKR), tech. 10-0
WIN Mihaly Nagy (HUN), tech. 11-0
WIN Alireza Mohammad Ghasemi (IRI), 5-0
WIN Aniuar Geduev (RUS), 4-3
WIN Unurbat Purejav (MGL), tech 10-0
2016 Olympic Games in Rio, DNP at 74kg (1-2)
WIN Augusto Midana (GNB), 8-3
LOSS Aniuar Geduev (RUS), 3-2
LOSS Bekzod Abdurakhmanov (UZB), tech. 11-1
2017 World Championships, GOLD at 74kg (5-0)
WIN Ali Shabanau (BLR), 7-5
WIN Sohsuke Takatani (JPN), tech. 12-2
WIN Zelimkhan Khadjiev (FRA), tech. 13-2
WIN Bekzod Abdurakhmanov (UZB), 6-5
WIN Khetik Tsabolov (RUS), 9-6
2018 World Championships, BRONZE at 74kg (4-1)
WIN Venicious Juah (LBR), Forfeit
WIN Mostafa Mohabbali HOSSEINKHANI (IRI), 4-3
LOSS Zaurbek Sidakov (RUS), 6-5
WIN Miroslav Stefanov KIROV (BUL), 9-0
WIN Frank Chamizo (ITA), 4-4
2019 World Championships, BRONZE at 74kg (4-1)
WIN Azmat Nurykau (BEL), 11-10
WIN Murad Kuramagomedov (HUN), 6-4
WIN Khadzhimurad Gadzhiyev (AZE), 8-1
LOSS Zaurbek Sidakov (RUS), 4-3
WIN Mao Okui (JPN), tech. 10-0
Career record at the World Championships and Olympic Games: 38-5