The Pulse With Andy Hamilton
The Pulse: A Look Inside The Fight To Revive Fresno State Wrestling
The Pulse: A Look Inside The Fight To Revive Fresno State Wrestling
A dive into Fresno State's decision to drop wrestling just four years after the Bulldogs returned to the mat and the ongoing fight to revive the program.
Sep 22, 2021
by Andy Hamilton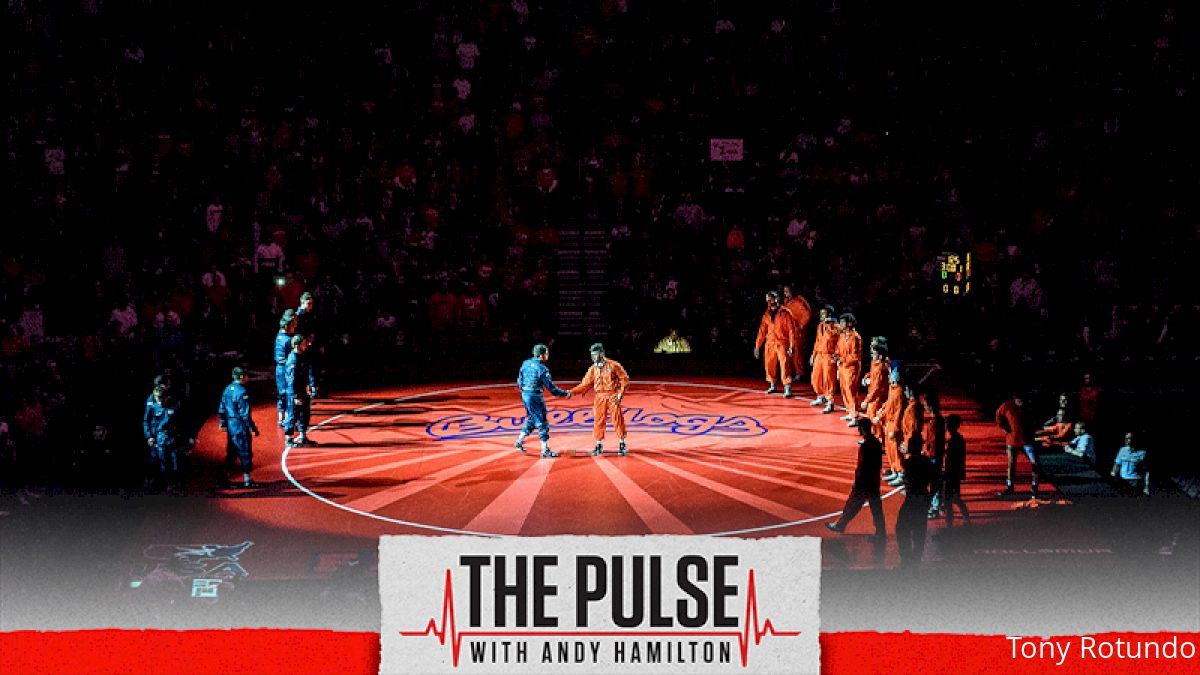 The Pulse with Andy Hamilton is a look at the hot topics and interesting angles in wrestling. This week's edition takes a dive into Fresno State's decision to drop wrestling just four years after the Bulldogs returned to the mat and the ongoing fight to revive the program.
The old rosters and records are no longer easily accessible on the school athletic website without the help of a search engine.
The new wrestling facility that opened just a couple of years ago now serves as a storage space.
The wrestlers who picked Fresno State off the mat and turned it into one of the nation's top up-and-coming programs have departed, scattering to other schools around the country.
Fresno State wrestling is gone once again — at least for now — but the fight to bring the Bulldogs back continues.
"I think what's happened is a travesty in many ways," said Yero Washington, a two-time All-American for Fresno State in the 1990s and now one of the leaders in the effort to resurrect the Bulldog program. "Clearly, that community there, it's a wrestling hotbed. It deserves wrestling and the young people in the community there need wrestling."
That's why Washington is still battling to bring the Bulldogs back. That's why Brendan Buckley, another Fresno State alum, is fighting alongside him. So, too, is National Wrestling Coaches Association executive director Mike Moyer, along with former Fresno State coach Dennis DeLiddo and other prominent wrestling figures with ties to the program.
What are the odds of bringing back the Bulldogs? You can find hope in some corners and doubt in others. But key figures in the group known as "Keep Fresno State Wrestling" met once with new school president Saul Jimenez-Sandoval and they're determined to have another sit-down with school administrators to forge a plan to bring the program back.
"It's not lost on the president that wrestling is important to the community, it's important to the Central Valley," Washington said. "I think he understands that, and I think that's what gives us hope — knowing he gets that and because of that, hopefully, we can come to an agreement in finding a path forward and a way to get the program back."
'Everything Was Tough'
How Fresno State found itself back in the college wrestling graveyard for the second time in less than a decade is a strange and complicated story.
The Bulldogs dropped wrestling in 2006, citing financial challenges as the driving force behind the decision. At the time, Fresno State officials said the decision would save the school between $350,000 and $400,000 annually — hardly an exorbitant amount.
"They hem hawed," said DeLiddo, who retired as the coach of the Bulldogs in 2005. "They said it was gender equity. Then they said it was programmatic. What they meant by programmatic was nobody in our league (the Western Athletic Conference) had wrestling or only a few schools. That was their excuse. Budget. Whenever somebody asked them why they had a different answer to suit their needs. It was never the same answer."
DeLiddo never gave up the fight. For nearly a decade, he led the charge to bring the Bulldogs back.
"I went to every athletic court meeting," he said. "I paid kids to go to student senates. I didn't sit still for 10 years. I was on it constantly. I knew if there was a crack in the armor we were going to find it. We found it."
In the summer of 2012, John Welty retired as the Fresno State president, and longtime Central Valley education leader Pete Mehas, one of DeLiddo's close friends, led the search committee for his replacement. Mehas was a Fresno State graduate and a wrestling supporter.
"I reminded him about 70 times a day — remember to get a president who will bring wrestling back," DeLiddo said. "We got a president who, I think, got the job because he said he'd bring wrestling back."
Joseph Castro was the guy. He talked about his vision for Fresno State when he was introduced as the new school president and he pledged to bring back wrestling — a declaration that left many administrators stunned and bewildered due to the financial challenges already facing the athletic department at the time.
"I swear he had every vice president against him the whole way," said John Kriebs, who spent nearly two decades working in various athletic administrative roles at Fresno State after a brilliant wrestling career at Northern Iowa, where he was a two-time All-American. "I mean, they were just digging in and saying this is a mistake the whole way."
But Castro forged ahead and followed through on his promise even after Mehas passed away in 2013. He not only brought wrestling back to Fresno State, he poured more resources into the program than ever.
"We were treated like one of the other sports," said Kriebs, who oversaw the Bulldog wrestling program. "We had marketing. We had media relations. We had their attention. It was a full-blown effort to do it."
The payoff was immediate at the ticket window. Fresno State returned to competition in the fall of 2017 and a crowd of 6,840 packed into the Save Mart Center to watch the Bulldogs wrestle Illinois in their first home dual in more than a decade.
Fresno State ranked fifth nationally in attendance that season, averaging more than 4,500 per home dual and remained a top-10 box office draw for each of the first three seasons — at a time when the Bulldogs were struggling to generate fan interest in other sports.
The product on the mat was trending upward towards national elite levels under coach Troy Steiner. Two-sport star Josh Hokit became an All-American in 2019 when Fresno State tied for 29th at the NCAA Championships.
The Bulldogs' success extended to their Regional Training Center, the Valley RTC. Fresno State assistant Jason Chamberlain reached the final stage of the World Team Trials qualification process — Final X in 2018 — and Joe Colon brought a World bronze medal back from Budapest in 2018.
Top high school prospects around the Central Valley, one of the nation's most fertile recruiting territories, were taking notice as well.
"I was gonna go to Fresno State," said local product Joey Cruz, the third-ranked high school 120-pounder in the country, who recently committed to Oklahoma. "That was the plan."
But while everything on the surface seemed to be trending upward for Fresno State wrestling, there were challenges behind the scenes, including facility upgrade delays. The wrestling program lost a major ally in 2018 when new athletic director Terry Tumey arrived and let Kriebs go.
The final blow came last fall when Castro left the Fresno State president post to take over as the California State University system chancellor. One of his final moves was cutting the sport he brought back.
"He knew he was going to go and all the other vice presidents, in my opinion, were all against it," Kriebs said. "He knew he was going to be the chancellor of the CSU system … and my opinion is he did not want to saddle the new president with this because he took so many arrows for bringing the program back and he really shouldn't have. Everything was tough."
The news dropped on a Friday afternoon last October. Fresno State was discontinuing wrestling, men's tennis and women's lacrosse — a decision school officials said would save the athletic department $2.5 million annually.
"I've got to tip my cap to Dr. Castro — and I know he's the one who dropped it — but he was the one who fell on the sword," Kriebs said. "He's the one who made that program able to have those crowds."
Full Circle
To fully understand Yero Washington's role in the fight to save Fresno State wrestling and the program's impact on the Central Valley, it's important to turn back the clock three decades.
Washington was a 14-year-old high school dropout who found trouble on the streets of Oakland. His father was shot and killed when Yero was nine months old. His mother battled alcohol and drug problems.
"That was back at the height of the crack epidemic in Oakland," Washington said. "There were lots of drugs and alcohol in my neighborhood."
In a search for stability, Yero moved almost four hours south to live with his older brother, Leon, a correctional officer at the state prison in Corcoran, a dusty agricultural town with nearly 13,400 residents at the time.
One day a boy in their apartment complex asked Yero if he wanted to come along to wrestling practice. The invitation changed the trajectory of his life.
After six months in Corcoran, Washington moved 30 miles east to Porterville. He finished his freshman year of high school there and kept wrestling. He placed fifth in the Valley as a sophomore and after missing his junior season with a torn ACL, he became Porterville's first state champion as a senior.
Wrestling became his ticket to college. He went to Fresno City College, won a California state junior college title, and earned an associate of arts degree, which opened the door to Fresno State. With the Bulldogs, he placed sixth at the NCAA Championships in 1996 and third a year later. He graduated from Fresno State and went on to make the USA men's freestyle National Team.
"Wrestling has been a huge part of my life," he said. "It's put me in front of wonderful people who have helped me along the way. It's given me passion, something to really shoot for and strive for. You know all of the things wrestling teaches you — discipline, work ethic and commitment and working together, respect and so many things."
Wrestling also gave Washington a pathway to pay it forward. After stints as an assistant coach at Columbia and Iowa State, he moved into his current role as the executive director of Beat the Streets Los Angeles.
"Now, the role that I'm in, as the executive director of a non-profit organization that's helping young, vulnerable kids in the most vulnerable communities in Los Angeles, it's really come full circle," Washington said. "And, really, it all started because I decided to wrestle in a small town in the Central Valley and went through Fresno City and Fresno State and that was my launching pad. We see that as an opportunity for other young people in that community and we're hopeful we can get this program back."
'It's A Must-Have Program'
The Keep Fresno State Wrestling Twitter timeline is filled with testimonials from past Bulldog wrestlers about how the program changed their lives for the better. The account also pushes out facts and figures that chip away at the school's rationale for dropping wrestling, along with data that shows how the decision to drop wrestling flies in the face of the Fresno State and the California State University system mission statements.
Some of the Keep Fresno State Wrestling group's claims:
Based on the school's 2019 NCAA revenue and expense report and factoring in lost tuition revenue, the group "determined the true operating cost of the three (discontinued) programs accounts for a savings of approximately 1.1 percent of the athletic department's annual budget."
According to a report by The Fresno Bee, the decision to drop the three sports was spurred by "a sharp decline in athletics department revenues during the coronavirus pandemic." But Fresno State reportedly received $104.7 million in federal COVID-relief funding.
The California State University's Graduation Initiative 2025 is focused on increasing graduation rates for each of the schools in its system. One of the primary goals is to double the number of first-generation college students to 40 percent by the year 2025. Since the program was reinstated in 2016, 47 percent of the Fresno State wrestlers were first-generation college students.
The three discontinued programs weren't at the core of the Fresno State spending issues. The problem was more than $5.9 million in buyouts and bonuses paid to former football coaches Tim DeRuyter and Jeff Tedford. DeRuyter reportedly received more than $3.44 million after he was fired midway through the 2016 season after compiling a 30-30 record with the Bulldogs, including a 4-16 mark in his last two years.
"If you've got a family and you've got six kids, you don't get rid of one of your kids. You make it work for everybody," Kriebs said. "That's your job. You're the athletic director. Your job isn't to cut sports so you can pay other coaches more."
Kriebs looks at the decision and sees an athletic department losing touch with the community that supports it. He hearkens back on the California State University mission to serve its communities and wonders how dropping wrestling makes sense for a school located in one of the sport's hotbeds.
"What really kills me about Fresno State is CSU, that's their model," he said. "My thing has always been that as a state school you have a responsibility to the community you're in — your faculty, your staff, everybody who lives in that community. You should be pulling the rope with the state that funds you and (you) have an obligation to make sure the young kids coming up have an opportunity. And when I say opportunity I don't mean they're going to have a scholarship and become a four-time national champion. I mean having an opportunity for kids to look up to something."
Joey Cruz was one of those young wrestlers in the Central Valley who looked up to the Bulldogs. He wore Fresno State gear when he trained. He attended every Bulldog home dual after the program was reinstated. He dreamed of one day donning a Fresno State singlet and stepping onto the mat in front of a packed house at the Save Mart Center.
Next summer he'll head off to Oklahoma and start chasing his college goals with the Sooners.
"Once I heard (Fresno State was dropping wrestling)," Cruz said, "it was life-changing."
The Keep Fresno State Wrestling group is fighting to make sure the next wave of local stars has an opportunity to pursue their college goals with the Bulldogs. Leaders of the group are looking for another opportunity to sit down with school administrators and map out a plan for bringing back Fresno State wrestling.
Washington said multiple different avenues could bring the Bulldogs back, ranging from a program that's primarily self-funded to one that's fully backed by the athletic department. The important thing, he said, is reviving the program and building from there.
"It's the type of program that can have an amazing impact on an individual, the community, that Central Valley, the state of California and the sport of wrestling as a whole," Washington said. "It's so valuable. It's a must-have in my mind. We've really got to find a way to get them to rethink their position, to find a pathway to bring this program back. We're going to continue to fight until that happens."