2021 FloWrestling Who's Number One
Ultimate Who's Number One Men's Preview & Predictions Article
Ultimate Who's Number One Men's Preview & Predictions Article
Get a breakdown of each match going down at Who's Number One along with the author JD's predictions.
Sep 17, 2021
by JD Rader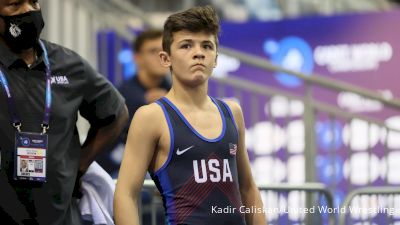 Unlock this video, live events, and more with a subscription!
Get Started
Already a subscriber? Log In
For the past nine years, Who's Number One has been the premier high school event of the year. 2021 won't be any different. Saturday night, in addition to 22 of the nation's top high schoolers competing for the top spot, we get two super matches! Future stars Bo Bassett and Seth Mendoza will square off at 106 lbs and the country's two best big men, Nick Feldman and Christian Carroll, will also throw down.
Below is a short breakdown of each match in the order they will be wrestled along with the author JD Rader's picks.
170 lbs: #4 Rocco Welsh vs #1 Manny Rojas
Manny Rojas: SR, Michigan native, Iowa State commit
Rocco Welsh: JR, Pennsylvania native, school list
Notes: I've been driving the Rocco Welsh hype train since I watched him make the Pennsylvania state finals as a freshman in 2020. Since then Welsh has put on over 30 lbs, made another state final, made the Super 32 finals, and took 3rd at Fargo (avenging his front side loss on the backside).
Welsh has shown he can move up and continue to have success, but he'll be in for his biggest test yet in Manny Rojas. A Detroit native, Rojas earned his top spot at Fargo where he defeated Brayden Thomspon in the finals. His defense is as stingy as it gets and, considering he competed the Michigan season at 189, he'll probably have a size advantage over Welsh who is coming up from 160.
Prediction: Rojas
170 lbs: #3 Gabe Arnold vs #5 Brayden Thompson
Gabe Arnold: JR, Georgia native, uncommitted
Brayden Thompson: JR, Illinois native, uncommitted
Notes: Brayden Thompson stepped in on short notice to replace James Rowley, and while it's disappointing Rowley won't be in attendance, Thompson is an excellent replacement. He went undefeated at Junior Duals and at Fargo until he met Rojas in the finals, where he lost 5-2.
Watch Brayden Thompson and Manny Rojas' Fargo final below.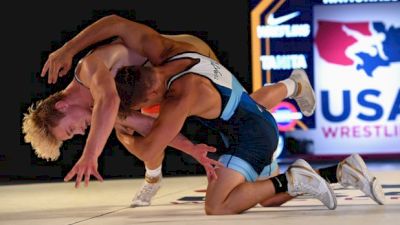 Unlock this video, live events, and more with a subscription!
Get Started
Already a subscriber? Log In
Right after Rojas won the Junior 170 bracket at Fargo, Gabe Arnold won the 16U Fargo title. After a down performance by Arnold's standards at Cadet Trials, it was good to see Arnold all the way on at Fargo. When Arnold's on, he's on.
Prediction: Arnold
106 Futures Match: Seth Mendoza vs Bo Bassett
Seth Mendoza: FR, Illinois native, uncommitted
Bo Bassett: 8th grade, Pennsylvania native, uncommitted
Notes: The first of the two super matches, Seth Mendoza and Bo Bassett will be two of the highest recruited wrestlers moving forward. Mendoza won Fargo as an eighth-grader this summer and Bassett won a Cadet World title. Bassett is the bigger name, but Mendoza has actually owned this rivalry historically. That being said, those matches occurred several years ago, which is decades at their age, so you can pretty much throw them out.
Prediction: Bassett
182 lbs: #2 TJ Stewart vs #1 Jack Wehmeyer
Jack Wehmeyer: SR, Pennsylvania native, Columbia commit
TJ Stewart: SR, Maryland native, school list
Notes: Wehmeyer will have the upper hand here as he put up two wins over Stewart last season. The first was 7-1 at the Journeymen Fall Classic. Stewart was able to close the gap a bit at National Preps, but still gave up the winning takedown in overtime.
Watch Jack Wehmeyer and TJ Stewart's National Prep final below.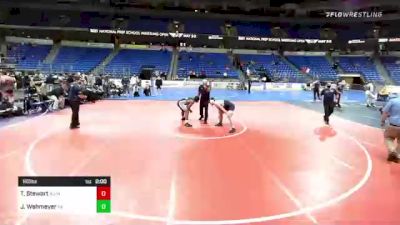 Unlock this video, live events, and more with a subscription!
Get Started
Already a subscriber? Log In
As I mentioned in the match announcement, although history is on Wehmeyer's side, momentum might be on the side of Stewart. In addition to closing the gap in match two, he looked as good as he ever has at Fargo. The Maryland native beat #3 Brian Soldano, #6 Hayden Walters, #13 Remy Cotton, and now D1 college freshman Jared Simma and DeAnthony Parker en route to his second stop sign.
Prediction: Stewart
145 lbs: #1 Hunter Garvin vs #3 Jackson Arrington
Hunter Garvin: SR, Iowa native, uncommitted
Jackson Arrington: SR, Pennsylvania native, NC State commit
Notes: Cadet World champion Meyer Shapiro was supposed to compete here, but was forced to withdraw due to injury. No worries, however, as Jackson Arrington provides a fun matchup for Garvin. Arrington is going to shoot this match. A lot. Garvin can put up the points as well. Exhibit A of this is when he beat Jordan Williams 14-9 at Folkstyle Nationals. Clearly points will go on the board, the question is just who will have the most at the end of seven minutes. I lean towards Garvin.
Prediction: Garvin
113 lbs: #2 Leo Deluca vs #1 Braeden Davis
Braeden Davis: JR, Michigan native, uncommitted
Leo Deluca: FR, New Jersey native, uncommitted
Notes: 113 lbs Fargo champ faceoff. Deluca won 16U and Davis won Junior in July. While Deluca is just arriving on the national scene, Davis has been here. The Dundee native won 16U Fargo in 2019 as well and made the Super 32 finals last year. I like Deluca a lot, but the two years of experience and the fact that Davis has got it done in both freestyle and folkstyle give him the edge for my prediction.
Prediction: Davis
160 lbs: #2 Josh Barr vs #1 Levi Haines
Levi Haines: SR, Pennsylvania native, Penn State commit
Josh Barr: JR, Michigan native, school list
Notes: Two powerhouse clubs are represented here at 160. Levi Haines out of David Taylor's club, the M2 Training Center, and Josh Barr out of Paul Donahoe's club, Team Donahoe. Haines earned the top spot by winning the 71 kg Cadet World Team Trials bracket where Barr took 3rd. However, Barr avenged his loss at trials loss in the Fargo finals. This one is as close as any on the card imo.
Prediction: Haines
106 lbs: #2 Luke Lilledahl vs #1 Anthony Knox
Anthony Knox: FR, New Jersey native, uncommitted
Luke Lilledahl: SO, Missouri native, uncommitted
Notes: I think Anthony Knox is going to be a superstar. Technique, gas tank, mindset. He's got it all. The New Jersey freshman had an impressive showing at Fargo this summer beating Sam Herring in the finals 18-6. At the same time, however, Lilledahl was doing something even more impressive: winning a Cadet World medal. That being said, I'll take Knox's high pace style over Lilledahl's more calculated style.
Prediction: Knox
152 lbs: #2 Jordan Williams vs #1 Caleb Henson
Caleb Henson: SR, Georgia native, Virginia Tech commit
Jordan Williams: SR, Oklahoma native, school list
Notes: Caleb Henson is as tough as they come. The VA Tech commit was often the bridesmaid and never the bride so to speak until Super 32 last year when he beat Anthony Ferrari in the finals. He doubled down on that performance and won Fargo in July.
Even more so than Rocco Welsh, Jordan Williams continued to go up in weight while having success. Williams won his first Fargo in 2018 at 100 lbs, his second one at 113 lbs, and finally his third one this past summer at 145 lbs. Not just a freestyle specialist, Williams won Super 32 in 2019. Williams just has the clutch gene and winning ability that I don't like to pick against.
Prediction: Williams
195 lbs: #2 Dylan Fishback vs #1 Gavin Nelson
Gavin Nelson: JR, Minnesota native, Minnesota commit
Dylan Fishback: SR, Ohio native, NC State commit
Notes: Finally our first match between two already committed D1 guys. Nelson has normally been a little bit bigger than Fishback, but is dropping back down to 195 from 220 where he competed last year to get ready for the D1 scene at 197.
Fishback double + head cartwheel finished his way to a 195 lbs Fargo title this summer. Simultaneously, Nelson was in Budapest competing for Team USA at the Cadet World championships. I'm sure that experience helped Nelson tremendously, but I'll take the senior.
Prediction: Fishback
138 lbs: #2 Casey Swiderski vs #1 Jesse Mendez
Jesse Mendez: SR, Indiana native, school list
Casey Swiderski: SR, Michigan native, Iowa State commit
Notes: If there's one guy to watch on this entire card, it's probably Jesse Mendez. He's the #1 overall recruit in the class of 2022 and the #1 pound-for-pound high school wrestler in the country. This will be his third Who's Number One and he's got a 3-1 from the first two rounds (he was involved in two four-man groups). He's already beaten D1 All-Americans and downed Carter Young, who just took 3rd at Senior World Team Trials, in two matches at the Junior World Team Trials.
All that hype shouldn't let you brush off Swiderski. Swiderski is a savage who will compete hard. I like Swiderski a lot, and he wrestles very similar to Mendez, but I just think Mendez is better at this point in time.
Prediction: Mendez
120 lbs: #3 Joey Cruz vs #1 Nate Jesuroga
Nate Jesuroga: JR, Iowa native, uncommitted
Joey Cruz: SR, California native, Oklahoma commit
Notes: A late replacement for Marc-Anthony McGowan, Joey Cruz has put himself in position for the #1 spot in the country. A FloNats and NHSCA Nationals champ, I think a lot of people forget how good Joey Cruz is. If it wasn't for Richie Figueroa and COVID, Cruz would probably be a 3X California state champion working on his fourth this year. Plus he is one of the few Americans that can say they beat Richie Figs in high school.
However, Nate Jesuroga is a little Sebot trained, Iowa style wrestling, bulldog. He used his high pace to take 3rd at Super 32, win an Iowa state title, and a Cadet World bronze medal.
Prediction: Jesuroga
170 lbs: #3 Gabe Arnold vs #1 Manny Rojas
Notes: Obviously, this match isn't guaranteed, it depends on who wins the first two matches. However, this is who I have here. I'm torn on this one. I like both of these guys. I normally give the edge to the older wrestler, but I think Arnold is as skilled technically as anyone on this card.
Prediction: Arnold
Big Man Super Match: #1 Christian Carroll vs #1 Nick Feldman
Nick Feldman: SR, Pennsylvania native, Ohio State commit
Christian Carroll: JR, Indiana native, Illinois commit
Notes: Finally, the finale. This one is going to be fun. #1 at 220 Christian Carroll vs #1 at 285 Nick Feldman. These aren't your typical big men. These guys both have dynamic offenses and high attack rates. Feldman earned the top spot at 220 at last year's Who's Number One over Kyle Haas and held it all year.
Carroll had a breakout at 2020 Super 32 where he beat Gavin Nelson en route to the title. He backed up that performance by teching or pinning everyone at Fargo in July. I'm going to give Feldman the nod for age and size advantage. Although I think the size advantage will be minimal and this match could go back and forth.
Prediction: Feldman
---
For even more preview articles, interviews, breakdowns, and hype videos; click HERE.
And don't forget to enter to win the Who's Number One Women's Pick 'Em Contest HERE. Play to win a free FloWrestling subscription for a year!