2021 World Team Trials
Incredible Burkert-Winchester Series Highlighted Women's World Team Trials
Incredible Burkert-Winchester Series Highlighted Women's World Team Trials
Last-second drama tipped the outcome in all three of the battles between Jenna Burkert and Jacarra Winchester at the World Team Trials.
Sep 15, 2021
by Derek Levendusky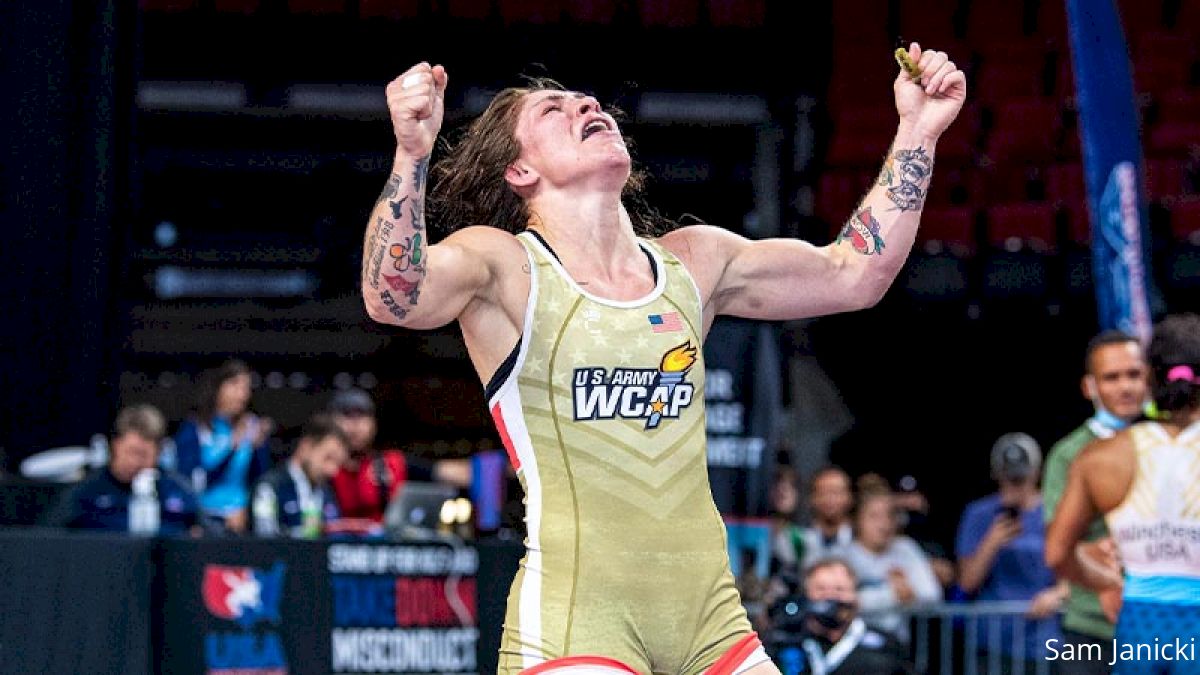 Unlock this article, live events, and more with a subscription!
Get Started
Already a subscriber? Log In
U.S. World Team Set After Dramatic World Team Trials

by Derek Levendusky
Twitter: @AWWderek

We all remember Jenna Burkert withering to her knees last April, tears streaming down her face, her mouth uttering the words, "I'm sorry, Mom."
She'd just lost the finals of the Olympic Team Trials in heartbreaking fashion to Helen Maroulis, only weeks after her mother passed away.
Fast-forward five months later to Lincoln, Nebraska. The World Team Trials. She found herself in the same position, in a third match against a World champion — this time Jacarra Winchester — with an opportunity to make a World team. This time she found a way, scoring a takedown in the final 10 seconds to win the decisive third bout 4-3 and land a spot on the U.S. World Team that will compete next month in Oslo, Norway, at the UWW World Championships.
"I'm built for it," said Burkert in a FloWrestling interview after her finals win, speaking of the adversity she's faced. "I'm built for the hard times. It definitely helped — going the best-of-three with Helen, Olympic bronze medalist. You know, I'm the best in the world. I believe it. I'm right there and I'm ready to be on top of the podium."
The weekend in Lincoln at the Pinnacle Bank Arena was full of drama, as a total of six women made the U.S. World Team, joining the four Olympic medalists — Sara Hildebrandt at 50 kg, Helen Maroulis at 57 kg, Tamyra Mensah-Stock at 68 kg, and Adeline Gray at 76 kg — who already secured their spot on the roster by virtue of their Olympic finishes. There were six remaining spots on the line, and in the end, it was Amy Fearnside who won it at 53 kg, Jenna Burkert at 55 kg, Maya Nelson at 59 kg, Kayla Miracle at 62 kg, Forrest Molinari at 65 kg, and 17-year-old Kylie Welker at 72 kg.
Perhaps one of the biggest stories coming into World Team Trials was the potential finals matchup between Kennedy Blades and Welker at 72 kg. Both are high school seniors, and both are coming off of a phenomenal year that included making the finals at the Olympic Team Trials (Blades at 68 kg and Welker at 76 kg), and then each winning Junior World titles in dominant fashion last month in Ufa, Russia.
As predicted, both Blades and Welker got through their sides of the bracket to make the final. Welker made it look easy, getting quick falls over two-time college All-American Marlynne Deede (:37) and NCAA college national champion Yelena Makoyed (:39), but it wasn't as easy for Blades. After getting through three-time college All-American Aury Naylor by tech fall, she ran into 2021 Senior Nationals champion Dymond Guilford. Locked in a 5-3 match in the second, Blades went unconscious after Guilford defended one of her shots, squeezing tight around her neck with her legs as Blades tried to go through the middle. The 18-year-old Blades was on injury time for a while, though she showed no signs of fading on the whistle restart, hitting a powerful double leg, transitioning to a half nelson for the fall and win.
In the finals, Welker took the first match 4-4 and at some point seemed to set a physical tone for the next match. Jumping out to a 3-0 lead in match two, she gave up a point when Blades scored a pushout to make it 3-1. Shortly after, in neutral position, Blades lunged in hard and hit heads with Welker. Moments later she fell backwards, unconscious, lying flat on her back in a scary moment that brought a hush into the arena. Blades could not continue and Welker got her hand raised by injury default, winning the Senior World Team spot. With the victory, Welker has a chance to do something unprecedented, giving herself the opportunity to win a triple crown so-to-speak, the Junior, U23, and Senior world titles.
As a footnote, Cardinal Wrestling Club's Yelena Makoyed came back and took third in the group, earning a second straight win over Guilford in bizarre fashion, repeating a comeback from an 8-0 deficit like she did at U23 Trials in May over Guilford to win the match 10-8, the exact same score. With that win, Makoyed makes her first Senior National Team.
At 53 kg, the largest and inarguably the deepest weight class, it was seventh-seeded veteran Amy Fearnside (Titan Mercury) winning the spot with a victory over red-hot Ronna Heaton. Fearnside slowed the young Heaton down, gaining two straight victories to win the best-of-three series 2-0. Fearnside took the first match 5-3, but it was all Fearnside in the second and final match, securing the victory with a cradle pinfall. With the win, Fearnside makes her first-ever world team.

Army/WCAP's Areana Villaescusa made the National Team at 53 kg with a forfeit victory over Alyssa Lampe in the 3rd place match.

"Wow," Fearnside said in an interview after her 4-3 semis victory over Alyssa Lampe. "There's no way to prepare for these things. You really just have to go with the flow and take what's there and trust God in all that you do. That's just what I did and it worked. I'm happy with that."

At 55 kg, the Winchester-Burkert final was a three-bout series featuring some great wrestling and exciting moments by both athletes. It looked like a Winchester win in the first match with the 2019 World champ holding a 6-2 lead with under 10 seconds left on the clock. But Burkert pulled out a miracle finish, hitting a four-pointer at the buzzer to get the Match 1 victory. The script was flipped in the second match when Burkert jumped out to a 6-0 lead, and then Winchester clawed back to get her own dramatic last-second win 9-8 with five seconds on the clock. Match 3 was more of the same last-second heroics. Down 3-2, Burkert finished a single-leg shot with 11 seconds left on the clock and held on for the series-ending win. Was this the most dramatic best-of-three EVER? Not only did every match come down to the final seconds, all three were won in the final seconds with script-flipping scoring sequences.

On the backside at 55 kg, Colorado Mesa's Marissa Gallegos had a day, as the #5 seed had wins over #4 Melanie Mendoza, #2 Cheyenne Sisenstein, and #3 Amanda Martinez to take third and make the National Team roster.

At 59 kg, Maya Nelson (Sunkist Kids WC) broke through to make her first Senior World Team. The 2017 Junior World champion will have a chance to win her first Senior World title in Oslo. Nelson had wins over Junior World teamer Claire DiCugno 13-0, a competitive Xochitl Mota-Pettis 20-7, and a 2-0 series finals win over Megan Black, who looked like a new version of herself in Lincoln, putting together a fantastic tournament with wins over Cameron Guerin and Michaela Beck.

Mota-Pettis (Rise RTC) took third at 59 kg with a 10-0 win over Beck.

At 62 kg, it was all Kayla Miracle, who put herself back on the world stage after a disappointing Olympics, where she went out in a tight match in the first round. Miracle won the best-of-three finals against another familiar face, Mallory Velte, the 2018 World bronze medalist. The 2021 Olympian won the first match with an efficient 5-3 victory, then paced ahead of Velte with a 10-2 tech fall to seal the team spot.
Titan Mercury's Jennifer Page took third with an 8-6 win over Gracie Figueroa.

At 65 kg, Sunkist Kids' Forrest Molinari looked like the woman that had previously made two World teams and placed fifth twice at the World Championships. Now she'll have a chance to get on the podium for the first time when she heads to Oslo next month. She faced young star Emma Bruntil (Bearcat WC/Titan Mercury WC) in the finals and earned two straight wins, defeating the U23 World teamer 4-3 and 9-0. Molinari also defeated fourth-ranked (at 72 kg) Skylar Grote and second-ranked (at 65 kg) Alara Boyd en route to the finals. Bearcat Wrestling Club's Boyd came back to take third.
What kind of team we sending to Oslo? Perhaps the best ever. Expect more hardware from Team USA next month. Here's the squad:
2021 U.S. World Team
50 kg — Sara Hildebrandt
53 kg — Amy Fearnside
55 kg — Jenna Burkert
57 kg — Helen Maroulis
59 kg — Maya Nelson
62 kg — Kayla Miracle
65 kg — Forrest Molinari
68 kg — Tamyra Mensah-Stock
72 kg — Kylie Welker
76 kg — Adeline Gray