The Pulse With Andy Hamilton
The Pulse: Power 5 Women's Wrestling Is Closer Than You Think
The Pulse: Power 5 Women's Wrestling Is Closer Than You Think
We've been waiting for that first Power Five conference school to take the leap and start a women's wrestling program, and the time has almost arrived.
Sep 14, 2021
by Andy Hamilton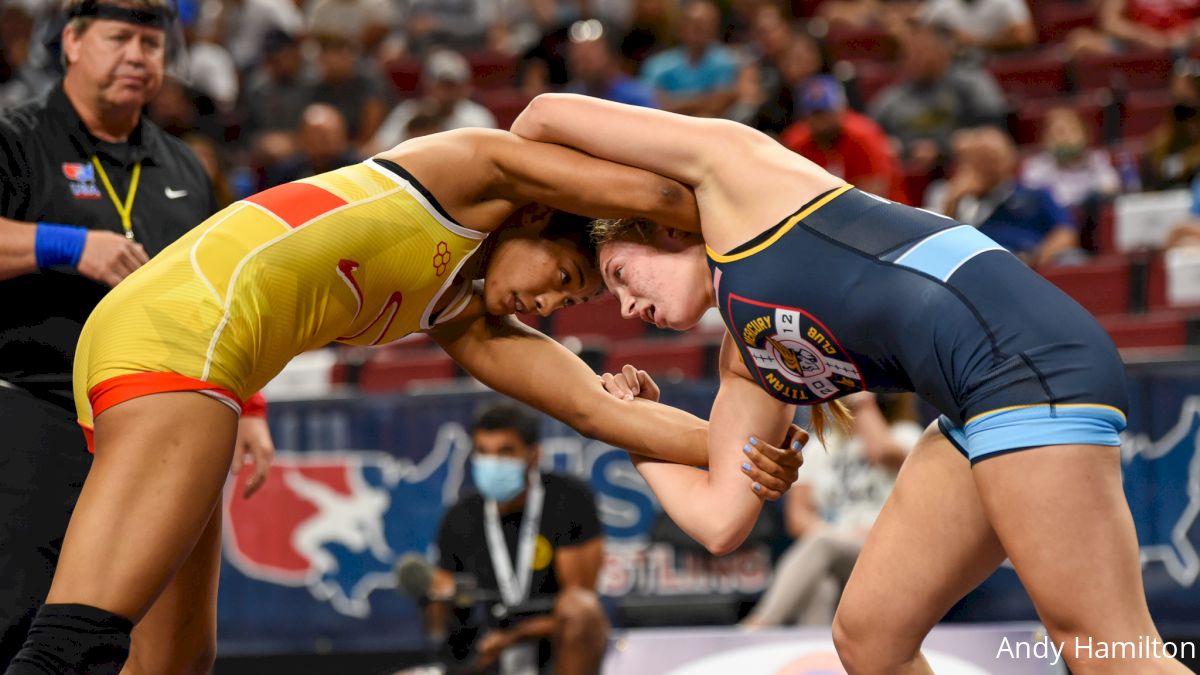 This story originally ran on Monday, September 14 when the addition of Iowa women's wrestling was imminent but not yet a reality. Since then, the Hawkeyes have announced their plans to add the first Power Five program in women's wrestling history.
---
The Pulse with Andy Hamilton is a look at the hot topics and interesting angles in wrestling.
The first major domino is about to fall.
It's a matter of when, not if, a Power Five conference school presses forward and adds women's wrestling. A matter of days or weeks, not months or years.
Word out of Iowa City is there's a big black and gold domino that's wobbling, and once it drops, it could knock over a series of women's college blocks across the country, forever changing the wrestling landscape in the United States.
This is big, folks.
We've been waiting for that first Power Five school to take the leap and the time has almost arrived.
It's no great secret that Iowa has been laying the foundation for a women's program. The Hawkeyes have been raising funds to build a new wrestling facility that can better accommodate two squads. Last winter, Iowa athletic director Gary Barta confirmed the school's interest in adding a women's program. Those talks heated up in recent months to the point where the Hawkeyes have started doing their homework on potential head coaching candidates and recruiting targets.
On Saturday, the Hawkeye Wrestling Club announced the addition of three new women's members to their roster.
The pieces are beginning to come together — in Iowa City and beyond — and the potential ramifications are enormous. Leaders in the sport have said multiple Power Five schools have laid the groundwork to add women's wrestling, but most are waiting for someone else to take the first step.
"There's so many programs that we've approached that are just waiting," USA Wrestling women's freestyle National Team coach Terry Steiner said.
And once the first one makes a move?
"Every other big school will take notice and start pushing for programs," Steiner said. "Nobody wants to go first because they don't know if somebody will follow. They just need one to step forward."
This has never really been a concern at Iowa. The Hawkeyes have it in their wrestling DNA to lead, not follow. You think they've put in all this work to let another wrestling rival get the inside track on developing a dynasty?
Iowa is a progressive institution in a state that treasures its wrestling past, present and future and takes great pride in being at the forefront of game-changing developments in the sport. From that standpoint, it's hard to imagine a much bigger game-changer for the sport than the emergence of major college women's wrestling.
From the bottom of the sport to the top, women's wrestling is booming at virtually every level and growing at an exponential rate.
"It took a long time to create change," New York City Regional Training Center and Columbia University women's club coach Emma Randall said. "Now we're like a snowball coming down the mountain."
A snowball that keeps getting bigger and moving faster.
Steiner said USA Wrestling's female membership increased 71 percent during the past two years. High school girls participation across the country more than doubled from 2016 to 2020, thanks in part to a massive increase in state sanctioning. As recently as 2018, there were just six states that sanctioned girls high school wrestling. Now there are 32.
The explosive growth is being matched at the college level.
Columbia University's women's wrestling club recently set up a booth at the school club fair. Randall said 250 women signed up to learn more about joining the squad — nearly five times more than she had hoped.
"These numbers are crazy," Steiner said. "I think we're on the verge of something pretty special."
The next college that adds women's wrestling will be the 100th. Upwards of 80 of those have been launched in the last four years, including the two current Division I programs — Presbyterian and Sacred Heart.
There are now more than 40 programs across all NCAA divisions. With that, women's wrestling has met one of the key requirements necessary for NCAA championship status.
"The flywheel's already moving at every other level, but when we get it moving at the Power Five level, it's going to accelerate it at every other level all the way down to the youth level," National Wrestling Coaches Association executive director Mike Moyer said. "It's the most visible level. That's why that's really so important.
"Up until now, what's mostly been driving (college growth) are the enrollment-driven schools. A Power Five school adding it would start to change the narrative that there's other reasons for doing it than just driving enrollment."
There are clear incentives for a school to move now and get ahead of the pack. Randall said the first school to take the leap is "going to have a huge head start."
That's because the American cupboard is stocked like never before. The cornerstones from the USA's World title-winning Cadet and Junior squads are hitting the recruiting market. The headliners are transcendent talents like Kylie Welker and Kennedy Blades, who reached the Olympic Trials finals in April as high school juniors, turned in dominant performances at the Junior World Championships this summer and battled it out Sunday on the Senior level in the finals of the World Team Trials.
Welker said she's been reluctant to dive deep into the college selection process because of the ever-changing women's wrestling landscape. The 17-year-old Wisconsin native said the addition of a Power Five program would help crystallize her future plans.
"It would get a lot of girls excited," she said. "I know for me, personally, the first school is definitely going to be on top of the list versus all of the other smaller schools. I think if one school opens up it's going to encourage other schools to open up. I don't think it'll be the only school for that long."
Welker has long been waiting for these doors to open. She recalls her early years in the sport when people would tell her major college women's wrestling options would arrive by the time she was done with high school. It appears those predictions will be proven correct.
And maybe Steiner's forecast will come to fruition as a result, too. He's been saying there will come a day when the United States passes Japan in the race for global women's wrestling supremacy. The advent of major college women's wrestling would help turbocharge that effort.
"From a National Team perspective, I think it's the final step that we've needed to make that push to take over the world," Steiner said. "I don't know when it's going to happen, but it's coming."