2021 World Team Trials
Happy Homecoming For Burroughs, Green On Day 1 of World Team Trials
Happy Homecoming For Burroughs, Green On Day 1 of World Team Trials
Jordan Burroughs and James Green made triumphant returns to Lincoln on Saturday at the World Team Trials.
Sep 12, 2021
by Andy Hamilton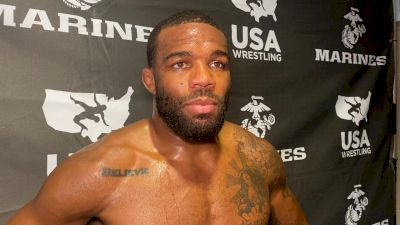 Unlock this video, live events, and more with a subscription!
Get Started
Already a subscriber? Log In
Unlock this article, live events, and more with a subscription!
Get Started
Already a subscriber? Log In
Jordan Burroughs and James Green popped back into their old neighborhood Saturday sporting new colors with new friends by their side. They no longer list Lincoln as their home address. They're no longer part of the Nebraska Regional Training Center.
But they're still Huskers through and through and they're still just as beloved here as ever.
Green looked over to his corner Saturday morning to find Nebraska assistant Bryan Snyder filling one of the matside chairs. Burroughs heard Nebraska coach Mark Manning shouting instructions throughout his semifinal bout Saturday night.
And the crowd inside Pinnacle Bank Arena erupted in cheers and Go Big Red chants just like old times as Burroughs and Green moved a step closer to representing the United States yet again on international wrestling's biggest stage.
Burroughs methodically navigated through a star-studded 79-kilogram bracket to reach Sunday's best-of-three finals and Green took care of business at 70 kilos during Saturday's Husker homecoming at the World Team Trials.
"Me and my wife were joking," Burroughs said. "We were like, 'Man, if we'd have known the Trials were going to be here, we would've stayed in Nebraska a couple more months to make it easier for us. It's a blessing to be back home. We've turned Lincoln into a wrestling city — James and I — making all these World Teams."
They're hoping to be teammates once again next month in Oslo, but there's plenty of work left to be done Sunday.
Burroughs has to get past Alex Dieringer and Green faces Ryan Deakin.
On Saturday, Burroughs — wearing a maroon and silver Pennsylvania Regional Training Center singlet — bested Hayden Hidlay (7-3), Chance Marsteller (4-1) and Jason Nolf (5-2) to show he still has something left in the tank at 33.
"I didn't like the way I competed that last match," Burroughs said. "I think I was too strategic, but sometimes it feels good to be able to control a match … but you have to score early. That's been the problem with my wrestling — I've relinquished the lead and then I've had to come get guys late. But it's been a very rare occasion where I've been ahead and a guy had to come get me, and I think that plays right into what I want to do.
"I feel good, I feel strong, I feel fit. But I still have a couple matches to win to make the team."
Green left Nebraska a little more than a year ago to join the Southeast Regional Training Center. He said "it was like a family reunion" being back in Lincoln.
"You can't replace the relationships I've made here and the people I've met," said Green, who started his day with a quarterfinal pin against Brock Mauller before taking down Jordan Oliver 6-4 in the semis.
Green's next test comes against Deakin, who knocked out top-seeded Alec Pantaleo in the other semifinal. Deakin was leading 10-4 in the second period when Pantaleo defaulted after sustaining what appeared to be a rib injury.
Among the other highlights from Saturday night's session:
— Nathan Tomasello continued his incredible run through the 61-kilogram bracket. The four-time All-American from Ohio State toppled Nick Suriano in the quarters and then picked apart 2018 World bronze medalist Joe Colon 15-2 in the semis.
"I'm grateful," said Tomasello, who will face Daton Fix on Sunday. "My coaches have put a ton of time into me the last couple months. I made the move out to Oklahoma. It's been a blessing. I'm excited to compete again."
— Joey McKenna raced out to an early lead and hung on late to edge Evan Henderson 10-9 at 65 kilograms, setting up a championship series against Yianni Diakomihalis.
— Two-time World champ J'den Cox locked down Myles Martin and pulled away late for an 8-0 win in the semis at 92 kilos. Cox will face Kollin Moore, who downed Nate Jackson 12-6.
— Two-time World medalist Nick Gwiazdowski rolled into the best-of-three with a 9-0 win against Jordan Wood at 125 kilograms. Gwiazdowski will face 2019 Junior World champ Mason Parris, who defeated Hayden Zillmer 8-4 in the semis.
— Teenage phenoms Kennedy Blades and Kylie Welker put on a show in the semis at 72 kilograms. Welker transitioned from one hold to the next before decking Yelena Makoyed with a nasty lefty headlock. Blades regrouped after a momentary woozy spell against Dymond Guilford and went on the attack to score a fall.
"Coach Izzy (Martinez) and coach Erin (Vandiver) were super calm with me and telling me little stuff about how I'm doing and what I should do and be aware of," Blades said "It got me refocused and I just listened to them. I just focused on myself and then won the match.
— World champ Jacarra Winchester and Jenna Burkert both registered semifinal technical superiority victories to set up a 55-kilogram showdown between 2019 World Team members.
— Kayla Miracle and Mallory Velte will battle yet again for the 62-kilogram spot on the women's freestyle squad. Miracle pinned Gracie Figueroa in one semi while Velte downed Jennifer Page 8-1 in the other.
— Greco Olympians Ildar Hafizov, Alex Sancho and G'Angelo Hancock each advanced to the best-of-three finals.
— Cohlton Schultz used a thunderous four-pointer in the second period to put away Tanner Farmer 5-0 in the 130-kilogram semis.
— The highly entertaining Benji Peak used a big four-pointer to punctuate a 41-second tech against Jamel Johnson in the Greco semis at 72 kilos.