2021 World Team Trials
2021 World Team Trials Match Notes
2021 World Team Trials Match Notes
All the action from Lincoln, Nebraska in REAL TIME as we pick our squad for the Oslo UWW World Championships.
Sep 11, 2021
by Andrew Spey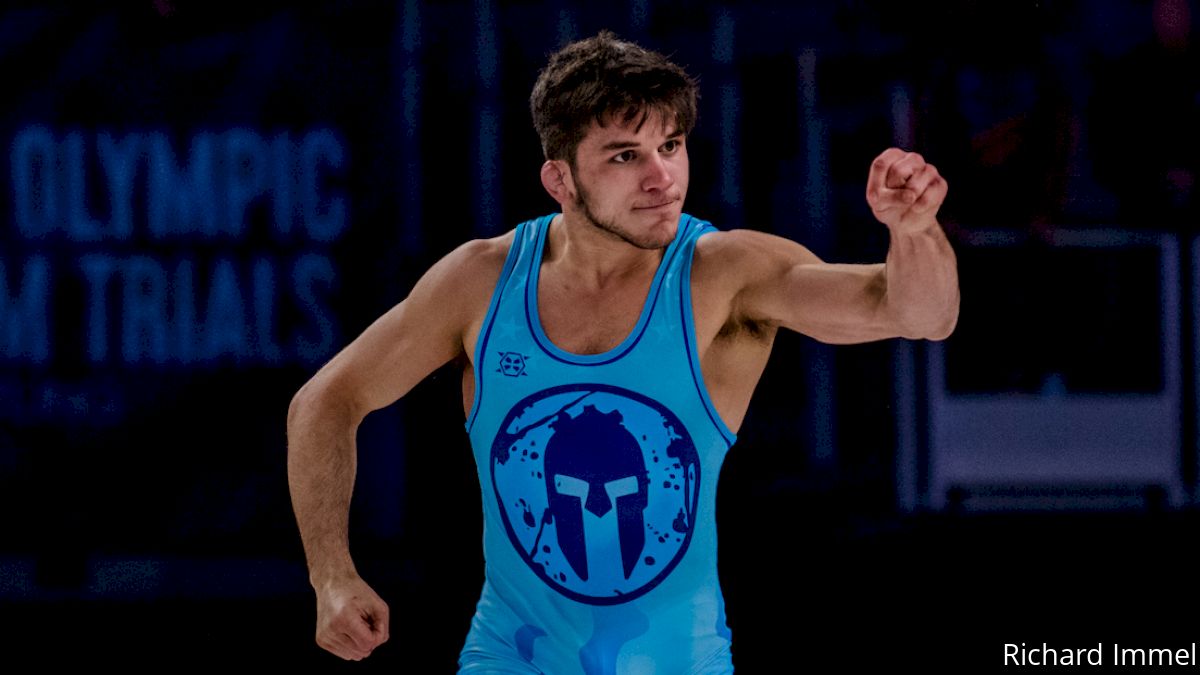 Unlock this article, live events, and more with a subscription!
Get Started
Already a subscriber? Log In
Oh, baby. We're really doing it now.
That is what I'm talking about. Also, brackets are here. Enjoy them. They are free and spectacular.
We have cleared mats and are giving them one last squeegee. Then we shall begin.
Here's a shot of the interior of the Pinnacle Bank Arena taken by the great Sam Janicki.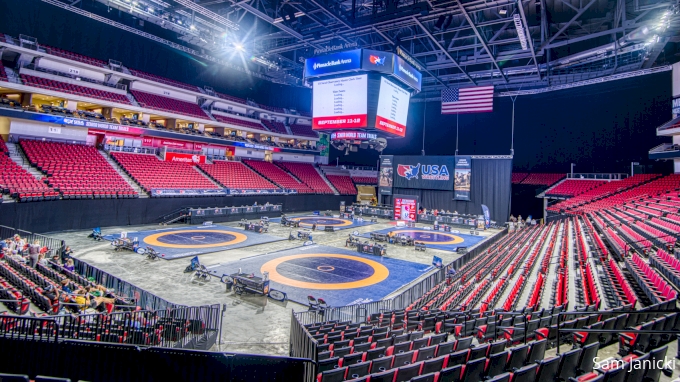 Fairly decent crowd for 10AM on a Saturday where the Huskers have a home football game.
We wrestle through the quarters, to the semifinals, then have a break at 4PM. Then tomorrow is consolation rounds and finals.
Men's Freestyle
61 R32: Northwestern true freshman Carter Young, who has yet to wrestle a collegiate match, has an early lead on two-time NCAA qualifier Jakob Camacho of NC State on the rope. Young holds on for a close win in a fantastic battle.
79 R32: Brandon Ashworth wins the only round of 32 pigtail in an absolutely loaded 79kg bracket over the very tough Muhamed McBryde.
61 R16: One of the marquee early matches of 53kg begins with a takedown by Seth Gross over Ethan Lizak. Nick Suriano also takes the mat for the first time today against Sean Fausz. Gross wins comfortably 10-0. Suriano takes an early 2-0 lead thanks to a couple of step-outs. A takedown at the break gives Suriano a 4-0 lead. Suriano takes it 10-2.
Elsewhere at 53kg, Zane Richards and Nahshon Garrett are locked in a back-and-forth battle in the round of 16. It's Richards up 4-2 at the moment but 4 minutes of clock left. And it was back-and-forth until Garrett went berserk and scores 14 unanswered points to win 14-4.
Josh Kramer gets it done with a late takedown against Shelton Mack, winning 4-2 when he down 2-2 on criteria with just seconds to go.
Tomasello takes out DeShazer bringing Daton Fix vs Carter Young to the mat for the last 61kg R16 bout of the division. Fix wins which means it's time to look at our gnarly quarterfinal matchups at this most excellent weight.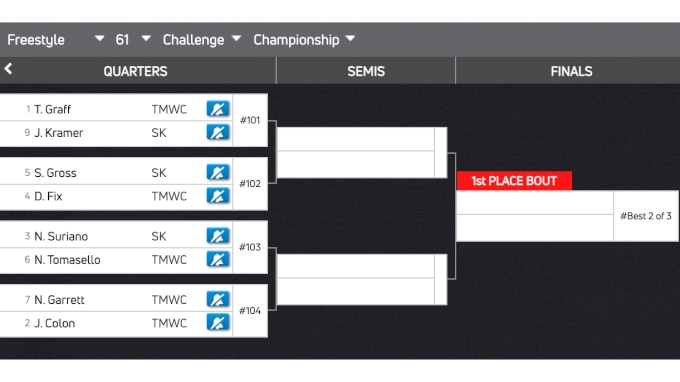 70 R16: Double the Tigerstyle as teammates Jarrett Jacques and Brock Mauller are both on the mat. Mauller leads Elroy Perkins while Jacques trails Brayton Lee. Brock needed a late exposure in short time to regain the lead and advance. Brayton Lee looked very strong en route to a 10-1 victory over Jacques.
79 R16: Jordan Burroughs takes the mat for his first 79kg bout at a USAW event. He gives up the first takedown to Hayden Hidlay. Burroughs answered with his signature blast doubles and ran up a 7-3 lead, which he held on to for the victory.
Lujan vs Starocci gets going, another highly anticipated bout at 79, directly following a 10-0 victory by Marsteller over Gantt. Lujan strikes first but Starocci answers with a takedown of his own. 2-2 at the break. Starocci attacks all match but Lujan's defense is too savvy and he wins with counters, 6-4.
Elsewhere, Ashworth is looking for an upset over #3 seed Isaiah Martinez. Ashworth leads late in the second. IMar was able to hit a clutch inside trip when he needed it and holds on to win in dramatic fashion.
David McFadden puts in work against Devin Skatzka in an entertaining 12-6 win. Alex Dieringer begins his march to the finals from the bottom of the bracket with a very Dieringer-like 9-1 win over Josh Sheilds. That means it's time to look at our beautiful 79kg quarterfinal matchups.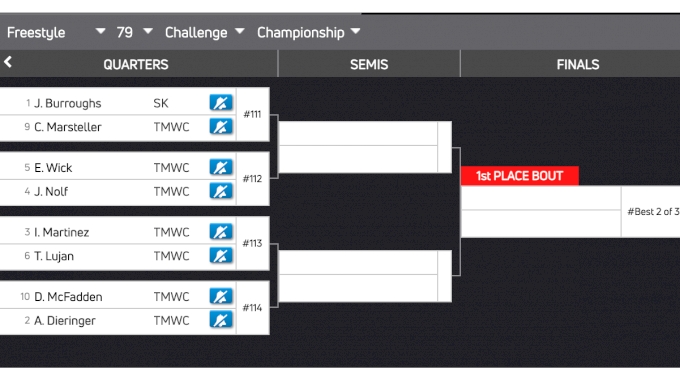 How lovely.
92 R16: Isaac "T-Rums" Trumble wins a slobberknocker against TJ Dudley in a 9-7. He'll see #2 seed Nate Jackson in the quarters. #1 seed J'den Cox is on the opposite side of the bracket with a match against NCAA champ Drew Foster.
61 QF: What better way to kick off the men's freestyle quarters than with Suriano v NaTo and Graff v Kramer. Suriano can't get to his offense and trails 3-0 late in the second. There's an extended break for blood and Suriano is stymied by NaTo's defense. Tomasello into the semis. Graff gets to his offense early and then holds off Kramer to win 12-5.
Gross and Fix gets underway in a battle between guys whose last names are also normal words. Fix takes some quick shots thathe converts to build an early lead. Extends it to 5-0 with a step out at the break. Fix doesn't take his foot off the gas in the second, getting an 11-0 tech fall. Nahshon Garrett vs Joe Colon is our last quarterfinal bout to get going, and it gets going with the fireworks we expected. Colon leads 4-4 on criteria going into the break. It only gets nuttier from there. I couldn't keep up with the scores but Colon holds on to win 13-12. Just a typical 25-point match.
65 QF: Luke Pletcher beats Dean Heil in the first quarterfinal bout. Evan Henderson opens up a four-point lead on Pohlmeyer in the next bout.
70 QF: James Green doesn't appear interested in relinquishing his grip on the weight class. He pulverized Brock Mauller 10-0 but gets the fall in the final exchange.
Green's fellow husker Tyler Berger gets a takedown and turn on Ryan Deakin to take an early 4-0 lead. Stepout and failed challenge makes it 6-0, but Deakin answers back with a stepout point of his own. Deakin keeps battling and takes an 8-6 lead with less than a minute to go. It's a 10-6 come-from-behind victory for Deakin.
Zain Retherford and Jordan Oliver meet. They have eight All-American appearances and five NCAA titles between them, no big deal. JO gets an early step out. Now 1-1 in a very calculated and cautious first round. Another point for Zain but then JO gets a clutch stepout and holds on for the criteria victory 2-2.
Pantaleo with a commanding 5-0 leads late against Brayton Lee. It's the last quarterfinal bout to finish up in what has been an outstanding round in the division. Pantaleo blanks Lee to advance to the semis.
79 QF: Three quarterfinal bouts start at nearly the same time and it's going to be tough to keep up as they are all awesome. IMar leads Lujan 2-0, JB just misses on a score vs Marsteller. Nolf opens up a 6-0 lead early on Wick. Nolf finishes Wick with the 10-0 tech.
JB and Chance go to the break tied ut JB has criteria, which means I must have missed Chance's first point. I told you it would be difficult to keep up! JB picks up another point and it's 2-1 with just over a minute to go. Re-attack from Burroughs he he fights through Chance to get a two as they go out of bounds. 30 seconds to go. Burroughs holds on to win 4-1 in front of many of his Cornhusker fans.
Lujan battles back after going down 8-0 and almost giving up the tech. He's tied it up and will have criteria but they are going to review. In a big swing, 4 points are taken off the board for Lujan and IMar gets a step out. It was 8-8, now 9-4 Imar. Lujan can't make up the difference and falls 10-7.
Alex Dieringer in a tight one with McFadden, he leads 3-0. He holds that lead for a 3-1 victory.
92 QF: J'den Cox gets a 1 point lead over Drew Foster, then counters a Foster shot for 2 more. Cox romps and now it's Nate Jackson's turn, who does the same to Isaac Trumble.
Kyven Gadson takes on Myles Martin, as the former is dropping down from 92 and the latter is moving up from 86. With a minute left MyMar leads 4-0. Gadson can't get to his offense and Martin advances to the semis for the Scarlet Knight Wrestling Club.
125 QF: The most preposterous bout of all time, Hayden Zillmer vs Dom Bradley, gets underway at 125kg, even though Zillmer won Fargo at 88 pounds the same year Dom won it at heavy.
That's it for the semifinals!
---
Women's Freestyle
53 E16: Emily Shilson, fresh off her junior world gold at 50kg, is at 53 taking on the seasoned vet, Erin Golston. Golston takes an early lead by Shilson battles back to make it 4-3 in her favor at the half. Shilson extends her lead and will win 10-3. She'll take on #1 seed Ronna Heaton in the quarters.
53 R16: Alisha Howk and Alyssa Lampe take care of business in the first round setting up an excellent 6/3 seed in the quarterfinals.
53 R16: Amy Fearnside blanks Alledia Martinez 10-0 to set up another great quarterfinal bout in the deepest bracket of the women's tournament.
Let's take a look at those quarterfinal matchups in fact.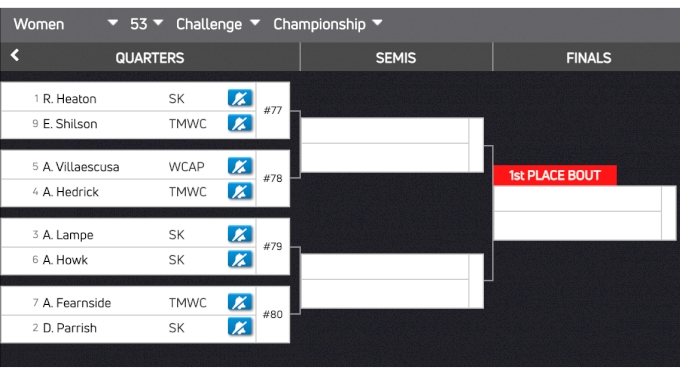 Yes, excellent.
53 QF: Ronna Heaton overpowers Emily Shilson and gets a pin with a little less than a minute on the clock. Alyssa Lampe is too much for Alisha Howk and wins 8-4. Hedrick and Villaescusa are locked in a back-and-forth battle. Villaescusa guts it out for a 6-4 win. Fearnside and Parrish are locked in a defensive battle, Fearnside taking a 1-0 lead into the break.
55 QF: Jenna Burkert, who took a match from Helen Maroulis at the 57kg Olympic Team Trials finals, takes the mat down a weight at 55 against Lauren Mason. Burkert with a solid 7-2 bout.
59 QF: Xochitl 'XMP' Mota-Pettis went big 4, then 2, 2, 2 for a quick tech of Brenda Reyna. Maya Nelson got 3 fours on her way to a tech of junior world teamer Claire DiCugno, and the quarters of 59 are off to a high-flying start.
That sets up a very fun matchup between XMP and Nelson in the semifinals.
62 QF: Jen Page when on a ramPAGE (ha ha wordplay!) with a 11-0 pinslay of Desiree Zavala.
65 QF: Number one seed Forrest Molinari is in a brawl with Alara Boyd. It honestly did get a little chippy. But cooler heads prevailed and Molinari 8-2. Emma Bruntil cruises to a first-period tech at the #2 seed.
72 QF: Kennedy Blades continues her tour of destruction. She just blitzed her way to a UWW Junior World Gold. Blades won her first match 10-0 in under a minute. She also is already on the U23 world team just FYI.
Blades will have Dymond Guilford in the semis. Kylie Welker also took care of business in the first period of her quarters bout with a headlock pinfall. She will and will have Makoyed in the other semis.
---
Greco-Roman
130 R16: Brandon Metz gets the heavies going with a lat drop for the pinfall over Kaleb Reeves.
55 QF: Dalton Duffield finishes Jacob Cochran with a beautiful back arch for five to advance to the semifinals.
Greco brackets were pretty small and got swallowed up by the rest of the action but check out the results page and get caught up!
---
Semifinals
Men's Freestyle
61 Tyler Graff (TMWC/NJ RTC) vs Daton Fix (TMWC/Cowboy WC) - One of the many fire matches we expect to see in the men's freestyle divisions. Fix's tech fall of Seth Gross (and Suriano's loss to NaTo) has many pundit switching their picks to make them team to the Oklahoman. Fix scores first with a stepout. We don't get another score until the next period, which is another stepout for Daton. Some solid flurries and busy handfighting though. Two stepouts are enough. Fix defeats the 2019 world teamer 2-0 to make the finals!
61 Nathan Tomasello NC (TMWC/Oklahoma RTC) vs Joe Colon (TMWC/Cyclone RTC) - NaTo in command from the start. A couple takedowns and a stepout make it 5-0 in the first. A flurry and they trade twos, but NaTo comes out with a trap-arm and rolls Colon over and through enough times until he's got the tech-fall, 13-2. It'll be NaTo vs Fix in the finals!
No wait! I counted too many turns. It was just 11-2. So back to the center. Now Colon is trying to go upper body, but NaTo gets the points. Four more makes the tech-fall official. We will see NaTo and Fix in the finals, just like I said.
65 Yianni Diakomihalis (TMWC/Spartan Combat RTC) vs Luke Pletcher (TMWC/Pittsburgh WC) - More fire, as promised. Yianni's arms get to Pletcher's legs and Yianni has Luke up in the air. Yianni settles for two, but then gets a gut wrench on the edge to make it 4-0. Yianni forces Pletcher out of bounds, then gets a set of exposures to make it 9-0 at the break. We restart and Yianni shoots in and then charges Pletcher off the mat to make it 10-0.
65 Joey McKenna (TMWC/Pennsylvania RTC) Evan Henderson (TMWC/Ohio RTC) - McKenna gets the first takedown, but Hendo answer right back. They go back and forth, Hendo now with a 4-4 criteria. But McKenna gets Hendo's back at the boundary and gets a four in short time. 8-4 at the break, very intense match so far. Second period opens with McKenna shooting in but Henderson countering with body locks and head pinches. Neither wrestler can score after about a minute of those positions. McKenna powers through his next attack to get the takedown. Henderson scores the next 5 points to pull within one point. He'll finish the match on top, one point away from victory. McKenna holds on to win. We will get another Yianni vs McKenna match in the finals!
70 James Green (TMWC/SE RTC) vs Jordan Oliver (Sunkist/NYC RTC) - And we go from fire to fire to more fire. Green gets the first activity clock point, then a takedown, then a turn via lace. JO gets Green's back, Green in a quadpod in short time. We get a whistle, JO warned about something and Green needs injury time. Looks like his knee. Couldn't see the move that caused it. It happened right at the break and Green is back to his feet, hopefully he's got to finish the match.
Green is back in the center and action continues in the second. It's 6-0 so Green may have gotten a penalty point. Or I missed some other score. Both are possible! Oliver on a single, climbs and we get quadpod again. This time JO brings him down cleanly and quickly. 20 seconds to go. Incredible head fake-snap-go behind by JO and he gets to within two points. But he runs out of time to complete the comeback. James Green wins in his home gym!
70 Ryan Deakin (TMWC/Chicago RTC) vs Alec Pantaleo (TMWC/Cliff Keen WC) - Pantaleo draws first blood, scoring two with a takedown. There's a scramble and Pantaleo explodes for two, but Deakin ends up with a lace and makes it two for himself. And I must have missed another two for Deakin in that exchanges as it's 4-4, Deakin with criteria. Short time in the first.
Second period, Pantaleo in on a shot, there's a scramble, Deakin prevails, then a quick gut wrench, and Pantaleo is hurt. He singles for injury time. Hope it's not bad, he went limp. He's back on his feet though and Deakin only has 6 so maybe they stopped time after the takedown. Couldn't tell exactly what happened to Alec. He restarts in par terre, defends and goes back to neutral, but needs injury time again. Looks like it could be his ribs. They restart, Deakin gets another quick TD. And Pantaleo can't continue. Hate to see it. Both wrestlers looked great before the injury. Nonetheless, Deakin is on to the finals to take on James Green for a rematch of 2019 Final X!
79 Jordan Burroughs (Sunkist/Pennsylvania RTC) vs Jason Nolf (TMWC/Nittany Lion WC) - Oh my here we go. Nolf grabs a single, Burroughs-straight legs out of it. Half shot by Nolf, Burroughs charges forward and gets two, much to the delight of the Husker fans in attendance. Excellent flurry from both wrestlers, they go out of bounds, grounded, and the scores stays 2-0. One minute to go in the first. Whistle blown as Nolf was going in for the shot. Call is penalty point for Nolf, JB grabbing fingers. Oh no, it was on Nolf. JB with the 3-0 lead. Nolf gets a stepout. Nolf in on a single, JB trying to counter, on the edge. Nolf gets the step out but the crowd wants points for JB. It's ruled a stepout and Nolf pulls within one. Burroughs on the attack, chases down a second leg and he takes a 5-2 lead. One minute left in the match. Nolf trying to get through JB's head and defense, but Burroughs circles and defends masterfully. Burroughs holds on for another victory and will wrestle for a world team spot in Lincoln yet again.
79 Isaiah Martinez (TMWC/Dam RTC) vs Alex Dieringer (TMWC/Cliff Keen WC) - No time to catch your breath after that performance, its Ringer and IMar! Takedown for Ringer, then a step out. Ringer comes out the back door and runs IMar out of bounds for a caution and 1. Dieringer leads 4-0 with a minute to go in the first. Second period underway, nice level change by Imar and he runs Ringer out to break the goose egg of the board. Dieringer answers right back with a counter to a freight train double. Pause for some blood and back to action. IMar with some craftiness to avoid another takedown. IMar battles the rest of the match but Dieringer has too much horsepower and wins 6-1. JB vs Ringer lets go!
92 J'den Cox (TMWC/NJ RTC) vs Myles Martin (TMWC/Scarlet Knights WC) - The two-time world gold medalist at 92kg is on the mat taking on a bulked-up but still slick-looking Myles Martin. A very tactical first period as Cox takes a one point lead into the second. In the second, J'den cuts down Martin's escape angles and corners him into a step out. Then he chases down a single leg, switches to a double and power Martin to the mat for two more. J'den leads 4-0 with a minute to go. Then J'den decided to get filthy and his a pair of absurd takedowns. J'den wins 8-0 and looks as good as ever.
92 Kollin Moore (TMWC/Ohio RTC) vs Nate Jackson (NYAC/NJ RTC) - KMo shows he's got some slickness as well, scoring first on Nate Jackon with a pretty finish. They trade a pair of clean takedowns but now we have trouble as Moore goes down in considerable pain. Could be a shoulder. We hope he can continue but it's not looking so good right now. Moore is on his feet and he's gonna tough it out. Jackson gets two takedowns to close out the period to make it 6-4. Moore able to keep his foot on the gas in the final minute and gets a takedown to regain the lead. Then in a short time Moore keeps scoring, eventually winning 12-6. Very gutty win by Moore and we'll see him in the finals tomorrow.
125 Nick Gwiazdowski (TMWC/Spartan Combat RTC) vs Jordan Wood (Lehigh Valley WC) - A tactically-wrestled first period that ends 1-0, as is not uncommon in heavyweight wrestling. Gwiz leads 1-0. Gwiz picks things up in the second, attacking and fighting through Wood's defense to take a 5-0 lead. Wood battling back but Gwiz counters to extend his lead to 7-0. A final downblock-go behind by Gwiz and he'll finish on top in par terre with a 9-0 win.
125 Hayden Zillmer (Gopher WC) vs Mason Parris (Cliff Keen WC) - Our last match of the evening. Zillmer gives up a point early, then Parris muscles up a finish after a shot put him underneath a sprawled-out Zillmer. Another takedown in the second makes it 5-0 Parris. Zillmer finally gets on the board with a takedown of his own. Parris was able to get a reversal in the ensuing scramble. Zillmer shoots Parris out of bounds a couple times to cut the deficit to 6-4 with about a minute to go. Parris stays attacking and fights through Zillmer's headlock for two insurance points. And that's how it ends. We will get at least two more Gwiz v Parris matches!
Women's Freestyle
53 Ronna Heaton (Sunkist Kids Wrestling Club) vs Areana Villaescusa (Army (WCAP)) - It's all Ronna in the first period, as she powers through Villaescusa to take am 8-0 lead at the break. Heaton clinches it in the next period, winning via technical fall, 10-0.
53 Alyssa Lampe (Sunkist Kids Wrestling Club) vs Amy Fearnside (Titan Mercury Wrestling Club) - A pair of two-pointers, one for each, makes it 2-2 after two minutes. They bonk heads and Lampe needs injury time. Looks like Fearnside's chin to Lampe forehead maybe. Lampe is sitting up and moving but with a potential head injury you can't be too cautious. Lampe is back in the center of the mat. Glad to see it and glad for the Dam RTC in Oregon where she trains. We'll go to the break, Fearnside leading by criteria 2-2.
Lampe digging underhooks, gets a step out. Back to the underhooks but Fearnside responds with a single leg that she finished for two at the edge. And Fearnside will hold on for the win and face Heaton in the finals!
55 Jenna Burkert (Army (WCAP)) vs Marissa Gallegos (Colorado Mesa Wrestling Club) - Quick takedown into some tight gut wrenches and just like that, Burkert goes up 8-0. Pressuring in at the edge and Gallegos hits a nice arm spin to cut the lead in half. A stepout for Burkert makes it 9-4 after just 2 minutes of wrestling. Jenna again with a takedown and gut wrench to get her largest lead of the match, 13-4. A stepout finishes the job. Burkert to the finals, 14-4.
55 Jacarra Winchester vs Amanda Martinez (Cardinal Wrestling Club) - Jacarra takes a page from Jenna's playbook, goes takedown and two gut wrenches for a 6-0 lead. Another takedown makes it 8-0. And another one for the tech-fall. We have a main event scheduled for the 55kg finals, Winchester vs Burkert!
59 Maya Nelson (Sunkist Kids Wrestling Club) vs Xochitl Mota-Pettis (Rise RTC) - This should be fun. Nelson gets the first takedown but XMP responds with a four. XMP always looking to go big. Maya counters a headlock attempt by XMP to tie the score, though XMP leads via critiera. At least until Nelson hits a nifty roll through to pick up two more in the scramble and the lead. A correct throw from XMP gives her the lead by criteria again. Nelson responds with a four of her own. XMP scrambles her way to a reversal and its 10-7 at the break. Toldja it'd be fun.
In the second period, XMP shoots but Nelson counters and drives XMP to her back for four more. Nelson counters XMP's next shot to run her lead up to nine. Nelson once again counters XMP to her back and the junior world gold medalist is in the finals!
59 Megan Black (Army (WCAP)) vs Michaela Beck (Sunkist Kids Wrestling Club) - A very tactical battle, as the styles of both wrestlers do a 180 from our previous match. It's 1-0, Black in the lead via activity clock at the break. Black breaks it open in the second period, now takes a 5-1 lead into short time. Beck gets a takedown in the final seconds but can't make up the last two points. Black takes it and will wrestle Nelson tomorrow!
62 Kayla Miracle (Sunkist Kids Wrestling Club) vs Gracie Figueroa (Titan Mercury Wrestling Club) - Olympian Kayla Miracle wastes no time, attacking early and has Figueroa on the ropes early. And it's a pinfall for Miracle!
62 Jennifer Page (Titan Mercury Wrestling Club) vs Mallory Velte (Titan Mercury Wrestling Club) - World bronze medalist Velta jumps out to an early 4-1 lead over Nittany Lion Wrestling Clubber Jen Page. Dam RTC training Mallory Velte runs Page down for another takedown deep in the second for a 6-1 lead. Velte extends her lead to 7 before time runs out and will win 8-1. We will renew one of the best rivalries in wrestling with Miracle vs Velte in the finals!
65 Forrest Molinari (Sunkist Kids Wrestling Club) vs Skylar Grote (New York Athletic Club) - Grote comes out swinging (literally and figuratively) but Molinari comes storming back after giving up a takedown. She answers with a couple of her own. Then opens it up even more in the second with another takedown and an 8-2 lead.
65 Solin Piearcy (Menlo Wrestling Club) vs Emma Bruntil (Titan Mercury Wrestling Club) - Bruntil wasting no time, getting a takedown and three turns via lace to race out to an 8-0 lead. A takedown later and the McKendree student Bruntil wins in dominant fashion. Molinari vs Bruntil in the finals.
72 Kennedy Blades (Sunkist Kids Wrestling Club) vs Dymond Guilford (Titan Mercury Wrestling Club) - Kennedy doing her thing, shoots a single, chases an angle and gets two. Repeat and it's 5-0 (not sure where that fifth point came from). Guilford fights back and battles Blades to the ground to pick up two points of her own. We go to the break. We come back and Guilford isn't backing down and gets a takedown in the second. And we have more trouble as we have a stoppage with Blades down on the mat with the trainers looking at her knee. But she's back on her feet and she doesn't miss a step when the whistle blows! Takedown, throws in a half nelson and that's it! Blades amped up the drama with the stoppage and then sealed the deal in style!
Update: So I learned that Kennedy did not hurt her knee, nor did she get knocked out, as I later suspected, but in fact got choked out. Nothing malicious by Dymond, just the way the scramble went. Anyway, dang, super savage mode by Blades to recover from that they way that she did.
72 Yelena Makoyed (Cardinal Wrestling Club) vs Kylie Welker (Titan Mercury Wrestling Club) - Our last women's bout of the evening. And not to be outdone, Welker grips it and rips for a victory via headlock pinfall in the first minute! A rematch of the Olympic Team Trials Last Chance Qualifier but this time it's best-of-three and with a world team spot on the line!
Get your popcorn, as it is often said.
Greco-Roman
55kg: Max Nowry blitzes Dalton Duffield 8-0. check out some of Duffield's previous matches though). Brady Koontz stakes himself to a 6-0 lead, then finishes off junior world teamer Billy Sullivan 8-0. Nowry v Koontz in the finals.
60kg: Good job Idlar! Olympian Ildar Hafizov wins 10-0 over King Sandoval to advance to the finals. Dalton Roberts has a 7-0 lead in the other 60kg semifinals over Randon Miranda. That score gets adjusted on a review and but Roberts eventually wins 9-5.
63kg: Wild Man Sam goes ham on We Rachal. Sam Jones wins 9-0 and advances to the finals. Stpepanian ekes out a close one over Gregerson 4-4 on criteria. he'll face Jones in the final.
67kg: Alejandro Sancho shows some true grit, battling back from a deficit for the come-from-behind win over a very game Alston Nutter. Michigan State's Peyton Omania scores a convincing 9-0 victory over former world teamer Jesse Thielke to make the finals.
72kg: Pat 'Honda Civic' Smith does his thing and wins 4-0 over Michael Hooker. Then Benji peak does Benji Peak things and hits two 'fours' to make the finals over Jamel Johnson. This should be a good one.
77kg: Jesse Porter holds on to win 6-5 over Alec Ortiz and the Olympic Team Trials champ moves on to the finals. Porter will wrestle Fritz Shierl of Ohio State, who beat Zach Grimes 4-0.
82kg: The veteran Ben Provisor gets a tech-fall just before the end of the match, beating Richard Carlson 9-0. Spencer Woods also blanks his opponent by the same score.
87kg: Alan Vera swings Dan Olsen side-to-side before a thunderous four in one of the best moves of the tournament. The Cuban transfer holds on to win 7-3. Ryan Epps has a closer match with Sikes, erasing a one-point deficit at the break to win 5-3.
97kg: Olympian G'Angelo Hancock wrestles his first match of the tournament in the semis and gets it done versus Kymba Johnson 7-2. Nicholas Boykin takes out the stout Lucas Sheridan 3-1.
125kg: Cohlton Schultz gets a big four-pointer on the large Tanner Farmer and closes him out 5-1. Schultz's opponent will be Army's Jacob Mitchell, who eked out a 2-1 win over Donny Longendyke.
---
Thanks for reading along, been a bit since I've exercised my blogging muscles. Apologies for the typos, we'll see you tomorrow for the finals!