2021 World Team Trials
The Complete World Team Trials Greco Preview
The Complete World Team Trials Greco Preview
Greco guru Tim Hands takes a deep dive into this weekend's field at the World Team Trials in Lincoln.
Sep 10, 2021
by Timmy Hands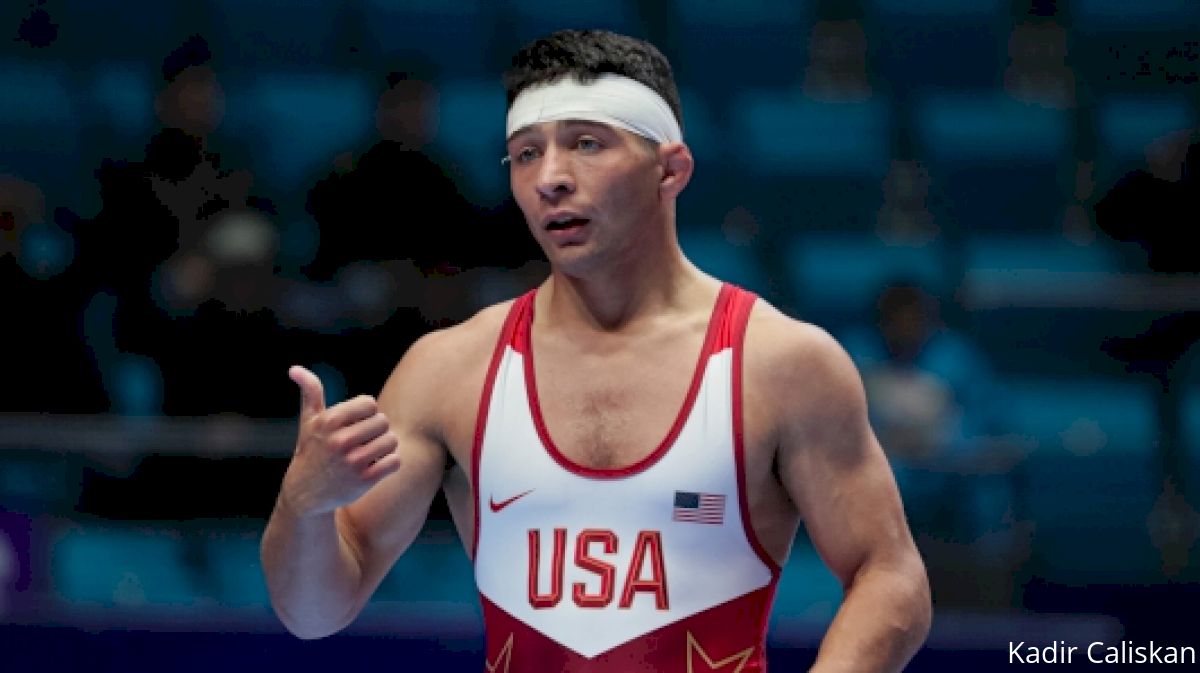 A World Team Trials serving as the first competitive opportunity of the season for United States Greco-Roman Seniors seems unusual. And, it is certainly outside of the norm. It also represents the chance for a collective reset on the heels of the Tokyo Olympics.
The Paris '24 cycle has officially begun. What that means for the U.S. program is a fresh start with the help of several high-profile athletes and a bevy of young, hungry individuals who are looking to knock those more established out of the picture. That is their job. But it won't come easily. Six of the 10 presumed top seeds at the '21 Trials are recent Senior Team members. Nine of the 10 have been national champions, four of whom hold more than one title.
A more detailed yet still breezy glance at each weight class will hopefully set the tone.
Note: projected top four seeds are based on USA Wrestling's declared "pre-seeds" for the tournament. Pre-seeding is conducted prior to final registration.
55 kg
Projected top four seeds
1. Max Nowry (Army/WCAP)
2. Brady Koontz (TMWC/Ohio RTC)
3. Billy Sullivan (LOG-LV)
4. Jacob Cochran (NMU/NTS)
Nowry was challenged by Koontz in the U.S. National final more so than any other time previously. But the reigning three-time Open champ and '19 World Teamer quickly got on his horse and refocused, while Koontz did the same en-route to a U23 Trial final series loss to Taylor LaMont. The top two are the lead dogs here for a reason, but there should still be space for Sullivan, Cochran, and Dalton Duffield to assert themselves.
60 kg
Projected top four seeds
1. Ildar Hafizov (Army/WCAP)
2. Dalton Roberts (Army/WCAP)
3. Randon Miranda (Rise RTC)
4. Dylan Koontz (TMWC/Ohio RTC)
Only six athletes in total for one of the country's consistently best weight categories would be a major disappointment if not for how top-heavy the field is. Hafizov did not take much of a breather following Tokyo. Even if he had won the thing, that still would have been the case. Roberts, who earned his second U.S. Nationals crown in April, is a machine and has now had the benefit of being in the Army room for an extended period of time where he is getting all of the looks he could possibly need. The only question mark surrounding Miranda's candidacy is the cut. If it's a good one, then it is fair to expect a confident, more aggressive version of the native Californian because it just feels like he's on a mission these days. As for Koontz, he is finally beginning to find his own groove at the Senior level, and like his twin bro Brady, he can gut his way to victory if the opposition shows even the slightest vulnerability from bottom.
63 kg
Projected top four seeds
1. Mike Fuenffinger (Army/WCAP)
2. Sammy Jones (NYAC)
3. David Stepanyan (NYAC/NTS)
4. Dylan Gregerson (UVRTC)
Curiosity abounds as to how Fuenffinger will perform up at the non-Olympics weight. A two-time National champ at 60, the WCAP stud has not flirted with 63 since its arrival. He knows his body, after all, and the thinking is that avoiding a fight with the scale should prove beneficial. Jones and Fuenffinger share a compressed but raucous history. Their styles clash hardcore, which has actually made their matches (which have gone to Fuenffinger) quite suspenseful. Stepanyan and Gregerson ("Greco's Son") are warring for control of this narrative. U23 World Teamer Stepanyan is equal parts calculated and vicious, while Gregerson is on the cusp of a breakthrough that everyone realizes could happen sooner rather than later. The key is an x-factor. Is We Rachal that guy at 63? Or is it someone like Corbin Nirschl, who is capable of a bruising pace deep into the second period? Whoever it is, for 63 to flourish, someone needs to step up and press the top two entrants.
67 kg
Projected top four seeds
1. Alex Sancho (Army/WCAP)
2. Jesse Thielke (Army/WCAP)
3. Hayden Tuma (Suples)
4. Calvin Germinaro (Minnesota Storm)
A very, very big tournament for Sancho. His first Senior Trials victory came in April, which got him the Olympic Team spot. Making it two in a row, in the same year no less, would go a long way towards cementing his status as the undisputed king of this weight category. But for all of the talk about Sancho, and even Hayden Tuma's blitzing display in April, the story is Thielke, who has overcome a career-threatening injury in order to make it back to competition. Though the '16 Olympian has not entered a tournament in well over two years, he is still shouldering high expectations this weekend. It might not be fair, but Thielke's ability is too substantial to play down his chances at an event like this one. Wherever they transpire, the matchups this bracket will produce can't be touched by any other weight. The '19 Junior bronze tandem of Alston Nutter and Peyton Omania, along with two-time Nationals runner-up Calvin Germinaro (the #4 seed) represents the future. Everyone recognizes this, and no one argues it. The question is: does that future begin in Lincoln this weekend? Or are Sancho, Thielke, and Tuma still too potent of a veteran trio to allow others in the argument?
72 kg
Projected top four seeds
1. Patrick Smith (Minnesota Storm)
2. Benji Peak (Sunkist/NTS)
3. Jamel Johnson (Marines)
4. Michael Hooker (Army/WCAP)
In a phone booth they must fight if the name on the back says "Smith". The popular Storm rep dropping back down spells trouble for a weight class that, otherwise, is fairly wide open. Smith's unmatched, feverish pace is a daunting proposition for those who might not have tangled with him before. And even if they have, none of them are looking forward to it. "Mr. Fantastic" Peak is operating with a ton of confidence and gaining steam. He broke out at the Olympic Trials by making National Team, wowing the crowd in the process. But Johnson is coming off a superb Pan-Ams gold, and Hooker -- when healthy -- is one of the most well-balanced wrestlers in the entire sport. Brandon Mueller, a tempo-pusher like Smith who is also down from 77 kilos, could make a splash. Young guns Griffin Parriott (Minnesota Storm) and '21 Junior World Teamer Justus Scott (LOG-LV) are, if the seeds hold, matched up with Smith and Johnson, respectively. Parriott gets a steady diet of Smith in the practice room, but we need to see what that looks like with a ref in the mix. Johnson could have his hands full with Scott, but not yet on a technical level. Then again, Scott's future in this sport is more about his toughness than it is technique.
77 kg
Projected top four seeds
1. Jesse Porter (NYAC)
2. Peyton Walsh (Marines)
3. Austin Morrow (NYAC/NTS)
4. Alec Ortiz (Minnesota Storm)
Porter and Walsh were responsible for the most confusing and controversial ending to an Olympic Trials series perhaps in history, or close to it, so the chance they can run that back is naturally on everyone's minds. Can it happen? Sure. But it's not probable. Ortiz is the reigning National champ and has scored wins over Porter, but is seeded #4 simply because his title from April is apparently not being treated with the level of respect it, or he, deserves. That aside, Morrow (who did qualify for the Olympic Trials over Ortiz) is a different beast at 77 and offers the cleanest par terre offense of the field. Ryan Epps, Ortiz's teammate and runner-up from April, has all the makings of a future star, but that is the story for Britton Holmes, too, who has downed Epps twice. Epps and Holmes are two peas in a pod, and if Greco had tag teams, they would be a problematic pair. Both are the meanest competitors in this weight class, which is really saying something. This tournament is all about Oslo in early-October, but 77 in a vacuum for this tournament is about figuring out its identity -- which is where Morrow, Holmes, and Epps come into play.
82 kg
Projected top four seeds
1. Ben Provisor (NYAC)
2. Spencer Woods (Army/WCAP)
3. Tommy Brackett (UA)
4. Rich Carlson (Minnesota Storm)
Two-time Olympian Provisor picked up his fourth Open crown by winning the 82 bracket in April, and then in short order stomped the Pan-Ams. Which is all another way of saying that he likes this weight class, and it is going to take a Herculean effort from someone here to disrupt that concept. Woods, also a Nationals champ this year but at 87, could provide a test if he advances. Brackett, as well. Carlson's style and experience in a one-match, winner-take-all semifinal would make for can't-miss theater. The problem is that no one here has the par terre tools to keep up with Provisor in either phase, so it becomes about survival and withstanding "Big Ben" on the feet, where his off-balances and snaps are mightily effective weapons.
87 kg
Projected top four seeds
1. Alan Vera (NYAC)
2. George Sikes (NYAC/NTS)
3. Tyler Hannah (Combat)
4. Joel Nivar (Marines)
No, 87 kilograms isn't what it used to be at the moment, and that little issue needs to be corrected after the New Year. For now, this is Vera's show. Sikes is a gamer, and Hannah is beholden to a promising future. Nivar is a Marine, so you've got the toughness with him, as well as some opportunistic pouncing. But Vera, provided he is feeling just fine, is far ahead of the pack in every meaningful way we measure this sport and its athletes.
97 kg
Projected top four seeds
1. G'Angelo Hancock (Sunkist)
2. Luke Sheridan (Army/WCAP)
3. Nick Boykin (Sunkist)
4. J.D. Souza (Army/WCAP)
Hancock was devastated after the Olympics and it is easy to understand why. He needed a minute to reflect. When the moment was over, he began redoubling his efforts as best he can in preparation for this event. Sheridan has been training nonstop, too, and his cognizance of Hancock's skill-set coupled with his own considerable abilities put him in position to press the issue more so than his contemporaries. But Boykin is legitimate. Now a two-time National champ, Boykin has done nothing other than continuously improve both physically and technically. Fresh in the brain are Souza's throws from the April final, the last of which Boykin landed-on-top for a come-from-behind win. That's just it: Boykin -- at Senior and now also at U23 -- is finding ways to win at an increasing rate, regardless of what it looks like or how it happens. At a Trials, wrestlers like Boykin are very dangerous.
130 kg
Projected top four seeds
1. Cohlton Schultz (Sunkist)
2. Jacob Mitchell (Army/WCAP)
3. Donny Longedyke (Minnesota Storm)
4. Tanner Farmer (NYAC/IRTC)
Young Mr. Schultz, whose credentials by now are too lengthy with which to bother, has packed on some muscle over the past few months. Have fun with that. Mitchell has been competitive against Schultz, but not enough to seriously threaten, though it is easy to imagine that he could. The ability is there. Schultz is just too disciplined in the ties and knows how to navigate control from a pummel/footwork perspective better than everyone else in the country. Longendyke impressed opposite Mitchell in defeat at the Trials, and his Pan-Am silver proved he could be so much more than a domestic contender. Farmer and West Cathcart, in whichever order, are to have a say in this tournament, while '21 National winner Malcolm Allen could hang in there so long as he can defend come passivity. But the conversation at 130 begins and ends with Schultz, and it feels like this is his time to step up and take command of what has been such a storied weight class for the American program.