2021 World Team Trials
Can Any Challenger Dethrone J'den Cox?
Can Any Challenger Dethrone J'den Cox?
Check out how the seeding might look at 92kg for the 2021 World Team Trials and who will be the biggest challenger to J'den Cox.
Sep 2, 2021
by Jon Kozak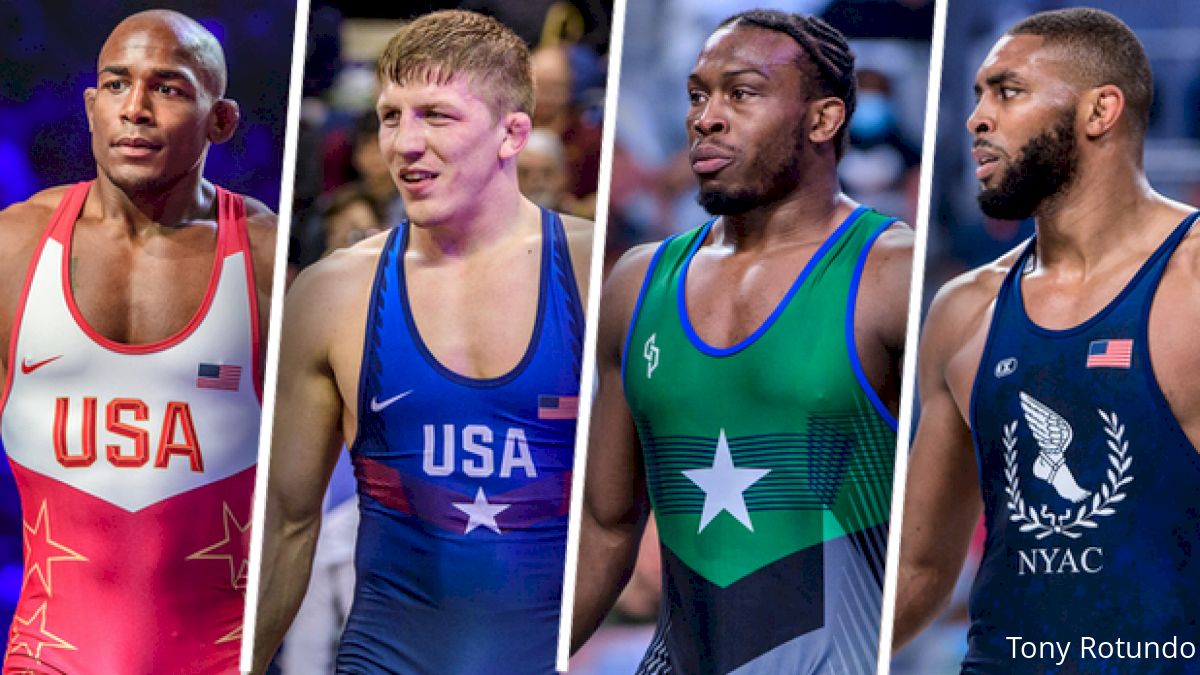 The World Team Trials will take place September 11-12 to determine the team that will compete in Oslo, Norway October 2-10. In this article we'll explore what the top 8 seeds might look like for the competitors at 92kg in men's freestyle. We'll also take a look at J'den Cox's dominance at 92kgs since 2018.
J'den Cox - The Reigning Champ
As the 2018 and 2019 World Champion at 92kg, J'den Cox will almost assuredly get the #1 seed at World Team Trials. Later in the article we'll explore how dominant Cox has been over the past few years. Until then, and for seeding purposes, know that J'den Cox hasn't lost to an American since the opening match of the 2017 World Team Trials where he fell 9-3 against David Taylor. Take a look at how I think the rest of the top 8 seeds will fall in to place at the World Team Trials:
J'den Cox
Kollin Moore
Nate Jackson
Kyven Gadson
Mike Macchiavello
Myles Martin
Trent Hidlay
Drew Foster
The blending of 86kg and 97kg competitors creates a bit of a challenge in sorting the rest of the seeds but the above order falls in line with recent results. Kollin Moore should take the 2 seed as the only competitor in the field to make the Olympic Trials Finals (in a bracket that included Gadson and Macchiavello). Nate Jackson should receive the 3 with his win over Kyven Gadson in the 92kg finals of Senior Nationals (May 2021) and his win over Myles Martin from the Olympic Trials.
Check Out Nate Jackson's win over Kyven Gadson: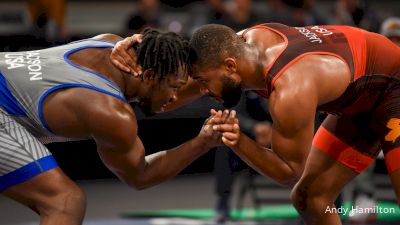 Unlock this video, live events, and more with a subscription!
Get Started
Already a subscriber? Log In
Kyven Gadson finished 3rd at 97kg at the Olympic Trials and defeated Mike Macchiavello (in the 3rd place match) there. Myles Martin should come after Macchiavello mainly because he did not place at the Olympic Trials at 86kg. However, Martin has a case to move up in the seeds based on his four past wins over Nate Jackson.
Finally, though Trent Hidlay and Drew Foster are coming up from 86kg, they should round out the top 8. Hidlay and Foster finished 2nd and 3rd respectively at Senior Nationals in May at 86kg. There, Hidlay defeated Foster in the semis by scoring 2 points on a chest wrap with less than 10 seconds left in the match.
Can Anyone Challenge J'den Cox?
Remarkably, Nate Jackson is the only wrestler in this bracket J'den Cox has wrestled on the senior level. The two wrestled on the Burroughs-Taylor card in January where Cox won 6-1. If you go back to his collegiate career, J'den Cox defeated Kollin Moore in December of 2016, 6-4. To find the last (and only) time Cox lost to a competitor in this bracket, you'd have to go back even further to the 2014 Southern Scuffle. There, Kyven Gadson defeated J'den Cox 3-1 in overtime.
Watch J'den Cox vs Nate Jackson: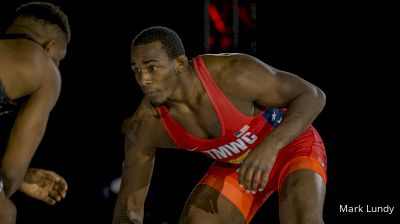 Unlock this video, live events, and more with a subscription!
Get Started
Already a subscriber? Log In
Watch Kyven Gadson defeat J'den Cox at the 2014 Southern Scuffle
While there are a number of highly credentialed wrestlers in this bracket, if Cox is wrestling at the level he showed during his 2018 and 2019 world title runs, then no one will come close to defeating him. During the 2018-2019 season at 92kg, J'den Cox was 28-4 and closed out 2019 on a 17 match win streak. During that win streak he outscored his opponents 121-7 and only allowed points in 4 of the 17 matches. Simply put, when J'den Cox is at his best, few people are capable of scoring on him and even fewer can come close to defeating him. A prime J'den Cox will win the world team trials in dominant fashion.
Take a look at some of J'den Cox's incredible senior level stats:
66-16 senior level record
Outscored opponents by a combined 483-140
32 Shut-out victories
Only 68 points allowed in last 50 matches
5 wins over world champions
11 wins over world medalists
J'den Still Has Something To Prove
While J'den Cox is the best wrestler in this bracket, he is also coming off his worst performance on the senior level. Cox took 5th place at the Poland Open in June and lost to Illia Archaia (UKR) in the semis before forfeiting in the bronze medal match. What makes the Archaia loss notable for Cox is the number of Americans who have defeated Archaia in the past. Nate Jackson, Alex Dieringer, Pat Downey and Richard Perry all have past wins over the Ukrainian. Was that loss a fluke or a sign of weakness for Cox? At this point we don't have the answer but the World Team Trials will prove whether or not J'den Cox is back to being the best wrestler in the world at 92kg.