Pac-12
ASU Restructures Coaching Staff
ASU Restructures Coaching Staff
Arizona State on Tuesday announced the addition of Eric Thompson to its coaching staff, while Mark Perry moves to a full-time role with the Sunkist Kids.
Sep 1, 2021
by Andy Hamilton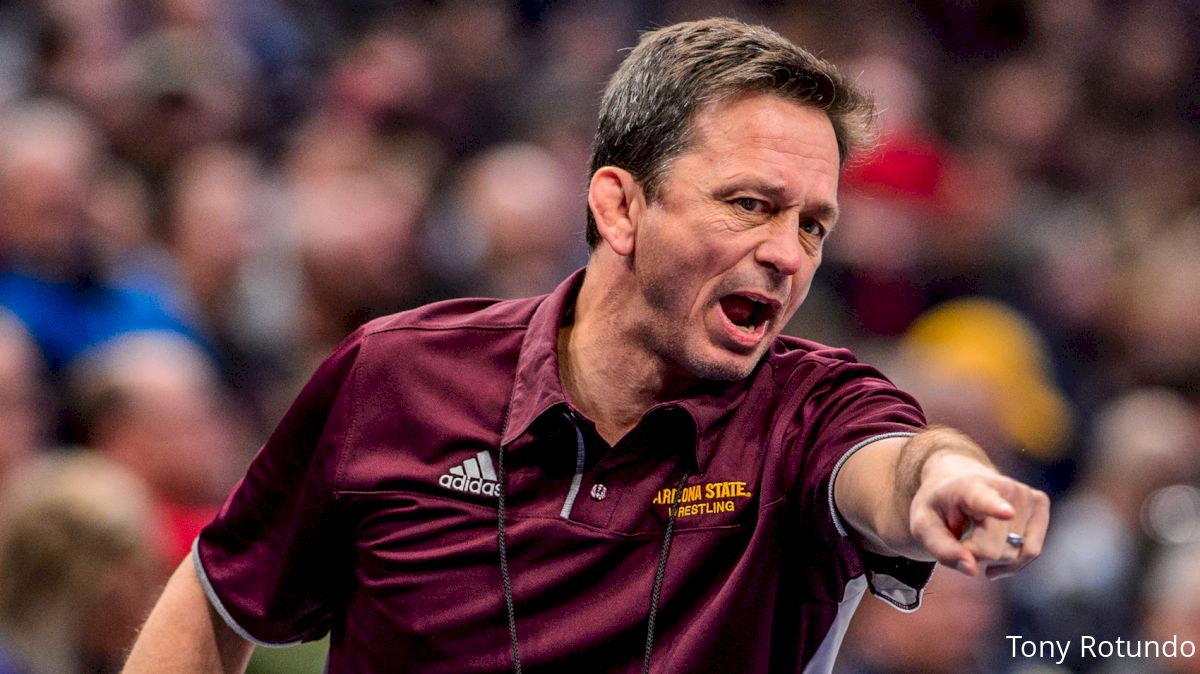 Arizona State coach Zeke Jones restructured his coaching staff Tuesday, moving Mark Perry into a full-time role with the Sunkist Wrestling Club and bringing in Eric Thompson to fill his place as the volunteer assistant with the Sun Devils.
Perry spent the past year juggling coaching responsibilities with the Sunkist and the Sun Devils. He'll transition to working full-time with the club, which has a roster including Olympians Helen Maroulis and Kayla Miracle and two-time NCAA champion Zahid Valencia.
Thompson, a three-time NAIA heavyweight champion at Grand View, joins the Sun Devils after working on the coaching staff with the Nittany Lion Wrestling Club.
Via ASU Sports Informaton:
TEMPE — Arizona State wrestling head coach Zeke Jones announced the addition of three-time All American Eric Thompson to his coaching staff as a volunteer assistant coach.
"We're excited about adding Eric to our staff," coach Jones said. "He did a fantastic job helping Olympic medalists Kyle Snyder and David Taylor over the last several years as well as mentoring several of their best developmental wrestlers. He's going to be a tremendous coach to our upper weights like Cohlton, Kordell, and our other big men."
"I'm very excited for the future of Arizona State wrestling," Thompson said. "I'm very grateful for Coach Jones and senior associate athletic directors Don Bocchi and Graham Rossini for giving me the opportunity to join the team. I'm excited to play a role and be as helpful as I can.
Most recently, Thompson has spent his time as a coach for the Nittany Lion Wrestling Club where he coached Snyder and Taylor, five world-team members and four Olympians.
Before joining the coaching staff, Thompson wrestled at NLWC, where he trained to make the 2016 Olympic Team. He took fifth place in the 2016 Olympic trials. During his collegiate career at Grand View University, Thompson was a three-time NAIA National Champion at 285 pounds and was named NAIA Wrestler of the Year in 2012.
Other stops for Thompson include a three-year stint with M2 Training Center where he worked with over 100 athletes and a one-year position with Lock Haven University as an assistant coach.
The hire comes following volunteer assistant coach Mark Perry's move to a full-time role with Sunkist RTC. Perry spent one season with the Sun Devils where he helped Brandon Courtney, Michael McGee, Jacori Teemer, Anthony Valencia and Cohlton Schultz to All-American status. Perry also took Helen Maroulis and Kayla Miracle to Tokyo 2020 with Team USA, coaching Maroulis to a freestyle bronze medal finish at 57 kg.
"Having Coach Mark move into a full-time role with Sunkist truly elevates our overall Olympic programming here," Jones said. "Now we have a full-time dedicated world-class coach assisting the best wrestlers in the world right here in Phoenix. As most people know, Mark just came off a successful Olympic Games leading two of our women to Tokyo, with Maroulis winning an Olympic bronze medal. There's no coach in the country more dedicated to winning for our country than Mark or the Sunkist program."