The Pulse With Andy Hamilton
The Pulse With Andy Hamilton: The Whirlwind To Two World Medals
The Pulse With Andy Hamilton: The Whirlwind To Two World Medals
A look back at the six-month sprint by Braxton Amos that led to a historic performance at the Junior World Championships.
Aug 30, 2021
by Andy Hamilton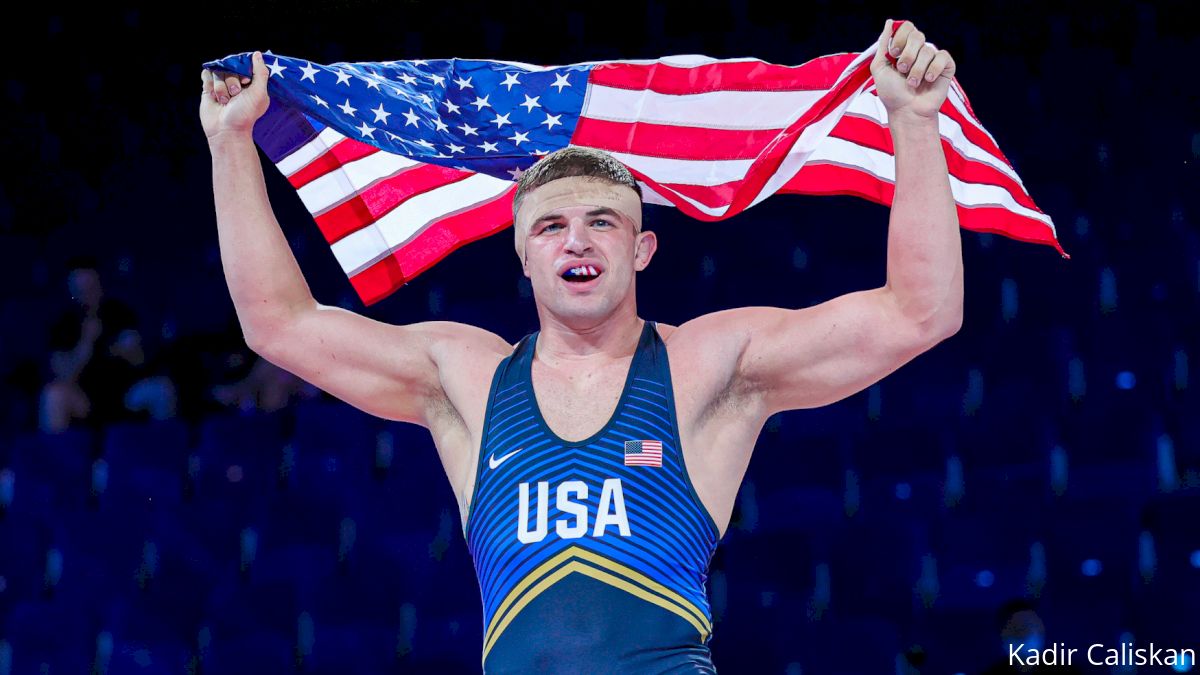 Unlock this article, live events, and more with a subscription!
Get Started
Already a subscriber? Log In
The Pulse with Andy Hamilton is a look at the hot topics and interesting takes in wrestling. This week's edition features Braxton Amos' historic performance at the Junior World Championships, remembers the two wrestlers who were killed during Thursday's terrorist attack in Afghanistan and contains a note on a Fargo finalist who picked up a Big Ten football offer this past weekend.
Braxton Amos buckled in last Monday for the long flight home from Russia, and for the first time in almost half a year, the wunderkind from West Virginia allowed himself an opportunity to sit back and reflect on the whirlwind to two World medals.
It's been a six-month sprint for Amos to get to this point. The soon-to-be Wisconsin freshman wrestled eight matches in two days at the Last Chance Qualifier. Six more the following week at the Olympic Trials. Another 10 the last weekend of April at the Junior World Team Trials, where he demolished the competition by a combined 101-4 count.
A couple dozen bouts is a full college season for some. Amos wrestled that many in a month.
But that wasn't it.
There were National Team training camps, a trip to Guatemala for the Pan Am Championships, where Amos seized a Greco-Roman silver, and double-duty practice sessions as he juggled Greco and freestyle prep for the Junior World Championships.
What did you do with your summer?
Well, Amos did something only two Americans had ever done prior to last week. Gary Albright in 1983. Adam Coon in 2014.
And now Amos.
That's the full list of Americans who have medaled in both styles at the Junior World Championships.
"To be one of three people to ever do what I just did, it's awesome," Amos said. "It feels awesome to be able to say I did that. Hopefully, I go on and do more things, but say something terrible happens I can always hang my hat on doing that. I was a World champ and three days later I was a World bronze."
It's hard enough to win one World medal — let alone two in a week — and few have even tried to double up. Separating the two feats for perspective, Amos captured the 17th Greco medal in the last 20 years for the United States at the Junior World Championships. His freestyle gold was the 15th for the USA during the same time frame.
For Amos, double duty required some creativity and balance with his training. There were times when he'd wrestle practice bouts and switch styles mid-match. Though National Team camps gave him ample opportunity to sharpen his Greco skills, there were other times in the last few weeks when it was a challenge to find high-level training partners.
All in all, though, Amos said he leaned more toward the freestyle side — probably a 60/40 split, he guesses — and found that it gave him an extra gear in Greco.
"The Greco community is probably going to crucify me for this, but I find it easier to have good enough cardio to gas out the foreigners by training a lot more freestyle," he said. "Whether it's true or not, I don't know, but that's just how I feel."
What's the long-term plan for Amos on the international front? Will he devote his full attention to one style?
"I think I can keep on doing both for a little bit — at least while I'm still age-level," he said. "Until wrestling becomes my primary source of income, why not? I'm on scholarship and wrestling's wrestling while you have to wrestle folkstyle. Once we start looking at what's going to pay the bills, what isn't going to pay the bills and how we are going to do this, at that point i think once money becomes an issue I think we start looking at it more. Until then, who cares? Let's just keep wrestling — just because nobody else is doing it."
For now, the focus is on rest and recovery before the college season cranks up. When it gets here, so, too, will another round of speculation about a potential, long-awaited 197-pound showdown with reigning NCAA champ A.J. Ferrari of Oklahoma State.
The anticipation for an Amos-Ferrari bout has been building for years as they each accumulated dazzling high school credentials.
"Obviously, everybody thinks about the match a little bit, but If I'm doing the right things, then the match will happen and we'll get to figure out who the best is," Amos said. "I have to, one, qualify for nationals — because the Big Ten is going to be real tough. And then I have to make it through the tournament to get to him. I have to worry about all those things before I even worry about A.J.
"We tried to set up the match how many times through high school and we could never figure it out, so there's always a little bit of curiosity with it. But we'll find out sooner or later."
Part of that curiosity stems from their style differences — on and off the mat.
Ferrari has been a flexing phenom with NIL deals and almost 61,000 Instagram followers — almost six times more than the unassuming Amos.
"A.J. and I agree on some stuff and disagree on others," Amos said. "It's always entertaining to watch all the stuff he does and his social media and everything, but it's just not how I roll. Even down to how we wrestle is very different. It's going to be fun to sit down and try to figure out how to game plan for the kid."
Remembering A Pair Of Wrestlers Killed During Attack In Kabul
Rylee McCollum was a Wyoming state medalist who planned to become a wrestling coach one day. Max Soviak had been a high school wrestler in Ohio and had spent time in Guam, where he reportedly engrained himself in the local wrestling and jiu-jitsu community.
McCollum and Soviak were two of the 13 American service members who were killed Thursday during the terrorist attack in Afghanistan. McCollum was a 20-year-old Marine from Jackson, Wyoming. Soviak, 22, was serving as a Navy medic.
McCollum's father told the New York Times that his son was guarding a checkpoint and helping with evacuations when the attack occurred at the Hamid Karzai International Airport in Kabul. This was Rylee McCollum's first deployment. He had recently gotten married and his wife is expecting their first child.
McCollum placed sixth in Class 4A at 126 pounds as a junior at the 2018 Wyoming state tournament.
"He wanted to be a wrestling coach and help change other kids' lives like it changed his life," McCollum's sister, Roice, told The Jackson Hole News & Guide.
In a story published by The Casper Star Tribune, Roice McCollum also described her brother as "a tough, kind, loving kid who made an impact on everyone he met. His jokes and wit brought so much joy."
Soviak was a four-sport athlete at Edison High School in Milan, Ohio. He was a senior on the 2017 Edison squad that won Ohio's Division III state dual title.
"Everybody looked to Max in tough situations," Jim Hall, who coached Soviak's high school football team, told The New York Times. "He was energetic. He wore his emotions on his sleeve. He was a passionate kid. He didn't hold anything back."
Fargo Finalist Picks Up Big Ten Football Offer
Ben Kueter is certain to generate plenty of recruiting interest in the next couple years. He's a supremely talented big guy who reached the Fargo freestyle finals this summer after going undefeated on his way to Iowa state titles as a freshman and sophomore and currently checks in at the #16 prospect on the Class of 2023 Big Board.
But it's setting up to be a multi-pronged recruiting battle for Kueter's services. In addition to being a hammer on the mat, Kueter is also an exceptional two-way football player and a starter on the baseball team at City High in Iowa City.
Kueter caught three passes for 90 yards and two touchdowns Friday night in City High's 41-0 win against Liberty High School. On Sunday, Minnesota became the first Division I football program to offer Kueter a scholarship.
Thanks to @CoachCPatt and @GopherFootball for offering me a D1 P5 scholarship to play football! A dream come true!! pic.twitter.com/tTYhgT2HRv

— Ben kueter (@Benkueter1) August 29, 2021