2021 Junior World Championships
The Pulse With Andy Hamilton: USA Gaining In Women's World Supremacy Race
The Pulse With Andy Hamilton: USA Gaining In Women's World Supremacy Race
The USA women's freestyle program, in the midst of its best year ever, is gaining on Japan in the race for global supremacy.
Aug 21, 2021
by Andy Hamilton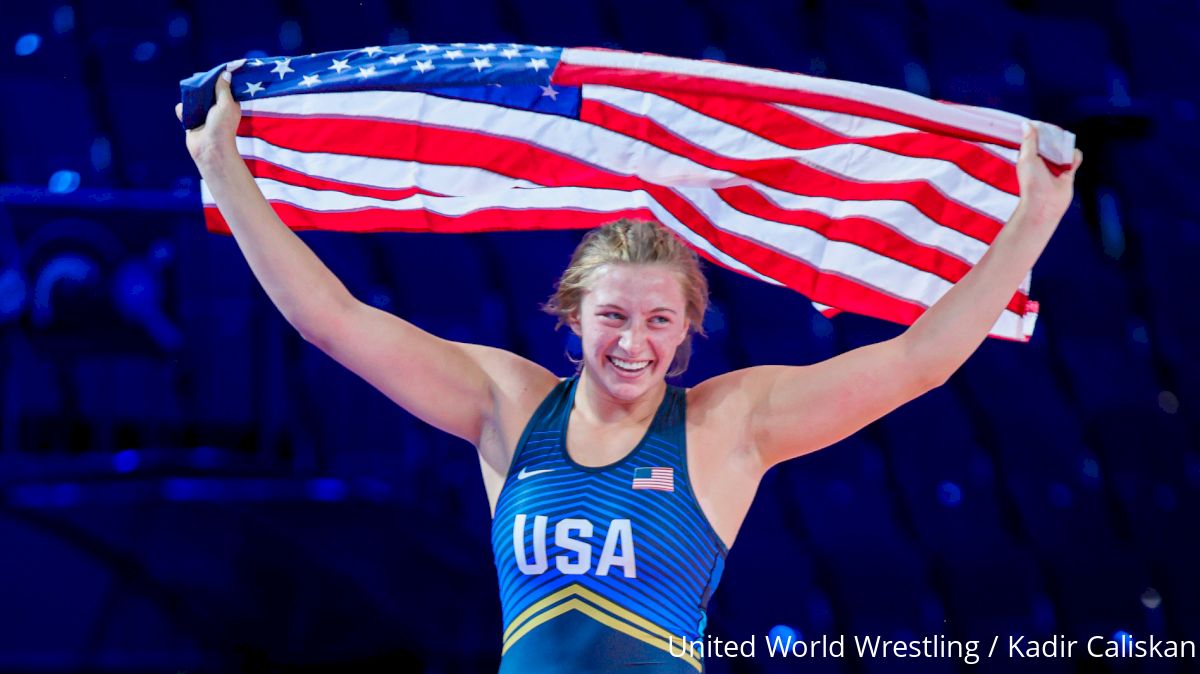 Unlock this article, live events, and more with a subscription!
Get Started
Already a subscriber? Log In
Terry Steiner typically isn't the type who makes headline-grabbing predictions, but the leader of the USA Wrestling women's freestyle program made a bold declaration a couple weeks ago.
"There will come a time when the U.S. will dominate the sport of women's wrestling," Steiner said in Tokyo after the final night of wrestling at the Olympic Games. "I don't know if I'll still be here, but I do know that day is coming."
And it might be arriving faster than anyone associated with the American program would've imagined five years ago.
USA Wrestling is in the midst of its best year in quite some time — maybe ever — and the women's squads are right at the front of the charge. This, unquestionably, is the best summer the American women's program has ever had from top to bottom.
"It's not an overnight success," Steiner said. "It's a lot of people doing a lot of work at every aspect of this sport — our grassroots level, our state level, our state sanctioning, our college level. That all builds on everything and it continues to build. We've got a lot of momentum right now."
Until last month, the United States had never won an age-group women's freestyle World team title. Now the Americans have won two in a span of four weeks, following up their championship performance at last month's Cadet World Championships by capturing another title Friday at the Junior World Championships.
Sandwiched in between was the best Olympic performance the American women have ever had with four medalists, led by Tamyra Mensah Stock's gold.
Sure, the ultimate women's freestyle measuring stick — global superpower Japan — wasn't in the field at either age-group tournament. But the United States exhibited Japan-like dominance over the rest of the world last month in Budapest and again this week in Ufa, Russia, where the American women's program took another giant step forward.
Entering this week's tournament, the USA's women's freestyle Junior World title collection during the past decade consisted of Maya Nelson's gold in 2017.
Four Americans collected belts and left no doubt in Ufa. Emily Shilson outscored her opponents by a combined 43-10 count on her way to the title at 50 kilograms. And she had the "toughest" road of the American champions.
None of the other three — Amit Elor, Kennedy Blades and Kylie Welker — wrestled a full match in Ufa, putting a collective 103-0 beating on their opponents at 68, 72 and 76 kilograms, respectively.
It was Elor's second World shutout of the summer. She blanked her opponents 32-0 last month in Budapest and doubled up this week with three shutout techs.
Welker ran through the 76-kilogram field with three shutout techs and a fall.
Blades blitzed through the 72-kilogram bracket, registering three shutout techs before posting a 17-second fall in the finals against Germany's Lilly Schneider.
"I just focused a lot on handfighting because that's what these international girls do and they try to slow me down," Blades said. "I feel like they weren't ready for my speed, so that's exactly what I used, and it obviously worked."
Blades has her sights on two more World titles in 2021. The 17-year-old will wrestle in November at the U23 World Championships, and next month she'll take aim at claiming the 72-kilogram spot on the USA Senior World Team.
Keep this in mind: Nobody has shown less fear this year while creating more problems for Mensah Stock than Blades did in the finals of the Olympic Trials. Six weeks from now, Blades might slot into the American lineup in Oslo — right between Mensah Stock and five-time World champ Adeline Gray, giving Steiner another title threat in the USA quest for global supremacy.
Japan, evidenced by its performance in Tokyo, is still out on front. The Japanese women swept the four lightest weight classes at the Olympics, running their Olympic gold count to 15. By comparison, all of the other countries combined have won nine Olympic titles.
If age-group success is an indication, Japan isn't slowing down. From 2011 through 2019, Japan won a staggering 55 percent (109 of 178) of the age-group World titles on the line during that period.
But the USA Wrestling women's program is picking up speed and the American talent pool is getting deeper — almost by the day.
High school girls participation in the United States more than doubled from 2016 to 2020. As recently as 2018, there were just six states that sanctioned girls high school wrestling. Now there are 32.
Opportunities are exploding at the college level with more than 90 programs across the country now. Upwards of 70 of them have been launched in the last four years.
The access to high-level training partners and coaches has never been greater than it is now, either.
Combine all of those factors with a burgeoning stable of young international stars and it's not hard to figure out why Steiner sees a transfer of women's freestyle power on the horizon.
"We've spent a lot of time where we still are," he said. "We're still behind Japan. You saw their performance (in Tokyo). … But we're pushing them, there's no doubt. And they know, too, and the rest of the world sees it."
If this last month hasn't inspired you to get your daughters into wrestling I don't know what will. All of the Burroughs girls will at the very least try wrestling. The most exciting part is that now more than ever, their wrestling heroes can be women. 🙌🏾🇺🇸

— Jordan Burroughs (@alliseeisgold) August 20, 2021
'Light Years Apart'
One thing was noticeably absent at this year's Olympic Games: Controversy.
There were no major officiating fiascos, no drama that spilled outside the circle, no storylines that upstaged the action on the mat — a feather in the cap for a United World Wrestling regime that continues to distance itself from the dark period leading up to 2013 when the sport was placed on the Olympic chopping block.
"There continue to be opportunities for us, as a sport, to get better, but it's interesting walking away from the Olympic Games and not having some big controversy about officiating, not having some big controversy about some non-wrestling issue," USA Wrestling executive director Rich Bender said. "That's a result of good leadership. I think we're blessed to have a guy like (United World Wrestling president) Nenad Lalovic.
"To kind of put this in perspective, in 2013 wrestling had never had any meaningful involvement with the International Olympic Committee, no members of the International Olympic Committee executive board or anything like that. And today, we have arguably one of the most powerful members of the International Olympic movement in Nenad Lalovic, who's the vice president of the IOC. He's one of the top decision makers in the movement.
"To think from 2013 until now we've been able to have that level of influence is pretty impressive and it's refreshing for me to be around a guy and a leader like Nenad Lalovic, who's committed to transparency and justice and he's committed to providing a level playing field for athletes. And that's an important foundational commitment for any sport to have growth. Are there calls we don't agree with from time to time? Certainly. Are there things that happen that we're not necessarily proud of? Certainly. But from where we were in 2013 to where we are today, they're light years apart. I think it's cool because I think we have opportunities to get better, but we have leadership within the international federation movement that's committed to take things to another level."