2021 Junior World Championships
Greco-Roman Junior World Championships Preview
Greco-Roman Junior World Championships Preview
Greco guru Timmy Hands breaks down the USA squad that will take the mat this week at the Junior World Championships.
Aug 19, 2021
by Timmy Hands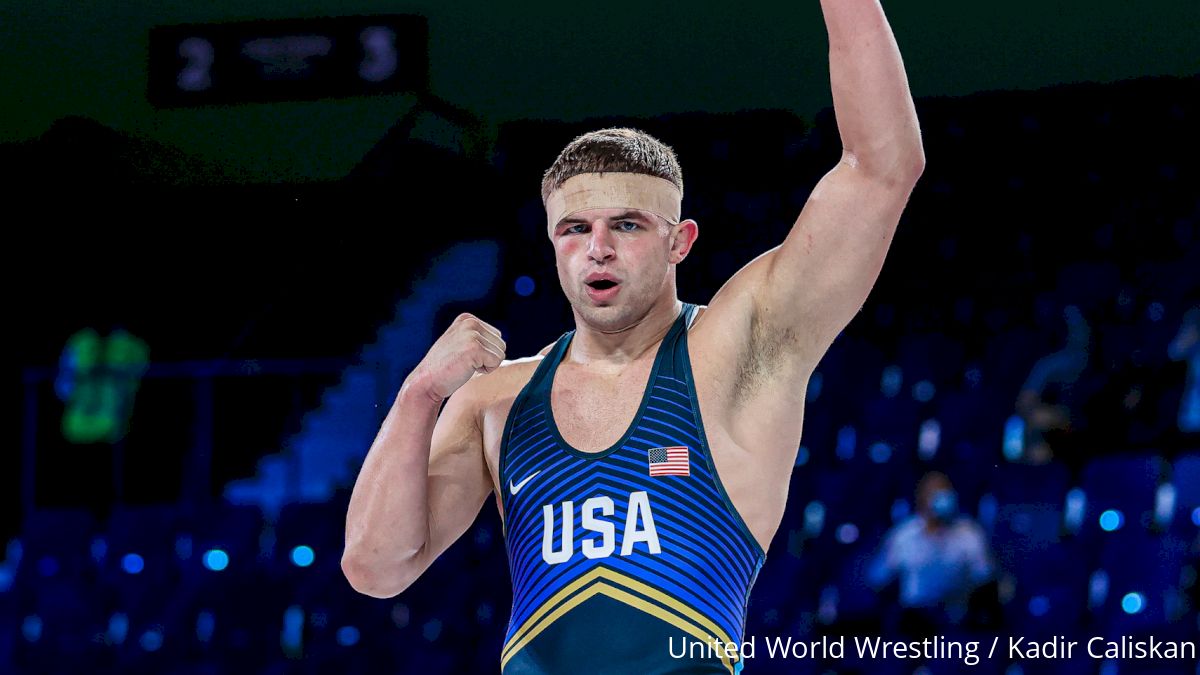 It has been two years since United World Wrestling has held the Junior World Championships, a fact the global sanctioning body was sure to highlight upon releasing the tournament's (presumed) list of entries. The reason for such an enunciation on the part of UWW has to do with the product's popularity.
Each year, the Junior World event carries with it a sense of significance covering both the short and long term. As an isolated competition, the UWW Junior World Championships are often remarkable. Skill levels tend to be high and there is plenty of scoring. Usually. And scoring equals excitement, excitement provokes conversation, and conversation is how this sport manages to survive.
The Junior Worlds is also a marker for potential future success. For example, 16 of the 24 Greco-Roman medalists from the Tokyo Olympics had also earned hardware on the Junior level earlier in their careers. In any given year, this pattern repeats itself. Scope the list of Senior medal winners from a top event, and half, or more, will have Junior credentials dotting their resumes.
As far as the United States is concerned entering the 2021 Junior Greco-Roman World Championships, an opportunity exists to rest a magnifying glass over the newest crop of would-be Senior stalwarts. Three in particular have already gotten off to a running start in this regard. Billy Sullivan (55 kg) and Justus Scott (72 kg) both won the Senior Last Chance World Team Trials Qualifier last month, and Braxton Amos (97 kg) quickly became a folk hero of sorts following his run to the Olympic Trials finals (in other news, he also just triumphed in freestyle at the Junior tournament).
Others, like Nic Bouzakis (60 kg), Chayse LaJoie (63 kg), and Luke Luffman (130 kg), are beholden to demonstrable age-group success domestically and appropriately profiled as potential linchpins moving forward. In addition, Luffman, Dominic Damon (67 kg), and Jonathon Fagen (82 kg) were members of the '18 U.S. Cadet Team, which instantly elevates their respective candidacies in the eyes of many.
The competition in '21 is guaranteed to be fierce. Though part of the narrative for this season's string of age-group World events is "turnover", that should not suggest a downgrade in terms of the presumed opposition's capability. Most of Greco's so-called "powerhouse nations" have the luxury of vastly deep wells from which to draw when it comes to young talent — and several locations throughout Asia and Europe have held top-tier Junior tournaments throughout the year. Therefore, anticipating a less-than-sharp international field in Ufa would be a mistake.
Everyone is going to be ready. This is what the U.S. should desire. In order for the National Program to gain a grasp of who and what they have coming down the pipeline — and for the athletes themselves to understand what it takes to achieve success at the sport's pinnacle — the Junior World Championships is the best proving ground available. It always has been. And for all of the past year's struggles, stops, starts, and pauses, that hasn't changed.
Team USA Scouting Reports
55 kg: Billy Sullivan (LOG-LV)
Synopsis: Sullivan has come of age mostly as a dual-style wrestler (winters for folk, spring/summer for Greco) but is very much considered a "Greco-first" athlete. A Fargo champ in '19 and Junior National runner-up in '20, Sullivan was well-positioned for this Team from the beginning and everyone knew it. What they also need to know is that he understands quite well the international landscape. Sullivan has competed multiple times overseas and won't be wowed by the contrast in styles, nor will he feel out of place in par terre defense. Smooth and technical but equally adept at bullying tie-ups which favor positional nuance, Sullivan is a complete package entering this event.
60 kg: Nic Bouzakis (PA)
Synopsis: Prior to the spring, Bouzakis was known much more for his folk/free prowess as a high school standout. But then he entered the Last Chance Olympic Trials Qualifier in March and generated the most buzz (by far) out of any non-champion. It only made sense that for an encore he would put on a show at the Junior Trials a month later, which he did to stunning effect. A ferocious yet adaptable athlete who moves strongly and quickly, and can fluster opponents in any number of ways. The only knock? Bouzakis' par terre defense is at best largely a work in progress. He was recently up at Northern Michigan University for camp, and perhaps having a few hardened full-timers get their locks brought him up to speed. Nevertheless, a very dangerous wrestler who might have the formula to stymie foreigners.
63 kg: Chayse LaJoie (Spartan Wrestling RTC)
Synopsis: The entire populace should have been celebrating when LaJoie jumped into the Junior Nationals last fall. A reputable age-grouper who first made waves at Fargo, the book on LaJoie was, is, that he is such a natural, free-flowing wrestler whose body and mindset are cut from the classical Greco cloth. And it's true; LaJoie puts in the grueling hard work positionally most fail to notice as it's happening, but only because he pounces so cleanly on scoring opportunities. He doesn't waste motion, doesn't become married to unpromising positions. A nice feather in his cap is that, like Fagen, LaJoie trains in an environment with a group of Greco athletes who know what this journey is all about. It might be his first World tournament, but it just doesn't feel that way.
67 kg: Dominic Damon (NMU/NTS)
Synopsis: Off the mat, Damon is quiet, for the most part. Reserved. Thinks before he speaks, and if he has something to say, measures his words carefully before delivering them with deadpan casualness. On the mat, he is a functional database of instincts and "feel" that is complemented by workhorse strength and determination. Damon doesn't give an inch, yet is capable of improvising off of tie-ups and scrambles to come up big in pivotal situations. Greco is micro and macro; athletes have to win the little battles in order to ultimately triumph. Damon gets this better than most, which is why he made the Cadet squad in '18, and why a more mature version of him should be considered a medal threat.
72 kg: Justus Scott (LOG-LV)
Synopsis: Prior to the Junior Trials, Scott was a game, tough competitor — and little-known outside of Nevada. He had never been a Fargo stud, was not on the Greco program's radar, and had never sniffed national-level attention. One tournament was all it took for the 180 he is now experiencing, which is especially interesting considering that he went ahead and won the Senior Last Chance Qualifier in July, as well. Scott has quickly come into his own and a brawling, ultra-physical style compensates quite well for the lack of polish common for U.S. age-groupers. He knows how to open up stubborn positions to find scores, but that's not what got him here. For Scott to keep the train rolling in Russia, surviving par terre is the priority. Because on the feet, very few will want to deal with what he brings.
77 kg: Matt Singleton (Compound)
Synopsis: An all-around terrific wrestling athlete. The U.S. is crammed with competitors who fit the same profile, but there are not a whole lot who can blend offensive attacks as intuitively as Singleton and look good doing so in Greco-Roman. He was not anonymous prior to April; Singleton's high school escapades and a few domestic performances had already helped elevate his name. But the manner in which he sought attacks at the Trials caused double-takes. It is not easy to commandeer an opponent's position in Greco and turn a counter into a chain-scoring sequence that ends matches (and certainly not on the World level, even at age-group). But such is Singleton's capability. He is solid in all three phases with sharp instincts. The 77 field in Ufa is rough -- however, this is an American who knows how to generate momentum.
82 kg: Jonathon Fagen (Spartan Wrestling RTC)
Synopsis: Until the USA can claim a developmental system that accommodates young full-timers on a wide scale, the next best model centers around college wrestlers who come ready-made with legitimate Greco experience. That is Fagen, who was a Cadet World Teamer along with Damon and Luffman, in addition to simply being one of the top overall domestic U20 competitors in the country. Fagen is not a cookie-cutter athlete in this weight category. He has very quick feet and is not much of a plodder. Transitions, scrambles, and sound fundamentals make up the offensive package, so he will likely need to play a tighter game against overseas foes. But, as mentioned, he has been in this spot before. Fagen understands the scope of a World tournament, knows the pace and how foreigners rely on passives. He also has a teammate in Andrew Berreyesa who took silver three years ago in the exact same weight. All of these are perhaps advantages upon which he can rely.
87 kg: Kodiak Stephens (Beaver Dam RTC)
There is no definitive "book" on Stephens that could aid his potential opposition. Forgetting that this is his first authentic international endeavor, Stephens — not unlike Fagen — does not and will not go flat-footed and pummel just for the sake of doing so. Watch him on the feet. He is a prowler much more than a pummeler. Beyond-his-years hand-fighting sensibilities help Stephens navigate tie-ups and entries where his superb talent can take over. He creates meaningful motion and looks to viciously exploit holes, which matters a whole lot. Domestically, his par terre has been just fine. In Ufa it will need to be even better. Scoring from the feet, or just plain pushing guys around? He won't be outmatched by anyone. But bouts are largely won and lost in PT in the upper-weights. Fundamentals and confidence whilst mired in the most critical position this style has to offer is what might separate Stephens from the rest this weekend.
97 kg: Braxton Amos (Sunkist/Wisconsin RTC)
Amos is a) riding high off of his spectacular freestyle Junior gold and b) shrewd enough to know that Greco will present a whole new set of challenges. The biggest feather in Amos' cap entering the weekend is not what transpired on Tuesday; rather, it is the knowledge that he can and has beaten excellent U.S. Seniors, and apparently fared quite well when training with a few Europeans in Croatia earlier in the summer. Position, position, position; Amos has to observe a more classical Greco posture and stance, and avoid leaning in with his legs and hips jutted backwards. The pocket is his friend. So too is observing a fire-breathing tempo. Amos will almost certainly be the best-conditioned wrestler in the bracket — and conditioning is paramount at 97, particularly in second periods when athletes begin to sag. Stout PT defense is important for all involved. For Amos, it's more of an x-factor. Sure, defending is what wins international medals. Then again, he's explosive and problematic enough to where he might not even wind up on bottom. Two medals in Russia for Amos is a strong possibility.
130 kg: Luke Luffman (Illinois RTC)
He often sees things they cannot. He can score from positions they either can't, or won't bother to try. Luffman, even dating back several years, has acquired a foreign approach to Greco that is an anomaly when compared to the majority of American heavies. Luffman is genuinely interested in multi-point scores from the feet. If he is able to open up those positions via off-balances or domineering tie-ups, he doesn't enjoy letting them go to waste. As a collegiate competitor, he can also stake claim to a hard-nosed, grinding style, which complements his scoring-hungry instincts. In other words, if he senses points, he'll make the attempt; but if antagonists want to bear down in the pummel, that's okay, too. Luffman is not a gargantuan 130. Against the right type of opponent, that plays to his strengths. He has the footwork and trap-setting concepts necessary to be the matador. He has partners at home who have pushed him, the best all-around coach in the nation, and a not-so-awesome taste in his mouth from the '18 Cadet Worlds. There are plenty of reasons to invest in Luffman at this thing. Pick one.