2021 Junior World Championships
Junior World Championships Women's Freestyle Preview
Junior World Championships Women's Freestyle Preview
Derek Levendusky takes a look at the loaded USA women's freestyle Junior World Team and its competition this week in Ufa, Russia.
Aug 17, 2021
by Derek Levendusky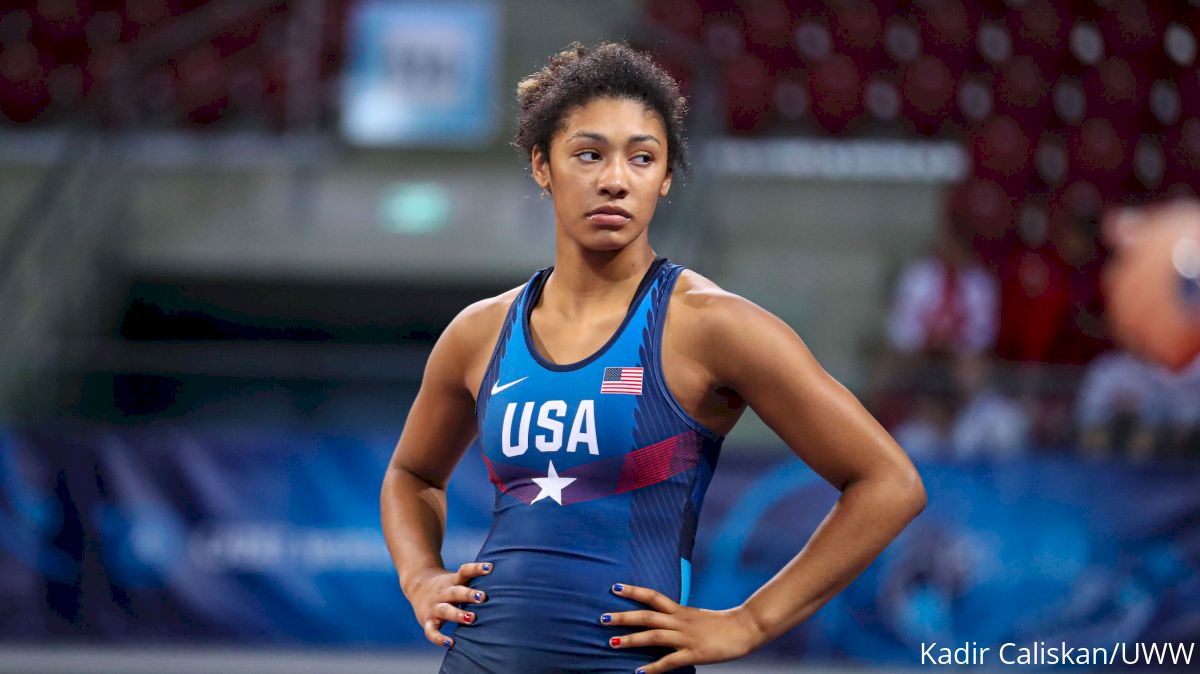 With the historic performance of our U.S. Olympic Team right behind us, the U.S. Junior Women's World squad heads to Ufa, Russia, to compete this week with a lot of confidence and momentum. And they should, as USA Wrestling is sending the best Junior women's squad we've ever assembled to compete at the UWW Junior World Championships. The event features 500 wrestlers in three divisions (women's freestyle, men's freestyle, and men's Greco) who will be competing for 120 medals.
The loaded U.S. team is led by high school stars Amit Elor (68 kilograms), Kennedy Blades (72 kg), and Kylie Welker (76 kg), and college national champions Emily Shilson (50 kg) and Alara Boyd (65 kg). Blades and Welker both finished second at the Olympic Trials last April. They followed it up with dominant performances at Women's Nationals in May to qualify for the Junior team. Elor dominated her way to a Cadet World title last month in Budapest. She also won a bronze medal at the 2019 Cadet World Championships and made the Junior World Team in May with an overwhelming performance, outscoring her opponents 50-0.
Meanwhile, Shilson won her third college national title for Augsburg last March at the National Collegiate Women's Wrestling Championships, while Boyd won her first for McKendree the same weekend.
Tiare Ikei, who won the 53 kg Junior World Team spot, is being replaced by Presbyterian College's Jaslynn Gallegos due to lingering concussion symptoms.
The team is well-decorated internationally, with 50 kg Shilson boasting two Cadet World medals, including a gold in 2018; Gallegos won silver just a few months ago at the Junior Pan Am Championships; Mia Macaluso (59 kg) won gold at the 2019 Cadet Pan Am Championships, while taking bronze in the Junior division at the same event. Korina Blades (62 kg), younger sister of teammate Kennedy Blades, won U15 Worlds in 2019; Boyd is a two-time Cadet World medalist, while Welker won bronze in 2019.
Newcomers to the international scene Payton Stroud (55 kg) and Claire DiCugno (57 kg) are on their first World teams, winning the spots in deep weight classes at Women's Nationals in May. Stroud is a two-time All-American from McKendree, who joins her college teammate Boyd in Russia. McKendree coach Sam Schmitz is also on the coaching staff along with Jessica Medina and Erin Vandiver.
The fields are stacked at the Junior World Championships, as one might expect, though the perennial favorite Japan is not sending a squad to this year's event, nor is the always-tough Chinese program coming.
Shilson's bracket includes Russia's Viktoriia Aleksandrova, a 2018 Cadet bronze medalist, but the reason she took bronze was because she lost to the American in the semis.
At 53 kg, Gallegos will have to contend with India's Pinki Pinki, who won the Asian Championships in 2020. The 55 kg bracket includes 2019 Cadet World bronze medalist Alesia Hetmanava of Belarus.
Meanwhile, her Belarusian teammate at 57 kg, Maryia Hulida, is a European Junior Championships silver medalist.
At 59 kg, always a deep weight class, Team USA's Mia Macaluso will compete against a tough field that includes Anastasiia Sidelnikova, who was third at the Senior level in Russia in the fall of 2020.
At 62 kg, one of the main contenders in the way of Korina Blades is Russia's Alina Kasabieva, the 2021 Junior European Champion.
The 65-kilogram class includes a young woman who already has some Senior level accolades, as Moldova's Irina Ringaci boasts a 2021 European Championship title.
Though 68 kg is a smaller field, it does include Russia's Elizaveta Petliakova, who won bronze this year at the Junior European Championships and Turkey's Nesrin Bas, who lost to the Russian in the bronze match. Look for Elor to contend for the gold medal.
At 72 kg, Mariam Guseinova of Russia was bronze at the 2021 Junior European Championships, though after watching Kennedy Blades wrestle two competitive matches against now Olympic gold medalist Tamyra Mensah-Stock at Olympic Trials, it would be hard to think Blades isn't the favorite heading into Ufa.
Finally, at 76 kg, Team USA's Welker faces a field that includes the 2021 Junior European champion Melisa Saritac of Turkey and 2019 Junior European silver medalist Kseniya Dzibuk of Belarus. Expect Welker to contend for the gold.


2021 U.S. Women's Junior World Team
50 kg — Emily Shilson
53 kg — Jaslynn Gallegos
55 kg — Payton Stroud
57 kg — Claire DiCugno
59 kg — Mia Macaluso
62 kg — Korina Blades
65 kg — Alara Boyd
68 kg — Amit Elor
72 kg — Kennedy Blades
76 kg — Kylie Welker

Learn more about the women's team in Kyle Klingman's article "Get to Know Your Women's Junior Freestyle Team".

All Entrants

50kg
Gultakin SHIRINOVA (AZE)
Natallia VARAKINA (BLR)
Shaimaa Atef Barakat MOHAMED (EGY)
Simran SIMRAN (IND)
Ayazhan MARKASHEVA (KAZ)
Nazik MIRLAN KYZY (KGZ)
Enkhzul BATBAATAR (MGL)
Natalia Edyta WALCZAK (POL)
Georgiana Lavinia ANTUCA (ROU)
Viktoriia ALEKSANDROVA (RUS)
Ellen Inger Kristina OESTMAN (SWE)
Zehra DEMIRHAN (TUR)
Emily King SHILSON (USA)
53kg
Elnura MAMMADOVA (AZE)
Aliaksandra BULAVA (BLR)
Pinki PINKI (IND)
Zeinep BAYANOVA (KAZ)
Aizhan SABYRBEK KYZY (KGZ)
Mihaela SAMOIL (MDA)
Otgontuya CHINBOLD (MGL)
Agata Paulina KAZIMIERCZAK (POL)
Beatrice Ionela FERENT (ROU)
Choigana TUMAT (RUS)
Chamodya Keshani MADURAVALAGE DON (SRI)
Emma Jonna Denise MALMGREN (SWE)
Emine CAKMAK (TUR)
Jaslynn Isabella GALLEGOS (USA)
55kg
Alesia HETMANAVA (BLR)
Antonia Alejandra VALDEZ ARRIAGADA (CHI)
Roza SZENTTAMASI (HUN)
Sito SITO (IND)
Sandugash DYUSSENGALIYEVA (KAZ)
Kalmira BILIMBEK KYZY (KGZ)
Munkhgerel MUNKHBAT (MGL)
Anne SVARSTAD (NOR)
Julia Wiktoria NOWICKA (POL)
Anastasiia IANDUSHKINA (RUS)
Melda DERNEKCI (TUR)
Payton Jane STROUD (USA)
57kg
Maryia HULIDA (BLR)
Mansi MANSI (IND)
Aurora RUSSO (ITA)
Nilufar RAIMOVA (KAZ)
Sezim ZHUMANAZAROVA (KGZ)
Gantsetseg BATSUKH (MGL)
Jannicke Marie STROEMNES (NOR)
Patrycja Ewa STRZELCZYK (POL)
Anastasiia KOZLOVA (RUS)
Nethmi Ahinsa Fernando PORUTHOTAGE (SRI)
Nellie Anna Regina FLORENTIN (SWE)
Elvira KAMALOGLU (TUR)
Claire Marie DICUGNO (USA)
59kg
Zhala ALIYEVA (AZE)
Aryna MARTYNAVA (BLR)
Jolie Donna Elizabeth BRISCO (CAN)
Anna Hella SZEL (HUN)
Kusum KUSUM (IND)
Madina AMAN (KAZ)
Bermet NURIDIN KYZY (KGZ)
Khongorzul BOLDSAIKHAN (MGL)
Aleksandra Weronika WITOS (POL)
Anastasiia SIDELNIKOVA (RUS)
Ebru DAGBASI (TUR)
Mia Kaur MACALUSO (USA)
62kg
Birgul SOLTANOVA (AZE)
Nadzeya BULANAYA (BLR)
Meiriele CHARAMBA SANTOS HORA (BRA)
Iva GERIC (CRO)
Luisa SCHEEL (GER)
Devi SANJU (IND)
Zhangul BOLD (KAZ)
Dilnaz SAZANOVA (KGZ)
Viktoria Miriam OEVERBY (NOR)
Paulina Malgorzata DANISZ (POL)
Alina KASABIEVA (RUS)
Yagmur CAKMAK (TUR)
Korina Alexis BLADES (USA)
65kg
Nigar MIRZAZADA (AZE)
Yana TRETSIAK (BLR)
Viktoria VESSO (EST)
Noémi SZABADOS (HUN)
Bhateri BHATERI (IND)
Ayazhan TOKTASH (KAZ)
Irina RINGACI (MDA)
Enkhjin TUVSHINJARGAL (MGL)
Ingrid Bergh SKARD (NOR)
Zuzanna WOLCZYNSKA (POL)
Amina Roxana CAPEZAN (ROU)
Valeriia TRIFONOVA (RUS)
Khadija JLASSI (TUN)
Seda BASGOL (TUR)
Alara Lea BOYD (USA)
68kg
Alina MIKLASHEUSKAYA (BLR)
Arju ARJU (IND)
Anastassiya PANASSOVICH (KAZ)
Karolina Gabriela KOZLOWSKA (POL)
Elizaveta PETLIAKOVA (RUS)
Zsuzsanna MOLNAR (SVK)
Nesrin BAS (TUR)
Amit ELOR (USA)
72kg
Kseniya PATAPOVICH (BLR)
Marta PAJULA (EST)
Lilly SCHNEIDER (GER)
Lili UJFALVI (HUN)
Saneh SANEH (IND)
Alexandra ZAITSEVA (KAZ)
Nurzat NURTAEVA (KGZ)
Tsogzolmaa DORJSUREN (MGL)
Daniela TKACHUK (POL)
Paula Aurelia Izabela ROTARU (ROU)
Mariam GUSEINOVA (RUS)
Nazar BATIR (TUR)
Kennedy Alexis BLADES (USA)
76kg
Kseniya DZIBUK (BLR)
Carla LERA CELDA (ESP)
Laura Celine KUEHN (GER)
Eleni PAPADOPOULOU (GRE)
Bipasha BIPASHA (IND)
Dilnaz MULKINOVA (KAZ)
Odbag ULZIIBAT (MGL)
Mariia SILINA (RUS)
Melisa SARITAC (TUR)
Kylie Renee WELKER (USA)