The Pulse With Andy Hamilton
The Pulse With Andy Hamilton: A Look Back At The Historic USA Performance
The Pulse With Andy Hamilton: A Look Back At The Historic USA Performance
A look back at a historic Olympic performance by the USA, Kyle Snyder's incredible medal collection and Haji Aliyev's remarkable career comes to an end.
Aug 12, 2021
by Andy Hamilton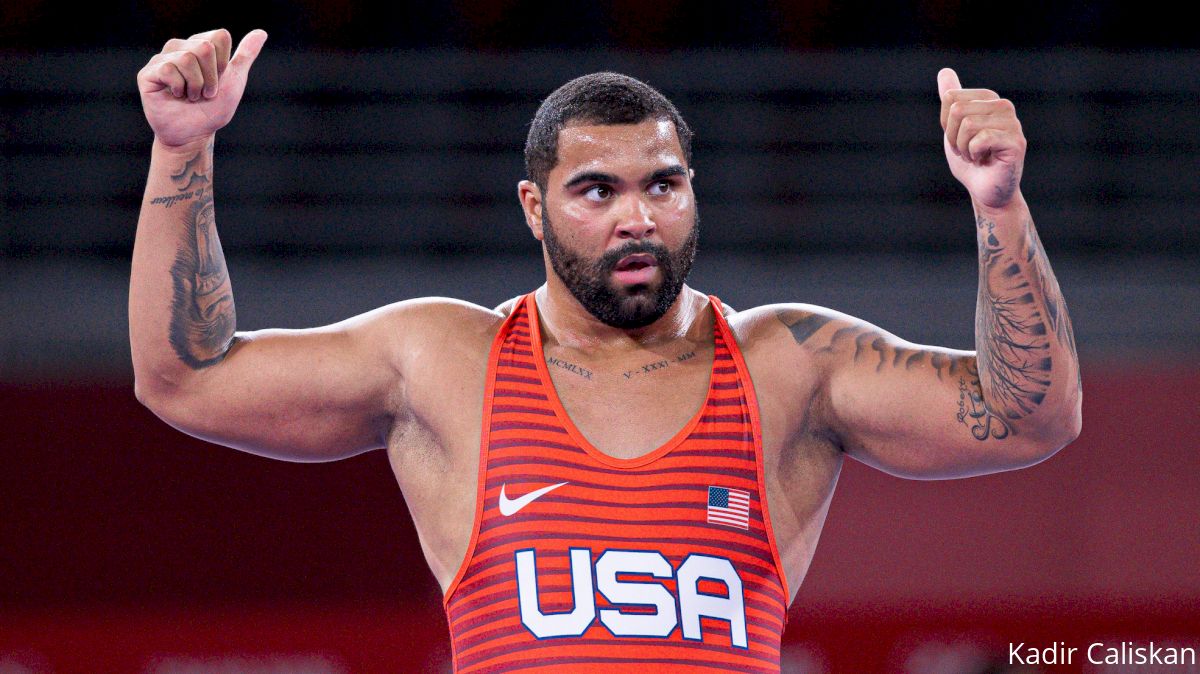 The Pulse with Andy Hamilton is a look at the hot topics and interesting takes in wrestling. This week's edition takes a look back at a historic USA performance in Tokyo, Kyle Snyder's incredible World and Olympic medal collection and Haji Aliyev's farewell.

The karaoke stage of USA Wrestling's post-Olympics party was just beginning late Saturday night on The Manhattan Hotel's second floor when Rich Bender slipped out for a few minutes and found a quieter corner down the hall.
Seven days of American resolve and grit manifested itself in breathtaking victories and a record-setting medal haul, and a couple hours after the curtain fell on wrestling at the Games, USA Wrestling's executive director grabbed a chair, sat back and beamed with pride.
"Anyone who watched these Games knows for sure that the American wrestling team was the best prepared — top to bottom, the best prepared," Bender said. "They brought a fight that no one else brought to that level.
"Obviously, you don't win every match, but we're leaving here with nothing (left to give) — everything has been invested in the matches. There's a lot of reasons for a lot of people to be really proud of the performance this weekend. They were well prepared. That's a testament to our coaching staff and their planning. Without question, the American wrestling team was the best prepared here in Tokyo."
When it was all said and done, Americans had won nine medals — the most for the United States in a fully-contested Olympics and three times as many as they won in 2016 in Rio. Team USA won the wrestling medal count for the first time since 1996.
"Nine is an unbelievable accomplishment by the program and a testament to the team and the investment of a lot of people in helping these athletes achieve some big dreams this week," Bender said.
The United States collected 113 medals across all sports in Tokyo and wrestling pulled in the third-highest total for the Americans behind only swimming and track and field.
USA Wrestling sent five men's freestyle contestants to Tokyo and came home with five medals — David Taylor and Gable Steveson's golds, Kyle Snyder's silver and Thomas Gilman and Kyle Dake's bronzes. That's the most for the American men's freestyle program since the 1996 squad also claimed five medals. But there were 10 Olympic weights then. There are six now.
The women's freestyle program entered Tokyo with five Olympic medals in its history and came one victory short of doubling that total. Tamyra Mensah Stock became the second American to win a women's freestyle gold, Adeline Gray seized a silver and Helen Maroulis and Sarah Hildebrandt took home bronzes. Maroulis became the first multi-time Olympic medalist for the USA women's freestyle program.
"What a week," USA women's freestyle coach Terry Steiner said. "Great moments come from great performances and this week was just an unbelievable performance. We had a couple slip-ups, but you're always going to have some of those, it seems like, but for the most part they performed to their abilities and really not so much just being inspiring on the wrestling mat but off the wrestling mat — their reactions, the things I've seen … (has been) incredible. And you can see the kind of people they are.
"Not only are they good athletes, they're great people. And when you have great people, anything is possible. When you get to their core values and the foundation of who they are, you can work with that. They're a great group of leaders, they're unselfish, they came together and inspired each other and they inspired a nation."
All together, the Americans went 31-9 in freestyle matches in Tokyo. Eight of those losses came against eventual medalists and four came against multi-time World and Olympic champions. Moreover, the United States notched eight wins against past World champions.
Gaining On Bruce
Kyle Snyder's three straight World and Olympic titles at the onset of his Senior-level career sparked conversations about his ability to track down John Smith at the top of the American gold medal chart. And maybe Snyder will crack the code with Abdulrashid Sadulaev and get there one day.
But Snyder has himself on a path to running down another American legend. With his silver in Tokyo, Snyder has now racked up six World and Olympic medals and he's almost halfway to Bruce Baumgartner's staggering total of 13.
Snyder could win a seventh later this fall in Oslo before he turns 26. By comparison, Baumgartner won his first World medal in 1983 at the age of 23. Over a 14-year stretch, Baumgartner piled up five golds, four silvers and four bronzes.
Snyder's sitting at three golds, two silvers and a bronze.
"He's going up and up and he's a young kid," USA men's freestyle coach Bill Zadick said. "Sometimes I think some people get a little bit ahead of themselves. He's only 25 years old and he's won six World medals in a row. He's really close and he's right there and I think he has great opportunities in front of him."
Haji Hanging It Up
Azerbaijan's Haji Aliyev became a global fan favorite with his slick skills, smooth transitions and fierce competitiveness. He took the world by storm as a 23-year-old when he won a star-studded 61-kilogram bracket at the 2014 World Championships. He backed it up the next year in Las Vegas and won a third World title in 2017 in Paris, endearing himself even more to American freestyle fans by pinning Russia's Gadzhimurad Rashidov in the finals and helping the United States secure the team title.
Aliyev has come up just short in his bid to add more gold to his resume in recent years. He lost a barnburner to Rashidov in the opening round of the 2019 World Championships — a match that ended with perhaps the best 30 seconds of action in wrestling history (see below) followed by a paddle-spiking outburst by Aliyev after the bout.
Aliyev came up one point short of Olympic gold on Saturday when he dropped a 5-4 decision to Japan's Takuto Otoguro in the 65-kilogram gold medal bout, which tipped in Otoguro's favor in the final minute.
"This is the end of my career," Aliyev said afterward. "I will not be wrestling at the Paris Olympic Games 2024."