Olympic Games Watch Party
Live From Tokyo: Day 7 Olympic Updates
Live From Tokyo: Day 7 Olympic Updates
Kyle Snyder takes on Abdulrashid Sadulaev in another titanic clash, this time with an Olympic gold on the line, and Sarah Hildebrandt chases bronze.
Aug 7, 2021
by Andy Hamilton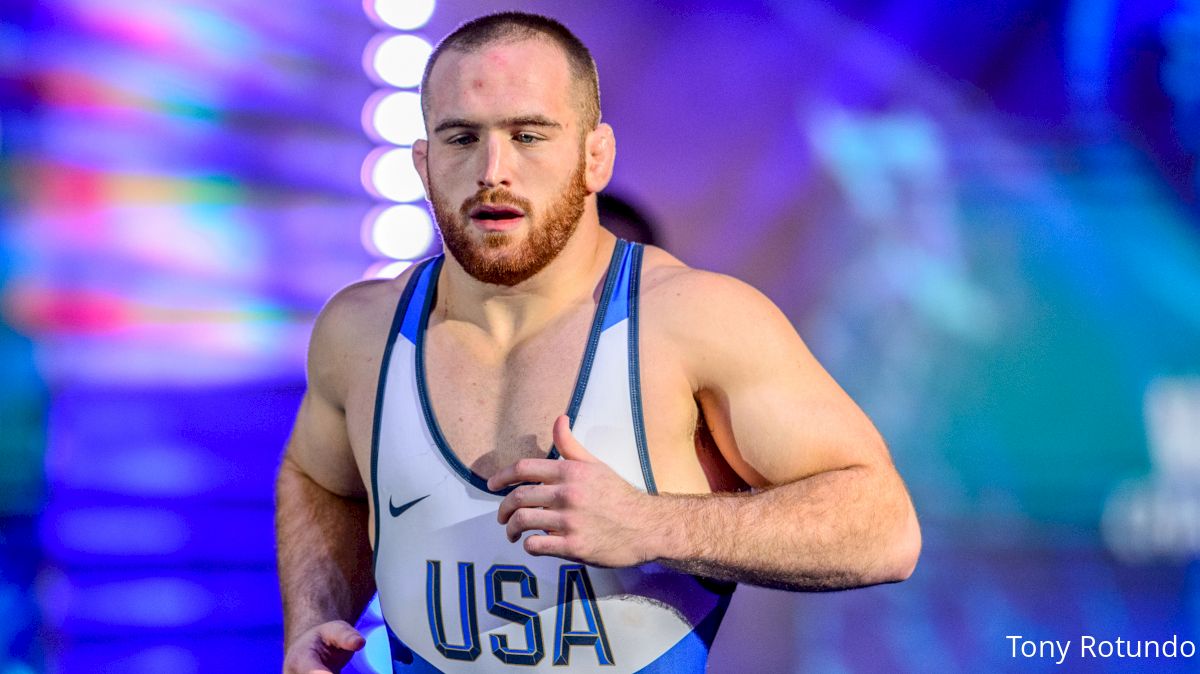 Kyle Dake has spent quite a bit of time around Kyle Snyder throughout the past three years as they traveled the world together chasing the time prizes in international wrestling.
Dake has seen Snyder reach the highest of heights and he's seen him come up a step or two short, but he's never seen a version of Snyder that looks like the one he's been around the last three weeks in Japan.
"I've never seen him look so focused," Dake said. "He looks incredible right now — so focused, but focused, relaxed and hungry. He just wants to go out and compete and put his best foot forward. He's coming — hard. I think he has a good team behind him, he's got a good game plan, at least it sounds like it."
The game plan Dake is referring to is one that's been built to dethrone the undisputed pound-for-pound #1 wrestler in the world — Russia's Abdulrashid Sadulaev.
Snyder outlasted Sadulaev in a knockdown, dragout, six-minute brawl four years ago at the World Championships in Paris with the men's freestyle team title riding on the outcome.
Sadulaev came back the next year and delivered a 68-second knockout in Round 2.
The 2016 Olympic champions meet again tonight in Tokyo with another gold — and an Olympic team title — on the line
"I really believe in Kyle Snyder," Dake said. "I believe he can get it done and he will get it done."
In addition to Snyder, Sarah Hildebrandt will take aim at bronze at 50 kilograms. She's bidding to win the fourth medal of the week for the American women's freestyle squad.
Tune into NBC to watch all of the action. Follow along here and we'll keep you up to date with all of the top developments here at the Makuhari Messe Event Hall.
Livach Sets Up Bronze Medal Battle With Hildebrandt
Ukraine's Oksana Livach, a World bronze medalist in 2018, headlocked Cuba's Yusneylis Guzman Lopez for a fall in the 50-kilogram repechage. She'll get Sarah Hildebrandt later tonight in the bronze medal bout.
Rashidov, Bajrang Grab 65-kilogram Bronzes
Russia's Gadzhimurad Rashidov blanked Russian transfer Iszmail Muszukajev 5-0 in one bronze medal bout and India's Bajrang Punia shut out Kazakhstan's Daulet Niyazbekov 8-0 in the other at 65 kilograms. The Rashidov win pulls Russia even with the United States in the team standings.
Otoguro Denies Aliyev Gold
Japan's Takuto Otoguro came out of a late exchange with an exposure and added another point for a lost challenge with 14 seconds left to seize control on his way to a 5-4 victory against Azerbaijan's Haji Aliyev in the gold medal match at 65 kilograms.
Aliyev was leading 2-2 on criteria with less than a minute remaining when he got in on the 2018 World champ with a lightning-quick reattack. Otoguro countered and appeared on the verge of taking Aliyev over when the action was stopped and both wrestlers were brought back to their feet. Needing a late score, Otoguro attacked the legs and Aliyev tried rolling through but exposed in the process.
Aliyev stalked Otoguro throughout the final 14 seconds and picked up two points on a pair cautions for fleeing, but that was as close as the three-time World champ would get.
Salas Snags First Olympic Medal
Cuban Reineris Salas Perez won his first World medal in 2010 at the age of 23. He claimed silvers at the World Championships in 2013 and 2014 and he's collected dozens of medals from international tournaments since. But an Olympic medal has been elusive for the 34-year-old, who lost to J'den Cox in the bronze medal bout in Rio.
Until Saturday night.
Salas scored a second-period exposure and drove 2012 Olympic champ Sharif Sharifov of Azerbaijan out with 30 seconds to go to win a 3-3 decision in the bronze medal bout at 97 kilograms.
Sadulaev Downs Snyder
A pair of second-period exposures proved to be pivotal as Abdulrashid Sadulaev built a six-point lead and then withstood a late Kyle Snyder rally as the Russian won a 6-3 decision in the 97-kilogram gold medal bout.
The Sadulaev win gives Russia the team title.
Sadulaev scored an activity clock point and a first-period step-out point to take a 2-0 lead into the break. Snyder went on the attack at the onset of the second period and shot a head-inside single and Sadulaev stopped him in his tracks and hoisted him in the air before eventually exposing Snyder for two. The same sequence produced the same result later in the period as Sadulaev went up 6-0.
"Definitely some positions I've got to get better in," Snyder said. "That's what I'm thinking about."
Snyder switched it up with a left-side high-crotch for a takedown with 50 seconds to go — the first points surrendered by Sadulaev this tournament. Snyder drove Sadulaev out for another point with 28 left, but he couldn't break through for more after that.
Sadulaev's World and Olympic gold total is up to six now.
The USA men's freestyle team finishes the tournament with two golds, a silver and two bronzes.
Hildebrandt Bounces Back For Bronze
Sarah Hildebrandt brushed off a gut-wrenching semifinal defeat to collect a bronze, rolling up Ukraine's Oksana Livach 12-1 at 50 kilograms.
Hildebrandt scored a takedown at the buzzer to go up 2-1 at the break. It stayed that way until the final minute. Hildebrandt slid around Livach for a takedown with 48 seconds to go and scored on a sweep single 13 seconds later. She locked up a lace and scored three more turns for the tech, giving the USA women's freestyle team its fourth medal of the tournament.
All together, the United States won nine medals this week, the most in the tournament.