Olympic Games Watch Party
Live From Tokyo: Day 2 Olympic Updates
Live From Tokyo: Day 2 Olympic Updates
Andy Hamilton and Christian Pyles are in Tokyo for FloWrestling and will be providing observations and updates throughout the week.
Aug 2, 2021
by Andy Hamilton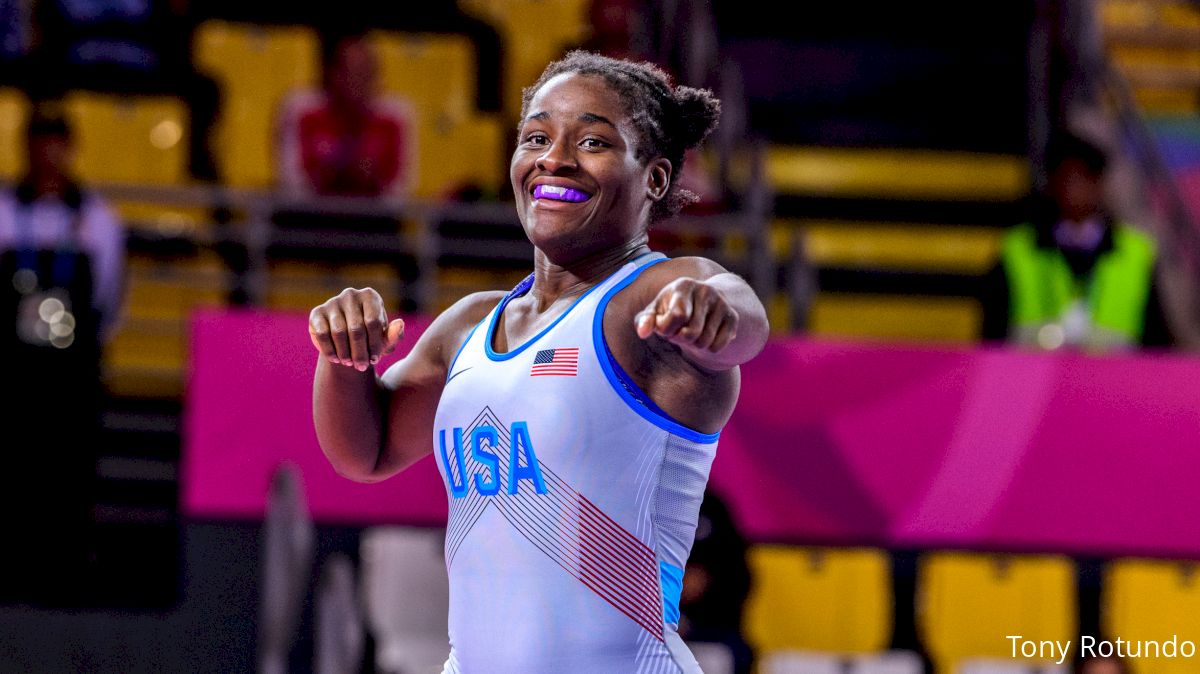 Hello — or kon'nichiwa — from Tokyo.
Day 2 is about to get started here at Makuhari Messe Hall, a massive facility that's been home to fencing and taekwondo during the Olympics. It's all wrestling from here on out, though, and we've got a big day ahead.
You can watch all the NBC coverage and follow along here and we'll keep you apprised to the top developments in Tokyo.
Tamyra Mensah-Stock, G'Angelo Hancock and Ildar Hafizov will take the mat this morning for the United States. Adeline Gray wrestles for gold tonight against Germany's Aline Rotter Focken. Gray secured the sixth women's freestyle Olympic medal for the United States by grinding out tough wins Sunday in the quarters and semis.
Hafizov got pulled back into the Greco repechage at 60 kilos. He has a tough road back to a medal beginning with 2018 World champ Sergey Emelin of Russia.
Here's a look at the draws for Mensah-Stock and Hancock.
For the second straight day, DMX is pumping through the sound system, so let's Party Up, folks.
Adar Decks Sghaier
World champ Yasemin Adar of Turkey flattened Tunisia's Zaineb Sghaier in a 76-kilo repechage battle between Adeline Gray's first two victims of the tournament.
Ildar Eliminated
World champ Sergey Emelin ended Ildar Hafizov's tournament with a 7-1 victory in the 60-kilogram repechage. Here's how it played out: Attention against Ildar one second in for a club and then they're locked up in the center with Emelin working out of underhooks and Ildar working two-on-one. Very strong arm-throw attempt from Ildar, probably close to correct throw, but he gets nothing for it. Double-unders for Emelin cleared by Ildar. Emelin hit for passivity and he'll get put down. Good effort to get a lift, but Ildar can't get anything and they're back neutral. Emelin working hard for double-unders again and the first period ends.
Start of the second period looks similar to the first except Ildar gets put down for passivity. Gut right then gut left and left makes it 7-1 and it's big trouble for Ildar with two minutes to go. Ildar fights hard, but his Olympic run ends with a 7-1 loss to Emelin of Russia.
Tamyra Throttles Reigning Olympic Champ
Lights out opening-performance by Tamyra Mensah-Stock, who needed a little more than two minutes to rip through two-time World and Olympic champ Sara Dosho of Japan 10-0. Mensah-Stock took a couple half shots early before exploding on a misdirection that came with an instant finish. Tamyra's persistence on a lace was rewarded with a turn to make it 4-0. Later in the period, Mensah-Stock blasted Dosho with a double, locked up another lace and tacked on two turns to end it.
Mensah-Stock will face two-time World medalist Feng Zhou of China in the quarters.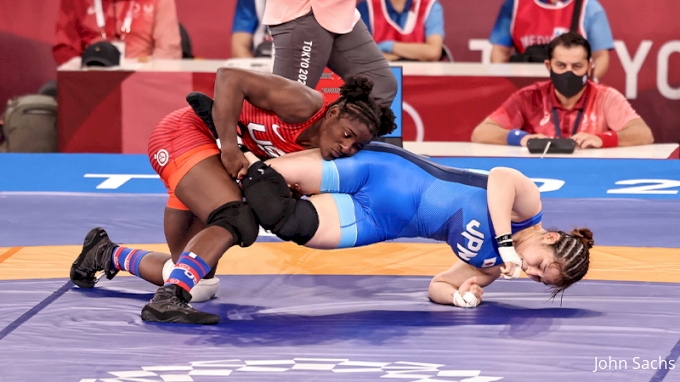 Hancock Moves Into Quarters
G'Angelo Hancock took care of business in his opening-round bout, downing Serbia's Mihail Kajaia 5-1 to advance to the 97-kilogram quarterfinals. Hancock worked hard early to create angles with a two-on-one and controlled the center. He was rewarded with a passivity call against Kajaia and then cashed in on top, gutting the Serb twice. Kajaia got a shot on top in the second period but couldn't capitalize.
Hancock will take on Poland's Tadeusz Michalik, a 10-0 winner against Tunisia's Haikel Achouri.
Another Tamyra Tech
Tamyra Mensah-Stock put on a takedown clinic in a 10-0 win against China's Feng Zhou. Tamyra came out of the gate on fire, hitting a sweep single to the left for an easy score in the first 10 seconds. She went back to the well again later in the period but had to work a little harder for the finish, scoring with a minute left. The 2019 World champ extended her lead to 6-0 with a double-leg with 17 seconds left in the period. Zhou fired off a shot after the break and Tamyra turned it into a counter takedown and then finished it off with another sweep.
Mensah-Stock will get 2018 World champ Alla Cherkasova of Ukraine in the semis.
Geraei Squirrels His Way Into The Semis
Two-time World bronze medalist Mohammadali Geraei of Iran connected on a last-second Hail Mary when he leaped over Croatia's Bozo Starcevic with a Flying Squirrel and scored two to win 5-5 on criteria. A distraught Starcevic sunk his chin into his chest and took several minutes to exit the premises.
Failed Challenge, Step-Out Points Sink Hancock
A second-period passivity call set off a series of dominoes that forced G'Angelo Hancock to spend the final minutes digging himself out of a hole that he could never fully escape. Hancock took 1-0 lead into the break after a scoring a passivity point against Tadeusz Michalik of Poland. Michalik went ahead on criteria when he picked up a passivity point. Hancock fought to avoid getting turned, came up to his feet and got driven to the edge and stepped out before trying to toss Michalik.
Hancock's corner challenged the call and lost, which doubled his deficit. The Colorado native immediately picked up the pace with and drove Michalik out to cut the deficit to 3-2 and Hancock took Michalik to the edge again but stepped out first to make it 4-2. Hancock picked up another step-out point with 18 seconds remaining, but he couldn't break through in the closing seconds.
Hancock's medal hopes hinge on Michalik, who needs to upset two-time reigning World champ Musa Evloev of Russia for the American to get pulled back into the repechage.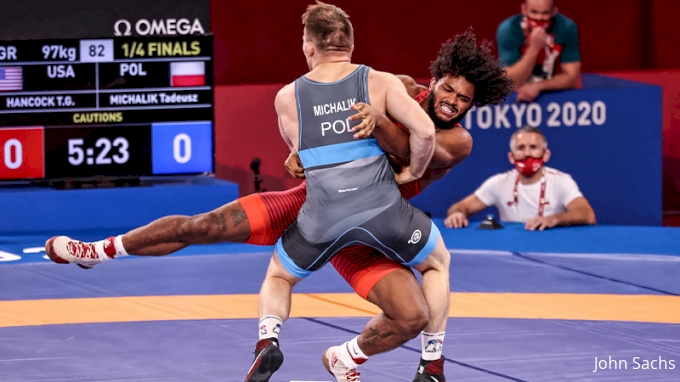 Lorincz, Makhmudov To Battle For Greco Gold At 77 KG
Almost four years to the date of his loss to Kamal Bey in a high-scoring, highly entertaining Junior World final, Kyrgyzstan's Akzhol Makhmudov is headed to the Olympic finals. Makhmudov countered a lift attempt by Armenia's Karapet Chalyan to flip the 77-kilogram semifinal into his favor and went on to post a 6-2 victory.
In the other semi, 34-year-old Hungarian Tamas Lorincz prevailed 6-5 against Iran's Mohammadali Geraei in a match filled with twists, cautions and turns. Lorincz was a silver medalist in 2012 and has medaled in every year of this quad, securing silvers in 2017 and 2018 before winning a World title in 2019.
Hancock's Tournament Ends
G'Angelo Hancock's medal hopes were hanging by a thread after his quarterfinal loss to Poland's Tadeusz Michalik, who needed to upset two-time reigning World champ Musa Evloev to pull Hancock into the repechage. Evloev took care of business in the semis, downing Michalik 7-1. Evloev is now 18-1 in World and Olympic competition during this Olympic cycle.
White Bear Hobbled But Not Defeated
Four-time World and Olympic champ Artur Aleksanyan of Armenia faced a late deficit and an apparent hamstring injury, but it was nothing a caution and some cold spray couldn't fix. Aleksanyan, nicknamed the White Bear, trailed Iran's Mohammadhadi Saravi 1-1 on criteria, but the Iranian got put down for the third passivity in the match. With Aleksanyan working for a go-ahead turn, the Iranian was called for a leg foul and the White Bear sustained an apparent hamstring injury. He dropped to the mat as trainers unnecessarily rushed out with a medical back board. A shot of cold spray got the White Bear back on his feet and he battled on to secure his third Olympic medal.
Tamyra Pulls Away Late To Reach Finals
The degree of difficulty ramped up Monday night in the 68-kilogram semifinals, but Tamyra Mensah-Stock was up to the challenge, defeating Ukraine's Alla Cherkasova 10-4 in a clash of World champions. Mensah-Stock trailed 4-2 with a little more than two minutes left when Cherkasova threw her by for a takedown and then tacked on two more with a gut. The Ukrainian went for another turn, but Mensah-Stock stepped over and put Cherksakova on her back to go up 4-4 on criteria. Cherksakova walked into double-leg midway through the second period and Tamyra tacked on a turn to give herself some breathing room. She added two more points late when she caught Cherksakova on her back after a head-pinch attempt by the Ukrainian.
"I actually appreciated my semifinal because I didn't want to come out unscathed," Mensah-Stock said. "It would've been pretty cool, but to be able to battle and now be in the finals, that would mean more than getting techs and pins."
Quite a day for Mensah-Stock. She faced three opponents, two of whom are World champs, and outscored the trio by a combined 30-4 count. With the win, Tamyra is the seventh Olympic medalist in American women's freestyle history.
Blessing Awaits Mensah-Stock In Tuesday's Gold Medal Bout
While Tamyra Mensah-Stock was tearing through the top side of the 68-kilogram bracket Monday, Nigeria's Blessing Oborududu was a historic march through the bottom side. Oborududu became the first Olympic wrestling medalist in Nigerian history and the first Olympic finalist to represent an African country when she dusted Mongolia's Battsetseg Soronzonbold 7-2.
Mensah-Stock has beaten Oborududu at least three times in previous meetings, including a 6-1 win in the 2019 World Championships.
Cuba's Orta Completes Remarkable Run To Olympic Gold
The first gold of the week belongs with Cuba's Luis Orta Sanchez, who toppled two World champions and a World silver medalist on his way to the 60-kilogram title. Orta handled two-time World champ Kenichiro Fumita of Japan 5-1 in the finals. He also posted wins against World champ Sergey Emelin of Russia and World silver medalist Victor Ciobanu of Moldova.
It's setting up to be a big week for the Cubans, who have Mijain Lopez wrestling for his fourth Olympic gold later tonight and three-time World and Olympic champ Ismael Borrero Molina takes the mat tomorrow.
Kayaalp Grabs Another Medal
Four-time World champ Riza Kayaalp of Turkey bounced back from a 2-0 semifinal loss to Mijain Lopez by beating Iran's Amin Mirzazadeh in the bronze medal bout at 130 kilograms. The victory pushes Kayaalp's World and Olympic medal tally to 11.
Lopez Captures Historic Fourth Gold
Cuban legend Mijain Lopez is in a Greco class all by himself now after winning his fourth Olympic gold. The 38-year-old barely competed during this Olympic cycle and still ran through the tournament without surrendering a point, finishing this one off with a 5-0 victory against Georgia's Iakobi Kajaia.
During his last four trips to the Olympics, Lopez has outscored his opponents 79-3 and hasn't given up a point at the Games since the 2008 gold medal match.
Adar Wins First Women's Freestyle Olympic Medal For Turkey
Turkey's Yasemin Adar registered her second fall of the day and, with it, became her country's first Olympic medalist in women's freestyle. The 2017 World champ decked Kyrgyzstan's Aiperi Medet Kyzy for the bronze at 76 kilograms.
Gray Falls In Gold Medal Bout
A first-period stumble and a second-period toss prevented Adeline Gray from adding an Olympic gold to her resume. The five-time World champ fell behind 7-0 and couldn't recover in a 7-3 defeat against Germany's Aline Rotter-Focken. Gray was in on a single-leg shot, lost her balance and fell back to her hip to give up two points in the first period.
Gray said she wasn't quite sure what went wrong on the first attack.
"I was asking Terry (Steiner) that right as I stepped off the mat," she said. "I felt like I had my head up, I was driving, I don't know if my foot just slipped or if I caught her heel and it took my cadence off. But kudos to some good defense. I'm a big, strong woman and she put her hips into my and squashed me to the ground and took advantage of some length she has over me."
But the big blow came after the break when the German tossed the Colorado native for four. Gray scored a step-out point and then a takedown with 45 seconds left, but she couldn't get anything going on top and couldn't get closer.
Rotter-Focken won a World title in 2014 at 69 kilograms and she's been a consistent high-level performer since, claiming a World silver in 2017 and bronzes in 2015 and 2019. Now she's the first German to win an Olympic gold in women's freestyle.
Meanwhile, Gray will leave Tokyo as the second Olympic silver medalist in American women's freestyle history.
"A silver medal's not what I came for, but it's what I have and I'm very proud to bring home a medal from the Olympics for Team USA," she said. "I wanted it to be a different color, but I'm also very excited to come back with some hardware."