USA Wrestling
What To Expect From USA Greco In Tokyo
What To Expect From USA Greco In Tokyo
Greco guru Tim Hands takes a look at the USA Greco Olympic squad and what they could encounter in Tokyo.
Jul 30, 2021
by Timmy Hands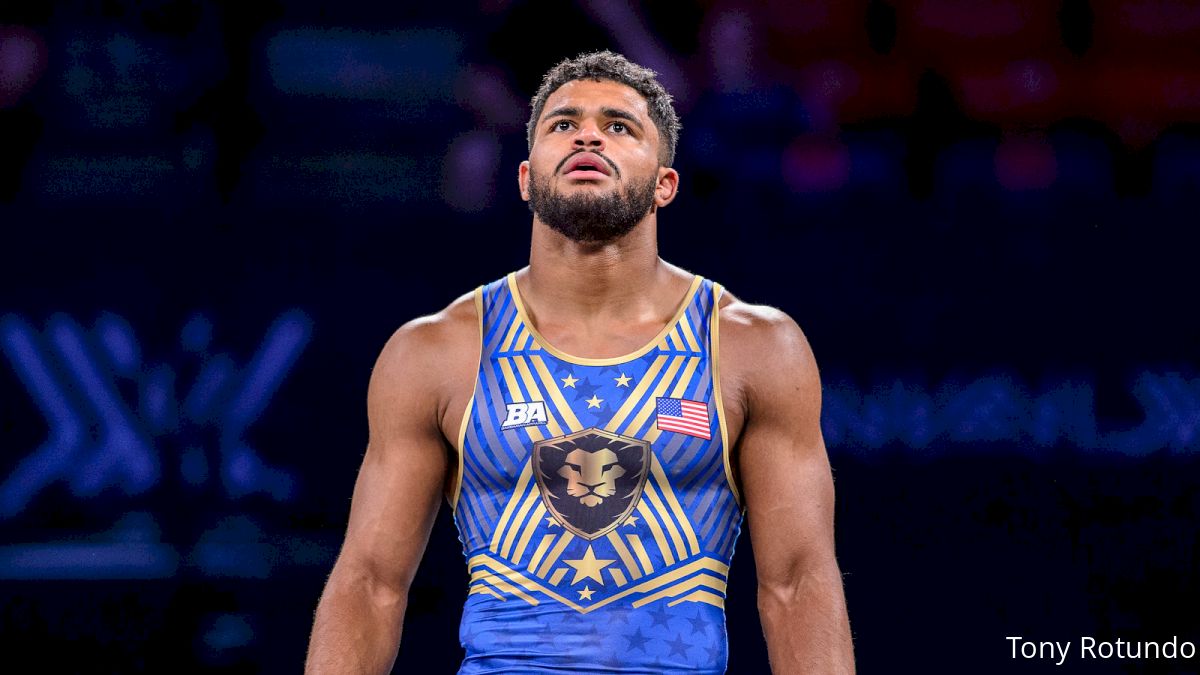 Unlock this article, live events, and more with a subscription!
Get Started
Already a subscriber? Log In
The Olympics are not some "proving ground", for those who receive the privilege of entering the tournament have already proven themselves. It is also not the grandest demonstration of top-level technique, because winning requires a whole lot more than nuanced positions, brow-raising throws, timely scores, and adequate officiating.
"Will", more often than not, is what represents the line of demarcation between dreams coming true and hopes being dashed. The intensity is, even for wrestling, unusual. Dennis Hall, silver in '96 and a three-time five-rings performer, said prior to Rio '16 that "it's like they are all on crack."
Crude? Maybe. Slightly politically incorrect? Probably. But accurate? Seemingly so, and Hall is certainly a credible source.
Put plainly, this is a different tournament. The speed is a touch quicker, the adrenal glands work a little harder, and the stakes involved couldn't be higher. What the four USA Greco-Roman athletes encounter in Tokyo is going to introduce them to a new emotional apex without the luxury of a prolonged assimilation. They have prepared with the diligence of sincere professionals, but must stand ready to reconcile what this experience in all of its totality actually means.
Which is why each of the four's skill-set combined with their respective methodologies might hold more importance than anything the opposition has to offer in return.
60 kg — Ildar Hafizov (Army/WCAP)
Recent Opponents in Tokyo Bracket
Lenur Temirov (L 4-2, '19 World Championships)
Etienne Kinsinger (W 6-1, '19 World Championships)
The key for Hafizov to enter the medal argument has nothing to do with his technical prowess. He is capable of turning and defending most, if not all of the bracket's bigger names. Confidence is where the issue lies. Tempering the perceived pressure. Hafizov puts a lot on his shoulders whenever he dons a "USA" singlet, and now he is in the Olympics representing his adopted home.
How he harnesses that energy will determine his chance for hardware much more so than defending a gut or locking for a lift. Because in every other way we pick and parse these things, he's on even ground with the elite of this field from a technical aspect — and a viable medal candidate if he can take out any one of the "top guys" early. So long as he recognizes that, Tokyo offers the opportunity for the regal elder statement to have his most memorable performance yet.
67 kg — Alex Sancho (Army/WCAP)
Recent Opponents in Tokyo Bracket
Ismael Borrero Molina, CUB (L 9-0, '18 Granma Cup, L 9-0, '20 Pan-Am C'Ships) — Borrero — perhaps the sport's P4P best, overwhelmed a depleted Sancho in Cuba three years ago, with a highlight-reel arm throw that scored five responsible for the brunt of the damage.
Mate Nemes, SRB (W 5-5, '17 Grand Prix Zagreb final) — Now that Nemes is a World bronze ('19) and the 4th seed in Tokyo, Sancho's thrilling, gold-medal-clinching victory that also brought forth his first overseas tournament win looks even better today than it did at the beginning of the quad.
Julian Horta Acevedo, COL (W 10-0, '20 Pan-Am C'Ships; L 4-0, '20 Pan-Am Olympic Qualifier) — Immediately dismiss the loss from the qualifier. It was akin to an NFL "trap game", and if they wrestle again the result will very likely mirror their first encounter.
Sancho is and has been convinced that he is among the planet's best for quite some time, despite this being his first Senior World-level Team. Whereas Hafizov understands his own proficiency but cares so much that he sometimes struggles with the extraneous, Sancho is a little more keen on isolating what he can control, and brushing off that which he cannot. A "go out and wrestle my hardest no matter what" mindset. It works for him.
What also works is his straddle-lift. There are a few at 67 whose primary option from par terre is a lift, but will bail or crash as soon as their lock gets squirrely. Sancho commits, in a way not unlike Frank Staebler. If he hoists, he will do all that is physically possible to complete the execution.Heaving, contorting, scream-exerting, whatever is necessary. Angular entries into tie-ups are his M.O on the feet, which means pummel-fests are rare. In this tournament, he might need to brawl it out in the trenches more than he is used to internationally given the intensity and stakes. Sancho should be prepared for that. He has been waiting a little while.
87 kg — John Stefanowicz (Marines)
Recent Opponents in Tokyo Bracket
Lasha Gobadze, GEO (L 7-0, '19 World Championships)
Islam Abbasov, AZE (L 6-0, '21 Henri Deglane GP)
Zurabi Datunashvili, SRB (L 4-4, '17 Hungarian GP)
The hardest pusher on Team USA is Stefanowicz, and there is not a close second in that regard. All four athletes bring different strengths to the table. The Marine's bread-and-butter is, in one way, simple to discern. He wants to batter opponents during each positional exchange, and, in between, finagle two-on-one's whilst keeping his legs churning. On the other hand, there is a complexity to Stefanowicz's game. He can unfurl swift, clean arm spins or create scoring opportunities off of scrambles — which is not all that common for foreigners in this weight category. Stefanowicz is much more technical than for which he is given credit, and that is only because he is so closely-associated with dishing out pressure-infused punishment.
Stefanowicz does not have prior success from which to draw when it comes to the three athletes in the bracket he has already faced. The match with Gobadze — from Nur-Sultan '19, where the Georgian raced to gold — as well as the bout with Datunashvili in '17 were both contested at 80/82 kilos. Abbasov is the only example from 87 kilos (in January), and that was Stefanowicz's first tournament in almost a year. He is different these days. Obviously. Stefanowicz is said to have "hit his stride more than ever" recently, according to one Marine teammate. If you believe that, and you probably should, then you should also believe he has a legitimate shot to do something special.
97 kg — G'Angelo Hancock (Sunkist)
Recent Opponents in Tokyo Bracket
Gabriel Rosillo, CUB (L 10-2, '19 Pan-American Championships; L 7-2, '19 Pan-American Games; L via fall, '20 Pan-American Championships; W 10-0, '20 Pan-American Championships; L 11-8, '20 Pan-American Qualifier)
Artur Aleksanyan, ARM (L 10-1, '17 World Championships; W via fall, '18 Pytlasinski Memorial)
Kiril Milov, BUL (W 10-0, '17 Junior World Championships)
Cenk Ildem, TUR (W 2-1, '16 World Clubs Cup)
Giorgi Melia, GEO (L 12-8, '16 Junior World Championships)
In the eyes of most, Hancock is the United States' brightest hope for their first Olympic medal dating all the way back to '08 Beijing, when Adam Wheeler brought home bronze (and in the same weight range). The reason for this line of thinking is not a mystery. Over the past five years, Hancock has been the U.S. program's most active and consistently-successful athlete. He won the '19 Hungarian Grand Prix, has collected a handful of other notable international medals, and hasn't suffered a Senior-level defeat on American soil since the '16 Olympic Trials (you know, when he was 18).
Due to all of the above, Hancock no longer measures himself against domestic competition. Instead, he is obsessed with foreign concerns, and prefers to stay overseas as much as is reasonable. But this season, what with the pandemic and all, he has only trekked to Europe once. That absence, for a while, drove him crazy. It played into his head at times. Not having a "normal" training situation at home didn't help, either, but he could live with that if travel was what it used to be.
Yet he has adapted. He has had to. Hancock is now locked all the way in and, just before jetting to Tokyo a week-and-a-half ago, was preparing with a renewed level of hunger. The closer this tournament started appearing on the calendar, the more motivated he became. He had felt caged, shackled to frustration and impatience. Now he is just waiting for the door to swing open. On Monday, Hancock will finally be unleashed on a global scale once again. And the smart money says whoever is standing in his way is not going to enjoy what that looks like.