2021 Cadet World Championships
Bo Knows Gratitude After Winning Cadet World Title
Bo Knows Gratitude After Winning Cadet World Title
Bo Bassett won a freestyle gold medal at the Cadet Worlds, but he accomplished something greater than that following his early exit in Greco-Roman.
Jul 27, 2021
by Kyle Klingman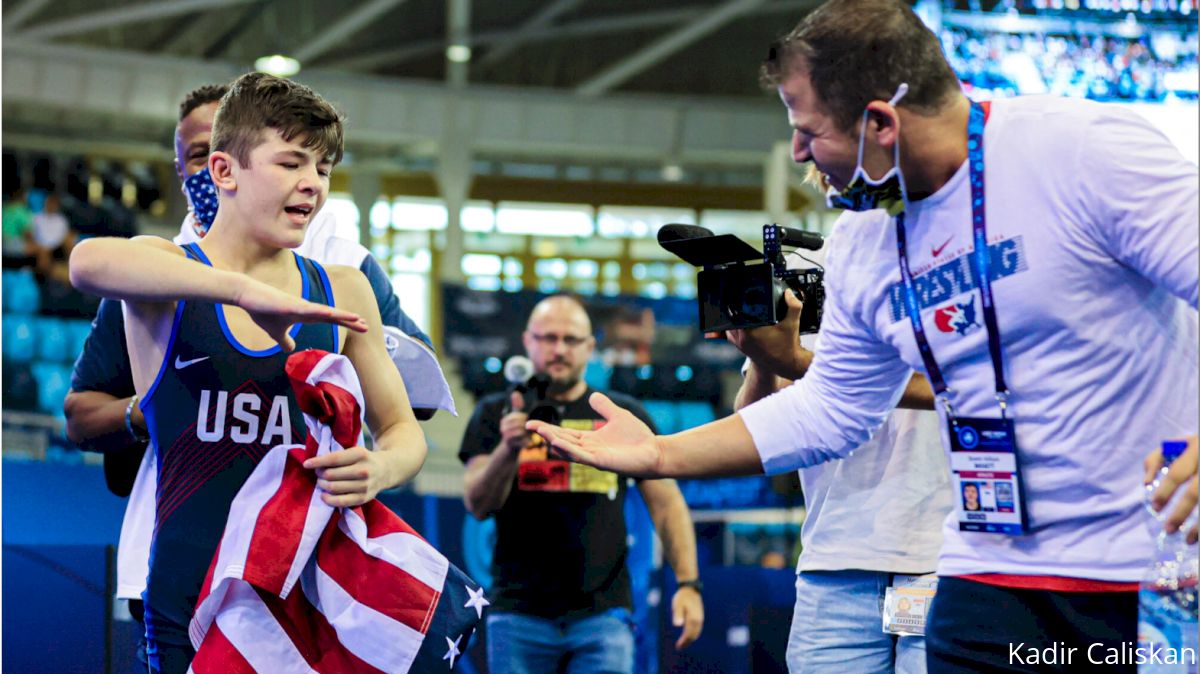 Bo Bassett ripped through the 45-kilogram field at the 2021 Cadet Freestyle World Championships in Budapest last week. His four-match run included three falls and one technical superiority win, which yielded Bassett one gold medal, one massive championship belt, and a lifetime of memories.
His relentless pace and stellar conditioning proved to be too much. Bassett was behind in every match only to storm back for a dominant win.
The 14-year-old also competed in Greco-Roman, which yielded Bassett an 8-0 technical superiority loss, an early exit from the tournament, and more than a few lessons about the contrasting international styles.
Still, Bassett is a Cadet World champion — and he always will be.
High-level accomplishments typically get placed in a historical vacuum and are often used as a point of validation for one's life. Many — including me — are excited about what Bassett will do next. He isn't even in high school so the next four years should be fun as he develops into the wrestler we all hope he can be.
As far as I'm concerned, Bassett never needs to win another match. Why? Bo knows how to be grateful.
Too often we translate gold medals into the kind of person someone is. We appreciate what a wrestler can do on a mat and we forget about the person off of it.
I happened to capture a video of the Bassett family celebrating together immediately after his gold medal win. There were more than a few hugs and tears as mom, dad, younger brother, and Bo embraced in the stands.
The day after Bassett was eliminated from the Greco competition, I received the following direct message on my Twitter account.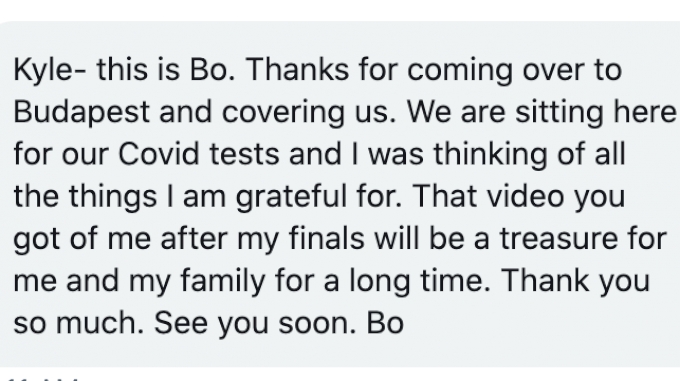 A reminder: Bo Bassett is 14 years old. Bassett's on-the-mat technique takes a back seat to his high-level gratitude. This singular moment of appreciation meant more to me than Bo's gold medal run at the tournament — even though I was glad to witness his win.
Bassett's thoughtful message is in stark contrast to the negativity that can appear on social media. Anyone can create an account and have a say. Comments are often reactionary, thoughtless, and inflammatory.
Positive messages of gratitude are rarely seen since they are often personal and private. USA Wrestling coaches Kevin Jackson and Jessica Medina extended their gratitude for FloWrestling's coverage of the Cadet World Championships, which included 13 medals between the men's and women's teams. It was also the first time in U.S. history that the women's team won a Cadet team title.
Gratitude is available to each of us at any given moment. All it takes is awareness and respect for our surroundings.
Bo Bassett's run at the Cadet Worlds proved that you can win and lose on the mat — and be a champion off of it.