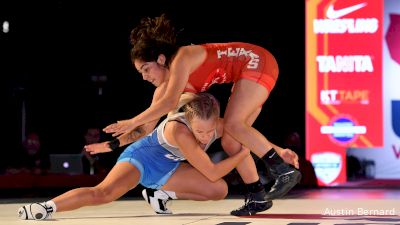 Unlock this video, live events, and more with a subscription!
Get Started
Already a subscriber? Log In
Unlock this article, live events, and more with a subscription!
Get Started
Already a subscriber? Log In
Not many outside of Texas knew who Jasmine Robinson was. They know now. The soon-to-be-sophomore doubled up at Fargo this year, winning both the 16U and Junior divisions, adding the OW in both divisions to boot.

"I worked hard every day," the rising star said. "Just keep pushing, keep going. I wanted this when I started wrestling three years ago."
Robinson said her ultimate goal is to make the 2024 Olympic team.

One of the things that made Robinson so spectacular was her endless highlight reel of big moves, hitting a four-pointer to start the 16U final against Tennesee's Genesis Gilmore, and a massive five-point suplex to start her Junior final against Rose Cassioppi.

California's Paige Morales and Washington's Shelby Moore also doubled up, with Morales facing the same opponent in both finals, teammate Kiely Tabaldo of California.

Fargo was a bit of a mystery this year. It's been two years since the event was held, and the who's who in the 16U division still left some unknowns at the national level. Women's Nationals helped, but it's not until Fargo that we often get a clear picture of the national landscape. There's also the X-factor of not knowing who's grown up or "leveled up" in either division, as two years is enough time to jump massive levels, and there's always new stars that seem to come out of nowhere.

London Houston, the 132-pound champ, had a breakout year, and winning Fargo was the pinnacle.
"No one knew me," she said on the Fargodome floor. "You say 'London Houston' and they'd be like, 'Oh, the city?' So achieving all my goals I've been dreaming about for the last four years, it's amazing. I still can't believe I did that!"

Familiar names also did their thing as Sage Mortimer, in perhaps the match of the final session, won an exciting 12-7 scrap over Texas hammer Samara Chavez. Both athletes are signed to King University this fall.

Participation numbers for the event smashed previous records, with more than 6,000 entries combined in boys and girls divisions, including 672 in the women's Junior division.
In the team race, it was California (177), Illinois (129) and Colorado (98) that landed in the top three in 16U. California (214), Texas (132), and Washington (114) who took the top three spots in the Junior division.
Here's a quick look at each division.


16U Division
Top seed performances
No surprises from California's fourth-ranked Paige Morales at 106, though her weight class may have been the deepest in the division. Morales won her first of two national titles on the weekend, defeating California teammate Kiely Tabaldo 4-0 in the 16U finals. Washington's #2 Shelby Moore was unstoppable at 122, outscoring opponents 47-0 including a 10-0 win in the finals over Connecticut's Julianna Morris. The fact that she didn't get the OW tells you something about how fantastic sixth-ranked Jasmine Robinson — who earned the distinction — must have been at 152
#4 Ella Pagel, the highest-ranked wrestler in her bracket, won with a fall in the finals over Missouri's Ali Haiser. #3 Sabrina Nauss went unscored on until the finals at 180, which she won 12-2 over Illinois' Kiara Ganey, while #6 Catherine Dutton of Missouri, also the highest-ranked girl at 200, won it all with a dominating 12-0 win in the finals over Missouri teammate Mariyah Brumley.

Breakout performances
Evidence of the unpredictable nature of the 16U division this year due to the two-year break, this division had a whopping five unranked girls win national titles. Florida's Valarie Solorio (94), Indiana's Makenzie Smith (100), Ohio's Cassia Zammit (132), New York's Alessandra Elliot (138), and Maryland's Nebi Tsarni (144) all came in outside of the top 25, and all won national titles. Zammit was down 8-0 in her semi against Hanna Errthum, but secured a fall in the second period to advance to the national finals.

But we can't talk breakout performances without mentioning Michigan's just-out-of-eighth-grade Cecilia Williams, ranked #17 at 112 coming into Fargo. Williams took out second-ranked Zao Estrada 4-2 in the finals. At 117, #9 Cadence Diduch of Illinois, who has been on a steep trajectory of success over the last year, reached the top at Fargo with a 4-0 win over Illinois teammate #14 Valerie Hamilton. At 127, #17 Skylar Little Soldier had a dominating 13-4 win over California's Taydem Khamjoi in the finals, later adding an All-American fourth-place finish in the Junior division.
Best matches
The most competitive final was at 112 between Cecelia Williams and Zao Estrada. The match was 2-2 with less than a minute on the clock and a national title on the line. At 94 pounds, Gabriella Gomez, whose brother Austin and sister Alexis have both won national titles at Fargo, came back from a 6-0 deficit in her semi against Abbygael Cabuag to win it 11-10. She was that close to missing the final. 100-pound national champ Makenzie Smith won her semi against Aspen Blasko 10-8, an opponent Smith had to hold off after she built up an 8-0 lead. In the crazy 106 weight class, eventual finalist Kiely Tabaldo had a tight semifinal win over Persaeus Gomez, who had just beaten top seed Rianne Murphy in the quarters. At 127, Taydem Khamjoi had a razor-thin semifinal victory over New York's Alexandria Viera, 13-10, a match that was close right until the end.

16U Finals
94 — Valarie Solorio (FL) over Gabriella Gomez (IL) 6-3
100 — Makenzie Smith (IN) over Mikayla Garcia (CA) 10-0
106 — Paige Morales (CA) over Kiely Tabaldo (CA) 4-0
112 — Cecelia Williams (MI) over Zao Estrada (SC) 4-2
117 — Cadence Diduch (IL) over Valerie Hamilton (IL) 4-0
122 — Shelby Moore (WA) over Julianna Morris (CT) 10-0
127 — Skylar Little Soldier (MN) over Taydem Khamjoi (CA) 13-4
132 — Cassia Zammit (OH) over Sydney Perry (IL) 8-2
138 — Alessandra Elliot (NY) over Lydia Roope (MI) 6-2
144 — Nebi Tsarni (MD) over Amarisa Manuel (MI) 3-2
152 — Jasmine Robinson (TX) over Genesis Gilmore (TN) 10-0
164 — Ella Pagel (MN) over Ali Haiser (MO) by fall 2:28
180 — Sabrina Nauss (MI) over Kiara Ganey (IL) 12-2
200 — Catherine Dutton (MO) over Mariyah Brumley (MO) 12-0

Junior Division
The story here was how well the top-seeded women performed. No unranked Cinderellas like the 16U division. The top-ranked women played their part.

Top seed performances
At 100, in a heartwarming display of family love, twin sisters Emilie and Brianna Gonzalez, who both made the finals, came out for a double forfeit, both getting their hands raised. #11 Emilie and #3 Brianna both came through tough opponents to make the final. Brianna had to beat #1 seed Alex Szkotnicki, which she did by fall at 2:16 in the semis. At 106, #4 Paige Morales won the rematch against Tabaldo, doubling up in Fargo. Of the five #1's in the finals, four won national titles, as Utah's Sage Mortimer (112) won her fourth, Washington's London Houston (132) won her first; Wisconsin's Kylie Welker (164), on her first trip to the event, won her first Fargo stop sign, and Emma Bommarito owned 225. The only #1 that didn't win was Samara Chavez, who lost to Mortimer. At 117, #5 Ngao Shoua Whitethorn of Minnesota won by fall over Jaclyn Dehney of Massachusetts, #3 Alexis Janiak of Illinois won by tech fall over New York's Sofia Macaluso at 127, #6 Savannah Gomez of California earned a fall over Illinois Sara Sulejmani at 138, and #3 Destiny Rodriguez scored a tech in the finals over Nevada's Reese Larremendy. #2 Brittyn Corbishley of Texas regained the top spot at 180 with a dominating performance, outscoring opponents 44-0, including an 11-0 win over #1 Jaycee Foeller in the semis. #4 Sam Calkins won it at 200 with a 2-2 criteria victory over Indiana's Riley Dempewolf.

Breakout performances
London Houston put the women's wrestling community on notice at Women's Nationals, where she took second in the Junior division, and third in the U23 division, that she was a contender to win it all in Fargo, and that, she did. At 127, Alexis Janiak was second in 16U in 2019 and sixth in Juniors, but broke through this year to win her first Fargo stop sign with a convincing victory over 2019 16U national champion Sofia Macaluso. At 138, Savannah Gomez was impressive throughout the tournament, including her overwhelming performance in the finals. At 144, sophomore Destiny Rodriguez had to wait for a review in her semi against #1 seed Katerina Lange to learn that she won, but she held on to beat an elite opponent who recently won a gold medal at the Pan Am Championships. It's not that we didn't know about the 2019 16U champ, but now Rodriguez has done it at the next level. At 225, Eliana Bommarito is a force. If there was a weight class for her at higher levels, she'd be the future. For now, we'll take the Fargo stage.

Best matches
#1 Sage Mortimer vs. #1 Samara Chavez? Yes, please. And the final delivered, as the future King University teammates gave the crowd an entertaining performance with Mortimer coming out on top 12-7. At 127, the quarterfinal between eventual finalist Sofia Macaluso and Wisconsin's Kylie Rule was an exciting match. Rule went up 6-0 before Macaluso staged her comeback. The Destiny Rodriguez vs. Katerina Lange semi at 144 was a mesmerizing spectacle, as two obviously talented wrestlers battled right down to the wire, and it took a referee conference to figure out who won.

Junior Finals
100 — Emilie Gonzalez (California) vs. Brianna Gonzalez (California) (no contest)
106 — Paige Morales (California) over Kiely Tabaldo (California) 8-4
112 — Sage Mortimer (Utah) over Samara Chavez (Texas) 12-7
117 — Ngao Shoua Whitethorn (Minnesota) over Jaclyn Dehney (Massachusetts) by fall 3:34
122 — Shelby Moore (Washington) over Jennifer Soto (California) 5-1
127 — Alexis Janiak (Illinois) over Sofia Macaluso (New York) 10-0 at 1:22
132 — London Houston (Washington) over Hanna Errthum (Wisconsin) 12-1 at :56
138 — Savannah Gomez (California) over Sara Sulejmani (Illinois) by fall 3:32
144 — Destiny Rodriguez (Oregon) over Reese Larramendy (Nevada) 13-3 at 5:05
152 — Jasmine Robinson (Texas) over Rose Cassioppi (Illinois) 11-0 at 1:11
164 — Kylie Welker (Wisconsin) over Ashley Reed (Connecticut) 13-0 at 1:24
180 — Brittyn Corbishley (Texas) over Taryn Martin (Ohio) 11-0 at 2:18
200 — Sam Calkins (California) over Riley Dempewolf (Indiana) 2-2
225 — Eliana Bommarito (Michigan) over Lexie Cole (Maryland) by fall 2:34