2021 Cadet World Championships
U.S. Bags 3 Bronzes, Sends 3 More To Finals At Cadet World Championships
U.S. Bags 3 Bronzes, Sends 3 More To Finals At Cadet World Championships
The U.S. women went 6-0 Thursday during the second session of the Cadet World Championships.
Jul 22, 2021
by Kyle Klingman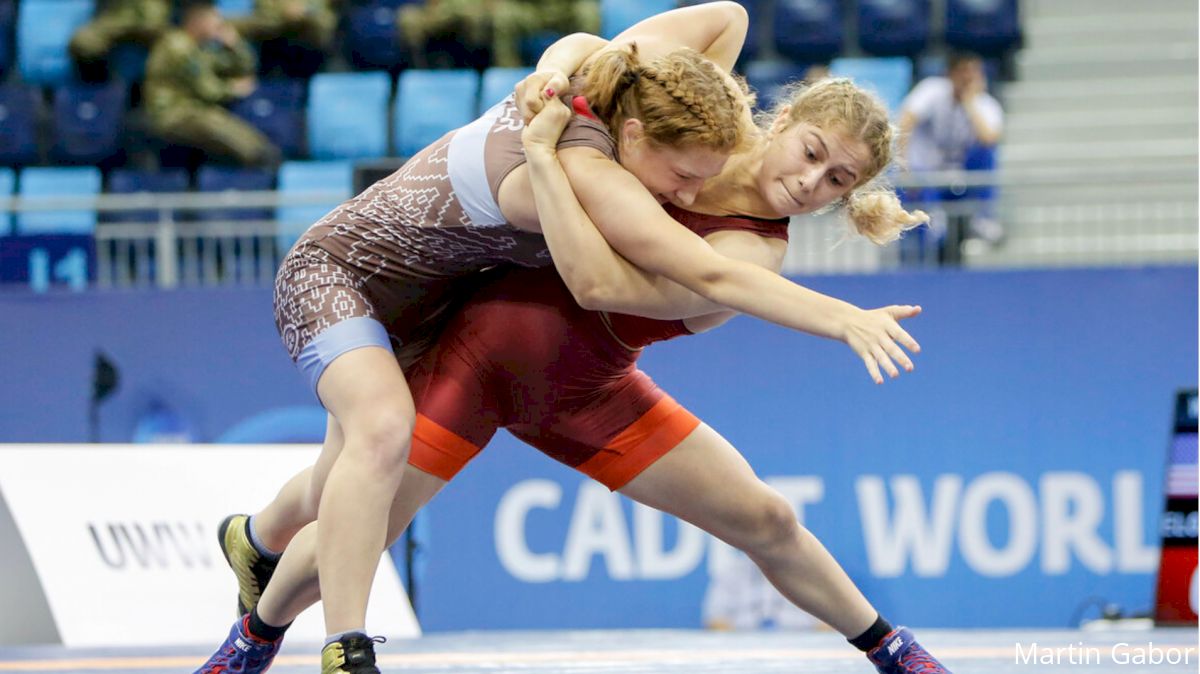 Unlock this article, live events, and more with a subscription!
Get Started
Already a subscriber? Log In
The U.S. women went 6-0 Thursday during the second session of the Cadet World Championships, led by Amit Elor's dominating run to the finals. Elor won 10-0 and by fall during her two matches.
Erica Pastoriza (40 kg), Katie Gomez (53 kg), and Elor (69 kg) each won semifinal bouts and will compete in Friday's gold medal finals. Angie Dill (43 kg), Audrey Jimenez (49 kg), and Lillian Freitas (73 kg) won bronze medal matches to cap one of the best sessions in U.S. history at the Cadet Worlds.
Powder Keg
Angie Dill continues to be a powder keg of offensive output. She gives up position at times, but her 14-5 win in repechage was a furiously fun and fast-paced slugfest. Dill is always looking for a counter throw, especially her speciality — the chin whip. She used a right-handed headlock in her bronze medal match to cap a fun-filled tournament for the 16-year-old who says her goal is to not touch her opponent's legs.
Sharp Blades
Korina Blades, sister of Olympic Trials runner-up Kennedy Blades, proved she will be a force on the international scene. She opened the tournament with a 10-0 technical superiority in 1:16 and an 11-0 win in 2:14 in her second before falling 6-0 in her quarterfinal match against Nitika Nitika of India. Blades was knocked out of the tournament Nitika lost in the semis.
Pre-quarter Power
The U.S. women went 4-0 prior to the quarterfinals with only one match going the distance — Katie Gomez's 8-1 win.
Unfortunate Fall
Ava Ward was leading 7-4 at the break during her quarterfinal match against Komal Komal of India. Ward got extended on a shot and was thrown to her back where she fought for over a minute before giving up the fall.
Quite A Challenge
Officials took their sweet time figuring out a scoring sequence at the end of Katie Gomez's quarterfinal match against Antim Antim of India. Gomez trailed 3-2 when she scored a takedown and gave up a reversal to take a 4-4 criteria lead. India challenged the call and, after nearly 10 minutes, the call stood and Gomez won 5-4 following a lost challenge.
No Surprise Here
Amit Elor wants retribution after her bronze medal performance at the 2019 Cadet World Championships. She was the favorite to win with Japan and China out of the tournament, but she's even more of a favorite thanks to a favorable draw. There are only 14 wrestlers in the 69-kg bracket and Elor received a first-round bye to the quarterfinals. She routed Barbara Sere Romania, 10-0, to move into the semis.
Semifinal Sweep
Erica Pastoriza looked solid in her 4-0 semifinal win over Anastasiia Polska of Ukraine following a 10-0 blowout in the quarters. Pastoriza scored four of her semifinal points in the first period then stayed solid for the remainder of the match.
Katie Gomez followed that up with a 9-1 win over Tuba Demir of Turkey in her 53-kg semi. Gomez used four takedowns and a lost challenge to cruise to the finals.
Then there's Amit Elor. She scored a four-point takedown followed by two turns to take a quick 8-0 lead. Elor scored another four-point throw to secure a fall in less than a minute.
Women's Results
40 kg: Erica Pastoriza
Quarterfinals: Pastoriza def. Aizhan Muratbay (KAZ), 10-0
Semifinals: Erica Pastoriza def. Anastasiia Polska (UKR), 4-0
46 kg: Ava Ward
Round of 16: Ward def. Yana Tsvetelinova Dimitrova (BUL), FALL 2:22
Quarterfinals: Komal Komal (IND) def. Ward, FALL 3:37
53 kg: Katie Gomez

Round of 16: Gomez def. Gerda Terek (HUN), 8-1
Quarterfinals: Gomez def. Antim Antim (IND), 5-4
Semifinals: Gomez def. Tuba Demir (TUR), 9-1
61 kg: Korina Blades

Round of 32: Blades def. Emilia Mathilde Hartmann (AUT), 10-0
Round of 16: Blades def. Nicola Wasilewska (POL), 11-0
Quarterfinals: Nitika Nitika (IND) def. Blades, 6-0
69 kg: Amit Elor
Quarterfinals: Elor def. Barbara Sere (ROU), 10-0
Semifinals: Elor def. Viktoryia Radzkova (BLR), FALL :54


43 kg: Angie Dill
Round of 16: Dill def. Julia Karina Dolna (POL), FALL :49
Quarterfinals: Tannu Tannu (IND) def. Dill, 13-0
Repechage: Dill def. Yelyzaveta Kulakivska (UKR), 14-5
Bronze: Dill def. Aida Alzhanova (KAZ), FALL :32
49 kg: Audrey Jimenez
Round of 32: Jimenez def. Neha Kiran Chougale (IND), 10-0
Round of 16: Jimenez def. Laura Ganikyzy (KAZ), 10-0
Quarterfinals: Jimenez def. Sarah Carina Lins (AUT), 10-0
Semifinals: Svenja Jungo (SUI) def Jimenez, 8-6
Bronze: Jimenez def. Delia Gabriela Voiculescu (ROU), 10-0
57 kg: Savannah Cosme
Round of 16: Selvi Ilyasoglu (TUR) def. Cosme, 6-0
Repechage: Khaliun Byambasuren (MGL) def. Cosme, FALL 1:08
Cosme has been eliminated from the tournament
65 kg: Grace Stem
Round of 16: Duygu Gen (TUR) def. Stem, 6-6
Stem has been eliminated from the tournament
73 kg: Lillian Freitas
Round of 16: Freitas def. Patrycja Dorota Cuber (POL), FALL :33
Quarterfinals: Freitas def. Valentina Toreniyazova (UZB), 10-0
Semifinals: Kseniya Patapovich (BLR) def. Freitas, 3-1
Bronze: Freitas def. Bukrenaz Sert (TUR), 4-0