2021 US Marine Corps Junior and 16U National Championships
Greco Returns To Fargo With Junior Powers, Two Triple Crown Threats
Greco Returns To Fargo With Junior Powers, Two Triple Crown Threats
Greco is back in Fargo with the powerhouse states ready to battle it out and a pair of wrestlers in pursuit of the Triple Crown.
Jul 21, 2021
by Timmy Hands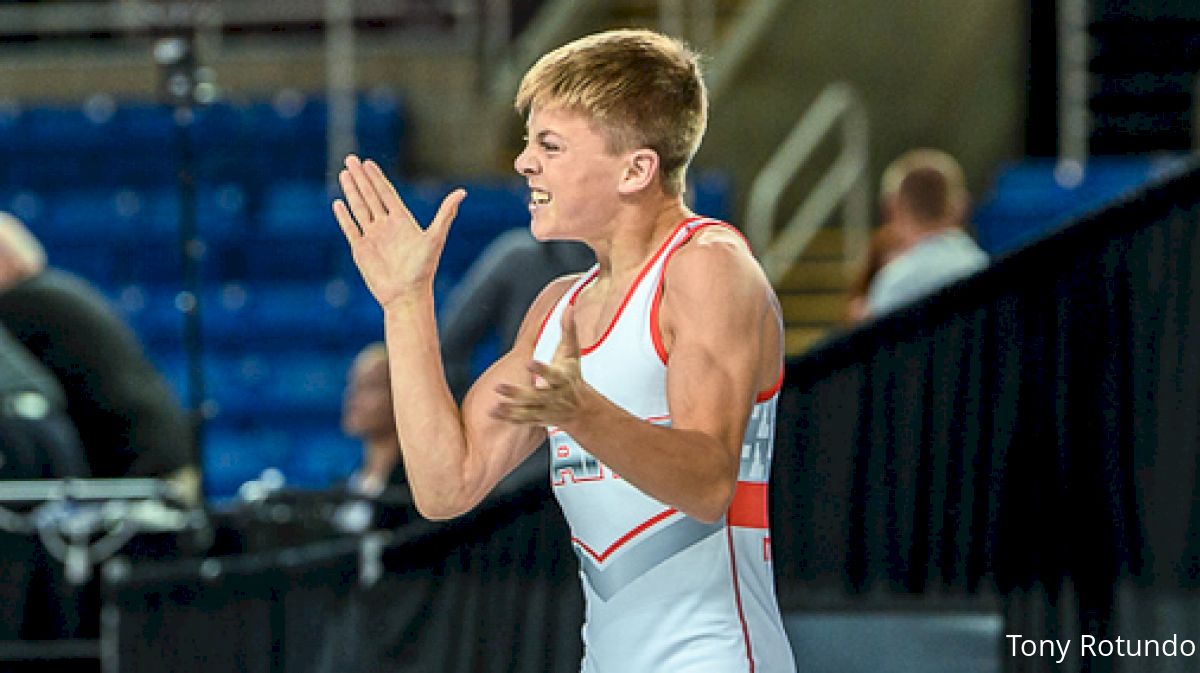 Junior Greco-Roman at the 2021 Fargo Nationals is, like all of the other age-group domestic tournaments this year — a little different. The energy will be the same, the presumed stakes involved will not change, and those wrestlers who know how to dial launch codes but seldom get the chance will make highlight reels.
None of that has been, or will be, altered.
Rest assured, Greco in Fargo — the one event on U.S. soil featuring the classical style that never fails to receive "mainstream attention" — will not disappoint because American wrestlers are too skilled, athletic, and competitive for it to transpire in any other manner.
The primary deviation this time around does not have much to do with the sport, but rather, the participants. Normally, one Fargo bleeds into the next year's version. We all get to know the Cadets (16U) and then follow them to Junior. And, by the time they are in fact Juniors — and provided they have been successful enough — their names ring with instant familiarity. But that's not the case in '21.
Instead, Fargo Junior Greco will bring to bear a massive amount of turnover. Some athletes in the tournament's oldest age division had competed at Cadet prior, and there are even a few returning Juniors. Not a lot of them, just enough to acknowledge the carry-over effect and anticipate the sort of special, late-July fireworks for which Fargo is recognized.
What matters most is what it all means. The trajectory of an athlete's wrestling career can become heavily influenced by their showings in Fargo. For past winners like RaVaughn Perkins and Joe Rau to Adam Coon, Ellis Coleman, and Robby Smith, those long summer days in North Dakota played an extraordinarily significant role in both their development and the perceptions of their potential. It is one tournament that no one ever wants to miss.
And why following last year's postponement, everyone seems to miss it so much.
Triple Threats
Nearly three dozen wrestlers have captured USA Wrestling's Triple Crown — a sweep of the national governing body's folkstyle, freestyle and Greco-Roman national championships championships — at the 16U and Junior level.
Only two remain in the mix at the onset of Greco competition in Fargo.
Idaho's Mack Mauger and Wisconsin's Koy Hopke claimed Folkstyle Nationals titles in April and followed that up this week by collecting freestyle championships at the 16U level in Fargo. They'll go for the sweep this week with Mauger at 94 pounds and Hopke at 220.
More Hardware
It's been yet another banner summer for the Illinois and Minnesota state Greco programs. The two powerhouse states added to their national championship trophy collections in June. Minnesota ripped through the field to win the title at the 16U National Duals in Indiana. A week later, Illinois captured its fourth straight Junior Greco Duals championship. Many of the key figures on both of those teams will be on display this week in Fargo.
Back For More
More than half of the 2019 16U Greco champs are back and looking to add to their championship resumes, including a pair of heavyweights from the Pacific Northwest (Oregon's Jacob Barnes and Washington's Gage Cook). Here's the list of 2019 Greco champs who are back and looking for more gold.
Jacob Barnes (Oregon),
Gage Cook (Washington)
Bradley Gillum (Illinois)
Ray Ray Harris (California)
Michael Kilic (Georgia)
Ramon Ramos (Arizona)
Seth Shumate (Ohio)
Jore Volk (Minnesota)
Robert Weston (Georgia)
Five Most Potent Junior Lineups
Illinois
106 pounds
Jaymz Young
113 pounds
Benjamin Aranda
Justin Brown
Joseph Phelps
120 pounds
Brian Beers
Jalen Dunson
Zavien Stewart
Joseph Fernau
Billy Meiszner
Caelan Riley
Kannon Webster
Paul Woo


126 pounds
William Baysingar
Joshua Biagini
Joey Chirillo
Sean Conway
Andre Giurini
Abraham Hinrichsen
Maddox Khalimsky
Jacob Macatangay
Vincent Robinson


132 pounds
Aidan Baker
Nasir Bailey
Chase Hall
Carlos Munoz-Flores
Connor Nagela
Cole Rhemrev
Timmy Smith


138 pounds
Kole Brower
Ivan Corral
Benjamin Gavel
Blake McGee
Caleb Tyus
145 pounds
Tommy Curran
Kevin Hogan
Jack Milos
Caleb Nadig
Luke Swan
Caine Tyus


152 pounds
Logan Balosky
Benjamin Shvartsman
Justin Warmowski
Vincent Zerban
160 pounds
Allen Catour
Nathan Chirillo
Aaron Cramer
Grant Hansen
Jack McClimon


170 pounds
Gaetano Console
Caden Ernd
Bradley Gillum
Brennan Houser
Joseph Jens
Joshua Knudten
182 pounds
Ben Bielawski
Aidan McCain
Aidan O'Connor
Kyus Root
195 pounds T
om Culp
Donnie Hidden
Cooper Vincent
220 pounds
Andrew Blackburn-Forst
Ghee Rachal
James Wireman


285 pounds
Ryan Boersma
Isaiah Gonzalez
RJ Schneider
Minnesota
113 pounds
Alan Koehler
120 pounds
Kanin Hable
126 pounds
Victor Franco
Christian Lopez
Dmytro Ponomarenko
AJ Smith
Derek Steele
Jore Volk


132 pounds
Walker Bents
Koy Buesgens
Gavin Hilyar
Jake Messner
Elijah Paulson


138 pounds
Carter Ban
Kyle Boeke
Colton Bornholdt
Coy Gunderson
Andrew Larson
Cooper Larson
Davin Rose


145 pounds
Thomas Freking
Ryan Scherber
Kain Sanders
152 pounds
Alexander McPhee
Cael Swensen


160 pounds
Jude Link
Dane Niemi
Antony Tuttle


170 pounds
Adam Cherne
Alex Kowalchyk
Clete Scherer
Carter Sorenson
182 pounds
Nathaniel Kisgen
Macray Klohs


195 pounds
Jacob Meissner
220 pounds
Max Balow
Austin Leflay
285 pounds
Makota Misgen
Elijah Novak
Tashaud Nelson
Ohio
100 pounds
Nicholas Lawrensen
106 pounds
Lacy Harvey
113 pounds
Connor Drummond
Trevor Hisey
Leo Riley


120 pounds
Gavin Caprella
Ty Daugherty
William Zaborski
126 pounds
Caleb Edwards
Corey Haney
Brandon Sauter
Zane Van Voorhis



132 pounds
Griffin Burkle
Corbyn Cunningham
David Gelman
Jeremy Ginter
Max Shore


138 pounds
Ismael Ayoub
Jared Counts
Ethan Mitchell
Nathan Kulbe


145 pounds
Nick Abounader
Christian Giltz
Josiah Kennedy
Colin Roberts
Fernando Riselli


152 pounds
Zavier Campsey
Teagan Hendricks
Kody Goffin
Maclain Morency
London Settles
Samuel Wegesin


160 pounds
Gunner Endicott
Dez'monde Gartrell
Raymond Greene
Brad Hornback
Maxwell Kirby
Tim Smith


170 pounds
David Davis
Camren Foster
Braylon Gartrell
Ryan Healy
Haden Offenberger
Mason Stanley


182 pounds
Khamil Abdul
Hayden Berry
Conner Rogers
Brentan Simmerman
Mathis Webb


195 pounds
Brennon Braud
Zackery Burroughs
Brayden Easton
Nicholas Hickman
Seth Shumate
Rashawn Turner
220 pounds
Lucas Coomer
Mason Cover
Austin Kohlhofer
Gabriel Maxwell
Gary Powell
Joey Scally
Logan Shephard


285 pounds
Gage Gibson
Chris Reber
Chance Robinson
Colin Shelton
Brodie Stevens
Riley Ucker
Pennsylvania
100 pounds
Major Lewis
106 pounds
Marco Tocci
Nico Tocci
Casey Walker



113 pounds
Max Cramer
Cael Nasdeo
Hunter Robison
Levi Snyder



120 pounds
Kade Davidheiser
Robert Gardner, Jr.
Geovanni Lainez
Sean O'Toole
126 pounds
Lane Aikey
Dylan Coy
Shane Holefelder
Luke Passarelli


132 pounds
Aliazer Alicea
Spencer Barnhart
Nic Bouzakis ('21 Junior WT)
Gabriel Conboy
Matthew Englehardt
Ivan Vega
Owen Woolcott


138 pounds
Connor Pierce
Jude Swisher
Joshua Viarengo
Taylor Weaver


145 pounds
Riley Bower
Reed Fullmer
Aiden Gaugler
Sam McMonagle
Noah Rice
Samagan Ulanuulu
Griffin Walizer


152 pounds
John Altieri
Aboubakare Diaby
Michael Duggan
Erik Gibson
Alex Williams
160 pounds
Gabriel Belga
Holden Garcia
Paniro Johnson
Jared Keslar
Collin McCorkle
Kevin Jadel Olavarria
Quin Scott


170 pounds
Aldo Beqiraj
Jacob Cherry
Ayden Miller
Owen Quinn
Anthony Salopek
Manuel Santos
182 pounds
Teague Conover
Jagger Gray
Mark McGonigal
Jeremy McKinney
Ethan Richner


195 pounds
John Colburne
Luke Duthie
Kolby Franklin
Brian Finnerty
Caden Rogers
Liam Volk-Klos


220 pounds
James Ellis
285 pounds
Charles Crews III
Tyirek Jackson
Grant Lapachinsky
Nate Miller
Wilson Spires
Wisconsin
100 pounds
Drew Dolphin
120 pounds
Kaleb Casey
Tyler Klein
126 pounds
Troy Dolphin
Sam Smith
132 pounds
Gabriel Galang
138 pounds
Markus Brown
Tanner Gerber
Blake Heal
Ashton Miess


145 pounds
Cael Erickson
Cody Goebel
Gunnar Hamre
Cael Kahle
Gabriel Ramos
Cash Stewart


152 pounds
Cale Anderson
Tristan Drier
Hunter Gartmann
Elijah Lucio
160 pounds
Lowell Arnold
Aaron Dobbs
Tyler Goebel
Matthew Rogge
Bowen Rothbauer
Garrett Willuweit
Caden Young


170 pounds
Jared Stricker
182 pounds
Brady Elvers
Jacob Hansen
Clayton Whiting
Lincoln Willett
195 pounds
Max Ramberg
220 pounds
Aesop Lorenz
Jaren Rohde
Marshell Self
285 pounds
Robert Beese
Hunter Cordova
Keaten Pues