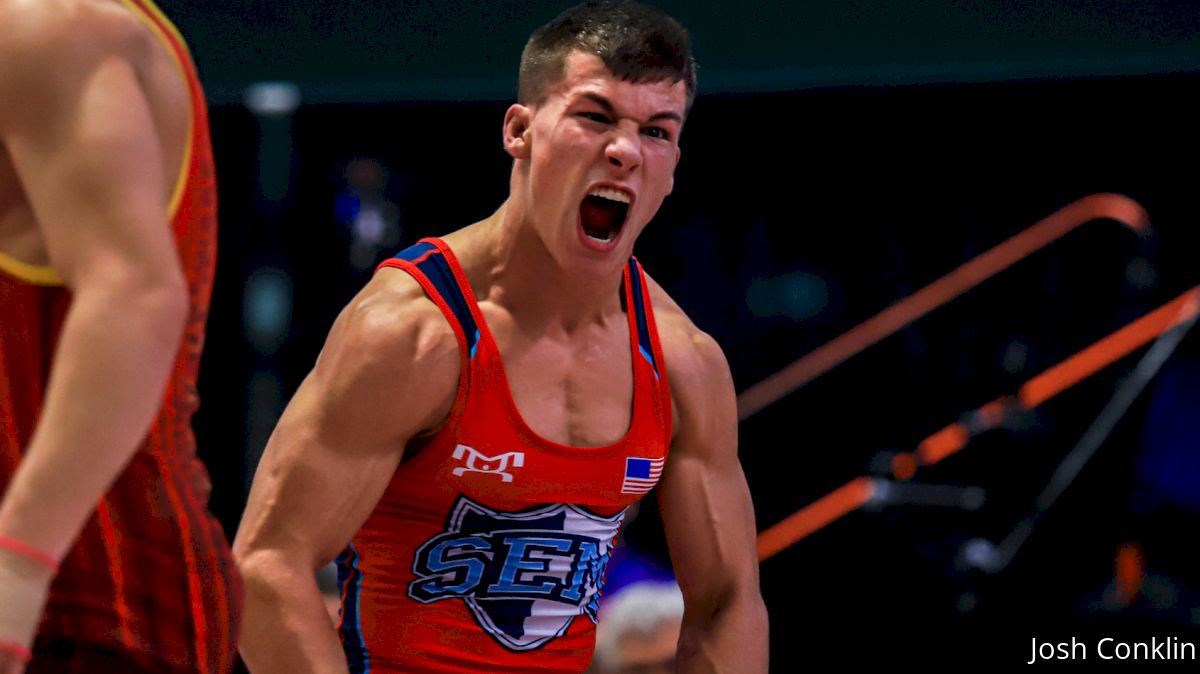 113 - #6 (106) Gylon Sims, IL vs #10 Caleb Thoennes, MN - winner gets #4 Braeden Davis, MI in the quarters
Sims is coming off an Illinois title at 106 lbs but has moved up for Fargo. He'll see Caleb Thoennes who just had an undefeated performance for Team Minnesota at Junior Duals.
113 - #11 Ben Aranda, IL vs #19 Kyison Garcia, UT
Aranda has been trending up the last several months with a Northern Plains title and a number of ranked wins. He's a good get for Cleveland State. He'll see Utah's Kyison Garcia in the round of 16, a guy who's been hot the last several months and had a victory over Kael Lauridsen at the Spartan Duals.
126 - #8 Nico Provo, CT vs #11 Vincent Robinson, IL
Cornell commit Nico Provo is coming off a National Prep title and an undefeated performance at Spartan Duals that included victories over Eligh Rivera and #10 Andre Gonzales. He'll have his work cut out for him with Vincent Robinson who just teched #2 Dean Peterson in the round of 64.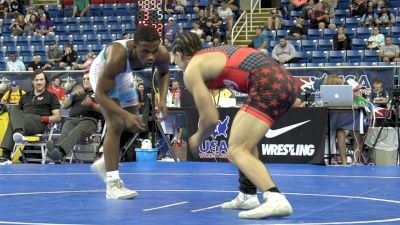 Unlock this video, live events, and more with a subscription!
Get Started
Already a subscriber? Log In
132 - #1 Nic Bouzakis, PA vs #16 Ryder Block, IA
Bouzakis is known to dismantle opponents, but Ryder Block is no slouch. Earlier this year he took out #1 Drake Ayala, and he's always up for a challenge. The winner of this bout gets rewarded with either #6 Hunter Mason or #13 Emilio Ysaguirre in an absolutely loaded quarter.
132 - #6 Hunter Mason, TN vs #13 Emilio Ysaguirre JR, AZ
Hunter Mason and Emilio Ysaguirre might not come from traditional wrestling states, but they're plenty well traveled. You won't want to miss this one. Winner gets either #1 Bouzakis or #16 Block.
132 - #17 Garrett Grice, NE vs Jake Niffeneger, OH
We'll see a pair of Regional champs tangle in the round of 16 in this one. Garrett Grice won the Southern Plains while Niffeneger won the Northern Plains.
138 - #12 (145) Ty Whalen, NJ vs #16 Brandan Chletsos, PA
New Jersey champ Ty Whalen will see PIAA finalist Brandan Chletsos in the round of 16. Chletsos has been solid today with a win over Arizona stud Ramon Ramos while Whalen has ended all four of his matches early to this point.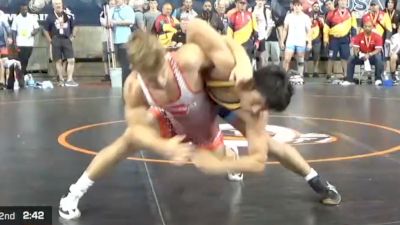 Unlock this video, live events, and more with a subscription!
Get Started
Already a subscriber? Log In
145 - #16 Henry Porter, CA vs #4 (at 138) Benji Alanis, CO
Indiana commit Henry Porter will square offf with Northern Colorado commit Benji Alanis. Porter recently won the makeshift California state tournament, and Alanis has been on a hot streak of his own, recently beating Penn State commit Shayne Van Ness at the Ultimate Club Duals. When these two met at the Spartan Duals in May it was a 12-6 win for Alanis.
152 - #4 Cael Swensen, MN vs #9 Mitchell Mesenbrink, WI
Swenson has yet to be scored on in four matches of his tournament but will be tested in the round of 16 by #9 Mitchell Mesenbrick. Mesenbrick started the tournament with two tech falls and won a high-scoring match in his last bought - 14-8.
152 - #8 Luka Wick, CA vs #16 Jonathan Ley, FL
Wick has 2 techs and a pin in his three matches of the tournament. He'll now face a challenge in Super 32 third place finisher, Jonathan Ley. With the draw, Ley faced a challenge in the first round but has been dominant since the opening bout. The winner of this match will be furthered challenged and will most likely face #3 Cael Henson in the Quarter-Finals.
182 - #9 TJ Stewart, MD vs #20 DeAnthony Parker, IL
Stewart vs Parker is the only ranked match-up in the round of 16 at 182. Both have been dominant up to this point and the winner of this match should be set up to nicely make the semi-finals.
195 - #9 Caden Rogers, PA vs Quayin Short, MN
#1 seed and Wyoming commit Quayin Short will have his hands full with Malvern Prep's future Mountain Hawk Caden Rogers.
220 - #4 (195) Martin Cosgrove, NJ vs #13 Kalob Runyon, IA
Northern Iowa commit Kalob Runyon will have his hands full with future Penn Quaker Martin Cosgrove who was third at Super 32. This will be a good one.
220 - #4 Noah Pettigrew, GA vs #6 Ben Vanadia, OH
Before Ben Vanadia moves on to Purdue, he has one last Fargo tournament, and it's no walk in the park. He'll see future UNC Tar Heel Noah Pettigrew in the round of 16 in one of the more exciting matches of the tournament to date.
285 - #3 (220) Harley Andrews, OK vs Keith Miley, MO
Top 5 ranked "Bart" Harley will have to contend with a UWW Junior WTT placer in his round of 16 bout, just to get to the #1 heavyweight in the nation Chase Horne in the quarters.