2021 World Team Trials
Complete And Final List Of 2021 World Team Trials Qualifiers
Complete And Final List Of 2021 World Team Trials Qualifiers
Take a look at what the field will look like at the 2021 World Team Trials.
Jul 17, 2021
by JD Rader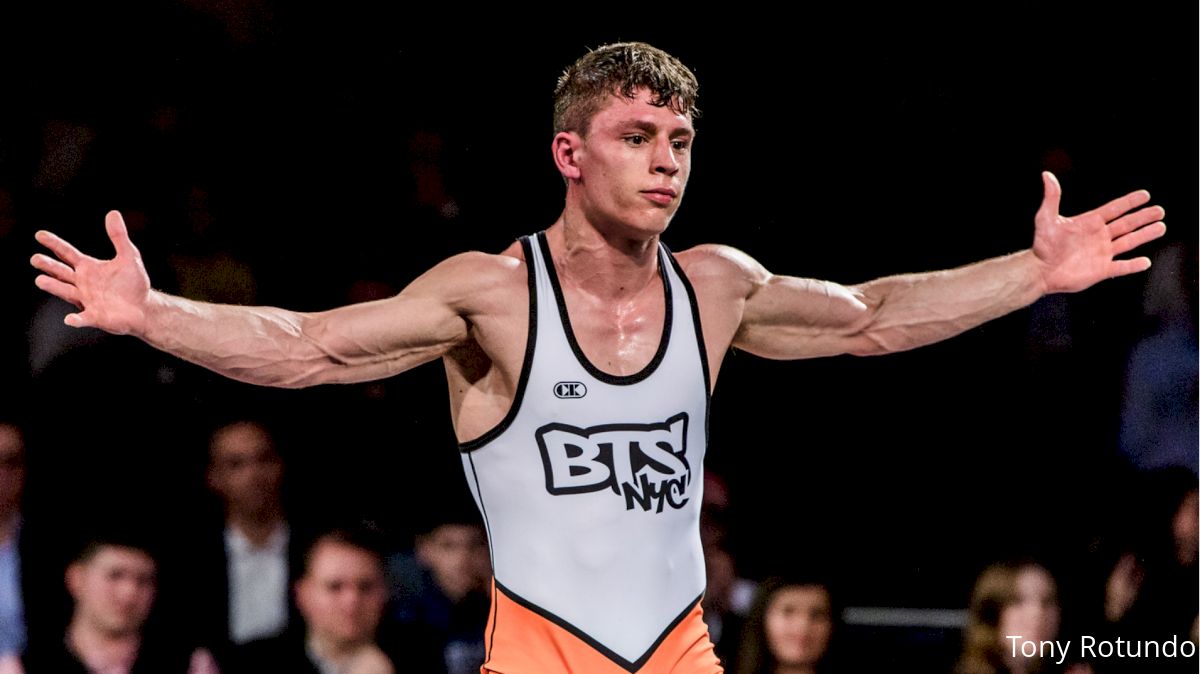 Unlock this article, live events, and more with a subscription!
Get Started
Already a subscriber? Log In
While we still don't know the date and location of the 2021 World Team Trials, we officially have a final list of qualifiers. After July 16th's Last Chance Qualifier, there are no more opportunities to qualify.
Watch the 2021 World Team Trials LIVE on FloWrestling!
Date TBD
It is also important to note that per USA Wrestling's procedures, "Any 2020 Tokyo Olympic Medalist, if competing at the same weight, will receive the automatic selection to the 2021 World Team at the same weight." The Olympic medalist must declare their intent by August 15. In all other cases, the World Team Trials will be held to determine the 2021 World Team member.
Men's freestyle
57 kg
2017 World Team member– Thomas Gilman (Titan Mercury WC/Hawkeye WC)
2019 World Team member – Daton Fix (Titan Mercury WC/Cowboy RTC)
2019 Bill Farrell International champion – Seth Gross (Sunkist Kids)
Dec. 2019 Senior Nationals champion – Spencer Lee (TMWC)
Dec. 2019 Senior Nationals runner-up – Nathan Tomasello (TMWC)
Dec. 2019 Senior Nationals third place – Vitali Arujau (Titan Mercury WC)
Dec. 2019 Senior Nationals fourth place – Nick Suriano (Titan Mercury WC/NYC RTC)
Dec. 2019 Senior Nationals fifth place - Zach Sanders (Gopher WC - RTC)
2021 Last Chance Olympic Trials Qualifier champion - Sean Russell (Gopher WC RTC)
2021 Last Chance Olympic Trials Qualifier True Second - Zane Richards (TMWC)
2020 U22 Nationals runner-up – Danny Vega (Jackrabbit WC)
2020 UWW Junior Nationals champion – Dylan Ragusin (Cliff Keen WC)
April 2021 Senior Nationals champion – Jakob Camacho (TMWC/Wolfpack WC)
April 2021 Senior Nationals runner-up – Ethan Rotondo (Wisconsin RTC)
April 2021 Senior Nationals third place – Brady Kyner (Burg Training Center)
April 2021 Senior Nationals fourth place – Austin Macias (Illinois)
April 2021 Senior Nationals fifth place – Dane Durlacher (Illinois RTC)
July 2021 Last Chance WTT Qualifier champion – Codi Russell (Blue Ridge RTC)
61 kg or college weight
2018 Final X champion – Nahshon Garrett (Titan Mercury WC)
2018 World Team member – Joe Colon (Titan Mercury WC/Valley RTC)
2019 World Team member – Tyler Graff (Titan Mercury WC/NJRTC)
2021 NCAA Div. I champion at 133 pounds – Roman Bravo-Young (Penn State)
2020 UWW Junior Nationals champion – Ridge Lovett (Nebraska WTC)
April 2021 Senior Nationals champion – Shelton Mack (TMWC/NYC RTC)
April 2021 Senior Nationals runner-up – Josh Kramer (Sunkist Kids)
April 2021 Senior Nationals third place – Daniel DeShazer (Gopher WC RTC)
April 2021 Senior Nationals fourth place – Ethan Lizak (New York AC)
April 2021 Senior Nationals fifth place – Sean Fausz (TMWC/SoCal RTC)
July 2021 Last Chance WTT Qualifier champion – Carter Young (Cowboy RTC)
65 kg
2019 World Team member – Zain Retherford (Nittany Lion WC)
Dec. 2019 Senior Nationals runner-up – Joey McKenna (TMWC)
Dec. 2019 Senior Nationals third place – Nick Lee (Nittany Lion WC)
Dec. 2019 Senior Nationals fourth place – Yianni Diakomihalis (Titan Mercury WC)
Dec. 2019 Senior Nationals fifth place - Frank Molinaro (Titan Mercury WC)
2021 Last Chance Olympic Trials Qualifier champion - Evan Henderson (TMWC)
2021 Last Chance Olympic Trials Qualifier True Second - Mitch McKee (Gopher WC RTC)
2020 U23 Nationals champion – Brock Mauller (Tiger Style WC)
2020 UWW Junior Nationals champion – Joshua Edmond (Tiger Style WC)
April 2021 Senior Nationals champion – Jaydin Eierman (TMWC/Hawkeye WC)
April 2021 Senior Nationals runner-up – Domonick Demas (Oklahoma RTC)
April 2021 Senior Nationals third place – Patricio Lugo (TMWC/Hawkeye WC)
April 2021 Senior Nationals fourth place – Luke Pletcher (TMWC/Pittsburgh WC)
April 2021 Senior Nationals fifth place – Henry Pohlmeyer (Wisconsin RTC)
July 2021 Last Chance WTT Qualifier champion – Dean Heil (Navy-Marine Corps WC)
70 kg or college weight
2019 World Team member – James Green (Titan Mercury WC/SERTC)
2019 Bill Farrell International champion – Jordan Oliver (Sunkist Kids WC)
2020 Pan American Championships champion – Anthony Ashnault (New York AC/NJRTC)
2021 NCAA Div. I champion at 149 lbs. – Austin O'Connor (North Carolina)
2020 U23 Nationals champion – Will Lewan (Cliff Keen WC)
2020 UWW Junior Nationals champion – Keegan O'Toole (Tiger Style WC)
April 2021 Senior Nationals runner-up – Alec Pantaleo (TMWC/Cliff Keen WC)
April 2021 Senior Nationals third place – Brayton Lee (Gopher WC RTC)
April 2021 Senior Nationals fourth place – Tyler Berger (Sunkist Kids)
April 2021 Senior Nationals fifth place – Elroy Perkin (Gopher WC RTC)
July 2021 Last Chance WTT Qualifier champion – Ryan Deakin (TMWC)
74 kg
2019 World bronze medalist – Jordan Burroughs, 2019 World bronze medalist (Sunkist Kids)
2019 Junior World champion – David Carr (Titan Mercury WC/Cyclone RTC)
2019 Bill Farrell International champion – Isaiah Martinez (Titan Mercury WC)
Dec. 2019 Senior Nationals champion – Logan Massa (NYAC)
Dec. 2019 Senior Nationals runner-up – Mekhi Lewis (TMWC)
Dec. 2019 Senior Nationals third place – Thomas Gantt (Titan Mercury WC)
Dec. 2019 Senior Nationals fourth place – Evan Wick (Titan Mercury WC)
Dec. 2019 Senior Nationals fifth place - Anthony Valencia (Sunkist Kids)
2021 Last Chance Olympic Trials Qualifier champion - Chance Marsteller (TMWC)
2021 Last Chance Olympic Trials Qualifier runner-up - Vincenzo Joseph (Nittany Lion WC)
2020 UWW Junior Nationals champion – Bernie Truax (Central Coast RTC)
April 2021 Senior Nationals champion – Hayden Hidlay (TMWC/Wolfpack WC)
April 2021 Senior Nationals runner-up – Joey Lavallee (TMWC/Lehigh Valley WC)
April 2021 Senior Nationals third place – Philip Conigliaro (New England RTC)
April 2021 Senior Nationals fourth place – Brandon Ashworth (Wyoming Wrestling RTC)
April 2021 Senior Nationals fifth place – Joshua Shields (Sunkist Kids)
July 2021 Last Chance WTT Qualifier champion – Jarrett Jacques (Tiger Style WC)
79 kg or college weight
2020 Pan American Championships champion – Jason Nolf (Nittany Lion WC)
2019 World Team member – Kyle Dake (Titan Mercury WC)
2021 NCAA Div. I champion at 165 pounds – Shane Griffith (Stanford)
2021 NCAA Div. I champion at 174 pounds – Carter Starocci (Penn State)
2020 U23 Nationals champion – David McFadden (Titan Mercury WC)
2020 UWW Junior Nationals champion – Michael O'Malley (Pennsylvania RTC)
April 2021 Senior Nationals third place – Devin Skatzka (Gopher WC RTC)
April 2021 Senior Nationals fifth place – Muhamed McBryde (New York AC)
July 2021 Last Chance WTT Qualifier champion – Jarrett Jacques (Tiger Style WC)
86 kg
2018 World Team member – David Taylor (Nittany Lion WC)
2019 World Team member – Pat Downey (Titan Mercury WC/NJRTC)
2019 Bill Farrell International champion – Alex Dieringer (Titan Mercury WC)
Dec. 2019 Senior Nationals champion – Zahid Valencia (Sunkist Kids)
Dec. 2019 Senior Nationals runner-up – Myles Martin (TMWC)
Dec. 2019 Senior Nationals fourth place – Brett Pfarr (Gopher WC - RTC)
Dec. 2019 Senior Nationals fifth place - Samuel Brooks (New York AC)
2021 Last Chance Olympic Trials Qualifier champion - Gabe Dean (TMWC)
2021 Last Chance Olympic Trials Qualifier True Second - Nathan Jackson (NYAC)
2020 U23 Nationals champion – Taylor Lujan (Panther WC RTC)
2020 UWW Junior Nationals champion – Joel Shapiro (Cyclone RTC)
April 2021 Senior Nationals champion – Mark Hall (TMWC/Pennsylvania RTC)
April 2021 Senior Nationals runner-up – Trent Hidlay (TMWC/Wolfpack WC)
April 2021 Senior Nationals third place – Drew Foster (Panther WC RTC)
April 2021 Senior Nationals fourth place – Michael Battista (Cavalier WC)
April 2021 Senior Nationals fifth place – Jack Jessen (Wildcat WC)
July 2021 Last Chance WTT Qualifier champion – Andrew Morgan (Wrestling Prep)
92 kg or college weight
2019 World Team member – J'den Cox (Titan Mercury WC/USOPTC)
2019 U23 World champion – Bo Nickal (Nittany Lion WC)
2021 NCAA Div. I champion at 184 pounds – Aaron Brooks (Penn State)
2021 NCAA Div. I champion at 197 – AJ Ferrari (Oklahoma State)
2020 U23 Nationals champion – Jakob Woodley (Oklahoma RTC)
April 2021 Senior Nationals third place – Timothy Dudley (Sunkist Kids)
April 2021 Senior Nationals fourth place – Scottie Boykin (TMWC/Spartan Combat RTC)
April 2021 Senior Nationals fifth place – Willie Miklus (Michigan WC)
July 2021 Last Chance WTT Qualifier champion – Miguel Baray (River Valley WC)
97 kg
2019 World bronze medalist – Kyle Snyder, 2019 World bronze medalist (Titan Mercury)
2019 Bill Farrell International silver medalist – Mike Macchiavello (Titan Mercury WC)
Dec. 2019 Senior Nationals champion – Hayden Zillmer (Gopher WC RTC)
Dec. 2019 Senior Nationals runner-up – Kollin Moore (Titan Mercury WC/Ohio RTC)
Dec. 2019 Senior Nationals third place – Ty Walz (Titan Mercury WC)
Dec. 2019 Senior Nationals fourth place – Kyven Gadson (Sunkist Kids WC)
Dec. 2019 Senior Nationals fifth place - Jacob Kasper (Titan Mercury WC)
2021 Last Chance Olympic Trials Qualifier champion - Ben Honis (TMWC)
2021 Last Chance Olympic Trials Qualifier True Second - Braxton Amos (Wisconsin RTC)
2020 U23 Nationals champion – Tanner Sloan (Jackrabbit WC)
2020 UWW Junior Nationals champion – Tyrell Gordon (Panther WC RTC)
April 2021 Senior Nationals champion – Austin Shaefer (New York AC)
April 2021 Senior Nationals runner-up – Nathan Rotert (Jackrabbit RTC)
April 2021 Senior Nationals third place – Christopher Smith (Southeast RTC)
April 2021 Senior Nationals fourth place – Jacob Boyd (Oklahoma RTC)
April 2021 Senior Nationals fifth place - Isaac Trumble (Wolfpack WC)
July 2021 Last Chance WTT Qualifier champion – Morgan Smith (Ohio RTC)
125 kg
2017 World Team member– Nick Gwiazdowski (Titan Mercury WC/Wolfpack WC)
2019 Junior World champion – Mason Parris (Cliff Keen WC)
2019 Bill Farrell International champion – Gable Steveson (Gopher WC)
Dec. 2019 Senior Nationals champion – Dom Bradley (Sunkist Kids)
Dec. 2019 Senior Nationals runner-up – Anthony Nelson (Gopher WC RTC)
Dec. 2019 Senior Nationals third place – Daniel Kerkvliet (Titan Mercury WC)
Dec. 2019 Senior Nationals fourth place – Nick Nevills (Nittany Lion WC)
Dec. 2019 Senior Nationals fifth place - Garrett Ryan (Sunkist Kids)
2021 Last Chance Olympic Trials Qualifier champion - Tanner Hall (Sunkist Kids)
2021 Last Chance Olympic Trials Qualifier runner-up - Jordan Wood (Lehigh Valley WC)
2020 U23 Nationals champion – Youssif Hemida (Cliff Keen WC)
2020 UWW Junior Nationals champion – Joshua Heindselman (Oklahoma RTC)
April 2021 Senior Nationals runner-up – Anthony Cassioppi (TMWC/Hawkeye WC)
April 2021 Senior Nationals fifth place – Christian Lance (Nebraska WTC)
July 2021 Last Chance WTT Qualifier champion – Demetrius Thomas (Pittsburgh WC)
---
Greco-Roman
55 kg
2019 World Team member – Max Nowry (U.S. Army WCAP)
2020 U23 Nationals champion – Mason Carzino-Harshorn (CYC-Concord Campus)
2020 UWW Junior Nationals champion – Conor Knopick (MWC Wrestling Academy)
April 2021 Senior Nationals runner-up – Brady Koontz (TMWC/Ohio RTC)
April 2021 Senior Nationals third place – Jacob Cochran (Florida)
April 2021 Senior Nationals fourth place – Dylan Duffield (Army WCAP)
April 2021 Senior Nationals fifth place – Gabriel Gray (Texas Panhandle WC)
July 2021 Last Chance WTT Qualifier champion – Billy Sullivan (Legends of Gold Las Vegas)
60 kg
2020 Pan American Olympic Qualifier runner-up– Ildar Hafizov (U.S. Army WCAP)
2018 World Team member – Dalton Roberts (New York AC)
2019 World Team member – Ryan Mango (U.S. Army WCAP)
2019 Bill Farrell International bronze medalist – Sam Jones (New York AC)
Dec. 2019 Senior Nationals champion – Leslie Fuenffinger (Army WCAP)
Dec. 2019 Senior Nationals third place – Taylor LaMont (Sunkist Kids)
Dec. 2019 Senior Nationals fourth place – Joseph Palmer (Cyclone Regional Training Center)
2020 Armed Forces runner-up- Colton Rasche (U.S. Marine Corps)
2021 Last Chance Olympic Trials Qualifier champion - Travis Rice (Illinois RTC)
2021 Last Chance Olympic Trials Qualifier True Second - Randon Miranda (NYAC)
2020 UWW Junior Nationals champion – Chayse LaJoie (Spartan Combat RTC
April 2021 Senior Nationals runner-up – Dylan Koontz (TMWC/Ohio RTC)
April 2021 Senior Nationals third place – Alex Thomsen (Nebraska WTC)
April 2021 Senior Nationals fourth place – King Sandoval (Bandits WC)
April 2021 Senior Nationals fifth place – Kevon Powell (Louisiana)
July 2021 Last Chance WTT Qualifier champion – Thomas Hicks
63 kg or college weight
2018 World Team member – Jesse Thielke (New York AC)
2019 Junior World bronze medalist – Alston Nutter (Sunkist Kids/NMU-OTS)
2021 NCAA Div. I champion at 133 pounds – Roman Bravo-Young (Penn State)
2020 U23 Nationals champion – Dylan Gregerson (Brunson UVRTC)
2020 UWW Junior Nationals champion – Payton Jacobson (Ringers WC)
April 2021 Senior Nationals runner-up – David Stepanian (New York AC)
April 2021 Senior Nationals third place – We Rachel (Illinois RTC)
April 2021 Senior Nationals fourth place – Corbin Nirschl (MWC Wrestling Academy)
April 2021 Senior Nationals fifth place – Mason Lewis (Pennsylvania)
July 2021 Last Chance WTT Qualifier champion – Aidan Nutter
67 kg
2020 Pan American Olympic Qualifier runner-up – Alejandro Sancho (U.S. Army WCAP)
2019 World Team member – Ellis Coleman (U.S. Army WCAP)
2019 Junior World bronze medalist – Peyton Omania (Michigan State/CYC)
Dec. 2019 Senior Nationals runner-up – Calvin Germinaro (Minnesota Storm)
Dec. 2019 Senior Nationals third place – Xavier Johnson (Marines)
Dec. 2019 Senior Nationals fourth place – Nolan Baker (New York AC)
Dec. 2019 Senior Nationals fifth place - Jamel Johnson (Marines)
2021 Last Chance Olympic Trials Qualifier champion - Lenny Merkin (NYAC)
2021 Last Chance Olympic Trials Qualifier runner-up - Benji Peak (Sunkist Kids)
2020 UWW Junior Nationals champion – Dayton Porsch (Beaver WC)
April 2021 Senior Nationals champion – Hayden Tuma (Suples WC)
April 2021 Senior Nationals fourth place – Jessy Williams (New York AC)
April 2021 Senior Nationals fifth place – Morgan Flaharty (New York AC)
July 2021 Last Chance WTT Qualifier champion – Robert Perez 111 (Sunkist Kids Wrestling Club)
72 kg or college weight
2018 World Team member – RaVaughn Perkins (New York AC)
2018 Final X champion – Jon Jay Chavez (Finger Lakes WC)
2019 World Team member – Raymond Bunker (U.S. Marines)
2020 Armed Forces runner-up - Michael Hooker (U.S. Army)
2021 NCAA Div. I champion at 149 lbs. – Austin O'Connor (North Carolina)
2020 U23 Nationals champion – Zachary Grimes (unattached-CO)
2020 UWW Junior Nationals champion – Weston Milnes (Greco-Roman Development AZ)
April 2021 Senior Nationals fourth place –Griffin Parriott (Minnesota)
April 2021 Senior Nationals fifth place – Justin Koethe (Ubasa Wrestling Academy)
July 2021 Last Chance WTT Qualifier champion – Justus Scott (Legends of Gold Las Vegas)
77 kg
2017 World Team member – Mason Manville (U.S. Army WCAP/Nittany Lion WC)
2018 World Team member – Kamal Bey (Sunkist Kids)
2019 World Team member – Pat Smith (Minnesota Storm)
2019 Bill Farrell International silver medalist – Spencer Woods (New York AC)
Dec. 2019 Senior Nationals runner-up – Jake Fisher (Curby 3 Style WC)
Dec. 2019 Senior Nationals fourth place – Peyton Walsh (Marines)
Dec. 2019 Senior Nationals fifth place - Corey Hope (New York AC)
2020 Armed Forces runner-up - Brandon Mueller (U.S. Air Force)
2021 Last Chance Olympic Trials Qualifier champion - Austin Morrow (NYAC)
2021 Last Chance Olympic Trials Qualifier True Second - Jesse Porter (NYAC)
2020 UWW Junior Nationals champion – Justin McCunn (Viking WC)
April 2021 Senior Nationals champion – Alec Ortiz (Minnesota Storm)
April 2021 Senior Nationals runner-up – Ryan Epps (Minnesota Storm)
April 2021 Senior Nationals third place – Chance Marsteller (Titan Mercury WC)
April 2021 Senior Nationals fourth place – Fritz Shierl (Titan Mercury WC)
April 2021 Senior Nationals fifth place – Britton Holmes (Colorado)
July 2021 Last Chance WTT Qualifier champion – Quentin Perez (Navy-Marine Corps Wrestling Club)
82 kg or college weight
2017 World Team member – Cheney Haight (New York AC)
2018 World Team member – Geordan Speiller (Florida Jets)
2019 World Team member – John Stefanowicz (U.S. Marines)
2020 Armed Forces runner-up - Dillon Cowan (U.S. Army)
2021 NCAA Div. I champion at 165 pounds – Shane Griffith (Stanford)
2021 NCAA Div. I champion at 174 pounds – Carter Starocci (Penn State)
2020 U23 Nationals champion – Tommy Brackett (unattached – TN)
2020 UWW Junior Nationals champion – Jake Hendricks (Pennsylvania RTC)
April 2021 Senior Nationals third place – George Sikes (New York AC)
April 2021 Senior Nationals fourth place – John Hagey (505 WC)
April 2021 Senior Nationals fifth place – Kyle Briggs (Iowa)
July 2021 Last Chance WTT Qualifier champion – Tyler Cunningham (MWC Wrestling Academy)
87 kg
2020 Pan American Olympic Qualifier champion – Joe Rau (Titan Mercury WC)
2017 World Team member – Ben Provisor (New York AC/Nittany Lion WC)
2018 World Team member – Pat Martinez (New York AC)
2019 Bill Farrell International bronze medalist – Chandler Rogers (Titan Mercury WC)
Dec. 2019 Senior Nationals champion – Jonathan Anderson (Army WCAP/West Point)
Dec. 2019 Senior Nationals third place – Carter Nielsen (Minnesota Storm)
Dec. 2019 Senior Nationals fourth place – Richard Carlson (Minnesota Storm)
Dec. 2019 Senior Nationals fifth place - Barrett Stanghill (Minnesota Storm)
2020 Armed Forces champion - Terrence Zaleski (U.S. Marine Corps)
2021 Last Chance Olympic Trials Qualifier champion - Alan Vera (NYAC)
2021 Last Chance Olympic Trials Qualifier runner-up - Christian DuLaney (Minnesota Storm)
2020 U23 Nationals champion – Cameron Caffey (Unattached – MI)
2020 UWW Junior Nationals champion – Jack Darrah (Xtreme Training)
April 2021 Senior Nationals fourth place – Joel Nivar (Marines)
April 2021 Senior Nationals fifth place – Dan Olsen (Combat School of Wrestling)
July 2021 Last Chance WTT Qualifier champion – Tyler Hannah (Combat WC School of Wrestling)
Qualified at college weight
2021 NCAA Div. I champion at 184 pounds – Aaron Brooks (Penn State)
2021 NCAA Div. I champion at 197 – AJ Ferrari (Oklahoma State)
97 kg
2020 Pan American Olympic Qualifier champion – G'Angelo Hancock (Sunkist Kids)
Dec. 2019 Senior Nationals champion – Daniel Miller (Marines)
Dec. 2019 Senior Nationals runner-up – Lucas Sheridan (Army WCAP)
Dec. 2019 Senior Nationals third place – Eric Twohey (Minnesota Storm)
Dec. 2019 Senior Nationals fourth place – Nicholas Boykin (Sunkist Kids WC)
Dec. 2019 Senior Nationals fifth place - Khymba Johnson (New York AC)
2020 Armed Forces runner-up - Diante Cooper (U.S. Air Force)
2021 Last Chance Olympic Trials Qualifier champion - Braxton Amos (Wisconsin RTC)
2021 Last Chance Olympic Trials Qualifier runner-up - Jake Clark (Minnesota Storm)
2020 U23 Nationals champion – George Hooker (unattached – TN)
2020 UWW Junior Nationals champion – Isaac Trumble (Wolfpack WC)
April 2021 Senior Nationals runner-up – James Souza (Army WCAP)
April 2021 Senior Nationals third place – Vaughn Monreal-Berner (Marines)
April 2021 Senior Nationals fourth place – Chad Porter (Sunkist Kids)
July 2021 Last Chance WTT Qualifier champion – MacAron Kukowski (Minnesota Storm)
130 kg
2017 World Team member – Robby Smith (New York AC)
2019 World Team member – Adam Coon (New York AC/Cliff Keen WC)
2019 Junior World silver medalist – Cohlton Schultz (Sunkist Kids)
2019 Bill Farrell International bronze medalist – Jacob Mitchell (U.S. Army WCAP)
Dec. 2019 Senior Nationals third place – Toby Erickson (Army WCAP)
Dec. 2019 Senior Nationals fourth place – West Cathcart (New York AC)
Dec. 2019 Senior Nationals fifth place - Donny Longendyke (Minnesota Storm)
2021 Last Chance Olympic Trials Qualifier champion - Tanner Farmer (NYAC)
2021 Last Chance Olympic Trials Qualifier True Second - Thomas Helton (Southern Illinois TC)
2020 U23 Nationals champion – Lee Herrington (Nebraska Golden Eagles WC)
2020 UWW Junior Nationals champion – Spencer Trenary (Jackrabbit WC)
April 2021 Senior Nationals champion – Malcolm Allen (South Dakota)
April 2021 Senior Nationals third place – Brandon Metz (Bison WC)
April 2021 Senior Nationals fifth place – Kaleb Reeves (Iowa)
July 2021 Last Chance WTT Qualifier champion – Keaton Fanning (NMU-National Training Center)
---
Women's freestyle
50 kg
2019 Pan American Olympic Qualifier runner-up – Sarah Hildebrandt (New York AC/USOPTC)
2017 World Team member – Victoria Anthony (Sunkist Kids)
2019 World Team member – Whitney Conder (U.S. Army WCAP)
2019 Bill Farrell International silver medalist – Erin Golston (New York AC/USOPTC)
Dec. 2019 Senior Nationals champion – Alyssa Lampe (Sunkist Kids)
Dec. 2019 Senior Nationals third place – Amy Fearnside (Titan Mercury WC)
Dec. 2019 Senior Nationals fourth place – Emily Shilson (Titan Mercury WC)
Dec. 2019 Senior Nationals fifth place - Alleida Martinez (Titan Mercury WC)
2021 Last Chance Olympic Trials Qualifier champion - Sage Mortimer (Utah)
2021 Last Chance Olympic Trials Qualifier True Second - Charlotte Fowler (River Valley WC)
April 2021 Senior Nationals runner-up –Natalie Reyna-Rodriguez (McKendree Bearcat WC)
April 2021 Senior Nationals third place –Chloe Krebsbach (Grand View WC)
April 2021 Senior Nationals fourth place –Hannah Michael (Twin Cities RTC)
Qualified at college weight
2020 WCWA champion at 101 lbs. – Esthela Trevino (Umpqua CC)
2021 NCWWC champion at 101 lbs.- Angelina Gomez (Emmanuel)
2021 NCWWC runner-up at 109 lbs.- Aleeah Gould (King)
2021 NAIA champion at 101 - Nina Pham (Wayland Baptist)
2021 NAIA champion at 109 - McKayla Campbell (Campbellsville)
53 kg
2019 Pan American Olympic Qualifier runner-up – Jacarra Winchester (Titan Mercury WC/USOPTC)
2019 Bill Farrell International bronze medalist – Areana Villaescusa (U.S. Army WCAP)
Dec. 2019 Senior Nationals champion – Dominique Parrish (Sunkist Kids)
Dec. 2019 Senior Nationals third place – Katherine Shai (Titan Mercury WC)
Dec. 2019 Senior Nationals fourth place – Alisha Howk (Sunkist Kids WC)
Dec. 2019 Senior Nationals fifth place - Ronna Heaton (Sunkist Kids WC)
2021 Last Chance Olympic Trials Qualifier champion - Melanie Mendoza (Team Tornado WC)
2021 Last Chance Olympic Trials Qualifier runner-up - Marissa Gallegos (Colorado Mesa WC)
2020 UWW Junior Nationals champion – Tiare Ikei (Titan Mercury WC)
April 2021 Senior Nationals third place – Vanessa Ramimez (Indiana)
April 2021 Senior Nationals fourth place – Arelys Valles (Grand View WC)
July 2021 Last Chance WTT Qualifier champion – Torieonna Buchanan (Team Green Wrestling Club)
55 kg or college weight
2020 WCWA champion at 116 lbs. – Jaslynn Gallegos (Presbyterian College)
2021 NCWWC champion at 116 lbs. - Felicity Taylor (McKendree)
2021 NAIA champion at 116 - Peyton Prussin (Life)
2020 U23 Nationals champion – Allison Petix (Team Tornado WC)
2020 UWW Junior Nationals champion – Nanea Estrella (American Falls WC)
April 2021 Senior Nationals fourth place – Samantha Klingel (Army WCAP)
April 2021 Senior Nationals fifth place – Ngoa Shoua Whitethorn (Victory School of Wrestling)
May 2021 UWW Junior World Team Trials champion – Payton Stroud (McKendree Bearcat WC)
July 2021 Last Chance WTT Qualifier champion – Sophia Mirabella (Team Tornado Wrestling Club)
57 kg
2019 Pan American Olympic Qualifier runner-up – Helen Maroulis (Sunkist Kids)
2019 World Team member – Jenna Burkert (U.S. Army WCAP)
Dec. 2019 Senior Nationals champion – Abigail Nette (Tiger WC)
Dec. 2019 Senior Nationals runner-up – Tiana Jackson (Menlo WC),
Dec. 2019 Senior Nationals third place – Cameron Guerin (Titan Mercury WC)
Dec. 2019 Senior Nationals fourth place – Shauna Kemp (Titan Mercury WC)
Dec. 2019 Senior Nationals fifth place - Alexandra Hedrick (Titan Mercury WC)
2021 Last Chance Olympic Trials Qualifier champion - Xochitl Mota-Pettis (Rise RTC)
2021 Last Chance Olympic Trials Qualifier True Second - Lauren Louive (NYAC)
April 2021 Senior Nationals champion – Vayle Baker (Twin Cities RTC)
April 2021 Senior Nationals runner-up – Lauren Mason (California)
April 2021 Senior Nationals third place – Sophia Smith (Wisconsin)
April 2021 Senior Nationals fourth place – Tateum Park (Twin Cities RTC)
April 2021 Senior Nationals fifth place – Estrella Dorado Marin (Army WCAP)
May 2021 UWW Junior World Team Trials champion – Claire DiCugno (Washington)
July 2021 Last Chance WTT Qualifier champion – Makayla Welch (Team Tornado Wrestling Club)
59 kg or college weight
2019 World Team member at 59 kg – Alli Ragan (Sunkist Kids/Hawkeye WC)
2020 WCWA champion at 123 lbs. – Julia Vidallon (Life University)
2021 NCWWC champion at 123 lbs.- Cheyenne Sisenstein (King)
2021 NAIA champion at 123 - Jasmine Hernandez (Lyon)
2020 UWW Junior Nationals champion – Gracie Figueroa (Titan Mercury WC)
April 2021 Senior Nationals fourth place – Megan Black (Army WCAP)
May 2021 UWW Junior World Team Trials champion – Mia Macaluso (NY - East Stroudsburg)
July 2021 Last Chance WTT Qualifier champion – Phoenix Dubose (Team Tornado Wrestling Club)
62 kg
2019 Pan American Olympic Qualifier runner-up – Kayla Miracle (Sunkist Kids/Hawkeye WC)
2018 World Team member – Mallory Velte (Titan Mercury WC)
Dec. 2019 Senior Nationals champion – Emma Bruntil (McKendree Bearcat WC)
Dec. 2019 Senior Nationals runner-up – Maya Nelson (Sunkist Kids)
Dec. 2019 Senior Nationals fourth place – Julia Salata (New York AC)
Dec. 2019 Senior Nationals fifth place – Jennifer Page (Titan Mercury WC)
2021 Last Chance Olympic Trials Qualifier champion - Michaela Beck (NYAC)
2021 Last Chance Olympic Trials Qualifier True Second - Ana Luciano (Team Tornado WC)
April 2021 Senior Nationals runner-up – Alexandria Liles (Army WCAP)
April 2021 Senior Nationals third place – Sierra Bron Ton (Twin Cities RTC)
April 2021 Senior Nationals fourth place –Briana Kellin (Life WC)
May 2021 UWW Junior World Team Trials champion – Korina Blades (Izzy Style)
July 2021 Last Chance WTT Qualifier champion – Esther Han (Utah)
65 kg or college weight
2019 World Team member – Forrest Molinari (Sunkist Kids)
2020 WCWA champion at 136 lbs. – Zoe Nowicki (Adrian College)
2021 NCWWC runner-up at 130 lbs. - Amanda Martinez (North Central)
2021 NCWWC champion at 136 lbs. - Brenda Reyna (McKendree)
2021 NAIA champion at 130 – Bridgette Duty (Cumberlands)
2021 NAIA champion at 136 – Desiree Zavala (Wayland Baptist)
2020 UWW Junior Nationals champion – Marisol Nugent (Lehigh Valley WC)
April 2021 Senior Nationals runner-up – Andrea Schlabach (Grand View WC)
April 2021 Senior Nationals third place – Zoe Wight (Life WC)
July 2021 Last Chance WTT Qualifier champion – Kendall Bostelman (Foxfire Wrestling Club)
68 kg
2019 World champion – Tamyra Mensah-Stock (Titan Mercury WC/USOPTC)
2019 Junior World silver medalist – Macey Kilty (Sunkist Kids/TarHeel WC)
2019 Bill Farrell International bronze medalist – Alexandria Glaude (Titan Mercury WC)
Dec. 2019 Senior Nationals third place – Ashlynn Ortega (New York AC)
Dec. 2019 Senior Nationals fifth place - Nahiela Magee (Army WCAP)
2021 Last Chance Olympic Trials Qualifier champion - Kennedy Blades (Sunkist Kids)
2021 Last Chance Olympic Trials Qualifier runner-up - Kylie Welker (Team Nazar TC)
2020 UWW Junior Nationals champion – Alexis Gomez (Grand View WC)
April 2021 Senior Nationals champion – Solin Piearcy (Menlo WC)
April 2021 Senior Nationals runner-up – Alyvia Fiske (Titan Mercury WC)
April 2021 Senior Nationals fourth place –Anna Naylor (Life WC)
May 2021 UWW Junior World Team Trials champion – Amit Elor (California)
72 kg or college weight
2020 WCWA champion at 143 lbs. – Morgan Norris (Presbyterian College)
2020 WCWA champion at 155 lbs. – Rachel Watters (Oklahoma City)
2021 NCWWC third place at 143 lbs. - Felicity Bryant (Emmanuel)
2021 NCWWC champion at 155 lbs. - Alara Boyd (McKendree)
2021 NAIA champion at 143 - Waipuilani Estrella-Beauchamp (Midland)
2021 NAIA champion at 155 - Sienna Ramirez (Southern Oregon)
2020 U23 Nationals champion – Kayla Marano (Lion WC)
April 2021 Senior Nationals runner-up – Skylar Grote (New York AC)
July 2021 Last Chance WTT Qualifier champion – Lilliann Marie Restrepo (Umpqua Wrestling Club)
76 kg
2019 World champion – Adeline Gray (New York AC)
2017 World Team member – Victoria Francis (Titan Mercury WC)
Dec. 2019 Senior Nationals champion – Precious Bell (Titan Mercury WC)
Dec. 2019 Senior Nationals runner-up – Dymond Guilford (Titan Mercury WC)
Dec. 2019 Senior Nationals third place – Randi Beltz (Army WCAP)
Dec. 2019 Senior Nationals fourth place – Jessika Rottier (Rabid Dawg WC)
Dec. 2019 Senior Nationals fifth place - Yelena Makoyed (Cardinal WC)
2021 Last Chance Olympic Trials Qualifier champion - Jackie Cataline (TMWC)
2021 Last Chance Olympic Trials Qualifier runner-up - Marlynne Deede (Twin Cities RTC)
2020 UWW Junior Nationals champion – Tristan Kelly (Colorado Mesa WC)
April 2021 Senior Nationals third place – Emily Cue (Colorado)
April 2021 Senior Nationals fifth place - Ashley Lekas (Texas Pride WC)
July 2021 Last Chance WTT Qualifier champion – Hunter Robinson (Grandview Wrestling Club)
Qualified at college weight
2020 WCWA champion at 170 lbs. – Mariah Harris (Campbellsville)
2020 WCWA champion at 191 lbs, – Alexandra Castillo (Campbellsville)
2021 NCWWC runner-up at 170 lbs. - Joye Levendusky (McKendree)
2021 NCWWC champion at 191 lbs.- Sydnee Kimber (McKendree)
2021 NAIA champion at 170 - Jordan Nelson (Life)
2021 NAIA champion at 191 - Nkechinyere Nwankwo (Oklahoma City)