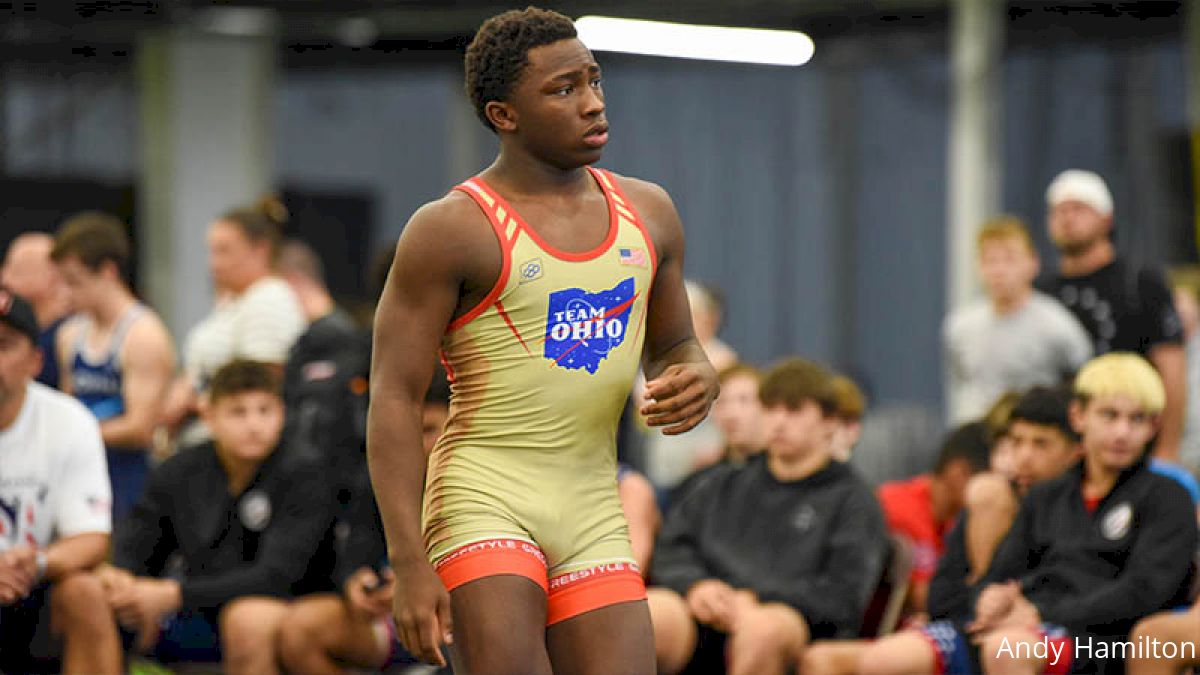 The Fargodome is a trajectory-changing arena. It's where wrestling stocks surge and sink, where prospects capture the attention of college coaches and become household names.
Here's a look at 16 wrestlers who aren't in the Flowrestling rankings at the moment, but they're on our radar and could be primed for big performances in the 16U Division in Fargo:
Joel Adams (Nebraska) — 138 — Showed off his dynamic skills in both styles with a barrage of five-point throws at the 16U National Duals, where he went 15-0 with 11 techs, two pins (one in 13 seconds), a disqualification victory and a forfeit.
Dru Ayala (Iowa) — 100 — A rangy and relentless freshman who pushes the pace like his older brother, Drake, a two-time Fargo champ. Dru placed fifth this year at the Iowa state tournament at 106, dropped down this spring to 100 and went 7-0 with five techs for Iowa's Junior Duals championship squad.
Sawyer Bartelt (Florida) — 195 — A physical freshman who's already a three-time Florida state champ (fifth as a seventh-grader, second as an eighth-grader, first as a freshman). Posted a combined 17-0 record at 16U Duals and scored freestyle wins against Iowa state champ McCrae Hagerty (12-5) and Wisconsin champ Connor Mirasola (6-4).
Christopher Coates (Missouri) — 132 — Followed up a state championship season as a freshman with a spree of wins over fellow state champs at the Cadet World Team Trials, where he reached the semis.
Wynton Denkins (Ohio) — 152 — One of the most captivating performers at the 16U Duals. Put on a show with an electric performance filled with persistent offense and explosive leg attacks that led to a 7-0 record and five techs.
Nathan Desmond (Pennsylvania) — 106 — One of the top hammers in the 2025 class. Reached the finals of the Cadet World Team Trials, where he dropped a pair of three-point decisions to Luke Lilledahl in the best-of-three series.
Clayton Giddens (Oklahoma) — 126 — Coming off a 29-0 freshman season that included an Oklahoma Class 6A title at 113 pounds. Has since moved up to 126, where he went 7-0 in freestyle and outscored his opponents by a combined 64-3 count at the 16U Duals.
Sam Herring (Pennsylvania) — 106 — The official middle school wrestler of FRL turned award-winning podcast host is building his resume on the mat. Turned in an exceptional performance at the 16U Duals, where he went 7-0 in freestyle with six techs and a pin.
Koy Hopke (Wisconsin) — 220 — A fast-rising freshman who followed up an undefeated high school season by winning Folkstyle Nationals, a third-place finish at the Cadet World Team Trials (he led eventual champion Jim Mullen with less than 20 seconds remaining) and an undefeated performance at 16U Duals, where he notched five shutout techs and two sub-minute falls in freestyle.
Anthony Knox (New Jersey) — 106 — Knox placed fourth last fall in the high school division at the Super 32, where his losses came at the hands of then-#1 Vinny Kilkeary and current-#1 Nate Jesurogra. The eighth-grader went 8-0 at the 16U Duals, where he posted wins against Brock Mantanona, Jaxon Joy and Logan Swensen.
Ladarion Lockett (Oklahoma) — 132 — One of the stars of this spring's U15 Nationals. Swept titles in both styles and outscored his opponents 51-8 in Wisconsin Dells. Showed the ability to score with a variety of attacks and can rack up points on top.
Max McEnelly (Minnesota) — 195 — McEnelly is the latest to come off Minnesota's assembly line of high-level big guys. Compiled a 91-1 record the past two seasons and won state titles at 170 and 182.
Seth Mendoza (Illinois) — 100 — Blitzed through his Super 32 middle school bracket last fall with three pins and a major before a 5-0 win in the finals and ran through a deep Northern Plains Regional bracket without allowing a point.
Noah Nininger (Virginia) — 106 — The Super 32 middle school division champ is coming off a dominant showing at the 16U National Duals, where he teched all eight of his opponents and outscored them by a combined 86-5 count.
Dalton Perry (Pennsylvania) — 120 — Ripped through the Super 32 middle school bracket last fall with four techs and a pin in his five matches and has showed well against older competition as well. Placed fourth at the Cadet World Team Trials, where his only losses were competitive bouts against 2019 Cadet World champ Marc-Anthony McGowan and Cadet World Team member Nate Jesuroga.
Landon Robideau (Minnesota) — 126 — A two-time Minnesota state finalist who's entering his freshman year. Robideau dropped close state title bouts to Wyoming recruit Jore Volk each of the past two seasons as a seventh- and eighth-grader. Robideau is coming off a combined 16-0 showing at the 16U Duals.