2021 US Marine Corps Junior and 16U National Championships
Fargo 16U and Junior Girls Preview
Fargo 16U and Junior Girls Preview
Derek Levendusky takes a dive into the deepest weights, wrestlers to watch and dark horse candidates in Fargo in the 16U and Junior girls divisions.
Jul 15, 2021
by Derek Levendusky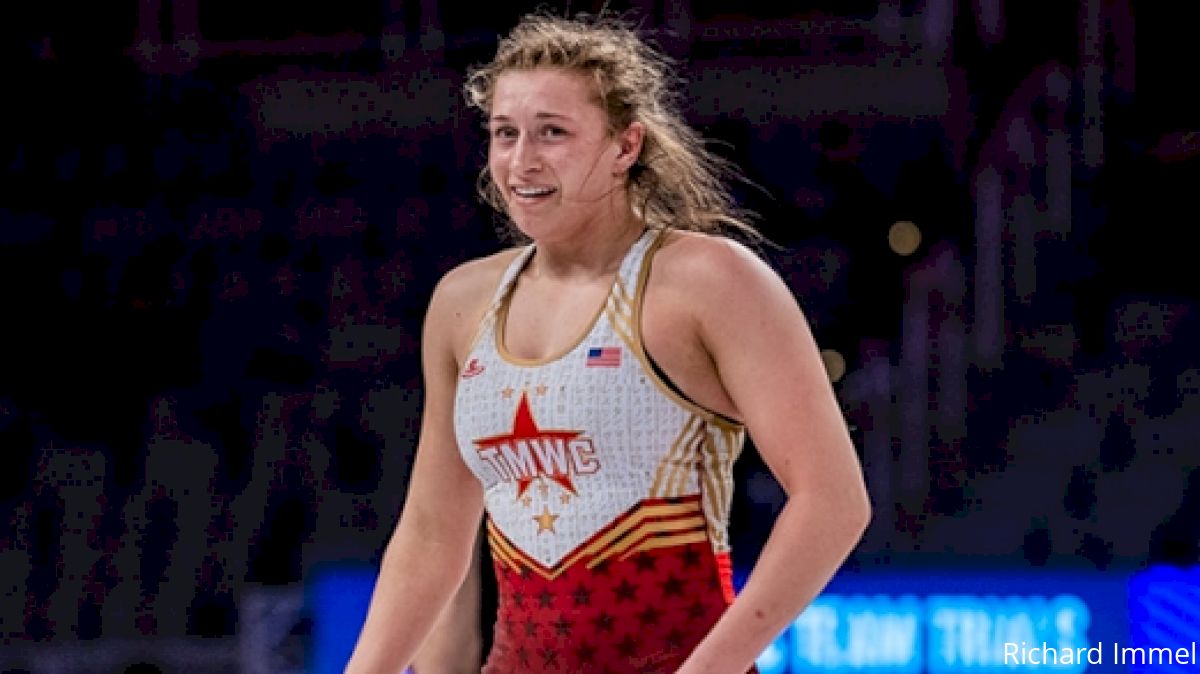 The long wait is over! It's been two years since the best female high school wrestlers in the country took the mats in Fargo, North Dakota, winning national titles and makings podiums at the most beloved high school event of the season. Top-ranked women in every weight class will hear the whistle in the Fargodome again starting this Saturday with the 16U division.

Fargo is a place where high school wrestlers make their mark, raise their stock, and let the wrestling community know who they are. Remember Sage Mortimer making the podium with the boys in the Greco division in 2018? Or the breakout performances Alexys Zepeda and Mia Palumbo had the same year? Who is it this year? Because of skipping the 2020 event, there's some mystery surrounding this year, as we don't know who would have been in the spotlight last year. That being said, Women's Nationals in May gave us a look at some new faces and showed us how some leveled up.

Here's a look at each division and some names and weights to pay attention to:


16U Division
Wrestlers to watch
Wyoming Seminary's second-ranked 106-pounder Rianne Murphy comes into Fargo on a roll, recently posting an 8-1 record at Junior National Duals and taking second in the UWW Cadet division at Women's Nationals, a day that included wins over 2019 Cadet World teamer Alex Szkotnicki and then-#1 Brianna Gonzalez of California. Meanwhile, #4 Paige Morales of California, the 2019 U15 world silver medalist, put together a third-place finish in UWW Cadet Nationals and looks to challenge Murphy for the national title in Fargo.

At 112, keep an eye on soon-to-be-sophomore Zao Estrada, ranked #2 nationally. Estrada put on an impressive performance at Junior National Duals, going 8-0 at the event at 117. The South Carolina state champ also won the USAW National Showcase in March, getting wins over three top 25 opponents. Estrada is also ranked #25 in the collaborative Top 25 pound-for-pound (P4P) rankings FloWrestling puts out with USA Wrestling and the National Wrestling Hall of Fame.

Washington state champ Shelby Moore, a 122-pounder ranked #2 in the country, took third at the UWW Cadet Women's Nationals in May. She also won the USAW National Showcase in March, a performance she followed up with national folkstyle titles in both the Cadet and Junior divisions. She's the clear favorite at 122. Moore is ranked #21 pound-for-pound.

At 132, Wisconsin's #3 Hanna Errthum took fourth at UWW Cadets and fifth at the USAW National Showcase. She's the favorite at that weight. Meanwhile, Faith Bartoszek at 144 is ranked #6 in the country. She's another Wyoming Seminary wrestler with lots of accolades. She boasts wins over top-ranked Kubicki, Makem, Whitacre, Turner, Larramendy, and McBryde. She knows how to win big matches and expect more of that in Fargo. At 164, #3 Sabrina Nauss of Michigan is coming off a stellar season that includes wins over current #4 Ella Pagel, #6 Ella Nichols, and #7 Latifah McBryde.

Weights to watch

106 is loaded with ranked wrestlers and the quarters should provide plenty of interesting matches, a weight that includes #2 Rianne Murphy of Indiana, #4 Paige Morales of California, #8 Chloe Dearwester of Ohio, #11 Kiely Tabaldo of California, #18 Persaeus Gomez of Colorado, #22 Karlee Brooks of Arizona, and #24 Zoey Salmons of West Virginia.

144 will also be a solid Cadet weight, with #4 Faith Bartoszek of Wisconsin, #4 (at 152) Maggie Graham of Tennessee, #16 Kaylie Petersen of Indiana, and #18 Lizzie Shunn of Utah. Graham took second at UWW Cadet Nationals, her only loss to phenom Amit Elor.

Dark horses

At 106, #18 Persaeus Gomez was the USAW Preseason Nationals Champ last fall and is capable of putting together a big tournament. She also took second at the NHSCA Nationals in April, her only loss to #2 Faith Cole. At 112, Illinois state champ Cadence Diduch had a big win over Mia Palumbo earlier this year and took fourth at the USAW National Showcase. Also, don't sleep on 122-pound Haylie Jaffe of Pennsylvania, ranked #9 in the country after becoming the Team USA rep when she won the UWW U15 Team Trials at Women's Nationals in May.


Junior Division
Wrestlers to watch

At 100, watch California hammer Brianna Gonzalez, #3 in national rankings. She recently took third at UWW Cadet Women's Nationals, scoring a big win over then-#2 Alex Szkotnicki.

106 features several elite wrestlers. When you're ranked #2, you're a threat in both divisions. Look for Rianne Murphy to challenge for the Junior national title as well as the Cadet title. The Indiana native will have another #2 at her weight, Missouri's Faith Cole, who recently took second at UWW Cadets. Murphy is ranked #2 at 100 pounds. Cole also won the NHSCA national title in April and won USAW Preseason Nationals last fall.

At 112, Utah star Sage Mortimer, a graduated senior heading to King University this fall, is the clear favorite. Top-ranked Mortimer became Fargo famous in 2018 when she made the podium in Greco in the boys division. She doubled up at Fargo in 2019, winning both the 16U and Junior divisions. There's no reason to think she won't earn another stop sign this year.

At 117, Texas star Samara Chavez, also set to compete for powerhouse program King University this fall, looks like the favorite at this weight. She's maintained a high performance over the last year at every level, including solid performances at Senior-level events. She's currently ranked #10 in Senior freestyle rankings. Chavez took second at UWW Juniors in May, falling to Emily Shilson in the finals.

At 122, keep an eye on Georgia rising star Amani Jones, ranked #1 and coming off a finals appearance at UWW Juniors only a few months ago. This division also includes #1 London Houston at 132, #1 Katerina Lange of Minnesota at 144, #1 Kylie Welker of Wisconsin at 164, #1 Jaycee Foeller of Missouri at 180, and #1 Eliana Bommarito of Michigan at 225. Houston and Lange are both coming off gold medal performances in Mexico at the Junior Pan Am Championships. Houston is ranked #6 P4P in high school rankings, and Lange is #10 on that list.

Kylie Welker has become a familiar name among women's wrestling fans, making the finals at Olympic Team Trials in April before falling to five-time World champion Adeline Gray in the finals. She is currently the #2 P4P high school wrestler, behind Kennedy Blades. Foeller, heading to McKendree this fall, made a statement recently at Junior National Duals, going undefeated at the event including a win over then #1 Corbishley.

Third-ranked Alexis Janiak of Illinois, #4 Sarah Savidge of Colorado, #4 (at 122) Alyssa Randles of Idaho, and #4 (at 132) Janida Garcia of California are all contenders at 127. And don't sleep on #6 Sofia Macaluso of New York at 127 who won the Fargo Cadet title in 2019 and has three national titles under her belt. 152-pound Rose Cassioppi of Illinois, ranked #5, is coming off a gold medal performance at the Junior Pan Am Championships and will be seeking her first Fargo title.

Weights to watch

Like its 16U counterpart, 106 is loaded in the Junior division as well, as already noted with the potential matchup between #2 (at 100) Rianne Murphy and #2 Faith Cole. The weight also includes #4 Paige Morales of California, #11 Chloe Ayres of New Jersey, #17 Alexis Miller of Oklahoma, and #22 Karlee Brooks of Arizona. 112-122 are all stacked, with 112 boasting nine ranked women including seven in the top 10, 117 fielding eight ranked women with seven in the top 10, and 122 hosting 11 ranked women with seven in the top 10. Besides #1 Sage Mortimer, 112 features #2 Zao Estrada of South Carolina, #3 Kendra Ryan of Michigan, #4 Hannah Hall of Florida, and #5 Ava Bayless of Pennsylvania. Hall is heading to national champion program McKendree this fall.

Along with #1 Samara Chavez, 117 includes #3 Jaclyn Dehney of Massachusetts, #4 Salyna Shotwell of Washington, #5 Taylin Long of Illinois, and #5 (at 122) Ngao Shoua Whitethorn of Minnesota. And at 122, adding to the list that includes #1 Amani Jones is #2 Shelby Moore of Washington, #3 Ally Fitzgerald of New York, #5 Jennifer Soto of California, and #8 Montana Delawder of Pennsylvania, who won the event in 2019. So yes, 122 is nuts.

144 also looks deep at the top, with #1 Katerina Lange followed by #3 Destiny Rodriguez of Oregon, #4 Faith Bartoszek of Wisconsin, #5 Maddie Kubicki of Missouri and #5 (at 138) Kendall Bostelman of Wyoming Seminary. 180 also has four of the top five, with #1 Jaycee Foeller, #2 Brittyn Corbishley of Texas, #3 Sabrina Nauss of Michigan, and #5 Alivia White of Washington.
Dark horses

Pennsylvania's Ava Bayless, ranked #5 at 112, is a serious threat and has upset power over anyone in this group. Meanwhile, Hannah Hall's trajectory has been high, cracking the top 5 only recently. Perhaps she's not done climbing? #7 Nyla Valencia of California is also intriguing. If she's wrestling her best, the state champ can challenge for the title. At 117, Salyna Shotwell has done big things before, including making the finals of Junior Nationals in 2020, pulling upsets over Samara Chavez and Ava Bayless before falling to next level star Emily Shilson, giving her a good match before it was over. You can also look for California's Carissa Qureshi at 117, always in the mix and someone who might be able to get the big win.

At 122, Montana Delawder is mentioned here only because she's ranked #8. She's won this before and though the weight is deep, we know what she's capable of. #14 Kailey Rees of Florida can also win matches and could sneak on the podium at that weight. At 127, McKendree-bound Esther Levendusky was a 2019 New York state champ and was nationally ranked in the top 25 to start the season last fall. If she's back to her 2019 form after the pandemic pause in New York, she has upset potential and is a threat to make a deep run.

At 144, #7 Reese Larramendy is a dark horse to make the finals depending on her draw. #23 Schyler Caringi of New York might be due for a podium run at this weight. At 152, #11 Damiana Racciatti has an exciting attack style and can definitely grab a podium spot. #10 ranked Dasia Yearby of South Carolina is interesting at 180. Her only loss at Junior National Duals was to #1 Jaycee Foeller.

All eyes on Fargo! It's time.

Women's action starts with the Cadet division on Saturday and will be streamed live on FloWrestling. Junior division begins competition Monday.