Olympic Games Watch Party
125kg U - Team USA's Best Heavies By College
125kg U - Team USA's Best Heavies By College
An outline of the colleges that have produced the best 125kg wrestlers for Team USA since 1990.
Jul 18, 2021
by Jon Kozak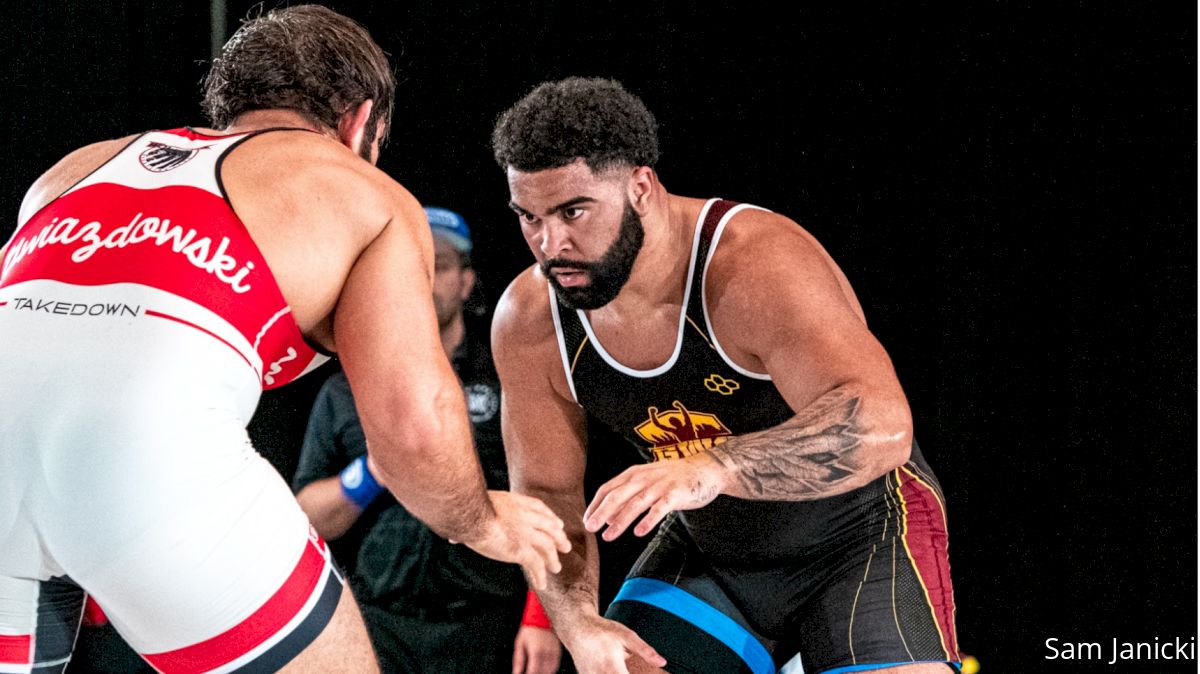 Unlock this article, live events, and more with a subscription!
Get Started
Already a subscriber? Log In
Gable Steveson will represent the United States at the Olympics at the 125kg weight class this August in Tokyo. Leading up to the Olympic Games, we'll be exploring what colleges contribute the most World/Olympic team members and medals by weight class. In this article, we'll analyze the last 30 years of results at 125kg from worlds and Olympics to see what college produces the best 125kg wrestlers.
Two Heavyweight Legends - Bruce And Tervel
In the other Olympic weight classes, established division 1 programs such as Iowa, Iowa State, Nebraska, and Ohio State claimed the title for best college at the Olympic weight. However the story is different at heavyweight due to the performances of Bruce Baumgartner and Tervel Dlagnev. Baumgartner, far and away the best American heavyweight of all time, went to Indiana State University (who now does not have a wrestling program). Meanwhile, Dlagnev found success at division 2 powerhouse Nebraska Kearney. Because of Baumgartner and Dlagnev's dominance in the US at heavyweight, Indiana State and Nebraska Kearney come in 1st and 2nd respectively. Penn State ties for second place with Kearney during this time period based on the performance of Kerry McCoy and the 6 teams he made from 1998-2004. Take a look at all the other colleges who had reps at heavyweight during this time period: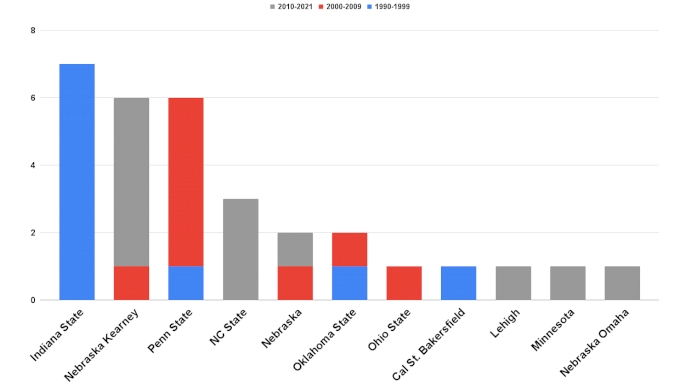 During this time frame, some legendary NCAA heavyweights have made only 1 world/Olympic team. Most notably, NCAA Champions Tommy Rowlands and Steve Mocco made their teams in 2007 and 2008 before division II wrestlers Dlagnev and Les Sigman took over the world team slot. Take a look at all the heavyweight world/Olympic representatives for Team USA during this time period:
All Heavyweight Reps for Team USA from 1990-Present
Bruce Baumgartner (Indiana St.) - 1990-1996
Tom Erickson (Oklahoma St.) - 1997
Kerry McCoy (Penn State) - 1998, 2000-2004
Stephen Neal (Cal St. Bakersfield) - 1999
Tolly Thompson (Nebraska) - 2005-2006
Tommy Rowlands (Ohio State - 2007
Steve Mocco (Oklahoma State) - 2008
Tervel Dlagnev (Nebraska Kearney) - 2009, 2011-14, 2016
Les Sigman (Nebraska Omaha) - 2010
Zach Rey (Lehigh) - 2015
Nick Gwiazdowksi (NC State) - 2017-2019
Gable Steveson (Minnesota) - 2021
Medals at 125kg
Bruce Baumgartner has the most world/Olympic medals of any American wrestler of all time with 13 total (5 golds, 4 silvers, 4 bronze). However, this analysis is only looking at performance at heavyweight since 1990. Even after eliminating 8 years of Baumgartner's historic career, his performance from 1990-1996 still puts Indiana State at the top of the pack for medals. Baumgartner's six medals in that 7 year period is only 2 less than all the other heavyweights combined over the last 23 years!
Dlagnev's 3 bronze medals and Gwiazdowski's 2 puts Nebraska Kearney and NC State at second and third respectively behind Indiana State. After the top 3, no school/individual won multiple medals at heavyweight. Take a look how the medals shape-up at 125kg since 1990: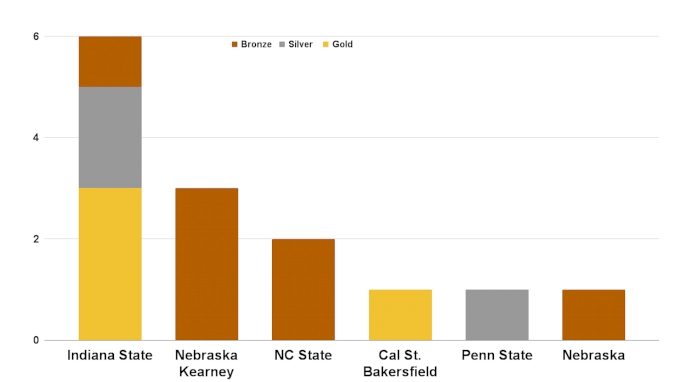 The other unique factor in heavyweight over the last 30 years is no college had more than 1 medalist. Therefore, the above and below charts depicting medals at the weight are identical.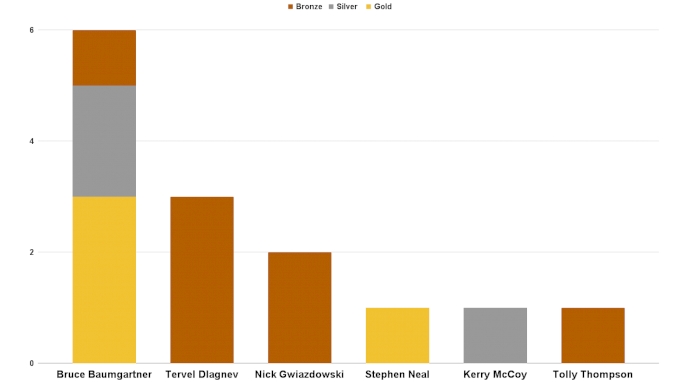 Medalists at 125kg since 1990:
Bruce Baumgartner (Indiana State) - 3 Golds, 2 silver, 1 Bronze
Tervel Dlagnev (Nebraska Kearney) - 3 Bronze
Nick Gwiazdowski (NC State) - 2 Bronze
Stephen Neal (Cal St. Bakersfield) - 1 Gold
Kerry McCoy (Penn State) - 1 Silver
Tolly Thomposon (Nebraska) - 1 Bronze
Gable In Tokyo
Gable Steveson is Minnesota's only representative at heavyweight during this time period. He's also the first world/Olympic team rep at any weight for the Gophers since current assistant coach, Dustin Schlatter competed at worlds at 74kg in 2009. On top of that, Steveson is looking to be the first American heavyweight to win gold (in men's freestyle) since Stephen Neal in 1999! At 21 years old, Steveson would make further history by becoming the youngest American heavyweight gold medalist of all time!
Check out a full preview of the this year's 125kg Olympic field
See where Steveson stacks up in our Olympian Rankings here