2021 Cadet World Championships
Kentucky Native's Unusual Path Led Him To A Cadet World Team
Kentucky Native's Unusual Path Led Him To A Cadet World Team
Kentucky isn't known for freestyle wrestling. That's why Spencer Moore's rise to a Cadet World team is kind of a head-scratcher.
Jul 10, 2021
by Kyle Klingman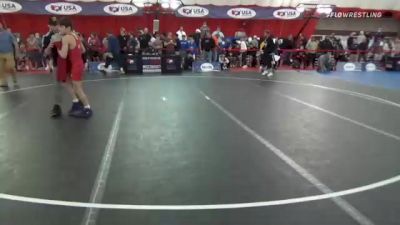 Unlock this video, live events, and more with a subscription!
Get Started
Already a subscriber? Log In
When Spencer Moore flies to Budapest for the Cadet World Championships he will be the veteran on the team. Not from an experience point of view, necessarily. He has competed in single digit freestyle tournaments in his life. There's a high probability that Moore will be the least experienced freestyle wrestler at the tournament.
When Moore returns from his first trip overseas he will attend the University of North Carolina as a freshman. The 17-year-old finished high school in three years and is ready for what's next. While some extend high school as long as possible, Moore is moving quickly into another life phase.
"I was joking with a few people on the team that by the time they get to college I'll be almost done," Moore said.
He's not exaggerating, either. Teammate Bo Bassett isn't even in high school while others are still underclassmen. Moore might be working on his master's degree by the time Bassett enters college.
Moore's story gets even stranger when you consider he is from Kentucky — a place that is far from a wrestling hotbed. Consider that only eight Kentuckians have placed in the Junior men's freestyle division at Fargo — and zero have won.
Sean Fausz is believed to be the only other wrestler from Kentucky besides Moore to make a World team. He made the 2013 Cadet team and won a silver medal at the 2018 U23 Worlds.
All of this makes Moore's run through the Cadet World Team Trials even more impressive. The Walton-Verona High School product won his first three matches by technical superiority followed by a 7-6 win over Cael Hughes — ranked #6 at 120 pounds — in the semis.
The finals featured Moore against national #12 (at 113 pounds) Kael Lauridsen of Bennington, Nebraska. Lauridsen won the first match, 5-3, before Moore came storming back to win 11-4 and 2-1 to make the team.
Spencer's father, Jason, could be seen pumping his fist in the corner after he won.
"We don't get a lot of freestyle and Greco excitement down here," Jason said. "Some random guy said to me as I walked off the mat that he didn't realize that we wrestled freestyle in Kentucky. I said, 'We don't very much.'
"I went into it hopeful that he could do well but knowing that lack of experience would be tough to completely win it. It was exciting to be able to see him do that. There aren't a lot of places to go within a reasonable distance so between my son and some of the guys around here we tried to learn as much as we can and to be prepared for something like that. For it to pay off is pretty exciting."
Still, how is a freestyle neophyte from Kentucky on this year's Cadet World team at 55 kilograms? Sure, Moore went undefeated and didn't surrender an offensive point over the past two years during the high school season, but world-level competition is a different animal.
Maybe Moore was born with it. Spencer is the younger of two brothers so his dad would drag Spencer to practices at the age of three. Then he started going to national tournaments in fifth grade.
"He has a level of focus and motivation that I've never seen," Jason said. "By the time he could walk he just followed those guys around and did everything they did. My first coaching job I was an assistant at a really good school and Spencer was two years old. He would go to practice with me and sit in the corner and watch.
"The coaches thought there was something wrong with him since he wasn't climbing the walls or on the weight equipment and being a typical kid. He's always had a super focus. He's always been completely zoned in. He picked up a lot being around everybody."
It also doesn't hurt that Fausz lived 15 minutes away from the Moores when the family lived in Alexandria, and it doesn't hurt that Moore's older brother, Ryan, attended Cornell University before transferring to Thomas More College — an NAIA school in Crestview Hills, Kentucky. Ryan was the first wrestler in program history to compete in the national finals earlier this year.
"Sean was one of the big-time wrestlers coming through my school," Spencer said. "I looked up to him and it was really cool that he made a World team. I always wanted to make a trip overseas for wrestling because of that."
Jason also built a stand-alone wrestling facility on his property and created Kentucky Extreme Wrestling Club for high school and college athletes to train. The Tar Heel recruit got to face college-level competition right in his backyard. Now he gets to take that homestyle training environment overseas.
Spencer also might cash in on Name, Image, and Likeness (NIL) opportunities when he arrives in Chapel Hill. His curly hair could lead to a payday off the mat if he can bag some wins on it.
"Ever since the NIL, I've been joking with my family that if I have some really big success I'll have to shoot for the Troy Polamalu Head & Shoulders commercials," Spencer said.
The way Spencer Moore's career is trending upward, nothing should come as a surprise.
Watch the Cadet World Championships LIVE on FloWrestling, July 19-25.