2021 US Marine Corps Junior and 16U National Championships
Roster Release: Illinois Going For 4 Straight + Trying To Get Back On Top
Roster Release: Illinois Going For 4 Straight + Trying To Get Back On Top
Will the lack of graduated seniors allow Pennsylvania and Iowa to stop Illinois from four-peating as Junior Freestyle champions?
Jul 9, 2021
by JD Rader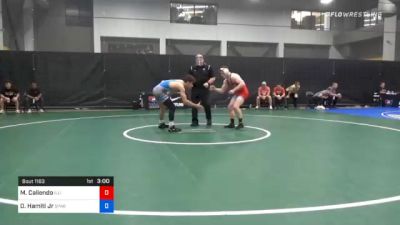 Unlock this video, live events, and more with a subscription!
Get Started
Already a subscriber? Log In
Illinois won four-straight Junior freestyle national titles from 2010-2013. Getting back on top in 2017, 18, and 19, the Prairie State is trying to repeat the impressive feat. They'll be up against some tough competition in Iowa and Pennsylvania, but if this Illinois team wrestles well, they have the talent to at least keep them in contention.
Illinois will be getting little help from some of their graduated senior stars as Joel Vandervere, Dean Hamiti Jr, Hayden Copass, Josh Koderhandt, Dylan Connell, Adrien Cramer, Brandon Hoselton, and Andrew Wenzel are all nationally ranked, but won't be attending. Vinny Zerban and Michael Caliendo will still be representing the Illinois Army in Fargo, however.
Zerban is currently ranked #87 on the 2021 Big Board, but has been as high as #10 in his career. He has wins over Fargo freestyle wins over Jesse Mendez, Cullan Schriever, and Jakason Burks.
Watch Vinny Zerban beat Jesse Mendez at Fargo 2018 below.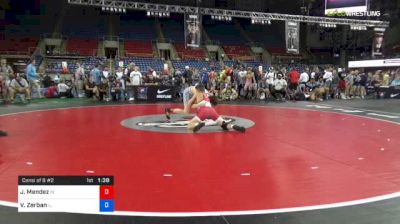 NDSU commit Michael Caliendo will be one weight above Zerban at 160. As the highest-ranking member of the team and a graduated senior, he will be a leader for sure. Caliendo had a solid showing at UWW Juniors with a win over DJ Hamiti and only losing to college freshman Cade DeVos and AJ Kovacs.
Ranked Guys
#5 at 160 Michael Caliendo
#6 at 106 Gylon Sims
#6 at 152 Vincent Zerban
#11 at 113 Benjamin Aranda
#11 at 126 Vincent Robinson
#12 at 120 Kannon Webster
#14 at 170 Brayden Thompson
#17 at 106 Jameson Garcia
Other Guys To Watch
Junior 132 - Nasir Bailey
Junior 170 - Bradley Gillum
Junior 285 - Ryan Boersma
16U 100 - Seth Mendoza
16U 120 - Colby Crouch
16U 138 - Noah Tapia
16U 160 - David Mayora
Although they haven't won since 2017, the Illinois 16U team has been just as dominant over the past decade and change as their Junior counterparts. They won five-straight from 2013-2017 and eight of nine from 2009-2017. While this year's 16U team only has one wrestler in the national rankings (James Garcia at 106), they have quite a few current or incoming freshman studs that will make some noise inside the FargoDome.
Seth Mendoza hasn't wrestled an official high school match yet, but it only takes one look at his TrackWrestling profile to tell he doesn't lose often. At Northern Plains this year, he beat Drake Ayala's little brother Dru, who went undefeated at Junior Duals. Being at 100 lbs helps as well.
It seems odd and unfortunate that Illinois won't have anyone even competing at heavyweight in 16U. Especially with big man Hayden Copass being the 2X defending champion at the weight.
Men's Junior Freestyle Roster
106 Jaymz Young
113 Trevor Reed, Justin Brown, Benjamin Aranda, Gylon Sims
120 Brian Beers, Joseph Fernau, Billy Meiszner, Caelan Riley, Kannon Webster, Paul Woo, Markel Baker, Nicholas Renteria
126 William Baysingar, Joey Chirillo, Abraham Hinrichsen, Jacob Macatangay, Santino Robinson, Vincent Robinson, Luis Bazan, Maddux Blakely, Phoenix Blakely
132 Nasir Bailey, Aidan Baker, Chase Hall, Carlos Munoz-Flores, Connor Nagela, John Conover
138 Benjamin Gavel, Kole Brower, Cole Rhemrev, Blake McGee, Caleb Tyus, Dylan Gvillo
145 Tommy Curran, Jack Milos, Caine Tyus, Jeremy Jakowitsch, Keegan Roberson
152 Justin Warmowski, Vincent Zerban, Kiefer Duncan, Brayden Peet
160 Allen Catour, Aaron Cramer, Grant Hansen, Jack McClimon, Michael Caliendo, Brody Hallin, Adam Thebeau
170 Gaetano Console, Caden Ernd, Bradley Gillum, Joseph Jens, Brayden Thompson, Joshua Knudten, Brennan Houser, Colton Berg, Cooper Wettig
182 Ben Bielawski, Aidan McCain, Aidan O'Connor, Kyus Root, Charlie Heydorn
195 Donnie Hidden, Cooper Vincent, Chase Baczek, Evan Zambrano
220 Andrew Blackburn-Forst, Ghee Rachal, Joseph Swanson
285 Ryan Boersma, Isaiah Gonzalez, RJ Schneider, Dillan Johnson
Men's 16U Freestyle Roster
94 Kalani Khiev, Brady Phelps
100 Seth Mendoza, Cole Gentsch
106 Dominic Ducato, Liam Zimmerman, Deion Johnson, Peter Young, Ty Edwards, Theodore Flores, Jameson Garcia, Emmitt Holt
113 Ethan Schultz, Anthony Ruzic, Ethan Tarvin
120 Colby Crouch, Tyler Evans, Payton Warden, Caden Kirchner, Massey Odiotti
126 Johnathan Rokey, Jacob Luce, Edmund Enright, Tyler Guerra, Daniel Aranda, Bryce Griffin, Kaden Inman, Anthony Marlett, Colin Young, Douglas Zimmerman, Eli Gonzalez
132 Dominic Serio, Logan Kaminski, Sean Larkin, Brock Smith, Timmy Smith, Jacob Redington, Omar Samayoa
138 Thomas Silva, Marco Spinazzola, Collin Altensey, Jacob Lachs, Jaydon Robinson, Anthony Streib, Noah Manuel Tapia, Claudio Torres
145 Braden Kelly, Caleb Mays, Cael Miller, Logan Swaw
152 Connor Cumbee, Jayden Colon, Matthew Kubas
160 Jack Seacrist, Zackary Crawford, Cameron Fultz, Matthew Jens, Drew Torza, Blake Hinrichsen, Tyler Martinez, David Mayora
170 Jackson Gillen, Abraham Wojcikiewicz, Nick Nosler
182 Gable Carrick, Aidan Nolting, Dominic Thebeau
195 Lamar Bradley, Michael Maloney, Noah Wenzel
220 Cameron Lattimore
---
Not to be outdone or forgotten, the Illinois women will be coming strong to Fargo as well. With nine nationally ranked, including four in the top-10 across both age divisions, Illinois will be trying their best to repeat their double top-five performance from 2019.
If Taylin Long wrestles like she did at Junior Duals, where she went 8-0, expect to see her on the big stage. Rose Cassioppi has been wrestling well this year as well and should improve upon her 7th place Fargo finish in 2019.
Watch Taylin Long and Shea Reisel's The Hammers finals match below.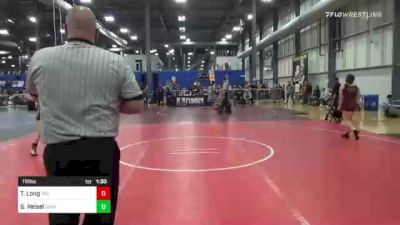 Unlock this video, live events, and more with a subscription!
Get Started
Already a subscriber? Log In
Ranked Girls
#5 at 117 Taylin Long
#5 at 164 Rose Cassioppi
#8 at 112 Shea Reisel
#9 at 112 Cadence Diduch
#11 at 138 Sara Sulejmani
#12 at 132 Sydney Perry
#12 at 180 Kiera Ganey
#13 at 132 Natasha Markoutsis
#14 at 117 Valerie Hamilton
Women's Junior Freestyle Roster
100 Natalie Gonzalez, Camila Neuman, Brianna Richey
112 Kaila Del Toro, Shea Reisel
117 Taylin Long
122 Valerie Hamilton
127 Dahlia Leighton, Netavia Wickson, Ashley Villa
132 Ava Vasey, Natasha Markoutsis
138 Sara Sulejmani, Keira Dafnis
152 Olga Turiy
164 Rose Cassioppi
Women's 16U Freestyle Roster
94 Gabriella Gomez
100 Angelina Cassioppi, Annika Cottam
106 Victoria Macias
117 Valerie Hamilton, Cadence Diduch, Arianna Hernandez
132 Sydney Perry
138 Kiernan Farmer, Attalia Watson
152 Alexis Ritchie
180 Kiara Ganey
---
Junior Greco-Roman Roster
106 Jaymz Young
113 Joseph Phelps, Benjamin Aranda, Justin Brown
120 Zavien Stewart, Brian Beers, Joseph Fernau, Billy Meiszner, Caelan Riley, Kannon Webster, Paul Woo, Jalen Dunson
126 Andre Giurini, Maddox Khalimsky, Jacob Macatangay, William Baysingar, Joey Chirillo, Abraham Hinrichsen, Vincent Robinson, Joshua Biagini, Sean Conway
132 Timmy Smith, Cole Rhemrev, Carlos Munoz-Flores, Nasir Bailey, Aidan Baker, Chase Hall, Connor Nagela
138 Ivan Corral, Benjamin Gavel, Kole Brower, Blake McGee, Caleb Tyus
145 Caleb Nadig, Luke Swan, Tommy Curran, Jack Milos, Caine Tyus, Kevin Hogan
152 Benjamin Shvartsman
152 Justin Warmowski, Logan Balosky, Vincent Zerban
160 Allen Catour, Aaron Cramer, Grant Hansen, Jack McClimon, Nathan Chirillo
170 Brennan Houser, Gaetano Console, Caden Ernd, Bradley Gillum, Joseph Jens, Joshua Knudten
182 Ben Bielawski, Aidan McCain, Aidan O'Connor, Kyus Root
195 Tom Culp, Donnie Hidden, Cooper Vincent
220 James Wireman, Andrew Blackburn-Forst, Ghee Rachal
285 Ryan Boersma, Isaiah Gonzalez, RJ Schneider
16U Greco-Roman Roster
94 Kalani Khiev, Brady Phelps
100 Cole Gentsch, Ty Edwards, Theodore Flores, Jameson Garcia, Peter Young
113 Ethan Schultz, Anthony Ruzic, Ethan Tarvin
120 Colby Crouch, Caden Kirchner, Massey Odiotti, Payton Warden
126 Daniel Aranda, Bryce Griffin, Kaden Inman, Anthony Marlett, Colin Young, Eli Gonzalez, Johnathan Rokey, Tyler Guerra, Douglas Zimmerman
132 Timmy Smith, Jacob Redington, Omar Samayoa, Nathan Beltran, Brock Smith
138 Anthony Streib, Noah Manuel Tapia, Claudio Torres, Thomas Silva, Collin Altensey, Jaydon Robinson
145 Braden Kelly, Caleb Mays, Cael Miller, Logan Swaw
152 Jayden Colon, Matthew Kubas
160 Blake Hinrichsen, Tyler Martinez, David Mayora, Jack Seacrist, Matthew Jens
170 Nick Nosler
182 Dominic Thebeau
195 Lamar Bradley, Noah Wenzel, Leo Meyer, Michael Maloney
220 Cameron Lattimore