Big 12
Black Wrestling Association Is All About Representation And Identification
Black Wrestling Association Is All About Representation And Identification
Kenny Monday made history when he became the first black wrestler to win an Olympic gold medal. The BWA is now a piece of his lasting legacy.
Jun 24, 2021
by Kyle Klingman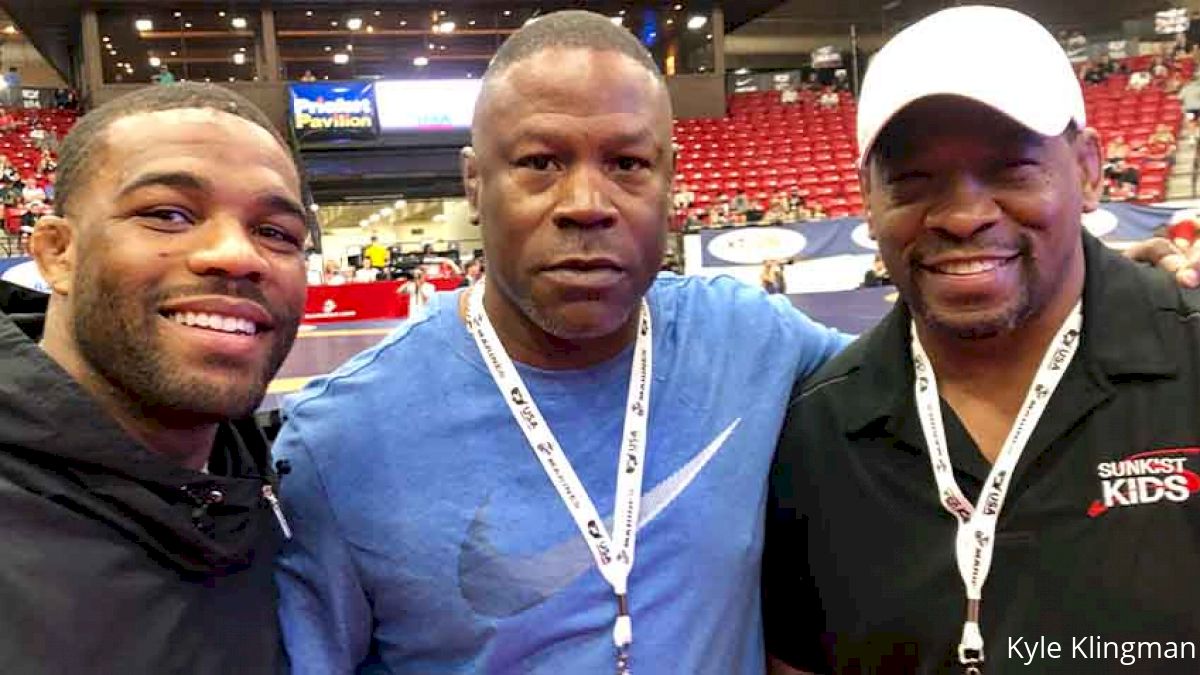 Unlock this article, live events, and more with a subscription!
Get Started
Already a subscriber? Log In
It was fitting that Kenny Monday was the first person I saw as I walked into the Tulsa Holiday Inn on June 18. This was the host site of the Black Wrestling Association (BWA) social and Monday is a founding member of the club.
Not only is Monday one of the greatest wrestlers in U.S. history, but he is also arguably the greatest athlete that Tulsa has ever produced. He compiled a 140-0-1 high school record for Booker T. Washington High School and won four state titles. That led to three appearances in the NCAA tournament finals while at Oklahoma State, the 150-pound NCAA title in 1984, a gold medal at the 1988 Olympics, World gold in 1989, World silver in 1991, and a silver medal at the 1992 Olympics.
Kenny Monday has done it all.
His most significant achievement is his win at the 1988 Olympics. Monday became the first black wrestler to win an Olympic gold medal — an accomplishment that continues to inspire.
"I've had guys who are grown now with their own kids who said they got into wrestling by watching me win the Olympics — especially black wrestlers," Monday said. "Winning an Olympic gold medal gives you a different platform. You can win the NCAAs and you can win World titles, but the Olympic Games gives you a whole different platform.
"I didn't really realize it until I won. The impact of Olympic gold is far greater. It's worldwide. I have people from Africa that come up to me at international events and tell me I inspired them. They just identified. It's a global reach when you're able to do that because you don't see many (black wrestlers)."
And that's what the BWA is all about: identification.
Their mission is to inspire, connect, and empower black wrestlers and allies to grow wrestling through representation, equality, and opportunity. Monday's win in Seoul, South Korea, meant young black wrestlers had someone to look toward as an example.
That's a powerful platform if you've never seen someone who looks like you accomplish something of significance.
LeRoy Gardner, a black coach for the University of the Ozarks, can relate. Gardner was attempting to make the Greco national team and was training at the Olympic Training Center in Colorado Springs when Kerry McCoy — a black wrestler who won two NCAA titles for Penn State — sought out Gardner.
"Let me know if you need anything," McCoy told Gardner as he put his arm around his shoulder.
Gardner and McCoy were two of six black wrestlers training in the room that day.
"BWA means I have a way, a platform, and a shared fellowship to offer a future success through wrestling that was less visible — maybe less relatable sometimes — when I was coming up as a young wrestler. I didn't have a family that wrestled and now I can help be a part of growing wrestling through shared experiences."
Sharing experiences is a message that the founders of BWA want to make clear. This organization isn't about exclusion — it's about inclusion. That message might get lost when people wonder why there is an organization that appears to separate itself from the pack.
Why can't wrestling just be wrestling?
"I would ask people to look at what we're trying to do," said NCAA champion Kyven Gadson, a founding member of the organization. "We're not trying to separate. We're trying to create opportunities. Historically, and even currently, black wrestlers, black coaches, black media members all have been represented at a lower level. We're just trying to create opportunities and create representation of black women and men in the sport of wrestling.
"The BWA means progress. Its purpose is to advance the sport through support and to diversify the sport. I think that's extremely valuable and important to have diversity in our sport. I think BWA can help champion that cause and it's an opportunity for relationships."
Walking up the stairs to the BWA social was a unique experience. It was one of the few times I was in the racial minority. It was all good, though. My first conversation was with Kenny Monday.
And we talked about wrestling.
Photo (from left): Jordan Burroughs (2012), Kevin Jackson (1992), and Kenny Monday (1988) won Olympic gold medals for the United States.