2021 USA Wrestling Junior National Duals
Iowa Pulls Away From Oklahoma For Junior Duals Freestyle Title
Iowa Pulls Away From Oklahoma For Junior Duals Freestyle Title
Iowa completed its two-day thumping of the freestyle field on Saturday by handling Oklahoma 40-23 in the Junior Duals final.
Jun 19, 2021
by Andy Hamilton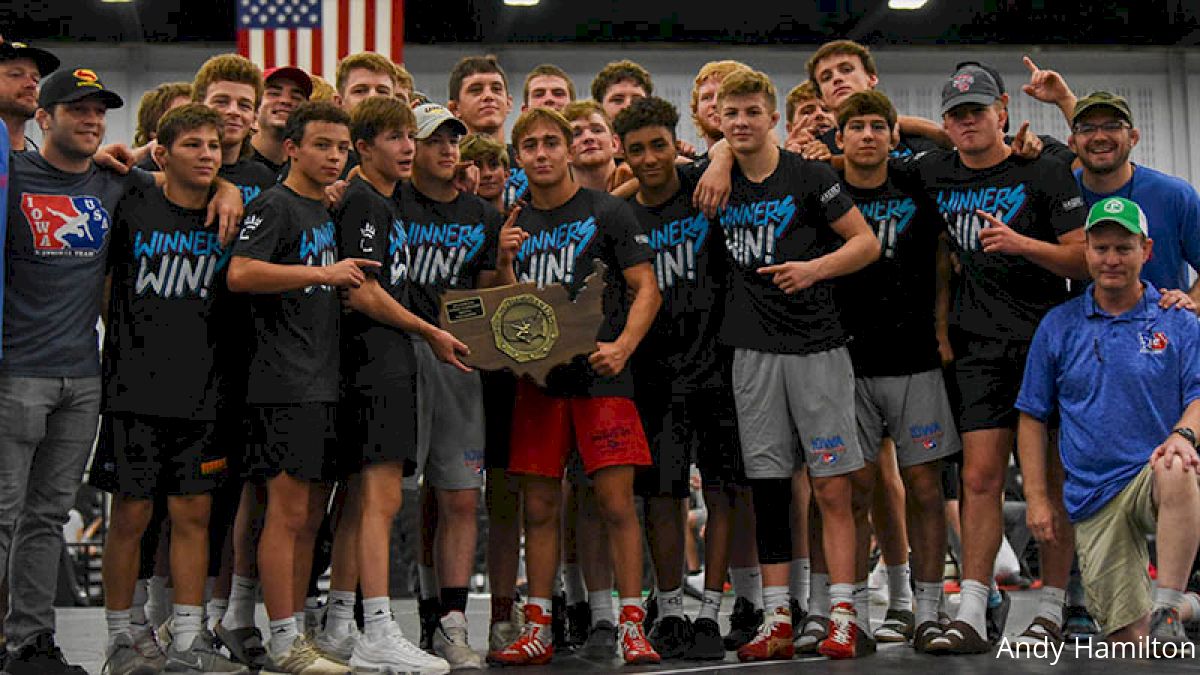 Drake Ayala's summer wrestling plans mostly fell in the to-be-determined category about three weeks ago when Caleb Rathjen began recruiting his future college teammate to join Iowa's Junior National Duals freestyle roster.
"Caleb texted me and he was like, 'Hey, bro, we could have a really good Junior Duals team, Come be on it,'" said Ayala, who will continue his wrestling career this fall at the University of Iowa. "I took a little bit to think about it and I was like, 'I might as well.'
"He added me to a group chat (with) the whole lineup and I was like, 'We don't really have a lot of holes. We could win this thing.'"
Ayala was the last piece of the roster puzzle for Team Iowa and two-time Fargo champ put the finishing touches on the state's first National Duals title in 16 years. Iowa completed its two-day thumping of the freestyle field on Saturday by handling Oklahoma 40-23.
In recent years, the Junior Duals freestyle finals have produced gripping drama with team titles tipping on last-match outcomes. But Iowa reeled off wins in six consecutive bouts to take control and cruised to the most lopsided freestyle final since Illinois beat Oklahoma 47-12 in 2011.
Carter Young and Jordan Williams notched wins for Oklahoma to start the dual, but Iowa went on a run after that with victories from Jack Gaukel, Aiden Riggins and Gabe McGeough. A pair of four-pointers powered Gaukel's 10-5 win against Angelo Ferrari at 152, Riggins won a 7-4 decision against John Wiley in a clash of nationally-ranked juniors and McGeough held on for a 10-9 win against Jaxon Randall after racing out to a 9-0 lead.
"We lost a series of two, three matches in there that could've really gone either way right there at the end," Oklahoma coach Bobby Cook said. "In duals like that in the national finals, you have to win those matches. We didn't and Iowa did today. They were the better team today."
Iowa separated itself from the field throughout the weekend. The Iowans ripped through their pool competition, outscoring their three opponents 164-27. In Gold/Silver competition, they beat California (36-27), Wisconsin (47-17) and Illinois (41-23) before taking down Oklahoma in the finals.
After the grinding out the three tight wins early against Oklahoma, Iowa pulled away after picking up technical superiority victories from Griffin Gammell (182), Ben Kueter (220), Dru Ayala (100), Cadet World Team member Nate Jesuroga (113), Drake Ayala (126) and Ryder Block (132).
It's Iowa's first Junior Duals title since 2005. Ryan Morningstar wrestled on that squad as a high school senior. He coached this group.
"I see a lot of similarities with how you get on a roll and how you pick each other up and being tough in tough situations," Morningstar said.