2021 USA Wrestling 16U National Duals
Top Individual Performances At 16U Greco Duals
Top Individual Performances At 16U Greco Duals
These guys showed up and showed in the Greco portion of 16U National Duals in Indianapolis.
Jun 12, 2021
by JD Rader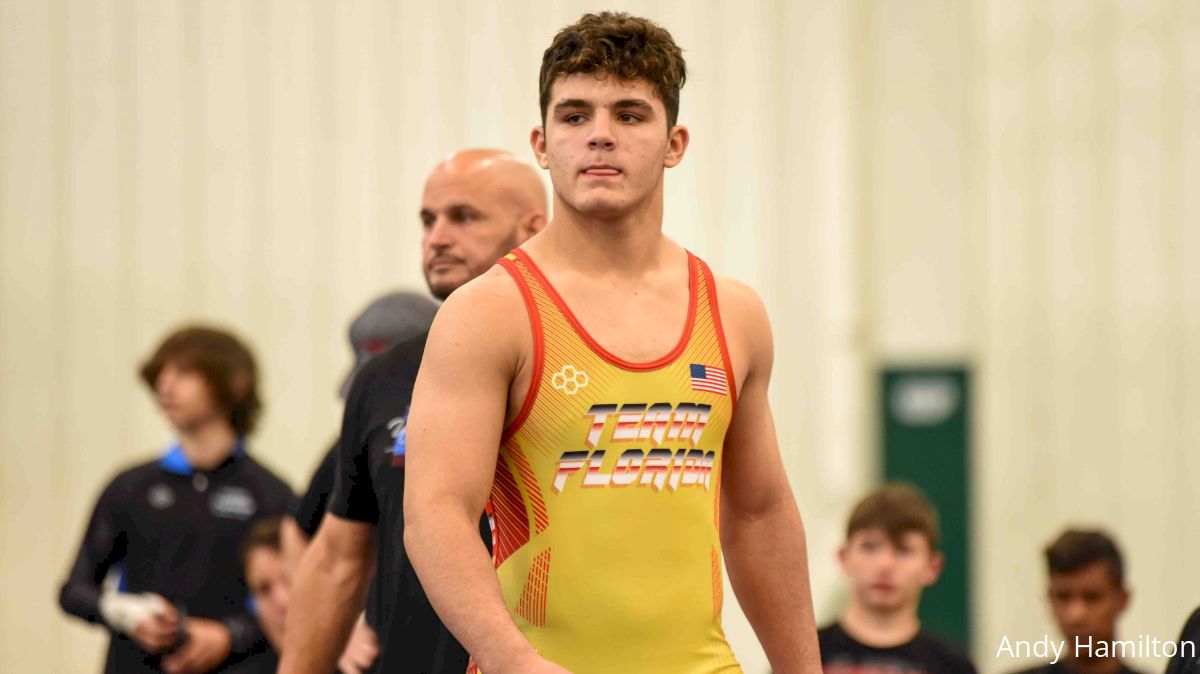 Unlock this article, live events, and more with a subscription!
Get Started
Already a subscriber? Log In
A lot of wrestlers showed up to Indianapolis and went home undefeated through two days of Greco competition, However, whether it be the weight, the team, the number of matches, and/or how they won, these guys stood above the rest.
Freestyle action gets underway tomorrow with pool play starting at 8 am Eastern on trackwrestling.com.
100 lbs: Mack Mauger of Team Idaho
Mack Mauger (Team Idaho) over Anthony Ayon (Team California) TF 10-0
Mack Mauger (Team Idaho) over Iziah Tusler (Team Oklahoma Outlaws Blue) TF 10-0
Mack Mauger (Team Idaho) over Parker Lyden (Team Minnesota Blue) TF 11-0
Mack Mauger (Team Idaho) over Declan Strait (Team Colorado) TF 10-0
Mack Mauger (Team Idaho) over Brady Byrd (Team Indiana Gold) TF 12-0
Mack Mauger (Team Idaho) over Nico Fanella (Team Pennsylvania Red) TF 10-0
Mack Mauger (Team Idaho) over Mason Dewing (Team Wisconsin) TF 10-0
Mack Mauger (Team Idaho) over Damien Moseley (Team Missouri) Fall 0:21
106: Noah Nininger of Team Virginia
Noah Nininger (Team Virginia) over Isaiah Schaefer (Team Indiana Blue) TF 10-0
Noah Nininger (Team Virginia) over Bryson Humphries (Team Oklahoma Outlaws Red) TF 10-0
Noah Nininger (Team Virginia) over Vinny Mayberry (Team Iowa) TF 10-0
Noah Nininger (Team Virginia) over Louie Zitofsky (Delaware) TF 10-0
Noah Nininger (Team Virginia) over Braydon Mitchell (Team Georgia Red) TF 11-0
Noah Nininger (Team Virginia) over Connor Smith (Team Pennsylvania Red) TF 10-0
126: Landon Robideau of Team Minnesota Blue
Landon Robideau (Team Minnesota Blue) over Collin Guffey (Team California) Dec 8-0
Landon Robideau (Team Minnesota Blue) over Nick Gorman (Team Pennsylvania Blue) Dec 18-9
Landon Robideau (Team Minnesota Blue) over Clayton Giddens (Team Oklahoma Outlaws Blue) Dec 3-0
Landon Robideau (Team Minnesota Blue) over Kyrel Leavell (Team Indiana Gold) TF 10-0
Landon Robideau (Team Minnesota Blue) over Tanner Frothinger (Team Idaho) Dec 3-2
Landon Robideau (Team Minnesota Blue) over Cooper Blackett (Team Utah) TF 12-2
138: Joel Adams of Team Nebraska
Joel Adams (Team Nebraska) over Patrick Foxworth (Team Kansas Blue) TF 11-0
Joel Adams (Team Nebraska) over Grant Harris (Team Wisconsin) TF 11-0
Joel Adams (Team Nebraska) over Alessio Perentin (Team New Jersey) TF 10-0
Joel Adams (Team Nebraska) over Joshua Denson (Team Georgia Blue) TF 10-0
Joel Adams (Team Nebraska) over Kaiden Schrandt (Team Minnesota Red) TF 13-0
Joel Adams (Team Nebraska) over Damarion Ross (Team Iowa) TF 11-0
Joel Adams (Team Nebraska) over Joshua Denson (Team Georgia Blue) DQ
Joel Adams (Team Nebraska) over Lukas Selph (Team Michigan Red) Fall 0:13
145: Brett Back of Team Wisconsin
Brett Back (Team Wisconsin) over Logan Swaw (Team Illinois ) TF 12-0
Brett Back (Team Wisconsin) over Aiden Robertson (Team Nebraska) TF 15-4
Brett Back (Team Wisconsin) over Dylan Evans (Team Pennsylvania Blue) TF 11-0
Brett Back (Team Wisconsin) over Angelo Posada (Team California) TF 10-0
Brett Back (Team Wisconsin) over Manuel Valdez (Team Idaho) TF 13-0
Brett Back (Team Wisconsin) over Emil Necula (Team Georgia Blue) TF 13-2
Brett Back (Team Wisconsin) over Layton Schneider (Team Oklahoma Outlaws Blue) TF 14-2
Brett Back (Team Wisconsin) over Boede Gibson (Team Texas - Blue) TF 11-0
152: Angelo Ferrari of Team Oklahoma Outlaws Blue
Angelo Ferrari (Team Oklahoma Outlaws Blue) over Bryce Burkett (Team Minnesota Blue) Dec 2-1
Angelo Ferrari (Team Oklahoma Outlaws Blue) over Max Nevlin (Team New Jersey) TF 10-0
Angelo Ferrari (Team Oklahoma Outlaws Blue) over Tyler Sunday (Team Wisconsin) TF 10-0
Angelo Ferrari (Team Oklahoma Outlaws Blue) over Cole Lockart (Team Idaho) TF 10-0
Angelo Ferrari (Team Oklahoma Outlaws Blue) over Bekhruz Sadriddinov (Team Pennsylvania Blue) Dec 10-2
Angelo Ferrari (Team Oklahoma Outlaws Blue) over Jayden Colon (Team Illinois ) Dec 5-4
Angelo Ferrari (Team Oklahoma Outlaws Blue) over Connor Sullivan (Delaware) Fall 3:06
170: David Malin of Team Wisconsin
David Malin (Team Wisconsin) over Nick Nosler (Team Illinois ) Dec 11-4
David Malin (Team Wisconsin) over Mason Villwok (Team Nebraska) TF 13-2
David Malin (Team Wisconsin) over Tommy Cohenour (Team Pennsylvania Blue) Fall 0:45
David Malin (Team Wisconsin) over Ben Bomberger (Team California) TF 13-2
David Malin (Team Wisconsin) over Jonathan Seamons (Team Idaho) Fall 0:32
David Malin (Team Wisconsin) over Hoke Poe Hogan (Team Georgia Blue) TF 14-4
David Malin (Team Wisconsin) over Talon McCollom (Team Oklahoma Outlaws Blue) Fall 1:13
David Malin (Team Wisconsin) over Andrew Clayton (Team Texas - Blue) TF 10-0
195/220: Sawyer Bartelt of Team Florida
Sawyer Bartelt (Team Florida) over Albert Butler (Team Georgia Blue) Fall 0:25
Sawyer Bartelt (Team Florida) over McCrae Hagarty (Team Iowa) TF 11-1
Sawyer Bartelt (Team Florida) over Alexander Uryniak (Team New Jersey) DQ
Sawyer Bartelt (Team Florida) over Torin Forsyth (Team Kansas Red) TF 16-4
Sawyer Bartelt (Team Florida) over Caleb Vancura (Team Minnesota Blue) Fall 0:33
Sawyer Bartelt (Team Florida) over William Clark (Team Indiana Blue) TF 11-0
Sawyer Bartelt (Team Florida) over Cael Nordyke (Team Colorado) TF 14-4
Sawyer Bartelt (Team Florida) over Sonny Sasso (Team Pennsylvania Blue) Dec 5-0
Sawyer Bartelt (Team Florida) over Michael Cooper Cook (Team Oklahoma Outlaws Red) Fall 1:59
285: Sebastian Lopez of Team Kansas Red
Sebastian Lopez (Team Kansas Red) over Caleb Rodriguez (Team Florida) TF 13-1
Sebastian Lopez (Team Kansas Red) over Dane Harper (Team Michigan Blue) TF 10-0
Sebastian Lopez (Team Kansas Red) over Hayden Roy (Team Georgia Blue) Fall 1:50
Sebastian Lopez (Team Kansas Red) over Dominic Burgett (Team Indiana Gold) Fall 1:39
Sebastian Lopez (Team Kansas Red) over Aidan Trujillo (Team Colorado) Fall 1:24
Sebastian Lopez (Team Kansas Red) over Carson Schoenbauer (Team Minnesota Red) TF 10-0
Sebastian Lopez (Team Kansas Red) over Jayce Chew (Team Texas - Red) Fall 0:45
Sebastian Lopez (Team Kansas Red) over Carson Schoenbauer (Team Minnesota Red) TF 10-0